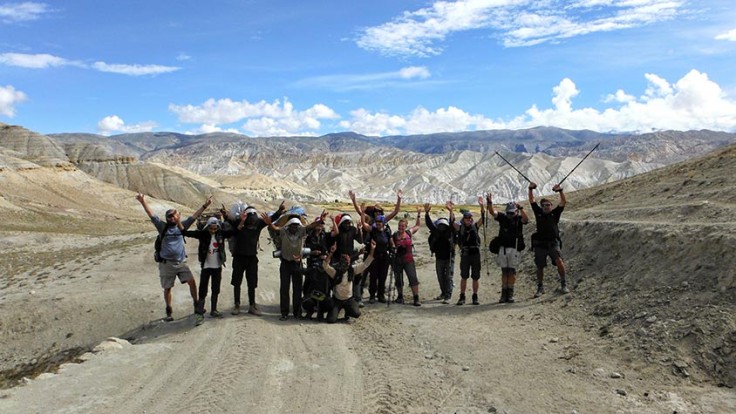 When thinking about hiking in Nepal, a lot of people only think about Everest... But the Mustang region has so much to offer, it will take your breath away! A glimpse at the exclusive 'Mustang' departure of the 2018 Himalayas season.
A group of Mustang adventurers celebrating their trip
In recent years we've taken to running just one departure for our Forbidden Kingdom of Lo 'Mustang' Trek each season.
The adventure is life-changing for our guests, and something very special for our guides and porters to be a part of - so by building the excitement of just one annual departure, an exclusive expedition into an unknown land, we ensure that the experience is not diluted for our guides, and therefore our guests - and 2018 was no different.
A group of intrepid adventurers, accompanied by DK, Gokul, and Shree, as well as chef Arjun, a team of porters, and a train of pack animals, set off for the Mustang region, towards the Tibetan Plateau, on August 20th 2018.
The group had an absolute blast on their 18-day adventure, trekking along an ancient salt trading route, exploring the cave monastery of Jhong and arguably the deepest gorge in the world - the Kali Gandaki. We say 'arguably' because its position as the deepest gorge in the world is only indisputable when it's measured from the river below, to the peak of the giant Himalaya above, far beyond the rim of the gorge - so we'll let you make up your own mind about whether or not it qualifies!
Here at Active Adventures we're lucky enough to have what we do pretty dialled, which results in lots of really amazing reviews from our guests. Our guides are mentioned virtually without fail, and another noteworthy mention in many reviews is the relief of not having to worry about any logistics.
But every once in a while we get a review which reminds all of us why we get out of bed and come to work every day - and our most recent one comes from Jane Kurtz, one of this year's 'Mustang' guests. You can read it below, as well as check out photo albums from Jane, Susan, and Annie who all travelled on this year's exclusive 'Mustang'. Enjoy!
Trip of a Lifetime for Body, Mind, and Soul
Having done an Active trip in New Zealand a few years ago, I was prepared for great hikes, amazing scenery, and excellent hospitality. I wasn't prepared for how much the Mustang trip would change my soul, however. The hikes were challenging, but all doable. Our guides kept our group at a perfect pace which allowed plenty of time for photos and taking in the breathtaking views (day after day after day)! As with all Active trips, the leaders handle every detail, leaving you free to soak in the culture and expand your mind, whether learning about Buddhism, the economy, or cuisine.
But the most special thing on the Mustang trip for me was how deeply it touched and replenished my soul. Away from the busy lives and noise which clutters our society, I fell into a rhythm which allowed me to be present for each step of our journey. I learned to let go of the anxiety of what is to come and the sadness of what was left behind. A huge part of that can be credited to our guides, DK, Shree and Gokul who led me along the paths of Mustang not only physically, but also spiritually. They shared so much of their world, of their food, their culture, their passions, their patience. If you've ever considered taking a trek, do this one. Your spirit will thank you.
And as far as some of the practical things of the trip go... Food was incredible! Gokul and his team got fresh meat, eggs, and produce at every chance, ensuring healthy and delicious meals and first-rate service. I'm still missing my morning tea service! Knowing how to cook at a camp, I was astounded at the variety of foods and enjoyed learning chef's secrets at many stops.
The camping was awesome. Tents were spacious and sleeping mats and bags were very comfortable. Even better, the team set them up and broke them down each day. Like our other Active trip, we followed the packing list to a "T" and were glad. They know what you need and what you don't need so just follow the list. And truly, if you don't have anything, just buy it in Kathmandu (cheap and great selection of gear).My only thought to add was I wish I'd brought a swim top and pair of board shorts so that I could use the outdoor streams and hoses in a couple of camps to clean up. Also, a pair of slides would have been handy for slipping on for night time bathroom breaks from the tent without dealing with laces or taking off socks.
The altitude was challenging, but not problematic. Most of our group took Diamox, but a few of us didn't. I wasn't able to do any higher altitude training before the trip, but regular hikes of 10+ miles and lots of up and downs prepared me well. Overall, the best trip of my life. Thank you Active!
Jane Kurtz, (Oregon, USA), Mustang, August 2018