Strap on your best pair of hiking boots – this is one for the bucket list! Spanning a total of 170 kilometers (110 miles) across France, Switzerland, and Italy – the Tour du Mont Blanc is the crown jewel of Europe's multi-day hiking trails. But not everybody has the time or ability to complete the trail in its entirety – so here's where the local experts step in to help you maximise your time, and create a very achievable adventure trip of a lifetime.
Skip to: Best Time to Hike TDMB | Start and Finish Points | Hiking Difficulty | Detailed Itinerary | What's included | Packing List
The Mont Blanc massif is a mountain range bordering France, Italy and Switzerland. The highest peak is Mont Blanc itself, reaching 4,810 meters (15,780 feet) – Europe's highest mountain. There are many glaciers that descend from the north and south sides of the range. One of the most dramatic glaciers is the Glacier des Bossons, which is only a very short walk from the town of Chamonix and is visible from anywhere in town – it's so close you feel like you can reach out and touch it from the cafe!
Compared to other regions in the European Alps, the Mont Blanc Massif is relatively young, defined by its needle-like spires, steep valleys, icefalls, and glaciers. The French side of the Mont Blanc range has two main rivers draining from it – the Arve and the Isere – both are tributaries of the Rhone River (one of Europe's grandest rivers), which makes its way south again, 812 km (504 miles) to France and into the Mediterranean Sea.
When's the best time to hike Le Tour du Mont Blanc?
For the most detailed insight, head over to our dedicated page 'The best time to hike the Tour du Mont Blanc'.
In summary, the best time of the year is in the height of summer – from June through September. July and August are the peak summer months in Europe, while June and September offer shoulder season hiking with quieter trails. See the infographic below for a visual summary: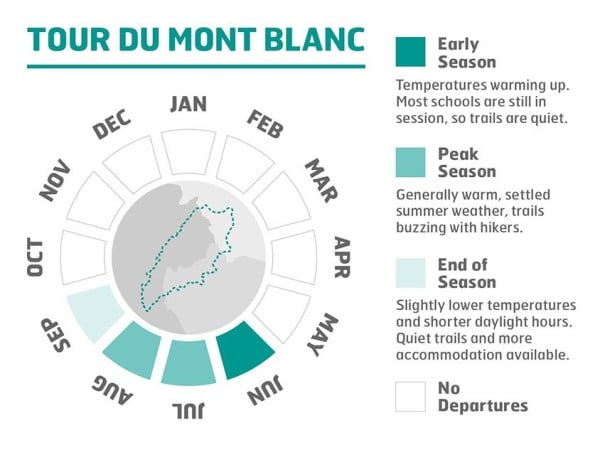 Les Houches – the Start and Finish Point of the Tour du Mont Blanc
The most popular way to hike the Mont Blanc Circuit is in an anti-clockwise direction, starting and finishing in the town of Les Houches, France. Geographically, Les Houches is located only 6 kilometers (3.7 miles) from the popular town of Chamonix.
How to get to Les Houches
As we mentioned above, Les Houches is only a small leap from the famously tranquil mountain village of Chamonix – and you're in the heart of some of the world's most beautiful mountains, so why not take the adventurous route?!
So we like to take a gondola from Chamonix up to Brevent (8,410 feet), one of the highest peaks in the crystalline Aiguilles Rouges range, which stands opposite the Mont Blanc massif. From here we'll hike across the Carlaveyron Plateau overlooking the spectacular Dioz Canyon. The views of the north face of Mont Blanc, the Fiz range, and the Chamonix valley are second to none! We'll drop down to the village of Les Houches, our home for the evening, before meeting our local hosts and settling in for a hearty French mountain meal.
Hiking above the Chamonix Valley
For independent travelers, the most popular way that international visitors get from Geneva International Airport to Les Houches is either:
A 3.5 hour train ride: This train fare varies, but you can be expected to pay approximately 30 Euros.
Driving: This 75-kilometer (47-mile) drive could normally be expected to take around 1 hour, in a private car.
Bus: A number of public buses are available, which take a little under 2 hours and will cost approximately 25 Euros.
How difficult is Le Tour du Mont Blanc?
It's no secret – the most spectacular views aren't from the bottom of a valley – so the places we go on our trips aren't exactly what we'd call 'flat'. And the Tour du Mont Blanc is no exception – in fact we'd consider it one of the more physical trips in the Active Adventures' portfolio.
But we understand that people of all ages and abilities have the Tour du Mont Blanc in their sights, so that's why we keep our group sizes small, and there are two expert local guides on every trip – so we make sure everyone can take their own pace along the way. We'll keep you safe and up-beat, and take care of all the important logistics, so all you have to do is enjoy the incredible European Alps.
When you book on board an Active Adventures trip, we'll give you a detailed fitness and training plan. If you'd like to look into this plan, get in touch with one of our travel gurus today!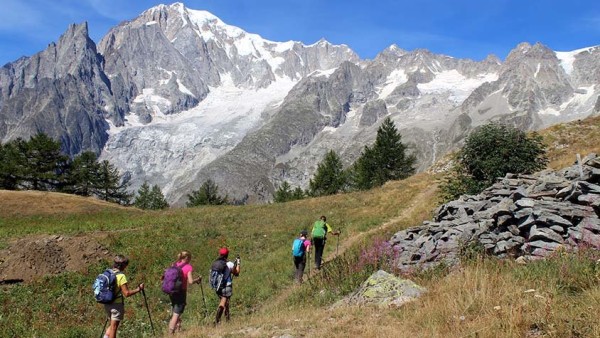 Blue skies ahead, amazing hiking conditions on the Tour du Mont Blanc
Tour du Mont Blanc Hiking Itinerary, Elevation and Distances

Day 1 — Arrive in Geneva, head to Chamonix
Day 2 — Hike Mer de Glace, Grotto de Glace experience
Day 3 — Begin Mont Blanc Circuit hike – hike to Les Houches
Day 4 — Sea kayak Lake Annecy, visit old town Annecy
Day 5 — Hike the Roman Road to Savoie and Beaufortain
Day 6 — Hike "Vallee des Glaciers" into Italy
Day 7 — Explore Courmayeur and Aosta Valley
Day 8 — Hike Mont de la Saxe
Day 9 — Hike into Switzerland
Day 10 — Hike Upper Rhone valley, Switzerland
Day 11 — Bike L'Arve River Trail, Aiguille du Midi experience
Day 12 — Head to Geneva, depart
What's included on Le Tour du Mont Blanc Trekking Tour?
All guiding services
- Two experienced guides per trip. In Europe you'll have a Kiwi guide and a local European guide, meaning you'll get the best of both worlds in terms of local knowledge and legendary hospitality.
All accommodations
- Local lodges chosen for their comfort, charm and sublime views.
All meals
- Breakfast, lunch and dinner. You'll be treated to a culinary experience, to rival any in the world. On day 7 in Courmayeur you're free to choose your own lunch and dinner.
All activities
- You may think this is just a hiking trip - and for other companies that is likely the case. But we've found a way to include some biking and sea kayaking to make this a true multi-sport adventure.
All transport
- Airport transfers on the first & last days.
- When you're not traveling on foot, there will be comfortable air-conditioned vans to stretch your legs. There is also a baggage transfer service so you'll only be carrying your daypack each day.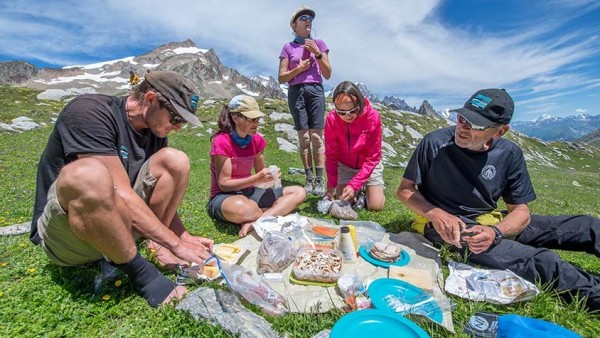 Lunch on the trail, what a treat!
Packing list
Essential Items:
The main piece of luggage: a sports bag with wheels, a suitcase, a backpack, or similar.
Daypack: used for day trips and on the bus. Must be well-fitting with supportive shoulder straps and a waist strap. Should be large enough for your water bottle, packed lunch, raincoat, fleece, camera, and personal items. Size 30 liters (2,000 cubic inches).
Hiking boots: required for most days of the trip. Sturdy boots with good ankle support and solid tread are required. They should be comfortable, well worn-in and waterproofed.
Trail runners/running shoes: for cycling, casual wear, and to wear when your boots are wet!
Light sandals: good to wear in the rifugio's in the evenings
Waterproof rain jacket/shell: a breathable, unpadded shell jacket with a hood that keeps you dry when active. Ponchos are not suitable.
Waterproof rain pants: for keeping dry and active on rainy days.
Fleece/down jacket/wool sweater: one or two something nice and warm for cold days and nights
Shirts/T-shirts: two or three, some cotton, some quick-dry
Long-sleeve shirts: one or two, some cotton, some quick-dry, and for insect protection.
Lightweight trousers: one or two pairs, for cooler nights, higher elevations, and insect protection. At least one quick-dry pair is recommended.
Shorts: one or two pairs, some cotton, some quick-dry.
Thermal underwear: two top and bottom sets of thermal/polypropylene underwear - you'll be using these a lot.
Underwear
Pajamas/nightwear: or similar.
Socks: three or four pairs. Some good quality hiking socks, some warm, some casual.
Swimsuit/shorts: for kayaking, and also any swimming opportunities.
Travel towel: for sea kayaking.
Warm hat: wool/fleece ski hat, or similar.
Sun hat: baseball cap, or similar.
Sunglasses: with a retainer strap if you have one.
Warm gloves: wool/fleece gloves.
Water bottle/bladder: two litre volume.
Camera: memory cards and batteries/charger.
Toiletries: shampoo, conditioner, toothbrush, toothpaste, soap, facecloth, prescription medications, glasses/lenses, shaving gear, feminine hygiene products, wet wipes, hand sanitizer, etc (some accommodations provide some of these and some don't, so it's best to bring your own).
Personal first aid kit: for any essential items that you know you'll need e.g. blister treatment if you are prone to blisters. Your guides also carry a group first aid kit.
Sun-block: maximum SPF UVA/UVB broad spectrum recommended.
Optional Items:
Hiking poles: not essential, though we highly recommend bringing one or two poles with you to support your knees during the hikes.
Hiking gaiters: not essential, though great for this trip to keep the tops of your boots and socks dry and they add warmth.
Cycling gear: cycling shorts and cycling gloves.
Alarm clock: for those mornings you'll need to get up early.
Adapter plug: required for France, Italy & Switzerland, depending on your home country.
Casual clothes: if you'd like to bring a nice skirt/shirt to wear out to dinner.
Energy snacks and drinks: while snacks will be provided, you may like to bring some along too if you have special dietary needs.
Hairdryer: provided by most accommodations though not all so you may wish to bring your own as well.
Binoculars
Pocket knife
iPod/mp3 player
Reading material
If you're considering doing the Tour du Mont Blanc any time soon, click on the banner below to view our small group guided Tour du Mont Blanc Circuit, and read about other travelers who did it. See you soon!