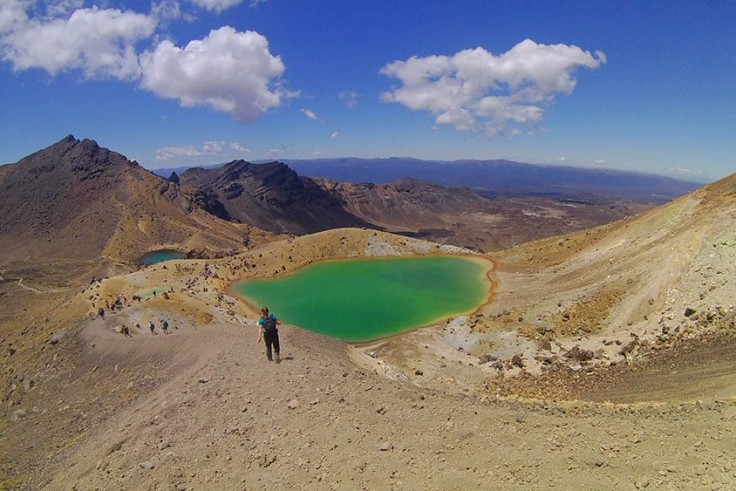 Superlatives are inadequate to describe this outstanding one-day hike on New Zealand's North Island. The trail takes you through a stark volcanic landscape that makes you feel like you are walking on the surface of another planet. Yet, incredibly, it is a walk of extreme contrast - you start the hike in scenery similar to Scottish moorland and finish by walking through woodland! What's more, this hike is challenging physically, taking in several steep ascents.
The trail, widely acknowledged as the country's finest one-day hike, is found in Tongariro National Park, New Zealand's first national park and a world heritage site. It encompasses three volcanoes: Ruapahu, Tongariro, and the perfectly formed Ngauruhoe.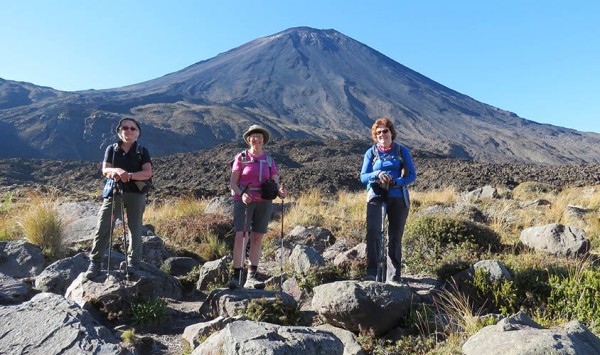 This hike is one of the highlights on our Ultimate North Island trip, so we thought we'd give you our answers to frequently asked questions.
How long is the track?
The track is 19.4 kilometres (12 miles) and usually takes between 5 and 8 hours. You can view the track in more detail on our interactive online map:
Which way should we hike the track?
You can walk the track in either direction - but on our trips we start at the Mangatepopo end, as the altitude (1120 metres / 3674 feet) is higher than at the Ketetahi end (760 metres / 2493 feet) so there is less climbing involved.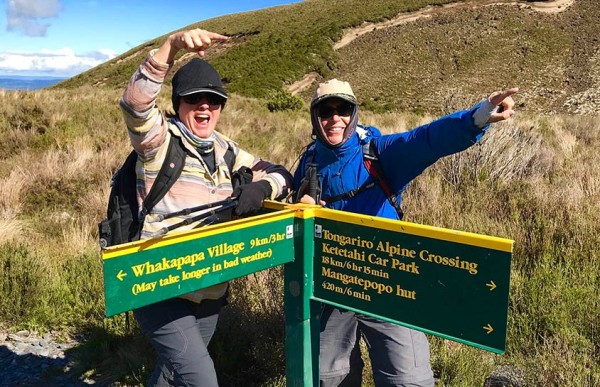 What is the highest point on the Track?
The summit of Red crater is the highest point of the Alpine Crossing (1886 metres / 6187 feet). It normally takes about 2.5 to 3.5 hours to reach this point. There are side trip options for keen and fit hikers to the summits of both Ngauruhoe and Tongariro.
What time of year is best to hike the Tongariro Alpine Crossing?
Most people prefer to hike the trail during the summer (from December to March) when the track is usually clear of snow. When there's snow on the track it can be slippery and icy and extra equipment and experience is essential. As the track is in an alpine environment the weather can change quickly and dramatically so even in the middle of summer we always hike the trail well prepared with appropriate clothing. There is a specific weather service for this area which you can see here: http://www.metservice.com/mountain/tongariro-national-park
What gear should I bring?
Good supportive hiking boots, comfortable hiking clothing, a good rain jacket, spare dry clothes with insulating properties, plenty of high-energy food for the day and drinking water, sun protection and a comfortable day pack to carry it all! We'd also strongly recommend grabbing yourself a pair (or two!) of merino wool or possum fur socks. Both materials are great for eliminating the rubbing which causes blisters - plus when you get home they're the best socks for winters round the house!
Other items to consider include hiking poles, gaters, a camera and spare rain pants. On our hikes our guide will carry a first aid pack and satellite phone for emergencies.
What are the sightseeing highlights?
Everyone has different specific interests so we thought we'd cover a bunch of cool things you'll see during the hike.
Mangatepopo Valley to Soda Springs
As you walk up the valley, look out for the different coloured lava flows from Ngauruhoe volcano. The surface colour of younger lava is darker and absorbs much of the sun's heat - this is a harsh environment for plants to grow and the reason why the youngest flows only have a few plants, lichens and moss. The older flows have progressively more species and large plants, which take advantage of the slow build up of precious soil.
Soda Springs to South Crater

Known as the Devil's staircase, this section is steep with a 200 metre (656 feet) elevation gain. On this section of the trail, on a clear day, you'll get views down the valley, across sweeping farmland all the way to Mount Taranaki on the West Coast.
The saddle is also the starting point for those wishing to make an ascent of Ngauruhoe, a strenuous climb over loose scoria that takes around 3 hours (it is important to check conditions before attempting an ascent, as ice can make it treacherous).
South Crater to Red Crater
From the saddle, the trail crosses South Crater - the way is clearly signed. Roughly 7 km (4.4 miles) into the trail, after a further stiff climb, you reach the highest point, spectacular Red Crater. It is still active, as evidenced by the clear smell of sulphur as you peer into it. From here, there is a stunning view down towards aptly named Emerald Lakes, two small, water-filled craters, brilliantly colored due to a high mineral content. You will want to linger, but the summit of Red Crater is very exposed, and high winds can make it bitterly cold.
From the Red Crater you can enjoy awesome views to the east over the Oturere Valley, Rangipo Desert, Kaimanawa Forest Park. Looking down into the crater you'll notice the unusual formation within, known as a 'dike' - you'll know when you see it! The red colour in this crater is from high temperature oxidation of iron in the rock.

Red Crater to Emerald Lakes
The descent down to Emerald Lakes is steep, through loose scoria. Just after the second lake, pass a side trail on the right (it leads to another hut) and continue northwards over Central Crater. You're now over half way and most people take a well-earned rest here. We reckon this is the coolest part of the trail, with views down to the brilliant and aptly named 'Emerald Lakes'. The colouring is caused by minerals leaching from the adjoining thermal area. You can see thermal steaming around these lakes and this is also what causes the sulphurous smell. The Maori name for the lakes is Ngarotopounamu meaning greenstone-hued lakes. The water is cold and acidic and is not suitable for swimming or drinking!
A final, short climb leads up to magnificent Blue Lake. An old vent, Blue Lake was originally called Te Wai-whakaata-o-te-Rangihiroa (Rangihiroa's Mirror), and it was Rangihiroa's descendent who donated the main part of Tongariro National Park in 1887.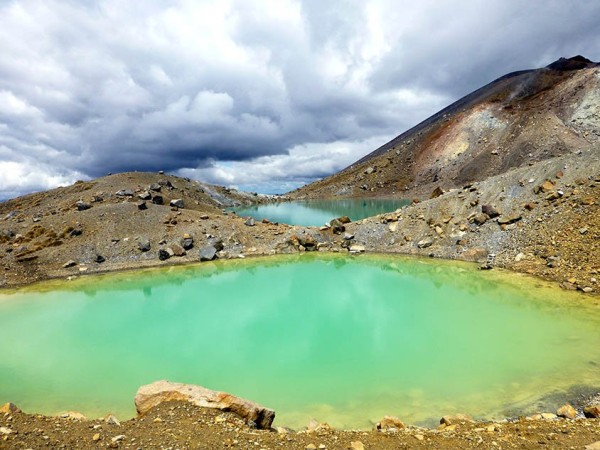 Emerald Lakes to Ketetahi Hut
A final, short climb leads up to magnificent Blue Lake. An old vent, Blue Lake was originally called Te Wai-whakaata-o-te-Rangihiroa (Rangihiroa's Mirror), and it was Rangihiroa's descendent who donated the main part of Tongariro National Park in 1887. This lake is tapu (sacred) in Maori culture so don't swim in or eat food around the lake.
As you descend to Ketetahi Hut, the scenery changes, and views open up ahead of Lake Rotoaira. Close to the hut, the track passes plumes of steam and mineral-streaked rocks, Ketetahi Hot Springs. Be aware that you are now crossing private land and there is no right of access to the springs.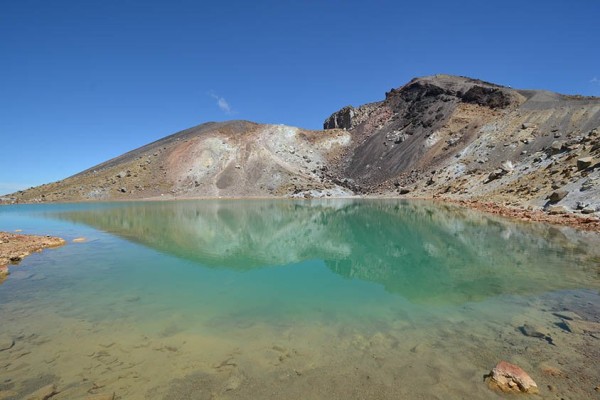 Ketetahi Hut to Ketetahi Carpark
As you reach the end of the track you'll have superb views of Lakes Rotoaira and Taupo to the north. After about an hour walking through golden tussock-covered slopes you'll reach the podocarp-hardwood forest - a welcome retreat into the cool canopy on a hot day.
What wildlife can we expect on the hike?
Most of the trail is exposed to the elements with alpine or sub-alpine vegetation offering little substance or shelter for wildlife. Once you reach the bushline towards the end of the hike you'll have the opportunity to see (or hear) Robins, Tuis, Tomtits and Kererus (NZ wood pigeons).
Where else can I find information about the Tongariro Alpine Crossing?
Department of Conservation - New Zealand's national body responsible for all public hiking trails
http://www.tongarirocrossing.org.nz/the-track.html - this site has a great elevation chart of the hike
Great Lake Taupo - the area's Regional Tourism Organisation
Curious about other day hikes in New Zealand? We've covered three other gems here.