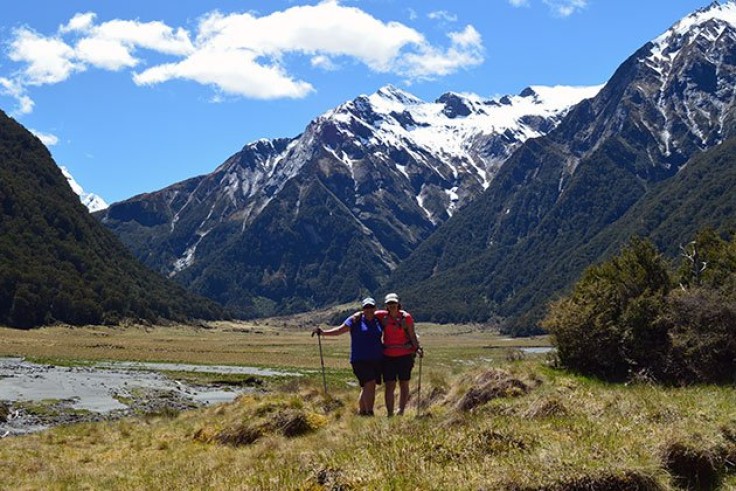 Mount Aspiring National Park is a hiker's paradise and a must for mountaineers. The park spans a large area, from the Haast River in the north to the Humbolt Mountains in the south. Large valleys, carved out by ancient glaciers, dissect high mountain ranges - the views are endless and unforgettable. Mount Aspiring National Park is part of Te Wai Pounamu, the southwest New Zealand World Heritage Area. Here's some useful information about things you should know in order to plan your visit in Mount Aspiring National Park.
Brief history of Aspiring National Park
Ancient Maori trails led through parts of what is now national park. Early travellers passed through in search of pounamu (greenstone), much valued as a material for tools, weapons and ornaments. After European settlement, many of the valleys were farmed and exploited for minerals including scheelite. Remnants of these activities can still be found in and around the park. Tourism development began in the late 1880s, when guided trips were first offered into the Routeburn Valley.
Mt. Aspiring itself is the only peak over 3000 metres outside Mount Cook National Park. One of the most unusual areas in the park is the Red Hills 'mineral belt' in the southwest. Here the concentration of magnesium in the soil is so high that only a few hardy plants survive.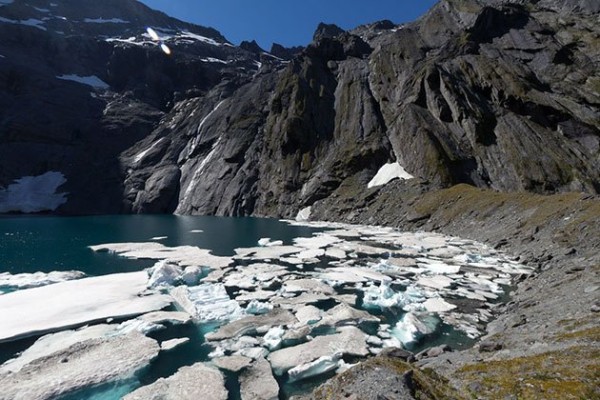 Hike through varied beech forests teeming with bird life
Beech forests dominate below the bush line. Each beech species favours slightly different growing conditions so while you might find red beech in sunny, frost-free situations, you will usually find silver or mountain beech at higher altitudes, happily surviving winter snow falls. Ribbonwoods are among the first to colonise open areas (caused by slips and avalanches); these are among New Zealand's few deciduous trees. Above the bushline are snow tussock grasslands and herbfields with mountain buttercups, daisies, and ourisias.
Rifleman, bellbird, South Island robin, yellow crowned parakeet, mohua (yellowhead), tomtit, South Island fantail and New Zealand pigeon are common bush birds found in Mount Aspiring National Park. Towards evening, native bats and moreporks (small owls) can be seen and heard. Blue ducks and paradise ducks also live in the valley. Introduced animals include whitetail deer in the lower Routeburn valley, red deer throughout the forested areas and chamois about the mountaintops. Possums, rats and stoats are a widespread threat to native birds. Introduced brown and rainbow trout are found in the lower Routeburn and brown trout are present in Lake Howden. The park's alpine areas are home to the threatened rock wren and the high-profile kea. These mischievous mountain parrots have been known to take an unhealthy interest in visitors' packs, tents, car antennae and even bicycle seats so keep your belongings with you at all times!
Our favourite things to do in Mount Aspiring National Park
1. Hike the short track to Blue Pools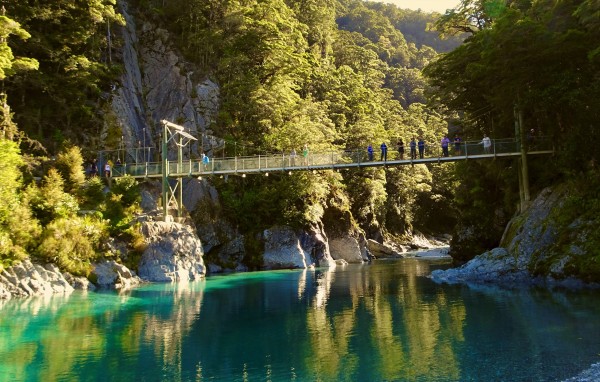 This one is a no-brainer. Well indicated from the road and recently gifted with a brand new parking area, the Blue Pools Track is only a 1.5km easy walk through beech forest leading to a swingbridge that will give you front-row seats to the insanely blue, crystal clear water of the Makaroa River. The blue color comes from the light refraction, so you'll need a sunny day for the full experience!
If you have some spare time, just down the road are the Fantail Falls, where the Brewster Track starts. The falls are just a 10-minute walk from the road.
2. Jet boat the Makaroa River or fly into the Siberia Valley...or combine!
This experience is as scenic as New Zealand gets! Part of our 'Essence of the South Island 'Tui'' trip, this amazing adventure starts in the small township of Makaroa where you'll hop on a fixed-winged plane and take a breathtaking flight through the Southern Alps before landing on the Siberia Valley airstrip. From here, it's a short 10-minute walk to your hut where you can ditch your heavy pack for the night.
If your senses aren't already blown away, you'll certainly be awe-inspired as you journey from Siberia Hut, upriver through a serene valley before starting the upward push to Crucible Valley - which will actually leave your breathless. The effort is well worth it, as once you make it over the moraine wall, you're met with the most incredible blue alpine lake. A perfect spot for a picnic! The hike down will feel like a breeze after the challenging hike up, especially with a cosy hut and warm dinner to look forward to.
The next day, if you choose to combine the flight with the jet boat, you'll take a short hike out to Kerin Forks at the head of the Wilkin River. This track heads mainly through native bush until you're surprised by a clearing and a friendly jetboat waiting for you. The ride back to Makoraro in the jetboat turns a long arduous hike into a faced paced and exhilarating ride, with plenty of scenic photo stops along the way.
3. Hike the Routeburn Track
Whether you have a few hours or a couple of days up your sleeve, the Routeburn Track is a must-do for keen hikers. One of New Zealand Great Walks, you can be assured the views, facilities and trails are all top-notch. The full Routeburn Track is 32km (20 miles) and can be hiked from either direction. Plus, with numerous huts along the way, it's easy to spend as much or as little time as you'd like exploring this spectacular region.
If you have just a day to spend hiking, either side has beautiful day-hikes that are well-marked and easy to navigate. Starting from Glenorchy, a relatively flat hike will take you to the Routeburn Flats Hut which has stunning views up the North Routeburn Branch. Or, if you have a few more hours and extra energy, the hike up to the Routeburn Falls Hut is a great way to get up into the Alpine region.
Starting from the other end, at the Divide, you can either choose a popular side trip to Key Summit where you'll have vast views over Fiorldand - this hike takes roughly 1.5 hours each way. Or if you'd prefer to stick to the main Routeburn Track, after a couple of hours of hiking you'll find your way to the Lake Howden Hut which is tucked into native trees near the edge of Lake Howden.
No matter which way you decide to tackle the Routeburn Track, you'll be making plans to come back and explore it again!
4. Hike to Aspiring Hut (or Liverpool or French Ridge Hut, if you're up for a challenge!)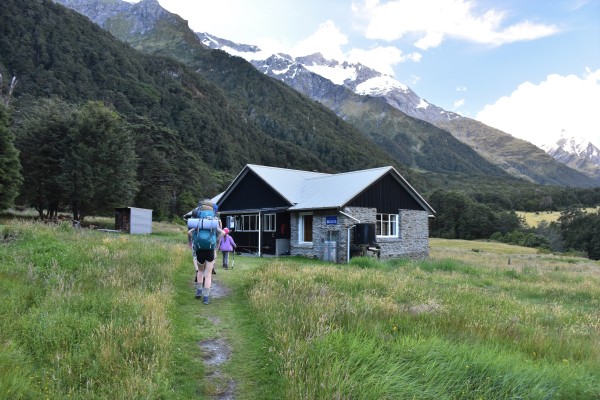 It's easy to see why Aspiring Hut is a favourite among families, backpackers and hiking enthusiasts alike. After a relatively flat 2 hour hike in, you'll immediately feel like you've left the busy world behind. The hut itself is well-kept and with 38 bunks, comfortable mattresses, gas cookers and a wood-burning stove - you'll have many of your creature comforts well taken care of. Just don't rely on a hot shower!
If you're keen to explore further, continue up (and up!) the track to Liverpool Hut. This track can be enjoyed as a day hike, or if you prefer a more rugged experience, the hut itself is a stunning place to call home for the evening.
Across the valley from Liverpool Hut, is French Ridge Hut - this one isn't for the faint-hearted! At 17km (10.5 miles) each way, with river crossings, rock and tree scrambles along with a grueling climb - we only recommend ticking this one off if you're a confident hiker with a good level of fitness. However, when you finally reach the ridgeline and see the tiny red hut in the distance, all the hard work will be well worth it!
5. Hike the Rob Roy Glacier Track
A popular, yet well off-the-beaten-path hike, Rob Roy Glacier Track is a great day hike option. From start to finish, you can expect to spend between 3 to 4 hours hiking with some elevation gain - however, the change in scenery you'll experience is incredible in just those few hours.
You'll start at the same car park as Aspiring Hut but soon cross a scenic swing-bridge and make your way through the alpine vegetation. After an hour or so of gradual uphill hiking, you'll come to the head of the valley where you'll be rewarded with breathtaking views of Rob Roy Glacier.
The dramatic and power of the glacier, along with the surrounding waterfalls, it absolutely a site to see. It's no wonder Rob Roy Glacier Track is noted as one of the most stunning hikes in the Lake Wanaka region!
6. Take a scenic flight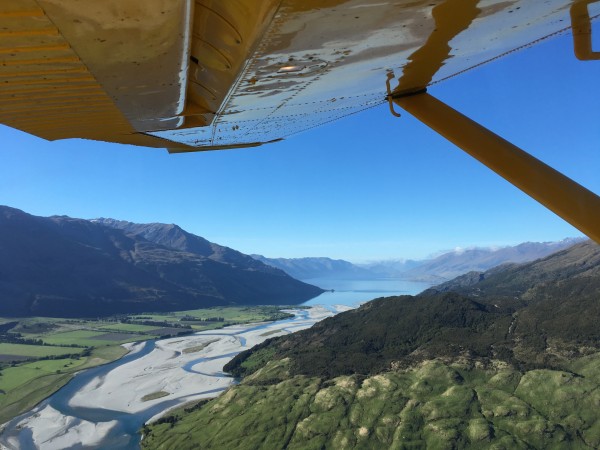 The only way to see the true expanse of Mt Aspiring National Park is to take a scenic flight. You'll soar above the Southern Alps and be wowed by the rugged and hidden valleys the region is bursting with.
There are plenty of options to suit you, your time frame and your budget. You can choose between a helicopter and a fixed-wing plane, add in a glacier landing, a scenic picnic or alpine hike - there's even options from 1 hour to a full-day adventure. If you're keen to tick off one of these other must-do's - keep an eye out for combo trips too!
7. Hike to Brewster Hut and see the Brewster Glacier and Mount Armstrong
A challenging hike, but step-for-step, the unfolding 360 degree views are hard to match. The climb itself (yes, we mean climb!) takes between 3 to 4 hours through beech forest and alpine vegetation and brings you up to 1450m (4747ft). From here, you'll have overwhelming views of Mount Brewster, Brewster Glacier and the Aspiring Range.
Staying overnight at the Brewster Hut and watching the sunset over the Aspiring Range is a true kiwi experience. With the help of the high altitude and location of nearby mountains, the sun seems to set right in from of you and gifts the surrounding glaciers and snow-covered mountains a lovely pink hue.
If you have another night to spend at the Brewster Hut, a good option is to climb to the summit of Mount Armstrong. This track will take about 2 hours each way, and if you're an experienced hiker, you can even access the Mt. Brewster Glacier. It's always best to check in with the Department of Conservation before attempting this!
See Mount Aspiring National Park on the following New Zealand tours
Rimu – 14 day South Island adventure trip
Tui – 8 day South Island adventure trip
Winter Rimu – 14 day South Island adventure trip
Kea Family – 13 day South Island family trip
Manuka – 14 day South Island hiking trip