So you've made it up to Machu Picchu. After months of planning your Peru tour, a flight to another continent, a few buses and a train or perhaps a 4-day trek... you're here. The end of the line. Or wait - is it? Looking down over the ruins of Machu Picchu, taking in the vista's otherworldly beauty, you see a mountain's peak just off in the distance. "What is that?" you ask yourself. Well, my friend, that's Huayna Picchu. And yes, folks do climb it from time to time!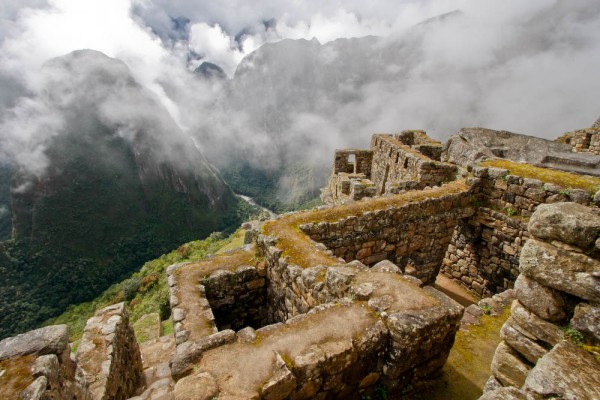 Huayna Picchu partly shrouded in cloud in the background
Before you make your decision to climb Huayna Picchu, however, there are some things that you'll want to think about. First of all, there are logistical concerns: only 400 visitors are given permission to climb Huayna Picchu daily and, since July of 2011, these groups are broken down into two well-defined time slots--200 visitors leave at 7 AM and 200 more leave at 10 AM. These two groups must return from the peak of Huayna Picchu by 10 AM and 1 PM, respectively.
So before you reserve your time slot, what else must you take into consideration? Take another look at the photo of Huayna Picchu. It's pretty steep, isn't it? It's a short hike, but with the altitude gain, it can be somewhat gruelling. So before you head out on your climb, it's necessary to consider your physical condition.
Huayna Picchu Fitness
Let's be clear: climbing Huayna Picchu is physically challenging. The peak of the mountain is about 2,720 meters (8,920 feet) above sea level, and about 360 meters (1,180 feet) above Machu Picchu, where you will begin your climb. This can be difficult for the less-in-shape among us, but don't let it scare you away--even if you're a bit overweight or on the older side, plenty of people just like you have climbed Huayna Picchu successfully. The most important tip is to simply take your time and, if necessary, to stop and allow others to pass you without getting flustered.
There are two sections of the Huayna Picchu hike that are generally considered the most difficult. We'll show them to you now, and if you think you're up for them, you should be good to go!
Huayna Picchu Tunnel
Nearing the summit of Huayna Picchu, there is a narrow tunnel you must navigate through that looks something like the picture below. Apparently, this feature was built into the path by the Incas; the idea was that it would act as something of a "choke point" for any invading forces attempting to make their way up the mountain. We imagine that it would have worked quite well - it's a small space, and there are points where some people find it necessary to crawl on their hands and knees. This can be especially difficult if it's raining or shortly after a rainfall, as water is known to drop through the cave's roof and run down its walls. This can make the cave portion of the trip significantly more slippery.
Huayna Picchu and its So-Called "Death Stairs"
Also found near the summit of Huayna Picchu, the peak's famous "death stairs" are not quite as scary as some might have you think. That being said, they're no walk in the park either. Most visitors assume that the climb will be more intense going up, and the presence of this staircase at the start of the descent throws many for a loop. It's quite an extreme set of stairs, reaching an angle of over 60 degrees at some points. There's also no railing to hold on to, so we recommend a lot of caution when navigating this section of the Huayna Picchu descent.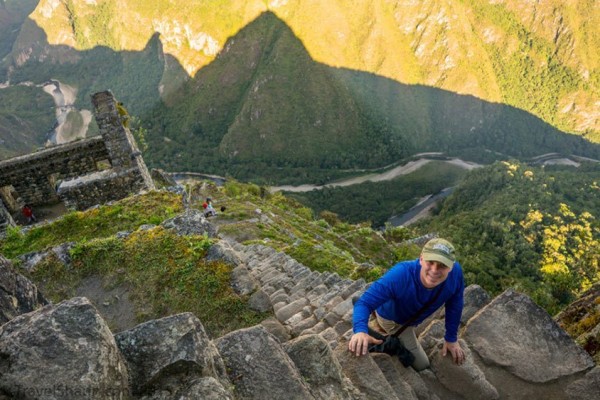 Image courtesy of travelshaun.com
Despite the impressive nature of this stair set, they're actually less difficult than some stairs going up. What can be overwhelming for visitors regarding the "death stairs" is the sense of vulnerability created by a lack of railing coupled with the view in front of them, which can create the sensation that a misstep could result in a never-ending free fall to the valley floor below. But don't worry, thousands of visitors have navigated the stairs at Huayna Picchu before you without problems, and you can do the same.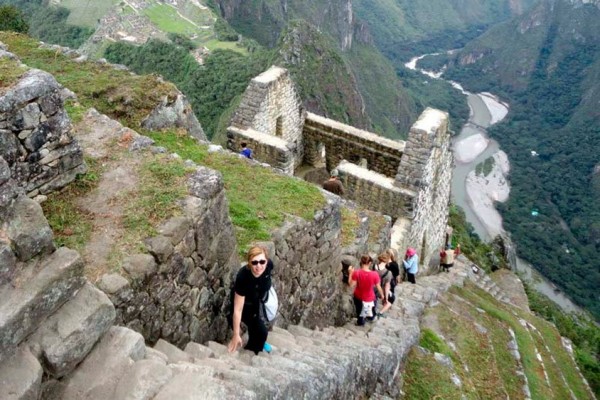 Image courtesy of ticketmachupicchu.com
A Final Note
This brings us to our last, and perhaps most important note regarding the Huayna Picchu climb. A large part of the climb's difficulty is psychological - the idea that one is relatively exposed on the face of a mountain high above the valley below. If you experience an extreme fear of heights or a condition that can cause loss of balance such as vertigo, it is strongly suggested that you do not take part in the Huayna Picchu climb. Though rare, sufferers of these conditions have experienced problems climbing Huayna Picchu and, in recent years more than 20 deaths have occurred on its slopes. In light of this and in the interests of our guests' safety, Active Adventures currently do not offer the option of hiking to Huayna Picchu on any Machu Picchu itineraries.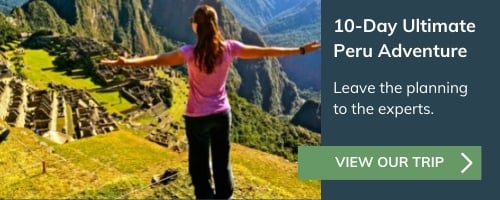 If after reading that article you decide that Huayna Picchu isn't for you after all, but you're thinking about going to Peru in the near future, have a look at our ultimate guide to hiking the Inca Trail for more hiking inspiration!