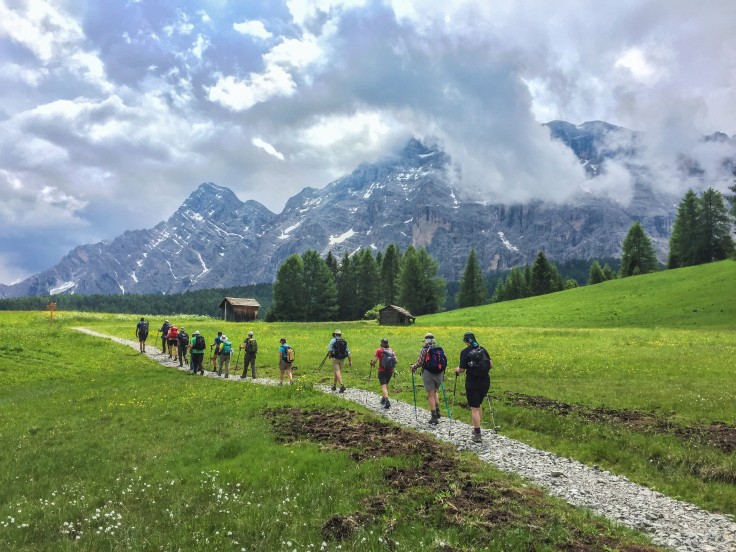 Alpine meadows, rugged coastlines, volcanic moonscapes, hospitable villages, and waterfalls abound; Europe has spectacular scenery to discover across 40 countries. Between the 10 major mountain ranges, Christian pilgrimages, and historical landmarks, we created a list of adventures that will have your heart pumping and your legs twitchy to get up and go!
The following epic routes include a mix of destinations and difficulty levels. Some are famous multi-day hut-to-hut hikes that often hover at the top of people's bucket lists for years, and others are day hikes you may have never heard of before. But each of them features a way to dig deeper into the local culture, idyllic to challenging terrain, and natural beauty of European wilderness. Here's our list of the 12 best hikes in Europe.
Summary List
1. Tour du Mont Blanc, France
Duration

: The full Tour du Mont Blanc is typically completed in 10 - 12 days, with 5 - 7 hours of hiking daily.

Difficulty

: Moderate to difficult with steep ascents and descents during each stage.

Length:

Full length is about 170 km (105 mi)
Circling the highest peak in Europe and spanning three countries, the Tour du Mont Blanc is often considered some of the best hiking on the continent. It's famous for alpine views, pristine green meadows, and a mix of cultures in the nightly mountain lodges. Typically beginning in the small town of Les Houches, France, and walking in an anticlockwise direction, the route will take you around the Mont Blanc massif through northern Italy and Switzerland.
While many long-distance hikes require back-packing, hikers on the Tour du Mont Blanc can stay in mountain refuges that offer basic rooms, a hot meal each night, and plenty of opportunities to share stories over local treats.
The Tour du Mont Blanc takes you through 7 valleys, which are essential to the trail's history. Paths between the valleys were used as a trade route by shepherds who needed to move their herds. The entire circuit as we know it was first hiked by Horace Benedict de Saussure and companions, a geologist seeking a way to climb Mont Blanc in 1767. He didn't find a way to the summit during this visit but instead walked entirely around it. The Mont Blanc massif must have captivated Horace because he returned many times to the region as it captivates many hikers today.
However, you don't have to hike the entire route to enjoy the alps. The circuit can be broken into segments or enjoyed with other activities like biking and kayaking. Check out Active Adventure's Tour du Mont Blanc multi-activity tour as an example of hiking the route, plus an additional focus on engaging with the local history, culture, and cuisine.
2. Trolltunga, Norway
Duration

: 8 - 12 hours from the main Skjeggedal trailhead, 7 - 10 hours from the alternative Mågelitopp trailhead

Difficulty

: Difficult with 800 m (2,624 ft) elevation gain from the main Skjeggedal trailhead, 320 m (1,050 ft) elevation gain from the alternative Mågelitopp trailhead

Length:

27 km (17 mi) from the main Skjeggedal trailhead, 20 km (12.5 mi) from the alternative Mågelitopp trailhead
While it may be challenging to remember the name Trolltunga, it will be much easier when you know it means "Troll's Tongue" and is named after a thin rock that looks exactly like a tongue sticking out into the air. What makes this hike epic is the sliver of rock that juts out with a drop of over 700 m (2,300 ft) down to a ridiculously scenic Lake Ringedalsvatnet. While not posing for a photo out on the tongue, take in the dramatic Norwegian landscapes carved by glaciers.
The view from Trolltunga is breathtaking, but the hike along the way is just as scenic. At the western edge of the Hardangervidda mountain plateau, you can experience the rolling, snow-capped hill and nearby lakes of high elevations. Many hikers opt to do this hike over two days and spend the night at the iconic viewpoint. While challenging to do in a day, the overnight option allows you to slow down and take in the sights.
Where does "troll's tongue" come from? Local lore describes a brazen troll who climbed the mountains to mock the sun. He stuck out his tongue and was immediately petrified, as the sun's rays are lethal to trolls. While others might give credit to glaciers molding the cliffs. But either way, we can appreciate the rock and cliff now known as the Trolltunga.
3. Matterhorn Base Camp (Hornlihutte), Switzerland
Duration

: 3.5 - 7 hours

Difficulty

: Difficult with 672 m (2,205 ft) of elevation gain

Length:

17 m (10.5 mi) from the top of the Schwarzsee Gondola and walking back down to Zermatt
The infamous Matterhorn. The pyramid-shaped mountain in the Alps is recognizable to nearly anyone, particularly those that enjoy Toblerone chocolate. While climbing the mountain takes considerable skill and a professional outfitter with a guide, you can still have an up-close and awe-inspiring moment with the mountain by hiking to the Matterhorn Base Camp, known as Hornlihutte (Hornli Hut). The Hornli Hut is a typical base camp in Switzerland for those summiting the Matterhorn. With a good pair of binoculars, you might be able to see climbers tackle the Matterhorn's northeast ridge known as the Hornligrat – considered the easiest and most popular route to the summit.
To shorten the trek, take the gondola from Zermatt to Schwarzsee. From there, take in expansive views of mountain peaks surrounding Zermatt or try to make friends with the very adorable Valais sheep. And once you get to the Hornli Hut, soak in the excited energy of those climbing the Matterhorn and gaze up at the north and east faces of rock.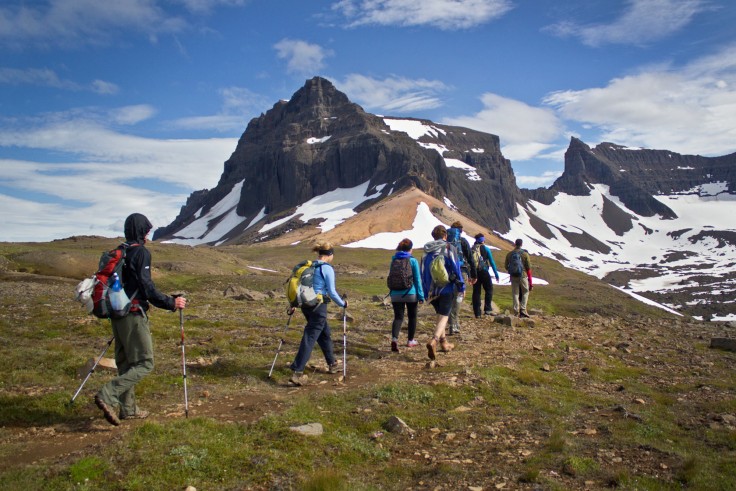 4. Fimmvörðuháls Trail to Thórsmörk, Iceland
Duration

: 8 - 10 hours day hike or can be done as a two-day hike

Difficulty

: Challenging distance with 1,280 m (4,200 ft) elevation gain

Length:

25 km (15.5 mi)
Also known as the "Waterfall Way," the Fimmvörðuháls Trail passes by an incredible 26 waterfalls, 2 glaciers, and 1 volcano as you make your way from moss-covered lava fields, barren moonscapes and end up in a lush valley. If you want to experience a variety of Iceland's landscapes and natural features, this hike was made for you. The trail starts with a bang at Skógafoss Waterfall, which we stop by on our Iceland Adventure Tours, and then climbs above the waterfall into the landscapes beyond. Just be sure to look back at the valley toward the sea for an awe-inspiring view.
While it's a bit of a logistical challenge as a point-to-point trail, hikers often state it as the absolute best day hike in Iceland and well worth the effort. You'll want to buffer extra time to take photos of each of the 26 waterfalls before getting to Thórsmörk. From Thórsmörk, you'll have to schedule a 4x4 bus pickup, or if you're planning far enough in advance, you might be able to snag a spot in one of the mountain huts and hike back out the next day.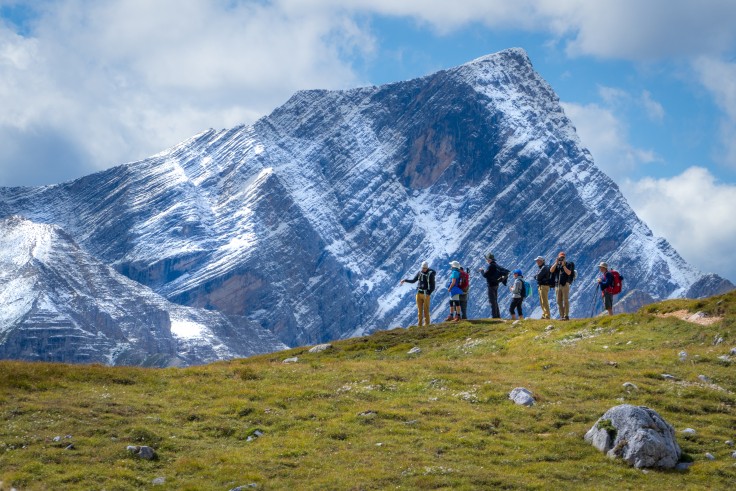 5. The Dolomites, Italy
Duration

: Single-day jaunts to multi-day adventures

Difficulty

: All levels of hikes are available
With endless tails passing by pastel meadows, turquoise mountain lakes, darling homes, and an incredible backdrop of vertical peaks and crags, it was impossible to choose a single hike in the Dolomites mountain range. Instead, we think the entire Dolomite area of northeastern Italy is an adventurous area to explore, with epic hikes available for all levels.
For easy to moderate day hikes to jagged peaks or alpine lakes, consider the Tre Cime di Lavaredo Circuit Trail, Adolf Munkel Trail, Lago di Braies to Hochalpenkopf Summit, or Sass di Putia Circuit. For more challenging hikes, consider attempting to summit one of the peaks or going for a multi-day trek using mountain lodges.
As you can tell from some of the trail names, there is an intermingling of languages. On the trail, you hear "Ciao!" (Hello in Italian), "Guten Tag!" (Good day in German), or "Bun dé!" (Good day in Ladin). While the national language of Italy is Italian, a large portion of the Dolomites is German-speaking, except those speaking Ladin, a language spoken by the early inhabitants of the five Ladin valleys. Until the early 20th century, the Dolomites were part of the Austro-Hungarian empire. Battles took place in the Dolomites during World War I, after which the region became part of Italy. You can still climb to abandoned WWI posts on a Via Ferrata, such as the Via Ferrata Mario Fusetti, which we visit on our Dolomites Adventure.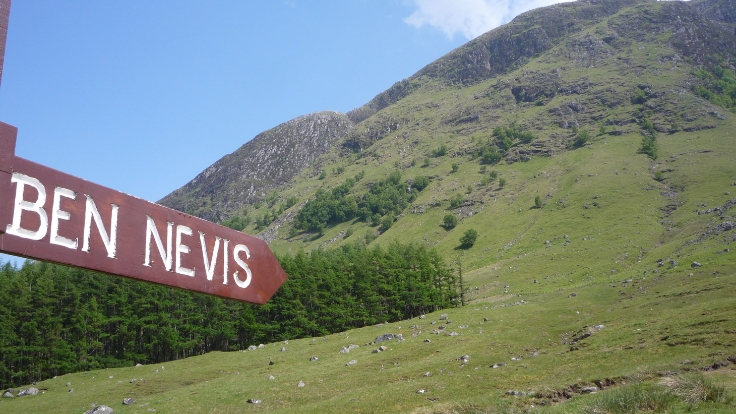 6. Ben Nevis, Scotland
Duration

: 7- 9 hours day hike

Difficulty

: Difficult with 1,345 m (4,413 ft) of elevation gain

Length:

16 km (9.8 mi)
Ben Nevis has two translations from an ancient Gaelic language. The first translation means "mountain with its head in the clouds," which can easily be attributed to the swirling mist that often covers the peak. The second translation could mean "venomous mountain" - you can tell us which translation is more appropriate after the hike!
Located in the northwest Highlands, Ben Nevis was once a massive active volcano that collapsed in on itself millions of years ago. Though collapsed, it is still 1,345m (4,412ft) and the tallest mountain in the British Isles. Compared to some of the other hikes on this list, peak bagging "the Ben" may seem easy, but it's important not to underestimate the elevation gain of this hike and changing weather conditions of Scotland.
You could also say that Ben Nevis is one of the most famous hikes on this list, with over 125,000 summits each year. Nearly three-quarters of those summits are along the Mountain Track, the distance and elevation gain we listed here. But if you are an experienced hiker who doesn't mind a scramble, you could consider the alternative Càrn Mòr Dearg Arête route. Either way, we wish you clear skies for fantastic 360-degree views that stretch to Northern Ireland!

7. Eagle Walk, Austria
Duration

: While some intrepid hikers take on all 33 stages at once, which would take just about 24 days, others will dip into the trail and do just a few stages or simply tackle a single stage as a day hike. Each stage is roughly 8 - 20 km (5 - 12 mi).

Difficulty

: Moderate to challenging, depending on the stages

Length:

The full length is 422 km (262 mi), which is broken into 33 stages
The love of bergwandern (mountain walking) runs through nearly all Austrian's veins, from toddlers enjoying meadows to the retired taking on mountain passes. And luckily, the Austrian Alps stretch across most of the country, with the highest peaks in the states of Carinthia, Salzburg, and Tyrol. We chose the Eagle Walk as an adventurous and extensive way to experience Tyrol's alpine scenery. The entire length of the Eagle Walk would take more than a month to complete as it stretches across the length of the state, from east to west. Looking at a map, you'll see the route symbolizes an eagle spreading its wings.
With 33 stages, some set out to hike the entirety of the Eagle Walk, while others may want to trek across a specific range within the Austrian Alps. The first three stages of the Wilder Kaiser mountain range take you by beautiful scenery and the darling town of Scheffau. Or perhaps walking by the highest peak of Großglockner in East Tyrol is more exciting. Each night, hikers can experience mountain pasture culture, culinary traditions, and one of the 66 available mountain huts.
While we all love a little mountain walking, there are many ways to experience the Austrian Alps. On our multi-activity Austrian Alps Tour, we hike, cycle, and raft through the countryside for a dynamic and interactive view of Austrian nature.

8. Camino De Santiago, Spain
Duration

: Hikers tend to spend 35 days hiking the Camino Frances, covering 20 - 30 km (12 - 18 mi) daily

Difficulty

: Moderate with mostly flat trails, but considerable mileage to cove each day

Length:

The full Camino Frances is 790 km (490 mi), and the full Camino del Norte is 825 km (512 mi), both of which can be started at closer destinations
The Camino de Santiago, or the Way of St. James, has many names and routes but a single destination. In the 9th century, a tomb containing relics of an evangelical apostle of the Iberian Peninsula was discovered. People across the European continent made their way through Spain on a pilgrimage to the Cathedral of Santiago de Compostela, creating not just a network of routes from their homes across Europe. There are nine primary trails through Spain and parts of France or Portugal.
The most popular route is the Camino Frances, with an estimated 55 - 60% of pilgrims taking this route. However, you may consider alternative ways depending on the ease of access to starting, weather, landscape, cultural interests, and whether it is the busy season. Some routes offer a more challenging route through mountains which may provide more scenery. Or perhaps consider the Camino del Norte for coastal access. Whichever way you choose, you can follow the symbol of the scallop shell through charming towns and seemingly endless cornfields. Or spot other pilgrims who sometimes wear the shell.
You might not have 30+ days hiking through the Spanish countryside as exciting as it sounds. That's not a problem, as many pilgrims will do the entire trek in sections or focus on the last 100 km (62 mi), which can typically be completed in less than a week. Our Camino de Santiago Itinerary blends hiking key moments along Camino Del Norte Route with traditional foods, historical sites, market visits, seaside views, and city explorations.


9. Plitvice Lakes National Park Route K, Croatia
Duration

: 6 - 8 hours day hike

Difficulty

: Moderate with about 610 m (2,000 ft) of elevation gain

Length:

18.3 km (11.4 mi)
With boardwalks over crystal clear turquoise waters, 90 waterfalls, and the potential for seeing natural wildlife like bears and deer, Plitvice Lakes National Park is a fairy-tale landscape with hiking trails connecting it all. The longest trail, Route K, takes you on a grand tour of the entirety of the park, including both Upper and Lower Lakes. However, you can shorten the trek by bus, tram, or ferry systems to get you places more quickly. One ferry ride from the lower lakes to the upper lakes (or vice versa) is included with the price of admission.
In the Lower Lakes area, you'll find the characteristic wooden planks in a canyon surrounded by karst walls, 4 lakes, a scenic viewpoint, and Veliki Slap. Don't worry; you will not get slapped by anyone! The Croatian word for waterfall is slap, which makes sense considering how the falling water slaps the pool below. Veliki Slap is the tallest waterfall in the park at 76 m (250 ft). The Upper Lakes features 12 lakes and numerous waterfalls, including the often photographed Galovački Buk Waterfall.
With much to see and a high possibility of crowds during the summer season, we recommend staying an extra night in the area and utilizing early morning or late evening time to explore more. Halfway between Zadar and the capital city of Zagreb, Plitvice Lakes National Park is fantastic to add to any coastal explorations. Check out coastal hiking, island cycling, and sea kayaking we do on our Croatia Adventure.
10. Hadrian's Wall Path, United Kingdom
Duration

: Hikers tend to spend 4 - 6 days on the path, with 3 - 7 hours of daily hiking

Difficulty

: Easy to Moderate, depending on your pace

Length:

Full length is about 170 km (84 mi)
Walk from coast-to-coast across northern England, where 15,000 Roman soldiers built a wall to serve as a border to separate the empire from the Scottish Picts. The original wall took six years to build, from 122 - 128 AD, but is now a UNESCO World Heritage site named after the emperor who ordered its construction, Hadrian. You can walk the entirety of Hadrian's Wall Path to discover ancient settlements, forts, and museums. Generally considered a gentle hike, it will take about a week to complete as you go through rolling fields and rugged borderlands, exploring the bustling cities of Newcastle and Carlisle and the green pastoral scenes of Eden Valley.
A few more joys about the trail are that it is well-maintained with the option to stay in comfortable accommodation each night without having to camp. Following the acorns symbol or arrows as trail markers are easy, but it may be harder to decide which direction you would like to take the path. The wall was initially built from east to west, but for more favorable weather conditions, consider walking from west to east. Regardless of how you tackle this hike, you're sure to enjoy the history and scenery of this multi-day walk through the English countryside.
11. Samaria Gorge, Greece
Duration

: 4 - 8 hour day hike

Difficulty

: Moderate, with 1,230 m (4,035 ft) of elevation loss

Length:

15 km (10 mi)
Famous for being the second-largest gorge in Europe, the Samaria Gorge on the island of Crete is a 15 km trek down a river bed with cliffs towering above and a couple of river crossings. Starting at Xyloskalo, with sweeping views of the valley, the trail makes its way down to the Libyan sea. At the narrowest point, known as 'the Gates,' the walls are only 4 m (13 ft) wide, and cliff walls are as high as 300 m (980 ft) tall.
The Samaria Gorge features uniquely-Cretan flora and fauna, such as the kri-kri goat, found nowhere else in the world. In the 1960s, the kri-kri was so endangered that the total population was below 200. The kri-kri was one reason the Samaria Gorge became a National Park in 1962. Still under threat, the kri-kri's population is up to around 2,000 individuals, and you may have the chance to see one while hiking in the Gorge.
The Samaria Gorge is often trekked as a point-to-point trail, so you'll either book a tour or take a 25-mile scenic bus ride to the trailhead in Xyloskalo. Then after you descend through the gorge, you'll end up at the Agia Roumeli, a seaside town only accessible by foot or boat. Catch a ferry to the nearby village of Chora Sfakion (the last ride is usually around 6:00 pm) and take a bus from there. Before your hike, confirm when the last boat leaves so you can pace yourself and enjoy flora and fauna in one of Crete's national parks.
12. Jungfrau Region, Eiger Trail, Switzerland
Duration

: 2.5 - 3.5 hour day hike (starting at the Eigergletscher station)

Difficulty

: Moderate

Length:

6 km (3.7 mi)
Like the Dolomites in Italy, the Jungfrau region in Switzerland is a hiker's paradise with accessible trails, alpine pastures, rocky terrain, endless mountain views, and waterfalls to explore. While we chose the Eiger Trail day hike for this list, we hope you'll dig deeper into the wide variety of trails in the region. Also, check out our Swiss Alps Adventure tour, where we hike and cycle the mountains of Switzerland from Zurich.
The draw of the Eiger Trail is walking beneath the soaring north face of Eiger, accompanied by panoramic views of the Grindelwald Valley. On a clear day, you might even be able to see climbers take on the peak with binoculars. The Eiger Trail is a fan favorite for the scenic views packed into 6 km (3.7 mi) and a mostly-downhill trail. The hardest part of the trail might be figuring out the train system! To start the route, take the train to Kleine Scheidegg, where you can walk up to the Eigergletscher station in about an hour or get there by train. Take in the view of Eiger Glacier at the end of the hike before taking the train back to Grindelwald or down to Kleine Scheidegg.
Let's Plan Your Next Adventure Vacation to Europe
Famous for its cities and modern delights, we hope this epic and adventurous list of the 12 Best Hikes in Europe convinced you to discover the breathtaking natural landscapes across the continent. Don't hesitate to reach out to Active Adventures for those interested in exploring a single country and embarking on multi-activity adventures with cycling, rafting, kayaking, and hiking. Our Adventure Consultants will help you choose the perfect itinerary and activities for your desired time of year, destination, and excitement level.