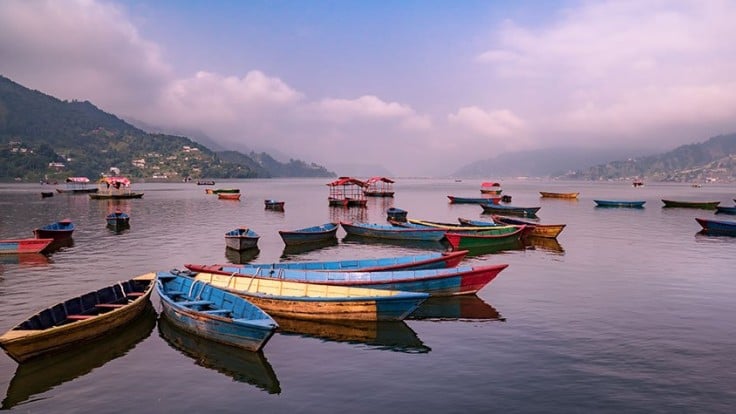 If you're planning on heading to Pokhara during your stay in Nepal, we highly recommend setting aside some time to do some exploring.
Pokhara is an enchantingly picturesque city on the shores of Phewa Lake, 200km west of Kathmandu and the second largest city in terms of population. The contrast of the mountains reflecting in the water against the brightly painted and charming paddle boats makes for a picture-perfect moment, with countless spots to grab an epic photo for the folks back home.
Here you can spend your day wading through the water to a temple in the middle of the lake, or you may find yourself jumping off the side of a mountain and into some of the best paragliding in the world - there's something for everyone. If you want some more ideas on what to do, when's best to visit or a little bit of history, check out the information below.
We offer free time in Pokhara on our Annapurna Sanctuary Trek so you'll have no trouble ticking a few activities off your list if you travel with us.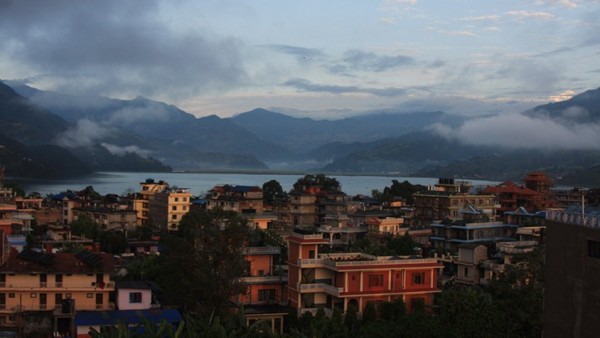 A Brief History of Pokhara:
In the 17th and 18th century Pokhara was an important hub on the trading routes between China and India, this opened the area up to the world and it only got more popular.
In 1815 the British began to recruit men from Nepal, know as the Gurkhas, and they formed a battalion under which they fought in numerous wars (and still do today). The Brits opened a recruitment camp in Pokhara which brought many to the city who were interested in signing up. Being a Gurkha was and still is seen as a huge privilege and honour, it also means a secure financial future for the soldiers with many still calling Pokhara home.
In 1959 the demographic changed again, the Dalai Lama fled the nearby Tibet as the Chinese occupation turned violent and as a result, Pokhara saw the arrival of numerous Tibetan exiles. Most passed through and on to communities in India, but some settlements were made nearby and still exist now, each well developed with their own Gompa (monastery).
Today Pokhara is a major tourism hub in Nepal with hundreds of thousands visiting each year. They arrived onto the tourism scene pretty late, with the first road into the city not being complete until 1968. Up until then it had remained a mystical place that could only be reached on foot and while it still maintains that mystical status, the city has developed into a large and frequently visited destination.
The Climate in Pokhara:
The climate in Pokhara is pleasant with summer temperatures ranging from 25 to 35°C (75-95°F) and winter being around -2 to 15°C (28-60°F). The city itself doesn't experience snowfall but the mountains often receive a dusting to top off this already scenic spot. They receive a great deal of rain, most of this being through monsoon season (July-September) with Autumn and Spring being the best times to visit, boasting mostly clear skies and moderate temperatures.
Things to do in Pokhara:
For the photographers and social media guru's: Set your alarm nice and early, and get yourself to the shores of Lake Phewa for sunrise! This might be the most iconic photo spot in Pokhara, and is a must-have for your Instagram page.

For the trekkers: Pokhara is the gateway to the Annapurna Massif and numerous incredible trekking routes. This is a great place to start and finish up your hikes with both soft and extreme adventure activities to compliment your time in the mountains. If you want to take it easy you can go for a boat ride, take a gentle stroll to the world peace pagoda, or simply sip a cup of coffee as you read a book and take in the incredible views.
And for the adrenaline junkies: If you haven't quite had your fill of adrenaline on your trip, this is the place to be. You can take to the skies with paragliding, zip-lining and bungee jumping all on offer. We're sure something will have grabbed your attention, but if not, you can explore the bat cave or the caves of Gupteshwar Mahadev, try out the local cuisine or head to the Davis Waterfalls for even more natural beauty.