Wherever you are in New Zealand, chances are you aren't far from a hiking trail – there are literally thousands! We have 14 National Parks and countless other wildlife reserves, so if you're looking to do some hiking or walking, whether it's just to stretch the legs quickly or for the better part of the day, your hiking options are wide-ranging and usually close at hand. You can stop in at the nearest Department of Conservation (DOC) office for a map or take a look at our trip itineraries for ideas. Or join us for a hiking vacation – our guides would love to personally show you the best day hikes in New Zealand!
The South Island of New Zealand is most famous for its giant granite peaks – an epic mountain range running from north to south called the Southern Alps. Due to its position on the island (running alongside the west coast) this mountain range is surrounded by vastly different coastlines and landscapes. The northern tip is home to the sunny and golden sanded Nelson/Marlborough region. The east coast has black sand beaches surrounded by vast flat and fertile planes, prefect for farmlands. The south coast is wild and gloomy with rolling hills, still amazing for farmland, but the wild West Coast is one of the most beautiful coastlines in the world.
The Southern Alps literally explode straight out of the ocean, and where the cool mountain air meets the warm ocean air we get precipitation… and a lot of it. For this reason the West Coast is famous for its Amazonian rainforests, with mystical black rivers, set on a backdrop of giant snow-capped granite peaks. But when it's not raining, it's one of the most beautiful hiking destinations in the world.
So, without more suspense, here are, in our humble opinion, New Zealand's South Island best day hikes:
1. Abel Tasman Coastal Track day hikes
The Abel Tasman Coastal Track is one of the 10 Great Walks of New Zealand, and meanders its way through the iconic Abel Tasman National Park. The entire trail is 60 kilometres (37 miles) from start to finish (an A to B hike), which typically takes 4 nights/5 days to complete. But if you're short on time and still want to experience the park, there are many incredible day hikes to choose from.
A personal favourite for us locals is to get dropped off at Bark Bay and hike back to Marahau. Your hike will begin at Marahau, where you'll catch a water taxi (or sea kayak) into the park. The first leg of the hike takes you from Bark Bay to Anchorage – which is about 11.5 kilometres (7 miles) and takes up to 4 hours. From there you follow the giant orange triangle trail marker near the DoC hut, where the trail to Marahau begins. The second leg from Anchorage to Marahau is around 12.4 kilometres (7.7 miles) and takes a little over 4 hours.
Along the way you'll undulate your way beside the coastline, gaining access to some of New Zealand's most beautiful golden sand beaches, lush rainforests, and desert-like native Manuka forest.

The Abel Tasman Coastal Track can be hiked year-round as part of our South Island Explorer – 'Kiwi' trip.
2. Cape Foulwind day hike
Westport is a popular town to visit for any travellers coming across to the West Coast from Nelson or Christchurch. Located 16 kilometres (10 miles) south-west of Westport is the trailhead for the stunning Cape Foulwind walk. Not a long walk, the trail is 3.4 kilometres (2.1 miles) each way – taking you out to the Cape Foulwind lighthouse and seal colony. Along the way you can expect to see wild seas, panoramic mountain views, New Zealand fur seal and the old lighthouse.
You can walk the Cape Foulwind trail all year round, and it's included on the South Island Explorer – 'Kiwi' trip.
3. Inland Pack Track – Punakaiki
Located 56 kilometres (34.8 miles) south of Westport, the coastal town of Punakaiki is most famous for its pancake rock formations. What people don't realise however, is it's also home to one of New Zealand's most beautiful day hikes.
Beginning 800 metres (0.5 miles) south of the Punakaiki Visitor Centre, the Inland Pack Track is 25 kilometres (15.5 miles) each way, and most hikers choose to take 2 or 3 days to complete it in its entirety. But if you're looking for a stunning single day hike option, you can start at the Waikori Road end, and after approximately 1 hour you'll come across a junction with the Pororari River Track. Here you'll turn left and follow the River Track along the edge of the Pororari River, back to the Punakaiki Camp Ground – where it's only a short hike back along the roadside pavement to the Visitor Centre.
Hiking these trails takes you deep into Westland National Park, journeying through temperate rainforest and limestone canyons, following in the footsteps of gold miners who established this trail over a century ago.

You can hike the Inland Pack Track and Pororari River Track year round, solo or on a guided tour. We include this hike on the Ultimate South Island Adventure 'Rimu' trip, and the New Zealand Winter Adventure 'Winter Rimu' .
4. Franz Joseph Glacier day hikes – Roberts Point and Alex Knob tracks
The Franz Joseph and Fox glaciers are 2 of the most famous attractions on the West Coast of New Zealand. For anyone travelling from north to south along the West Coast, the Franz Joseph Glacier is the first one you'll come across. To access the glacier, simply follow SH6 south of the main township and turn left when you cross the long Waiho River bridge. At the road end you'll find a car park, and the Franz Valley Track begins at this point. But for a little extra walking and incredible glacier views (away from the crowds of tourists) you should consider hiking the Roberts Point Track, or Alex Knob track.
To access the Roberts Point Track, you'll begin at the Alex Knob/Lake Wombat car park (halfway between the SH6 intersection and the Franz Valley Track road end) and hike toward the true right hand side of the valley. Follow the trail through lush rainforest, crossing the foot bridge over the Waiho River. This 12 kilometre (7.5 mile) return trail opens up to smooth rock outcrops, and incredible views of the surrounding mountains and waterfalls.
As you'd expect, the Alex Knob Track starts at the Alex Knob Carpark, and takes you up the true left hand side of the valley. This 17.2 kilometre (10.7 mile) trail normally takes 8 hours to complete in its entirety. It has steep and technical sections, so it's mostly recommended for experienced hikers. Along the trail you'll hike through amazing rainforest, which eventually turns to wide open tussock country with panoramic views of the surrounding granite mountain peaks. At the top of the trail you'll find a plane table that guides you to your surrounding natural features.

You can hike the Roberts Point Track, and Alex Know Track solo, and all year round (although winter snowfall can impact the upper section of Alex Knob). These trails are also included on our guided adventure tours – the Ultimate South Island Adventure 'Rimu' trip, and the Essence of the South Island 'Tui' trip.
5. Fox Glacier – Lake Matheson Loop Track
If you've satisfied your glacier cravings at Franz Joseph, you'll carry on South on SH6 to a town called Fox. As you travel south, you'll turn right in the town centre and follow the signs to the Lake Matheson walk. Here you'll find an amazing café and visitor centre, and a short 2.6 kilometre (1.6 mile) walk through lush rainforest. The trail is smooth and well maintained, and the real highlight is calm reflections of Mt Tasman and Aoraki/Mt Cook in the calm lake Matheson. Make sure you have plenty of space in the camera, it's moody and super photogenic.

The Lake Matheson walk is low laying, and accessible all year round. You can also hike it on our guided tours – the Ultimate South Island 'Rimu' trip, Essence of the South Island 'Tui' trip, New Zealand Family Adventure 'Kea' trip, and New Zealand Biking Adventure 'Weka' trip.
6. Routeburn Track single day hikes
The Routeburn Track is one of the 10 Great Walks of New Zealand. The 32 kilometre (19.9 mile) A to B trail typically takes 2 nights, 3 days to complete. But if you're looking for single day hiking options, you can drive to either end of the trail and hike amazing sections.
Option 1: Key Summit
If you're travelling to Milford Sound, you'll pass the town of Te Anau. About 85 kilometres (53 miles) further along toward Milford Sound you'll reach The Divide, which is where the Key Summit hike begins. This iconic section of the Routeburn Track is a 3.4 kilometre (2.1 mile) hike that typically takes 3 hours to complete. You'll hike through Jurassic beech forests and shrublands until you break the treeline, where the trail opens into the rugged tussock alpine. Get your camera ready as you reach Key Summit – the mountain tarns and surrounding snow-capped peaks are awe inspiring!


Option 2: Routeburn Falls
Starting your journey in Queenstown, you'll drive through the small town of Glenorchy until you reach the Routeburn Track trail head. The Routeburn Falls hike is 8.8 kilometres (5.5 miles) each way, and the full round-trip day hike typically takes between 6 and 8 hours to complete.
The hike to Routeburn Falls takes you through lush beech forest, into the vast open planes of the Routeburn Flats and up to the impressive Routeburn Falls Cascade. This option is one of the easiest and flattest sections of the Routeburn track, so if you're concerned about your hiking ability when you're choosing your day hikes, this could be the best hike for you.
Hiking either ends of the Routeburn Track is possible all year round, although winter brings the snow level down and makes some passes impossible. It's also important to purchase hut tickets well ahead of time as they do sell out. Check for trail warnings on the DoC website before you leave, or if you're taking a guided tour, they will take care of all of these logistics and only hike when it's safe.

7. Kepler Track day hikes
A 2 hour drive south of Queenstown brings you to a small town called Te Anau, which is a popular stopping point on the drive to Milford Sound, and the access point to the Kepler Track. The Kepler Track is one of the 10 Great Walks of New Zealand, and is famous for its epic alpine ridgeline trails and lush beech forests.
The entire trail is a 60 kilometre (37 mile) loop which starts and finishes at the Control Gates on Lake Te Anau, and typically takes 3 to 4 days to complete. But if you're looking for a day hiking option, you can journey clockwise from the Control Gates for a one-way hike to Rainbow Reach (where you'll require a shuttle back to your vehicle) or you can go anti-clockwise for an out-and-back hike to Brod Bay. The hike to Rainbow Reach is around 3 kilometres (1.9 miles) each way, and the hike to Brod Bay is a little further. You'll want to allow 2.5 hours to complete these hikes.

You can hike either of these Kepler Track day hike options all year round.
8. Milford Track day hike
The Milford Track is considered to be the crown jewel of New Zealand's Great Walks. It sits high on the bucket list of any keen hiker, right next to Peru's Inca Trail, the Europe's Tour du Mont Blanc, the 'W' Trek in Patagonia and Spain's Camino Trail.
This 53.5 kilometre (33.1 mile) A to B trail begins at Glade Wharf at the head of Lake Te Anau, traversing epic mountain passes, immersing you in New Zealand's most beautiful rainforest and rugged alpine hiking until you reach Sandfly Point, in the heart of the world famous Milford Sound… which is also the starting point of the best Milford Track single day hike.
If you're looking for a single day hike on the Milford Track, you will make your way to Milford Sound and catch a charter boat over to Sandfly Point. The best hike to do is a beautiful hike to the Giant Gate Waterfalls, which is located approximately one hour each way from Sandfly Point.
If you're considering hiking the Milford Track in its entirety, it is seasonal and you can do it solo, although the numbers are very much limited. But this single day hiking option is available all year round, and it's included on guided adventure tours like our 'Manuka' trip, and 'Takahe' trip.
9. Hooker Valley Track
Hooker Valley Track is probably THE most famous day hike of the South Island. Closed for almost a year due to flooding, the track is now fully operational and you can now access again the awe-inspiring landscape of the Hooker Valley, at the feet of Aoraki/Mount Cook, the highest summit of New Zealand. This 10-kilometre easy return walk will bring you pass alpine streams, emerald lakes and ancient glaciers.
A series of swing bridges will bring you deeper in the valley, with views of Mueller Lake, old moraine ridges and the Mueller Glacier. You'll finish with stunning views of the Hooker Lake with its float of icebergs, with the majestic Mount Cook in background.

10. Mueller Ridge day hike
This is a favourite for every New Zealander, and still one of the most underrated hidden gems in New Zealand's hiking trail network. To access the Mueller Ridge you'll take a trail called Sealy Tarns Track, which begins at the White Horse Campsite – located at the end of the Hooker Valley Road (near Mount Cook Township). The trail steeply zig-zag's its way through alpine scrublands, until you reach Sealy Tarns after approximately 2 hours of hiking. The photo opportunities here at Sealy Tarns are unbelievable – with panoramic views of the Hooker Valley, mountain tarns (small mountain lakes) and Aoraki/Mount Cook.
From Sealy Tarns you can follow the orange markers (located every 200 metres) up an unmaintained trail, which leads you to the Mueller Ridge, where you can enjoy front row seats to the incredible Mueller glacier. Carry on up along the ridge for another 20 minutes or so and you'll find the Mueller Hut – an amazing 28 bed alpine cabin that can be booked for as little as US$10 per night. But most hikers choose to use the hut as a lunch spot, and turn around to return to the car, making for one of the most satisfying day hikes in New Zealand.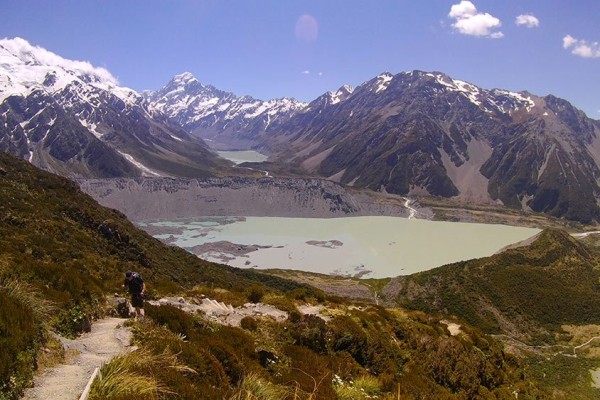 The Mueller Ridge day hike is best hiked in the warm summer months – from late October through to late April. You can hike it solo, or on a guided tour like our Ultimate South Island Adventure 'Rimu' trip, and Milford Hiking Adventure 'Manuka' trip.
11. Ben Lomond, Queenstown
Queenstown – it's the home of jet boating on the Shotover River, flying hundreds of metres through a canyon on a swing, bungy jumping off a bridge, white water rafting and skydiving over the great Lake Wakatipu. That's right, Queenstown is famously regarded as the 'adventure capital of the world'.
But if you're looking for an incredible day hike, there are 2 that us locals regard as the best of the best. One is the Ben Lomond day hike, and the other (read on) is the Mt Chrichton Loop track – and they're both very different to each other.
The Ben Lomond hike is one of the South Island's most rewarding hikes. The entire hike takes 6 to 8 hours to complete, unless you shorten the hike by taking the Skyline gondola to the tree line. Your journey begins near the centre of town, at the One Mile car park. The trail begins by leading you through Douglas fir, and into lush native beech forest until you break the tree line (slightly above the Skyline gondola building) at 800 metres (2,620 feet) of elevation. From here you'll hike through alpine tussock until you reach the saddle at 1,326 metres (4,350 feet). From here you'll carry on up to the summit on a slightly steeper and more technical section of trail. The summit of Ben Lomond is 1,748 metres (5,734 feet) high, and gives you unobstructed panoramic views of Queenstown, Lake Wakatipu and the surrounding snow-capped mountain peaks.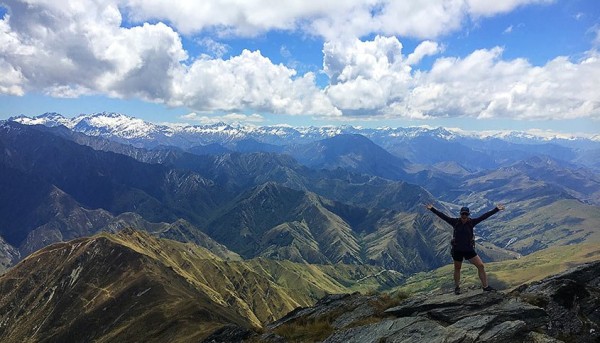 The Ben Lomond day hike can be completed all year round, although winter snowfall can make the trail difficult or impossible. So the most popular time to hike Ben Lomond is during the warmer months, from late October to late April. Every one of our South Island Active guided tours has a free day in Queenstown which you can use to hike the summit, and we include it as a guided tour on our Essence of the South Island 'Tui' trip.
12. Mt Crichton Loop Track, Queenstown
So many people visit Queenstown, yet not many realise how the township was first founded. The adrenaline packed activities that make it so famous today weren't here in the 1800's – in fact it was a gold rush that brought settlers here from all over the world.
The Mount Crichton Loop showcases some of the richest goldfields in New Zealand. You can still see old miners' huts, water races, mining artefacts and dredged valleys. But unlike many old mining sites around the world that have done irreversible damage to the landscape, the Mount Crichton Loop region has rejuvenated and the forest has flourished – so now it's one of the most beautiful hikes in Queenstown.
The trailhead begins 12 kilometres (7.5 miles) from Queenstown, along the Queenstown - Glenorchy road. As you drive toward Glenorchy you'll see a car park on the left side of the road, which is where you'll begin hiking. Follow the trail beside the public toilet and cross the main road where the markers suggest. Here you'll have 2 options – hike the trail clockwise or anticlockwise. We recommend an anticlockwise hike, since you get the steep climbing out of the way right at the very start. You'll hike above Lake Dispute, then you'll have a long and gentle walk all the way back to the car. But don't let this first ascent put you off, the trail definitely gets better and it's easier on dodgy hiking knees to do it this way.
The trail is approximately 8 kilometres (5 miles) long and generally takes between 2 and 4 hours to complete. Along the way you'll get a real sense of isolation as you explore the Jurassic beech forests, granite creeks and caves, which makes it a personal favourite running and hiking trail for us here at Active HQ.

You can hike the Mount Crichton Loop track all year round, although during the winter months we would recommend contacting the local Queenstown DoC office to check for snowfall obstruction.
As an island country, 300km at its widest point, with several mountain ranges, the weather in New Zealand can be very changeable at times. You should always check the forecast when you're going out for a day hike, and even though you may be only going out for a few hours, take enough spare clothing with you to cover all eventualities. Most DOC-maintained day hikes are well-marked with trails in good condition, many of which will be suitable for doing in a pair of hiking sneakers, but also, and particularly in some of the more remote areas, there are plenty of trails which will be take a little more effort, requiring more sturdy footwear. Some suggestions for what you should be taking can be seen on our recommended gearlist for a day hike.