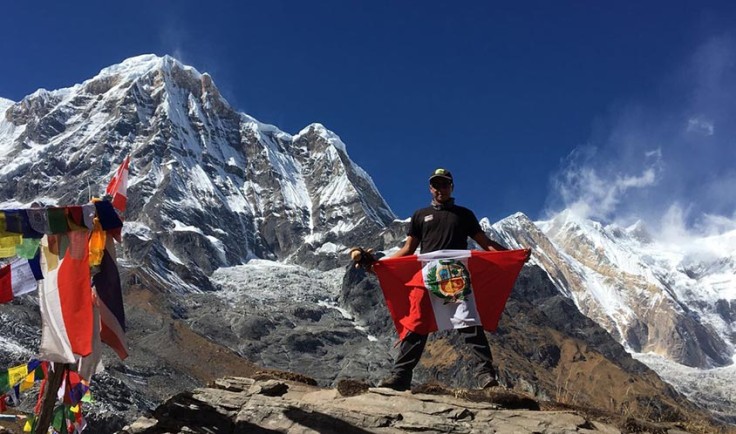 Our guides are pretty amazing people. They're understanding, adaptable, enthusiastic, hilarious, superhuman backpack carrying superstars, who also happen to be awesome drivers and talented chefs, among lots of other great things. Mel, from Christchurch, New Zealand, and Elder, from Puerto Maldonado, Peru, are no different.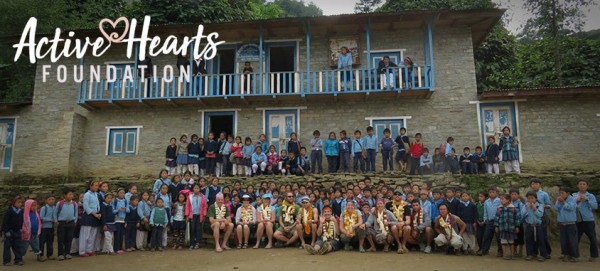 Elder began working for Active Adventures in Peru, and has since moved to New Zealand to be with his partner Ellie, where he guides for us. Elder now also guides for us in the Himalayas.
Elder proudly displaying the flag of his home country, Peru, at Everest Base Camp
Mel has guided for us in New Zealand for a number of years, and also guides for us in the Himalayas during the New Zealand off-season. Our Himalayas trips are overseen by experienced Kiwi Dan Keys, a New Zealand and Nepal guiding superstar.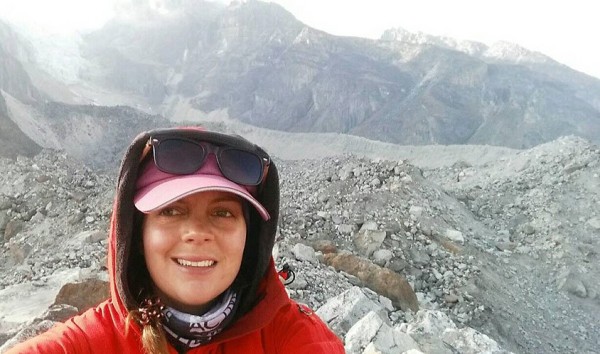 Mel grabbed this selfie whilst out training in the Everest Region. We're not sure if it's a smile or a grimace. You decide!
DK spends a large portion of each year in Nepal, and has established the Active Hearts Foundation, a charity focused on helping remote villages of the Himalayas.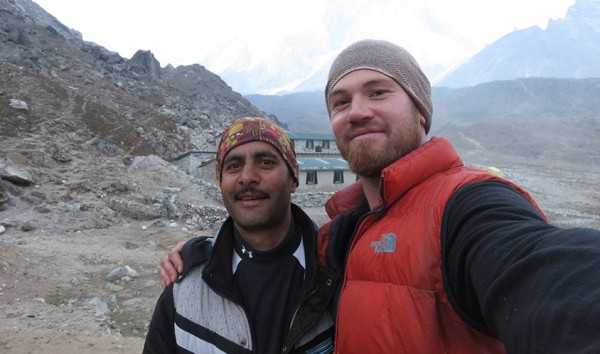 Guides Gokul and DK grab a quick selfie during a rest on the trail
Here's what DK had to say about Active Hearts Foundation:
"The Active Hearts Foundation is a group of trekking guides, family and friends from New Zealand, Nepal and the world, who lead expeditions through the Himalayas and want to give something back to the communities they live and work in. The Nepalese are wonderfully humble and caring folk who constantly make trekking tours magic by sharing their homes, culture and friendship. Active Hearts was formed to build school libraries in the remote villages of our local guides and porters and to assist with other small community projects. Since the devastating earthquakes of 2015 the focus has been on emergency shelter, food, water, sanitation and medical assistance."
Having spent a lot of time in Nepal, the amazing local people, and the story of their resilience in a life with almost nothing have become a big part of the lives of both Mel and Elder. So they've decided it's time for them to try to give something back to all of the smiling faces they pass every day on the trails of the Himalayas - so they're doing the Everest Marathon and raising money for the Active Hearts Foundation. How cool is that?!
The race is on the 29th of May this year, and the pair are squeezing in as much training as they can alongside their busy guiding schedule on our Everest Base Camp tours. You can follow both Mel and Elder's training by checking out their blogs, Mel's is here, and Elder's is here.