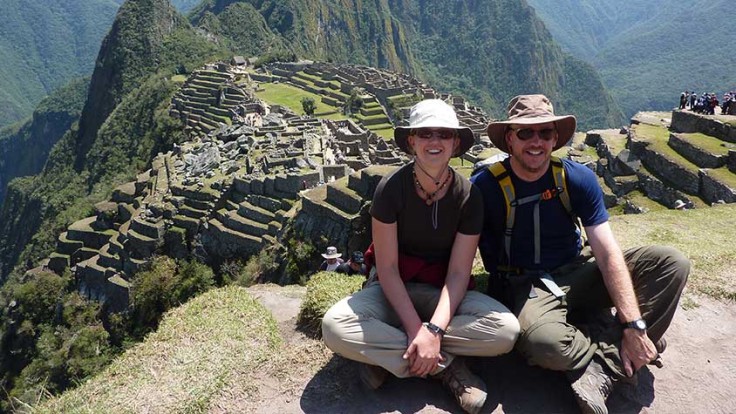 Considering a bucket list trip to Machu Picchu but unsure of when to go? You're not alone. With Peru's location in the Southern Hemisphere, high altitude and abundance of mountains, the country has anything but your standard four seasons. Top this with rainy and dry months, peak tourist dates, Peru travel restrictions and limited permits to hike the Inca trail, and you have a brainbuster of a puzzle deciding when the best time to visit Machu Picchu is. No need to stress; the local experts are here to help.
The best time to visit Machu Picchu is the months of May and October. On either side of the main tourist season of June through August, you'll have quieter trails, yet the weather is ideal for trekking the Inca Trail with plenty of clear, beautiful days.
Once you have your dates chosen, the next step is the tricky process of securing your tickets to visit Machu Picchu and hike the Inca Trail. Or, if you prefer to leave the planning to the experts, grab your spot on a Machu Picchu Tour and let two excellent guides take care of every last detail for you.
Is Machu Picchu 0pen?
First things first, you're probably curious if Machu Picchu is open to visitors. The answer is a big yes - Machu Picchu is open and ready to be explored! Like many other monuments around the world, Machu Picchu was closed to visitors in March of 2020. However, it is now back open with new safety protocols and a more limited capacity. As tickets sell out faster now, it's recommended to book your visit a few months in advance or join a tour group that has availability. Check out Peru Travel Advisories for more information.
Machu Picchu weather
Overall, Machu Picchu has very pleasant weather. Warm days and cool evenings all year round make it an ideal location for hiking, and Machu Picchu rarely sees freezing or scorching temperatures.
Machu Picchu temperatures
Located at 2440 metres (8000 feet), you may be surprised to learn that Machu Picchu's temperatures are relatively mild all year round. Temperatures stick between 50 to 80 degrees Fahrenheit (10 to 27 degrees Celcius) year-round on average, with only a few degrees difference between mid-summer and mid-winter. With Machu Picchu's high altitude, you can expect the weather to change unexpectedly, so always be prepared for both rain and sun.
Machu Picchu rainy season
For many, the rainy season is not the ideal time to visit Machu Picchu. Between December and February, you're much more likely to experience periods of heavy rainfall, which can cause the trail to be muddy and slippery. However, with the proper gear and an adventurous spirit, you can experience Machu Picchu in solitude.
What is the best month to visit Machu Picchu?
If you don't mind the crowds and prefer all day sun, August is your go-to. Whereas if you'd like to stay well clear of the crowds and don't mind a bit of humidity, May and October are ideal months. Each month brings its own characteristics and benefits to visit Machu Picchu. We go into more detail below.
Machu Picchu in December - March
As we mentioned above, December through March is the rainy season in Peru, and many people avoid visiting Machu Picchu at this time of the year. Even so, there are certainly perks to visiting when no one else is around. You can get the perfect picture without waiting in line, you can stop and enjoy the views without feeling under time pressure, and generally, the guards are much more relaxed during the rainy season. Just be sure to have the appropriate rain gear!
Machu Picchu in April - June
By April and May, the rainy season has mostly passed, and with the warmer weather still lingering, clear skies and quiet trails, it's a wonderful time to visit Machu Picchu. June marks the start of high season, and you'll notice a fantastic buzz in the air. Especially as it's also the month of the Anniversary of Cusco, and many festivals and parades take place in June to celebrate.
Machu Picchu in July & August
July and August are the busiest months at Machu Picchu. The dry season and the winter in Peru bring cool nights and dry days, so it makes sense that this is the most popular time people choose to visit Machu Picchu. You'll want plenty of layers as you may start the day at 10°C (50°F) and by the afternoon, temperatures will reach above 20°C (70°F).
Machu Picchu in September - November
As September rolls around, temperatures begin to warm, daylight hours become longer, and the occasional rain shower makes surprise appearances. By October, the crowds have mostly dispersed, making it an excellent time to visit. Same as other months, you'll want good rain gear in case the skies open up. However, following the rain, you'll be rewarded with clear views and a wonderful peacefulness.
Best time to hike the Inca Trail
Similar to Machu Picchu, hiking the Inca Trail is best just outside the busy dry season. The temperatures in October are ideal for hiking, ranging from 22˚C (72˚F) during the day to 12˚C (54˚F) at night. May is another great time to hike the Inca Trail, with similar temperatures and quiet trails. Even so, if you don't mind the crowds and want nearly guaranteed sunny days, July and August will be superb. Just be sure to book your Inca Trail hike to Machu Picchu in advance as permits sell out quick!
Inca Trail Weather
While the Inca trail has distinct wet and dry seasons, you always want to be prepared for any weather. The months of June, July and August provide plenty of beautiful blue sky days, but you'll want rain gear just in case. You'll also want plenty of layers, as temperatures can start chilly in the morning, and by the afternoon, you'll be hiking in shorts and a t-shirt.
When is the Inca Trail Closed?
The Classic Inca Trail is closed each year for the month of February. The wet season is at its peak between January and March, so with fewer hikers about, it's a great time to keep the trail in world-class condition. During these months, you can still hike the Lares Inca Trail on your journey to Machu Picchu.
Best time of day to visit Machu Picchu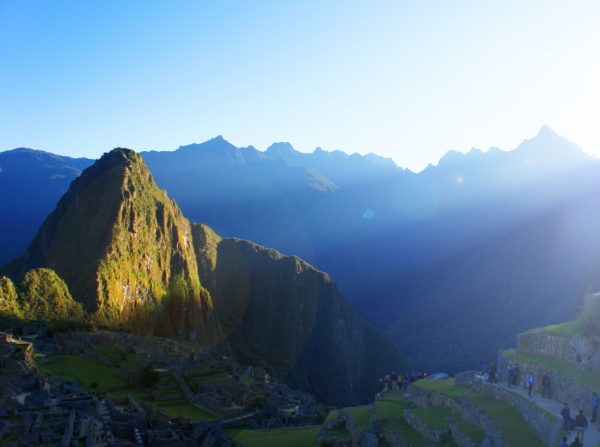 Photo by Suchan/Getty Images
You can visit Machu Picchu between its opening time at 6 am and its closing time at 5:30 pm daily. For the best experience, try and visit either first thing in the morning or after 3 pm. By arriving right at 6 am, you'll be able to watch the sunrise and beat the mid-morning and afternoon crowds. If you prefer more of a sleep in, after 3 pm is another great time. The majority of the crowds have already left, and depending on the time of year, you'll get to watch the very much underrated sunset.
Planning a trip to Machu Picchu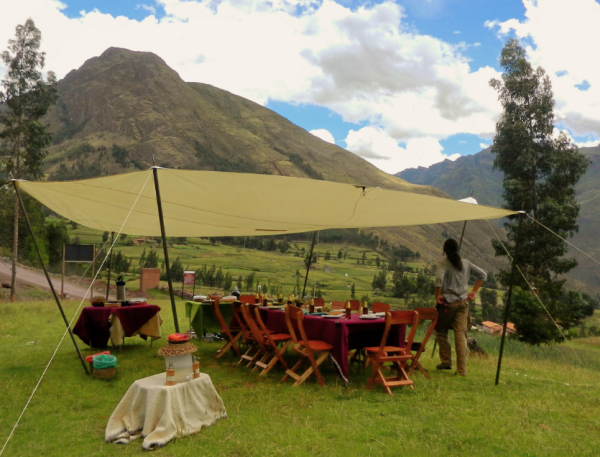 If you are thinking of organising a Machu Picchu trip yourself, it is a good idea to book well in advance, say at least a couple of months out if you want to go during the busy season. Due to the sheer number of different historical and cultural places on offer in Peru, unless you are travelling with a local guide or someone who knows all of the local legends and off the beaten track hidden treasures, it's well worth doing your homework before setting off for Peru. Here is a list of things to do in Machu Picchu you should consider!
When is Machu Picchu the most crowded?
In the main season of June through August, you can assume every day will be busy at Machu Picchu. Outside of the dry season, other dates also see an influx of travellers, students and families. These include:
Thanksgiving Holiday - End of November
Christmas Holiday & Winter break - December 23 to mid/late January
Spring Break - One week in March or early April. This is a popular time for students to visit the Americas
Summer Break - Early/mid-May to the day after Labour day in early September
Major federal and state holidays - Religious holidays also need to be considered
Peru Independence Day (July 28 - 28), a very popular time for Peruvians to visit Machu Picchu
Availability of Machu Picchu Tickets
To ensure every visitor can experience Machu Picchu's magic, without hoards of people, the Peruvian government controls the number of people allowed to visit each day and how long visitors can stay and where they can explore. These controls also ensure Machu Picchu is preserved as a World Heritage Site and generations to come can appreciate its beauty.
As prices and number of visitors have been changing due to the COVID-19 pandemic, please refer to http://ticketmachupicchu.com for the most up-to-date information. Or, if you prefer to leave the planning to local experts, join an all-inclusive Inca Trail and Machu Picchu tour.
Popular Machu Picchu Tours
Depending on how long you have to explore and how active you'd like to be, you may find yourself deciding between a day trip to Machu Picchu or the longer multi-day hike to Machu Picchu.
1-Day Machu Picchu hike
You can trek from Aguas Calientes to Machu Picchu all year round. The actual trek up to Machu Picchu from Aguas Calientes takes about 1 hour 30 minutes up and slightly less coming down. The hike ascends about 390 meters (1,280 feet) up on a dirt track, stone pathways or shuttle bus routes. You can choose to do this hike if you hike the Lares Inca Trail on your journey to Machu Picchu or on our Peru & Galapaogs Explorer. The only time you cannot take this one day hike to Machu Picchu is when hiking the Inca Trail - as this brings you to Machu Picchu via the Sun Gate.
Multi-Day hikes to Machu Picchu
The two most popular trails to hike on your journey to Machu Picchu are the Classic Inca Trail and the Lares Inca Trail. Depending on which option you choose, a multi-day guided hike to Machu Picchu (usually 4 or 5 days or as part of a 10 day Peru experience) will take you on an incredible journey through authentic Peruvian villages, ancient agricultural terraces, Incan ruins, and a bike ride through the Andean wilderness. We'll also explore the Amazon Rainforest on our 10-day Ulitmate Peru Adventure.
Peru Travel Restrictions
Planning a trip to Peru but unsure what the travel restrictions and safety protocols are? You're not alone!
Peru COVID-19 update
In this ever-changing world, it's best to check the most up-to-date Peru travel restrictions here: https://www.peru.travel/en/covid
For information on travelling to Peru with Active Adventures, please head here: Safe Travel with Active Adventures
Machu Picchu Travel Restrictions
To combat the spread of COVID-19, Machu Picchu now has increased health and safety protocols in place. For more information, please head here: All about Covid 19 on the trip to Cusco and Machu Picchu