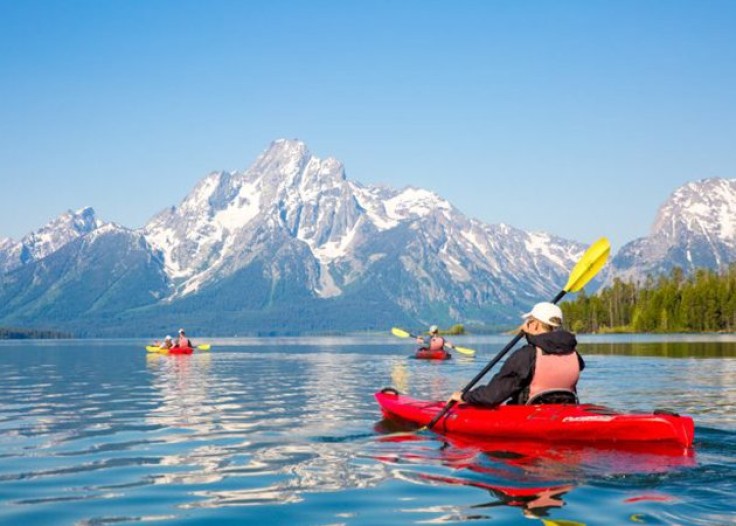 Found yourself in Wyoming with your hiking boots? Here's some of our favourite ways to spend your days on in the Grand Teton National Park. If you're a keen hiker, best to visit in July and August, but as you'll read – there's year-round highlights!
1) Bag yourself a famous Snake River fine-spotted Cutthroat Trout.
Native to Wyoming, these slippery little trophies attract thousands of anglers a year to Grand Teton National Park. In fact, the National Park here is one of the few places in the world where you might be lucky enough to snag one of these Snake River Trout.
They're much smaller than most Rainbow Trout and have a sprinkling of black dots (rather than the distinctive larger ones of the rest of the trout family) much like pepper. Even if you're not into fishing, or trying to slippery fish that don't make fishing easy, keep an eye out for them – you won't see them anywhere else!
2) Hike, hike, hike.
So we have to get some credit for giving number one spot to the Snake River find-spotted Cutthroat Trout. No? Surely!
Grand Teton National Park boats over 320 kilometers of hiking trails. That's a spectacularly large opportunity to get out and about and see the area from it's best angles. With awe-inspiring photo opportunities, glacier fed waterfalls and lakes, a stellar array of wildlife to spot and the mighty Teton Range towering overhead, it's easy to see why this place is so popular with hikers.
Our favourite short walk (about 6.5 kms) is the loop around Phelps Lake on the Death Canyon Trail. There are parts that are pretty steep, but not only does this reward you with epic views – it also keeps away lots of the crowds. There are a number of extensions you can take too which can turn this into a whole day out.
Our favourite longer hike has got to be up Death Canyon and to the Death Canyon Shelf. Start early, it's a bit of a climb. Picture grassy green fields, rocky trails, blue skies and the picture perfect Tetons looming overhead. This is where you'll get the shot of the pic, the one that'll be framed on the mantlepiece.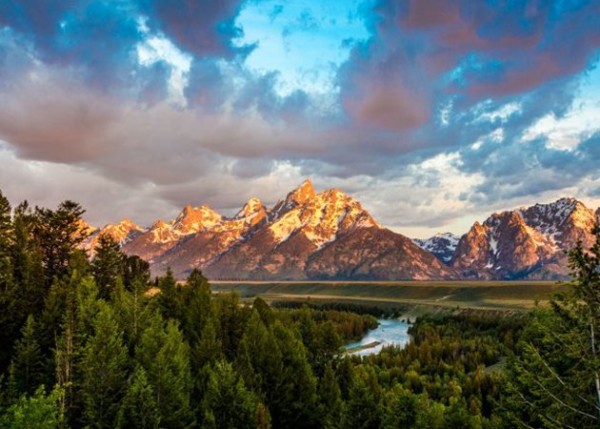 3) Pitch a tent
Ok, we know it's more of an accommodation option than an activity, but with over 1,000 drive-in campsites in the National Park there's something for everyone (unless you don't like camping. In that case, skip to #4).
If you're a 'camper' then you probably already know how awesome it can be for getting out and amongst the area. In Grand Teton you can also get a permit to camp in the backcountry. Being adventurers this is usually what we go for, but you have to be aware that you're right smack bang in the middle of bear country, so don't forget your bear spray or leave food out!
4) Ski
If you're up for an adventure you can find some amazing snow conditions in backcountry Grand Teton. You'll need snowshoes, or cross country skis but like anything requiring some effort, you'll be well rewarded for your sweat and sore legs. December days sometimes don't rise over -4 degrees Celsius so either keep hiking to keep warm, or pack some snug gear!
The Grand Targhee Mountain Resort is on the Western side of the Tetons and has over 2,500 acres of skiable terrain with two mountain peaks. So, if you want to ski with the added bonus of having someone probably be able to find you before you freeze should something go wrong – this might be a better bet.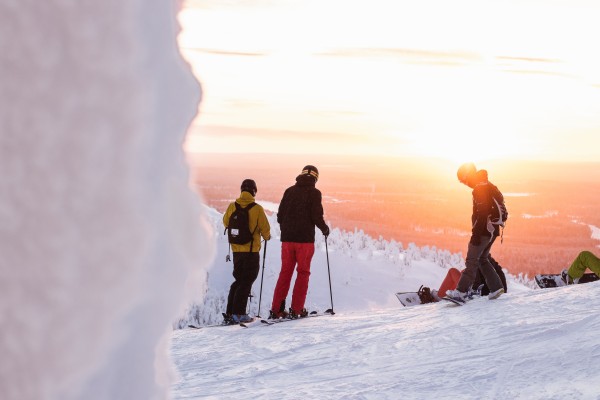 Photo by Ilya Shishikhin on Unsplash
5) Stop and smell the roses
Maybe not roses, but the photography opportunities when the wildflowers bloom in Gran Teton National Park will make you want to never buy a postcard again, they just won't compare to your beautiful pictures!
In Jackson Hole, where the highest concentration of wildflowers are, there's usually only about 60 frost free days in a row, so these fragile little beauties have a very small growing and blooming window. It means they can change quickly from week to week (requiring two trips?!). This can happen any time between May to September so do your research, pick your window, and cross your fingers!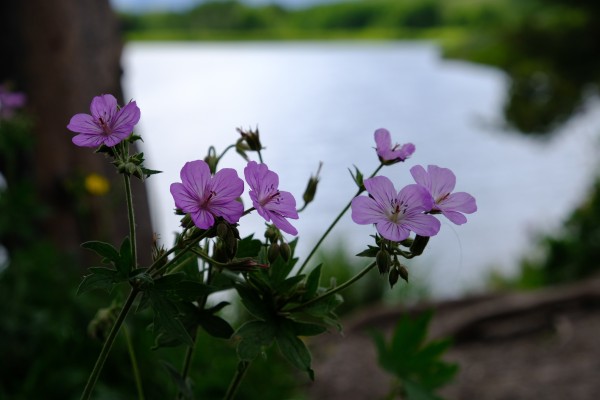 Need help to plan your trip? Click on the button below, and have a look at our hiking tours in Wyoming.