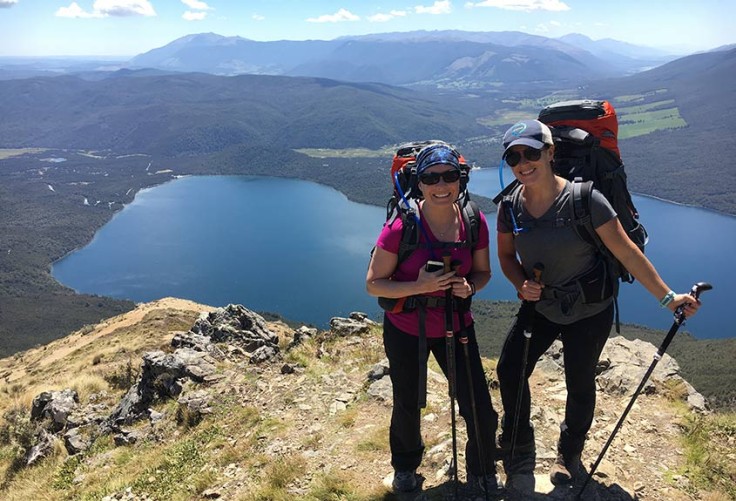 Safety's not as hard as you may think – New Zealand has no snakes, pesky poisonous plants or predators out in the wilderness – all you really need to worry about when you're hiking in New Zealand is staying on the trail. In saying that, hurting yourself, getting lost and getting caught out by the weather can happen, so you still need to take proper safety precautions when hiking, especially if you are going it alone.


Signing In and Out
Before heading out on a significant day hike, or any overnight track, you are required to register your intentions with the Department of Conservation (DOC). You can usually do this at any of the local DOC offices, in person or over the phone, or in a book provided at the start of the track. Once you have finished the track, you must always remember to sign out again, otherwise a search may be initiated.
Hut Books
In each hut there is a Hut Book, which you should always complete when you visit a hut, even if you aren't staying there overnight, so in case you go missing, there is some recorded proof of where you had been last. The Hutbooks generally make great reading in any case, as there are comments from everyone who has stayed there, often very amusing.
Emergency Beacons
Many of the larger and more popular backcountry huts have resident wardens, who have access to radios in case of emergencies, but this should not be relied on. Emergency beacons are available to hire throughout New Zealand, especially in the more popular hiking destinations, generally at very reasonable rates. In an emergency, you can trigger the emergency beacon and NZ Search and Rescue services will be notified of your whereabouts by satellite and will organise a team to come and provide assistance – usually by helicopter in the first instance, or by motor vehicle and/or foot if conditions are poor. Once triggered, you should stay put and wait for help. However, these should only be used in case of emergency – if you trigger one because you've run out of Snickers bars, or forgot that the final episode of "Grey's Anatomy" was on television and you wanted to catch it, you will likely be charged for the call-out and helicopters are expensive!
River Crossings
When taking to the back country, river crossings are something you should be prepared for. Using bridges where ever possible is the best idea, but if you do need to get your boots wet, knowing how to spot the right conditions to make a safe river crossing will help achieve a successful outcome for everyone. Our river levels can change suddenly especially if there has been heavy rain, and basic signs to look out for include water clarity, depth and flow rate. Sometimes the best outcome might be moving to higher ground, putting on a hot brew and waiting until conditions become favorable.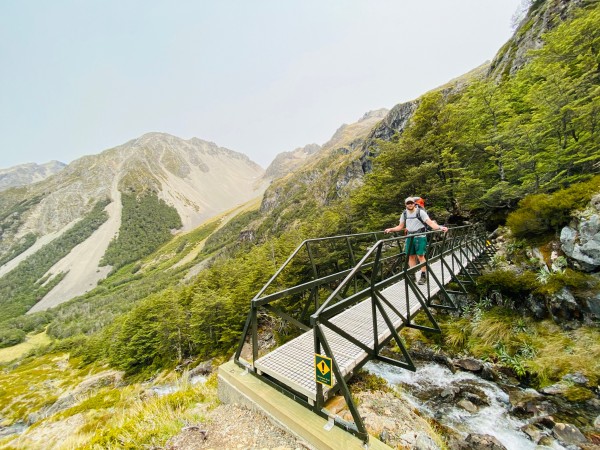 Navigation
Finding a trail to suit your hiking ability is important and it's a good idea to seek out information from experts, and talk with the locals about what to expect when it comes to track conditions, weather patterns, and any hazards that you should be looking out for. Hike with a buddy, follow trail markers, and when reaching track junctions, take the opportunity for a well earned break so you can re-group and make sure everyone's moving in the same direction.
Our more popular and well used trails will be well marked, but taking the time to learn some basic map reading skills beforehand means you'll be well prepared and able to make good decisions along the way (a Navigation App or GPS unit can be helpful with improving accuracy),
OTHER HIKING ESSENTIALS
To help prepare for your adventure, it's important to choose the right clothing layers as this will give you versatility and offer the best protection no matter the duration of your hike, the remoteness and track conditions. The weather can change in an instant, so the following should always be considered as your basic essentials - a good pair of sturdy hiking boots, thermals, moisture-wicking layers, water proof outerwear, sun protection and a hat and gloves. The saying goes - 'you don't walk for warmth', so having comfortable and practical hiking attire means you're on your way to being well prepared for your adventure into the great outdoors.
Your food and water intake will be higher than usual as well, so it's important to stay well hydrated and have enough tasty and nutritious food to keep you topped up and feeling energized. When on a multi day adventure, it's a good idea to have an extra day or two of supplies in reserve. If you're lucky enough to be setting out for an overnight hike, don't forget an extra set of dry clothes for the evening while you relax and enjoy a well earned meal and hot cuppa.