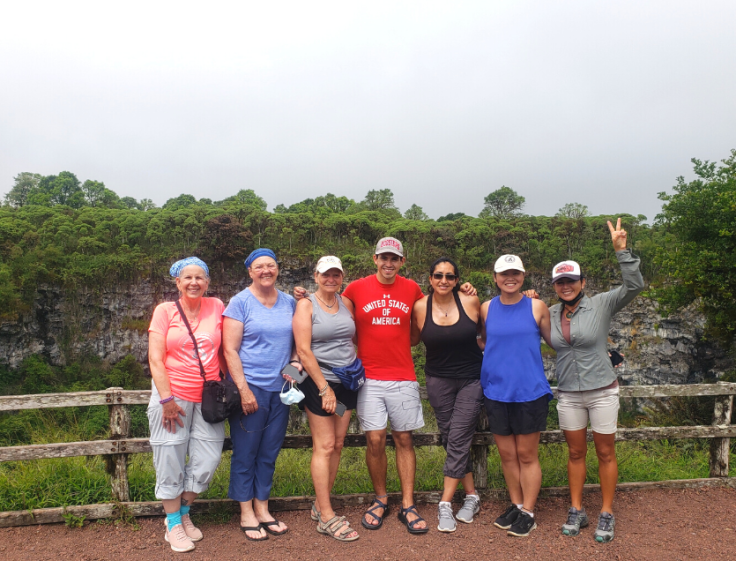 Notice anything different about this picture? Look closely - there's a small sign this photo was taken in the middle of a pandemic.. a mask in hand!
Yes, we've been back running trips in Ecuador and the Galapagos since March of 2021. We've become experts at navigating the unknown. Researching travel restrictions and sussing Covid-19 protocols is just another day in the office.
Telling you that you're in safe hands is one thing, but we understand it can be nerve-wracking to book an international trip without a bit more information. So we've reached out to our past guests, who've travelled on our 'Tortuga' Galapagos Land and Sea Adventure during Covid-19, to give you a first hand account of the ins and outs of travelling in the midst of a global pandemic - the good and the not so good.
We hope this short interview will ease your worries and allow you to make a well-rounded decision on if travelling in 2021 is the right choice for you. However, please understand that the following is our guests perceptions of their experience and travel restrictions can change day to day. No matter what, we'll always follow government guidelines to ensure we are delivering the safest and best experience.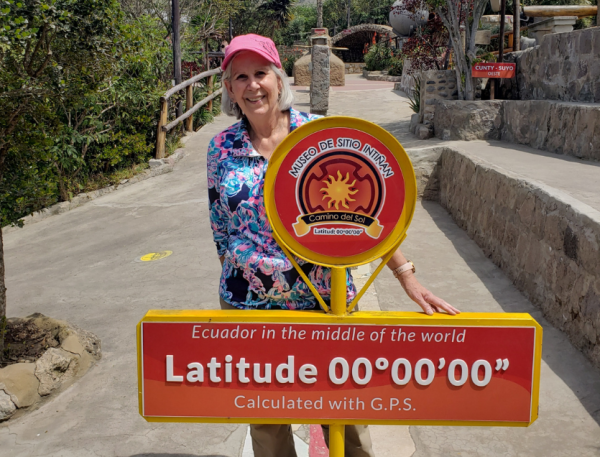 What is it like travelling to Ecuador and the Galapagos during Covid-19?
While everyone's experience was slightly different, we were pleased to hear our guests found it relatively easy to fly from the USA to Ecuador and then on to the Galapagos. Everyone felt safe and felt like the process was straightforward. However, it was noted that securing the perfect flight can be challenging.

Chris (from Utah, joined us in April 2021): Our trip to Ecuador was great. No one asked to see or cared that we had our vaccination cards. They only wanted to see our Covid-19 test results. When I got out my vaccination card, and then they saw the test results, they only looked at the testing. I think I showed it five times by the time we got to the Galapagos.

Cathy (from Pennsylvania, joined us in May 2021): The airport felt very clean, along with Quito and all of the Galapagos Islands. There was hand sanitiser all over the place, in addition to them spraying us when we entered various locations.

Barb (from Pennsylvania, joined us in May 2021): Make sure your Covid-19 test results prior to your trip are printed out from official lab paper, stating your FULL name, time and date of the test, name of Lab, type of test (PCR) and NOT a screenshot on your phone from your medical app (which you will not be able to access from Ecuador due to firewalls and protection by the medical system).
Ed (from Washington, joined us in May 2021): Quito airport is very new, modern and easy to find your way. Everyone I saw was masked. Entry at San Cristobal airport was fine, rather long, but it went smoothly, and our guide Pablo was there to greet us with an Active Adventures sign.
Sha Ma (from Kansas, joined us in April 2021): All airports we travelled to followed the protocol for Covid-19. On the first leg of the flight, we showed negative test first and then vaccination card. The counter clerk said we should reverse the process and show our vaccination cards first because the Ecuador government changed their protocol that allowed vaccinated people in. But the negative test is still necessary, as it's required when boarding a plane to Galapagos Islands.
John & Annette (from Washington, joined us in March 2021): We felt very safe on our trip both to the Galapagos and Ecuador. We had both had our vaccinations in February and we felt like Ecuador was very careful in dealing with Covid. We wore masks the entire time and we were greeted with hand sanitizer every time we did an activity and/or getting on and off of the van.
Cynthia (from California, joined us in March 2021): The airport in Ecuador was antiseptic. You could perform surgeries in there. The entry process was easy. We had our documents. There was a Tyvex-clad woman waiting for our plane and inspected everyone's test document on the way off the plane. They weren't asking for vaccination cards then but we had ours just in case.
What was it like travelling back to the USA during Covid-19?
Cathy: Active Adventures was very efficient at getting our test done to return home. We had no problems returning to the US.
Chris: The Covid-19 testing for re-entry to the USA was efficient and convenient at the hotel in Quito. We probably didn't need the extra night in Quito as suggested by Active Adventures because our Covid-19 tests were ready in plenty of time, although it did allow us a day to visit Quito. Boarding the plane was also the slowest I have ever experienced, and I have travelled multiple times internationally since Covid-19. We arrived in Atlanta, and because we have global entry, they didn't even ask to see our passport or Covid-19 testing.
Ed: No problem, though I would suggest leaving the hotel for the airport could have been 45 minutes to an hour later. (We left at 5:30 am). We arrived at the airport well before the airline began checking in passengers for the flight, then waited over an hour for boarding.
Cynthia: Active Adventures arranging for us to have tests at our hotel before leaving the country was SO HELPFUL.
What was it like exploring the Galapagos during Covid-19? Did you feel safe?
Ed: Yes, completely safe. Locals were more consistent with mask-wearing and social distancing than I see at home. One of the things I noticed most is the lack of people, except on Santa Cruz island, but even there, it's very uncrowded. If you want to get away and enjoy nature and peaceful quiet, this is the place to go.
Chris: The islands were not crowded at all. In all but our last hotel in Santa Cruz, our group had the hotels to ourselves. On Santa Cruz, on the way to the airport, we stopped at a local market. One little lady was so excited to see our group that she insisted on taking a photo with us to show her friends and family that tourists are back.
Also, Pepo told us that 100% of the eligible people on his home island of San Cristobal would be vaccinated by the end of May. I think the wildlife was easier to see without all the tourists and either ignored us or came closer because they were curious.
Cathy: We wore our masks when we were around others, but when we were outside and just with our group, who were all vaccinated, we took our masks off due to the heat.
Sha Ma: We didn't have any safety concerns in the three islands we visited in the Galapagos. Since the islands just opened in March, there were not many tourists yet. Hotels, restaurants and hiking trails were basically just for us. Our guides and local people did a great job to keep everybody safe.
John & Annette: The Galapagos were wonderful! It is an amazing place and we thoroughly enjoyed it! Pablo was an awesome guide, enthusiastic and very knowledgeable. My favorite part of the trip was all of the snorkeling we got to do. Pablo provided us with lots of opportunities to snorkel. We both felt very safe there and our guides were very mindful of appropriate protocol for Covid.
Cynthia: The Galapagos had better precautions than the US. The alcohol spray on the way in to every restaurant, store, boat, etc. was easy. We wore masks where required, which was everywhere indoors and many outdoor places. Hotels and restaurants followed COVID procedure completely but were also friendly and welcoming and didn't make us feel like human petri dishes. It was a very pleasant change from California where we are treated like we have leprosy everywhere we go.
Enough about Covid-19, what was your favourite part of your Galapagos trip?
Barb: I loved the whole trip! From the city and Cloud Forest tours arranged by Mauro in Quito to the pristine beaches in the islands and seeing all the blue-footed boobies and sea lions, it will be in my memories forever. I swear my legs were more shapely when I got home and eating all those meals did not affect my weight at all.
Chris: First of all, I want to say that I think this is the best trip I've ever been on and I have done a lot of travelling. From the weather, accommodations, guides, wildlife to daily activities and food, all was well thought out and well planned.
Ed: The meals were just sensational, something that I didn't expect. But don't order the steak! Fish and vegetables are fresh and superbly prepared. You expect great food in Italy or France, but I didn't expect it in such an isolated place. I was wrong; meals were memorable.
John & Annette: The Galapagos were wonderful! It is an amazing place and we thoroughly enjoyed it! Pablo was an awesome guide, enthusiastic and very knowledgeable!
Do you have any insider tips or anything else you'd like others who are thinking about travelling to the Galapagos during Covid-19 to know?
Ed: The place is so unique and so empty of people that you feel like you are a huge distance from home, but it's much easier to get there than you might expect. I came from Seattle, an easy nonstop flight to Houston and just another 5+ hour flight to Quito, so no more time required than going to Europe.
Insider tip: You can pack very lightly and be fine, so no need to check luggage. I took a long sleeve Icebreaker top, 3 pairs of shorts, a couple of shirts, 1 pair of long pants, a windbreaker, wore hiking boots on the plane and packed sandals, and that was plenty. Weather was perfect, high 70's, low to medium humidity but never stifling, gentle winds.
Barb (Insider tips!): Important to bring a water bottle. I had one by Lifestraw that started leaking and was not optimal. Bring a simple one with you, and you will have lots of opportunities to refill with filtered water. Use the filtered water to brush teeth or drink, and avoid tap water for those purposes.
Chris (on getting married in the Galapagos!): The impromptu wedding was very special. Their wedding here in the USA was scheduled for June 4, but the boat captain said he could marry them, and they thought it sounded romantic, so they did. A shopkeeper provided the rings as his contribution to the occasion. The captain and his whole family came to the ceremony and decorated the boat with tulle and flowers, brought champagne and music for dancing.
Cythia: For anyone thinking about traveling to the Galapagos: GO! GO! GO! It will transform you in wonderful ways and allow you to leave all your stress behind. It will stay with you. You will love the people. You will love the animals.

Covid-19 travel restrictions in Ecuador the Galapagos
For more information regarding current travel restrictions to Ecuador and the Galapagos:
Head here for information for Americans: https://ec.usembassy.gov/covid-19-information-ecu-2/
Head here for information for everyone: https://www.dfa.ie/travel/travel-advice/a-z-list-of-countries/ecuador/
Thinking about joining?
If you're keen to explore while the trails are still quiet but have some hesitations, we understand. Here are a couple more links that will give you more information about what we're doing to ensure safe travel and to ensure your money is in good hands.
Active Adventures Covid-19 Policies

Active Adventures Assurance
We're also really easy to reach via email or on any of the numbers here. Give us a shout and we'll answer all your questions and help decide if our 'Tortuga' Galapagos Land and Sea Adventure is a good fit.