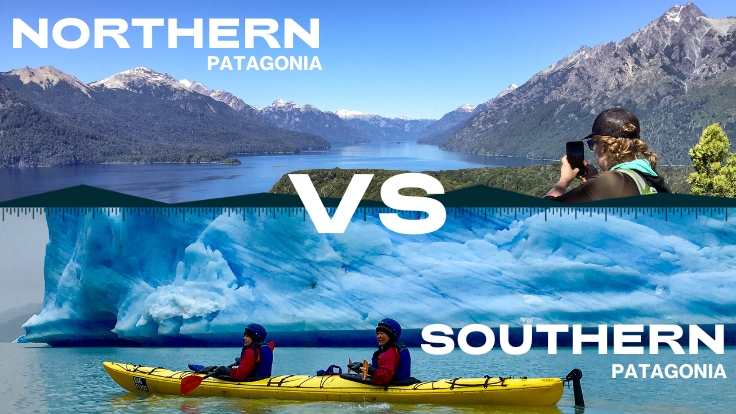 Planning a trip to Patagonia but can't decide whether to focus on Northern Patagonia, Southern Patagonia or both? We understand. In fact, one of the most common questions we hear about Patagonia is what's better, North or South? We always struggle to answer - they're both equally stunning!
Northern Patagonia has lakes, volcanoes, lush rain forest and heaps of opportunities to check out the culture (beer cafes, traditional food, cosy coffee stops). Southern Patagonia is more remote, with glaciers cascading from towering peaks into mountain lakes, and of course, the famous W-Trek.
To help make your decision easier, we've put the best of Northern Patagonia and Southern Patagonia side by side. From the most iconic landmark to the best Patagonia tour, we hope this guide helps you decide which region to tick off first!
Most iconic landmark of Patagonia
Every country has that one iconic photo that you must capture for yourself. In New Zealand, it's the sheer beauty of Milford Sound. In Patagonia, it's all about the jagged peaks of Monte Fitz Roy and the otherworldly volcanic landscapes of Osorno volcano.
Monte Fitz Roy : Southern Patagonia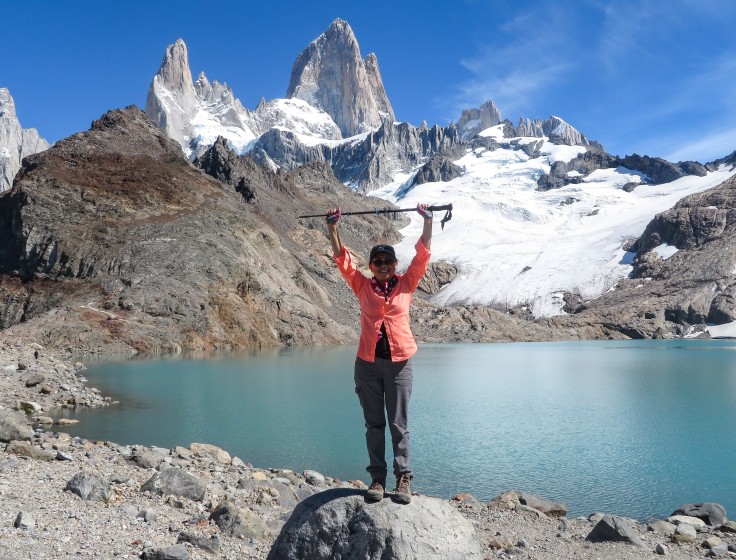 Monte Fitz Roy is as jaw-dropping as they come. Standing at 3,359 metres (11,020 ft) tall, the mountain towers over the surrounding landscapes, forcing anyone near to appreciate its staggering peaks. A vivid blue alpine lake sits at the base of Monte Fitz Roy, and from the edge, many iconic photos are taken. You also won't see hoards of tourists here, only reachable by a 22.8 km (14.2 miles) return hike; this is one view you'll have to earn!
Osorno Volcano : Northern Patagonia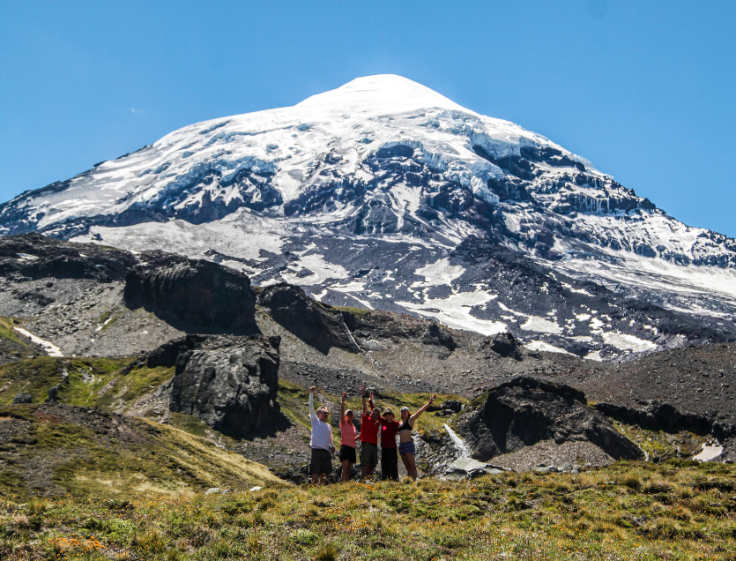 Standing tall at 2,652-metres (8,701 ft), Osorno volcano's near-perfect symmetry belongs in a textbook. Located on the edge of Vicente Perez Rosales National Park, it's easy to explore its volcanic landscapes on foot. Hike up to Desolation Pass (22 kilometres or 8.7 miles) for breathtaking views of the volcano and surrounding mountains, then head back down to Petrohué Lodge for a cosy evening of red wine by an open fire.
Best day hike of Patagonia
Throughout Patagonia, you'll find hiking trails galore. Mother Nature is yours to explore, from towering mountains and enormous glaciers to untouched forests. Choosing just one hike is nearly impossible, but we've managed to pick out our favourites.
French Valley 'W-Trek': Southern Patagonia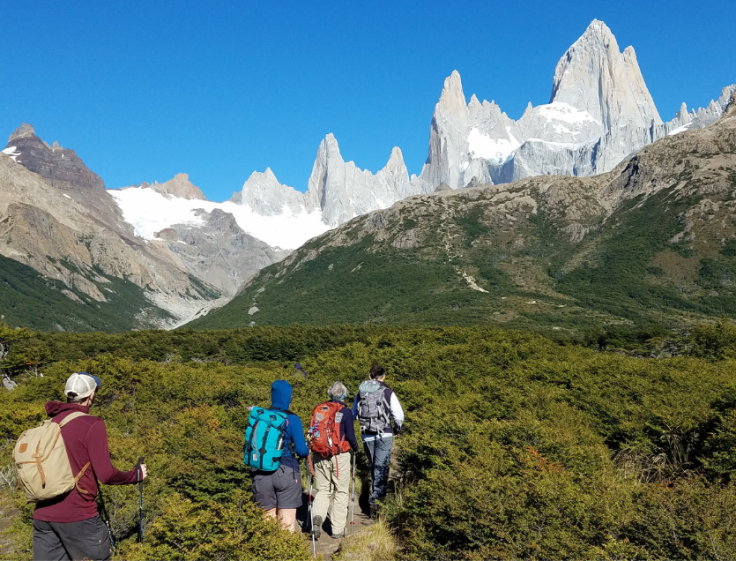 Arguably one of the most breathtaking parts of the multi-day 'W-Trek', the French Valley will undoubtedly leave you lost for words. Glaciers hang elegantly from cliffs, waterfalls crash down mountainsides, and tarns reflect the surrounding landscapes. Once you reach the upper French Valley, you'll be surrounded by the insanely impressive Paine Massif and Cuernos granite towers. Stop for a picnic and appreciate the peaceful green valley you've just hiked through.
Cerro Llao Llao : Northern Patagonia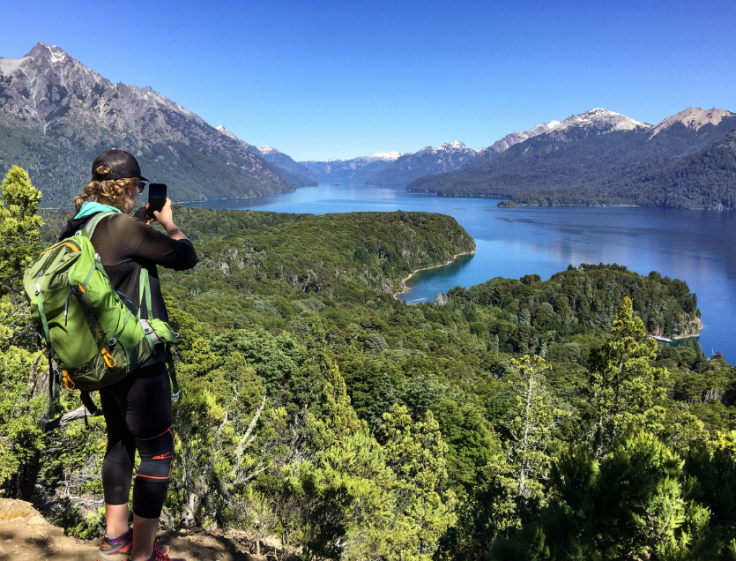 Just off the main tourist path, the Cerro Llao Llao hike is a true hidden gem hiding right outside Bariloche. The relatively easy 5.6 kilometres (3.5 miles) out-and-back trail rewards you with stunning 360-degree summit views. After weaving through a spectacular forest, you'll find yourself on a ridgeline overlooking three strikingly blue lakes and the snow-capped peaks of Cerro Lopez and Cerro Capilla. The hardest part, capturing a photo that does the impressive views justice.
Best multi-day hike of Patagonia
If you have time, setting out on a multi-day hike in Patagonia is well worth the effort. Many multi-day hikes have Refugio's (mountain cabins) dotted along the trail, allowing you to get away from civilisation while still enjoying your creature comforts. Don't expect free WiFi or cellphone service; Patagonia is all about leaving life's stresses behind and connecting with nature.
W-Trek : Southern Patagonia
You've likely heard of the W-Trek. It could even be the main reason for your visit to Patagonia. This famous trail stretches 72 km (45 miles) and creates a 'W' on a map - hence its name. Deemed one of the best hikes in the world, you'll spend 3 to 5 days exploring the dramatic landscapes of Torres del Paine National Park. Each day brings a new surprise, with vivid glacier lakes and intimate valleys wedged between jagged mountain peaks and mighty glaciers. As it can be tricky to arrange accommodation before it books out, it's best to take this one guided and let others sort the nitty-gritty details.
Nahuel Huapi Traverse : Northern Patagonia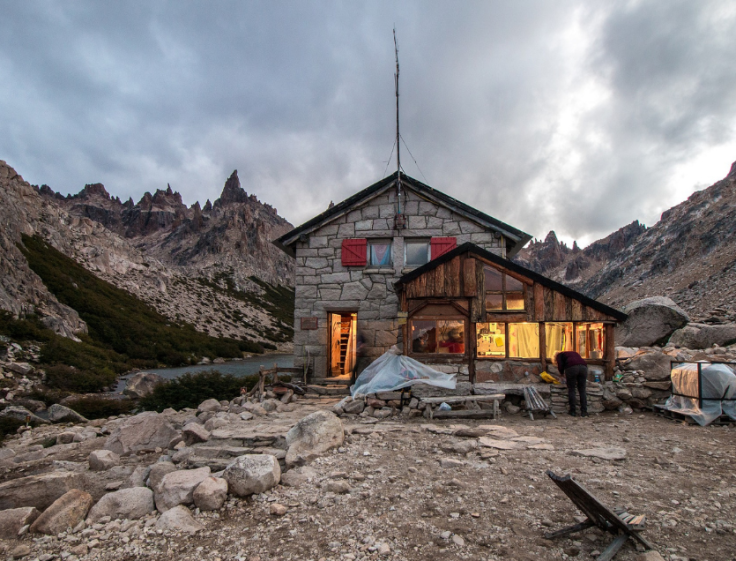 Photo by Mampu/pixabay
Spanning 47 km (29 miles), the Nahuel Huapi Traverse brings you along pristine green valleys, near picture-perfect volcanoes, above glacier lakes and under jagged mountain peaks. Spaced perfectly along the trail are four cosy refugios. While basic, they provide an excellent spot to get to know fellow hikers over a cold beer and epic views. As the Nahuel Huapi Traverse is located just outside Bariloche, ticking off this bucket-list adventure is a must if you have the time!
Best town to explore in Patagonia
While you're probably not going to Patagonia to visit its bustling cities, a few towns are so magical it's well worth spending a day or two. Both El Chalten and Bariloche are at the doorstep of many incredible hikes and offer visitors an intimate and charming stay. Can you decide which you'd like to visit?
El Chalten : Southern Patagonia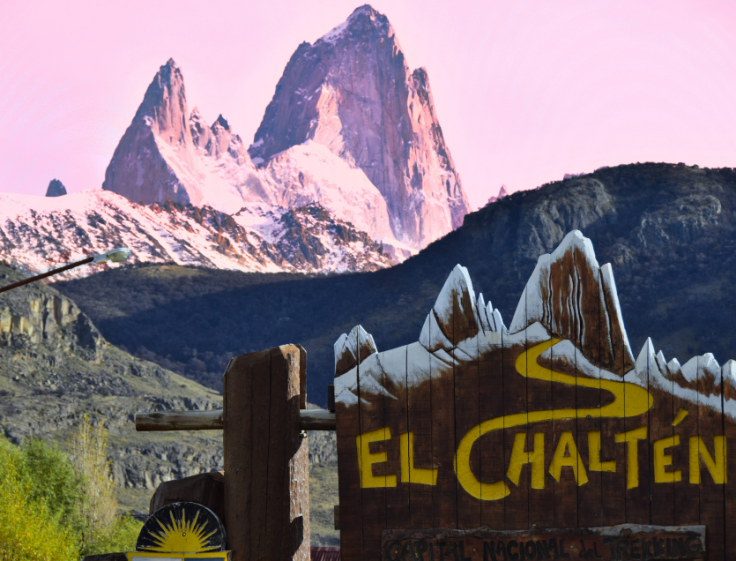 Photo by Mauricio Quintero/Getty Images
The National Capital of Trekking in Argentina, this remote mountain town is a hikers paradise. Located within the Los Glaciares National Park, world-class hikes are right on the doorstep, with views of Cerro Torre and Cerro Fitz Roy drawing you in and tales of mighty treks heard from every open door. As only 250 people live in El Chalten throughout the year, amenities are limited in town. It's best to book your accommodation well in advance and buy any needed supplies before reaching this tiny town.
Bariloche : Northern Patagonia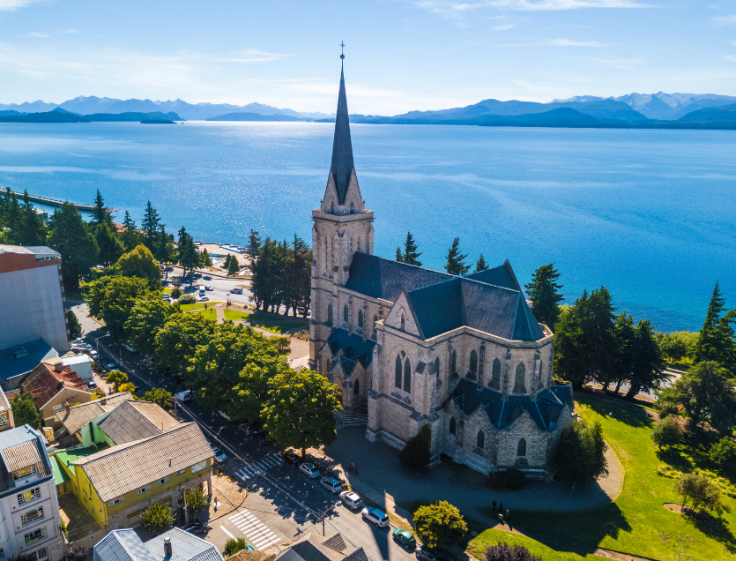 Photo by mihtiander/Getty Images
Set on the shoreline of Lago Nahuel Huapi, you might think you've landed yourself in a fairytale. As Swiss, German and Austrian travellers settled Bariloche, European influences give the small town a distinctive charm. Chocolate shops line the main street, and swiss alpine architecture sets the mood for the adventures to come. It's one of those places that finds a spot in your heart and ensures you come back time and time again.
Best kayaking in Patagonia
Patagonia may be known for its impressive hikes, but some views are better seen while on water. There's something about gliding along silently that allows you to connect with nature, its wildlife, and see landscapes with a new appreciation - whether that's drifting next to giant icebergs on Grey Lake or watching for dolphins on Reloncavi Fjord.
Grey Lake : Southern Patagonia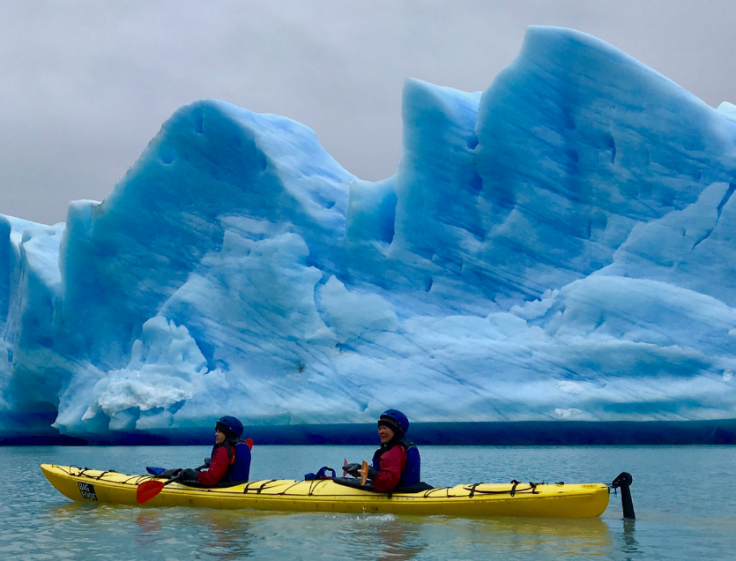 Towering 30 km (18.6 miles) high and 6 km (3.7 miles) wide, Grey Glacier is absolutely magnificent, and there's no better way to take in this mighty beast than to kayak on its resulting Grey Lake. Located in Torres del Paine National Park, it's hard to decide what's more breathtaking, kayaking under the magnificent Paine Massif or navigating between impressive blue icebergs. Luckily, no one's making you choose.
Reloncavi Fjord : Northern Patagonia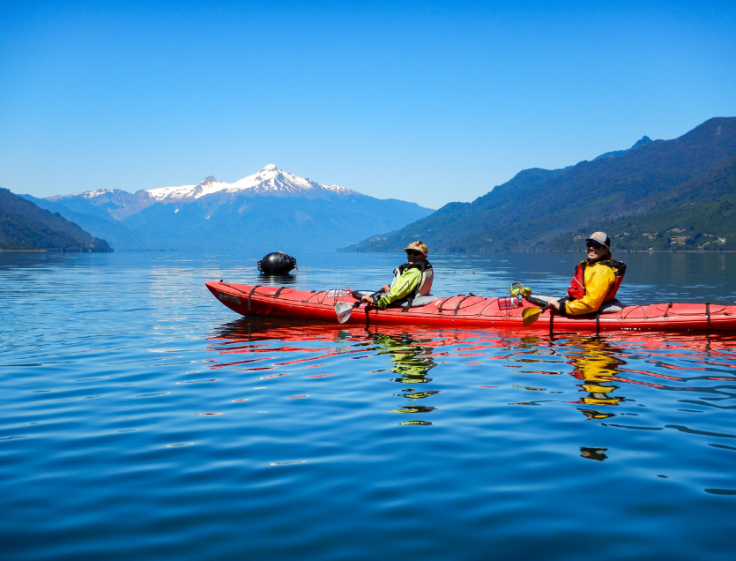 Where the mountain meets the sea, and the sky and water become one. The calm waters of Reloncavi Fjord are a kayaker's dream come true. As you glide along the rich blue waters, nothing but the sounds of waterfalls and bird songs can be heard. When you're not awestruck by the surrounding mountains, be sure to keep your eyes out for sea lions, dolphins, pelicans and penguins. Does life get better?
Best adventure tour in Patagonia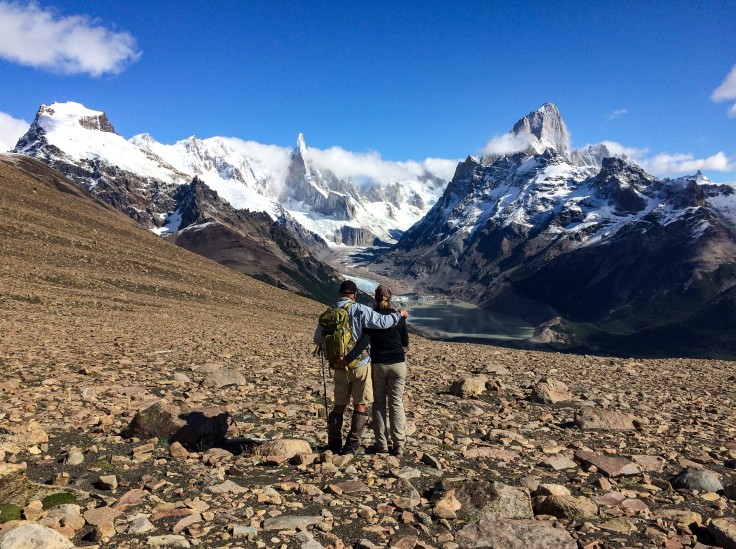 If hearing the best of Northern Patagonia and Southern Patagonia has given you the travel bug, but you're unsure where to start planning, don't stress. Active Adventures has hand-crafted two incredible trips that showcase the best of each region. Let the professionals sort the tricky details like permits, where to stay and transport, and join a truly once-in-a-lifetime adventure.
Patagonia Hiking Adventure : Southern Patagonia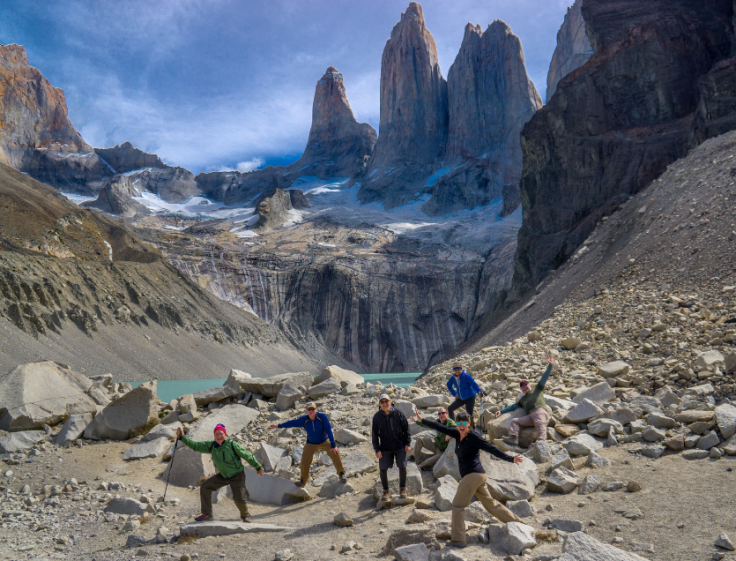 Over 14-days, tick off the best of the best of Southern Patagonia. Hike the W-Trek, kayak Lake Grey, stand under the iconic Monte Fitz Roy, visit a penguin colony on Magdalena and more. The 'Patagonia Hiking Adventure' trip gets you out exploring both the highlights and hidden gems of Patagonia, and with small groups and two excellent guides who take care of all the details, all you'll need to do is enjoy each day's activities.

Northern Patagonia Adventure: Northern Patagonia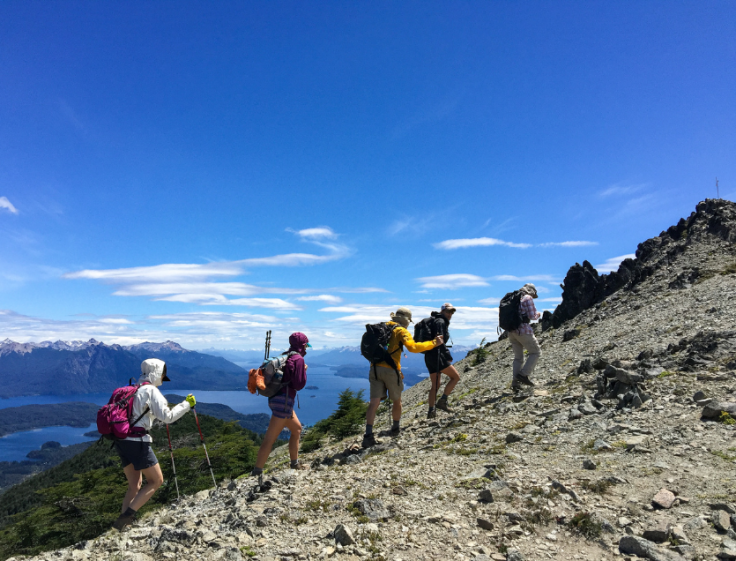 Take a deep dive into the charming culture and stunning landscapes of Northern Patagonia on the 14-day 'Northern Patagonia Adventure' trip. A slightly more relaxed trip compared to the 'Patagonia Hiking Adventure', you'll spend your days discovering unique volcanic landscapes and nights enjoying the company of your fellow travellers in delightful accommodations. But be aware! It's undoubtedly one of those hiking vacations that makes going back home incredibly difficult.
For the ultimate adventure, combine the 'Northern Patagonia Adventure' and the 'Patagonia Hiking Adventure' and decide for yourself which you prefer - Northern Patagonia or Southern Patagonia. All that's left to do now is choose the best time to visit Patagonia!