Now that we've been running trips in the Nepalese Himalayas for a while, we thought we'd pass on some of the things that we've learnt, both from our very own Active Adventures Himalayas team and of course our esteemed travellers. So happy reading and we welcome your feedback and questions!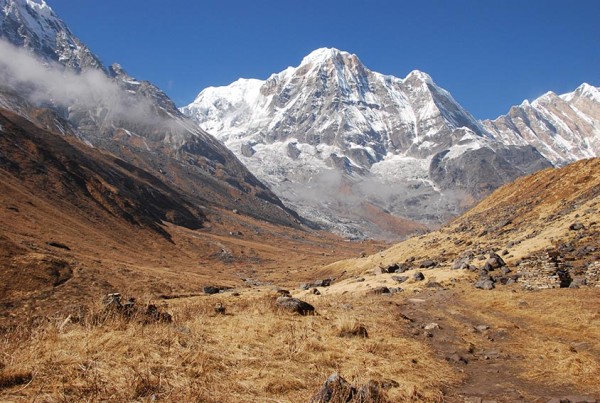 Best time to hike to Annapurna Base Camp
Nepal has four distinct seasons and whilst each season offers something different for tourists visiting all year around, the best time for trekking in the Himalayas is during the pre and post-Monsoon periods and early/late winter. Below is a brief description of each season, with some of the pros/cons mentioned as well.
Winter
Late December, January, early February – High-pressure systems bring clear skies and dry weather, and the temperatures are bearable during the day (actually quite nice in the sun), but as the sun sets the temperature falls quickly and it can get extremely cold at night. Some of the high passes can be unreachable at this time of year due to high snowfall.
Pre-Monsoon
March, April, May, early June – The weather can be variable, but generally it is clear and calm in the mornings with overcast or thundery afternoons. The day and night time temperatures are gradually getting warmer as the season progresses. This is a great time of year to see rhododendrons in full bloom as you walk up through the forest during the early stages of the trek.
Monsoon
Mid-June, July, August, early September – Low pressure systems are predominant at this time of year and so there are frequent rain storms with high humidity and warm temperatures. There are fewer hikers around not only because the track can be blocked from slips caused by floods, but it's just not as comfortable walking in the downpour! There are some parts of the Himalayas, such as the Mustang Region, that are in rain-shadows and suitable for hiking at this time of year.
Post-Monsoon
Late September, October, November – The cycle begins with a return to more stable weather conditions, cooling temperatures and plenty of sunshine. With the monsoons recently over, the countryside is green and lush, the air sparkling clean and the views of the Himalayas crystal clear.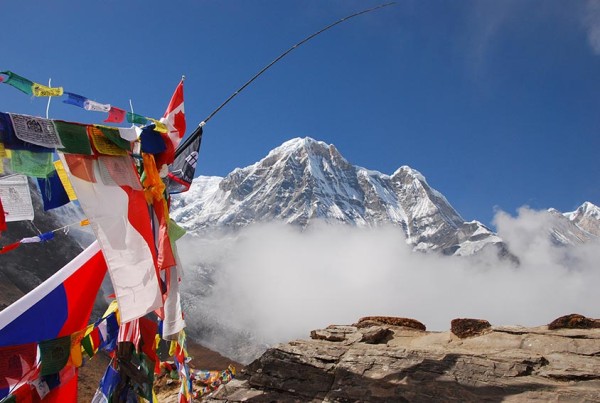 People often ask what the average temperature will be during their trek, but a simple answer to this would be misleading as temperatures vary greatly from Kathmandu and Pokhara to the mountain villages on the trail such as Chhomrong and Deurali. Whilst the seasons are still evident in Kathmandu, they're not as pronounced – there is certainly a lot more rain in June, July and August and colder temperatures in December and January, but during the day you can still expect warm temperatures all year around (also more humid during the monsoons).
As a widely accepted rule, as you gain 1000ft, the temperature will drop, on average by 3.5˚F or if you're used to the metric system; a 1000m gain would result in a 6.4˚C temperature loss. So, considering that the village of Naya Pul, at the start of the Annapurna Sanctuary trek, is at 1060m and the highest point of the trek, Annapurna Base Camp, is at 4130m, you could expect an average temperature drop of around 19˚C or 10˚F. And that's not accounting for more unpredictable weather at higher altitude. The equipment section below goes into a bit more detail of how to prepare, but generally speaking, at altitude you can always count on it being cold at night and at sunrise/sunset.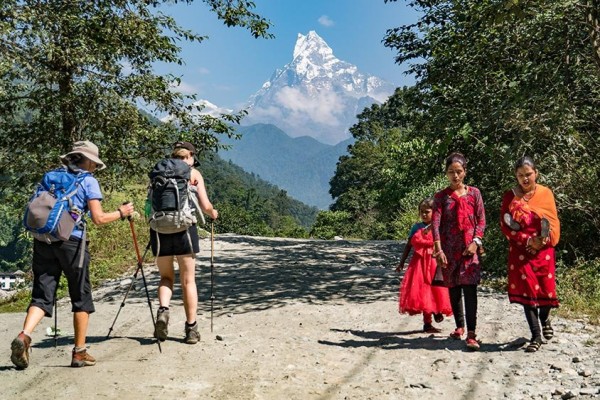 Altitude & Fitness
As you could expect, for many, altitude is the biggest concern or questioning factor when considering a hiking trip to Nepal. We've recently written an in-depth blog about altitude; the symptoms of altitude mountain sickness (AMS), the physiology behind it and some natural remedies and medicines.
In relation to the Annapurna Sanctuary Trek, the risks of AMS are taken very seriously by our team, who're trained to identify the symptoms early. It's important to point out though, that your fitness level or age has little bearing on AMS. What can aggravate the symptoms of AMS, however, is your general state of well being. So for example, if you have the flu or are dehydrated, you would be more likely to suffer at high altitude even if you're young or fit. There are some things you can do when you arrive that will assist with your acclimatisation, such as drink plenty of water, eat light meals, avoid coffee and alcohol, get plenty of rest and not move around too fast. If you're concerned, we do recommend that you chat to your doctor about a prescription for Diamox (which can be taken as a preventative measure in the days before arrival) or consider alternative treatments like ginkgo or Oxishot.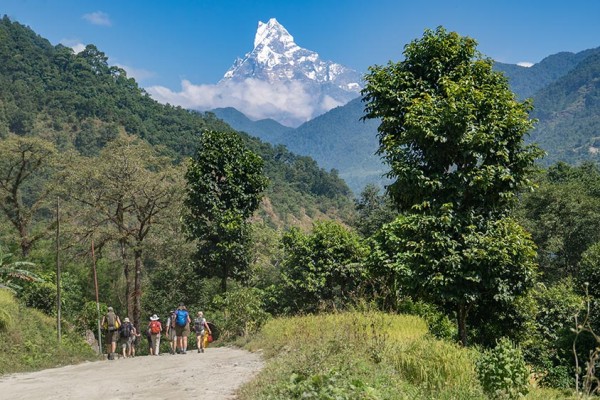 Whilst there is no direct relationship between fitness and altitude sickness, that's not to say that fitness is not important since most people will feel puffed just walking around at first in the thinner air! We recommend a good level of fitness for both our Annapurna Sanctuary trek and our Everest Base Camp trek. Generally speaking you'll be trekking for 10 – 12 Km's (6 to 7.5 miles) a day, so it's a good idea to start training in the hills around your home well before setting out to Nepal. Also, it goes without saying – try to maintain a healthy diet, drink lots of fluids and stretch regularly!
Hiking Experience
For most, the Himalayas are the ultimate hiking destination and for this reason we find that the majority of our travellers have already been avid hikers for some time. The Annapurna Sanctuary trail is well marked and requires no technical knowledge and on our treks we stay in local tea houses, so there's no need for any camping gear. With us, you would have a NZ guide as well as a team of Nepalese guides and porters and they'll be monitoring the weather, the group's well being and all food and shelter requirements, so really all you need to do is put one foot in front of the other and take in the views and cultural experience!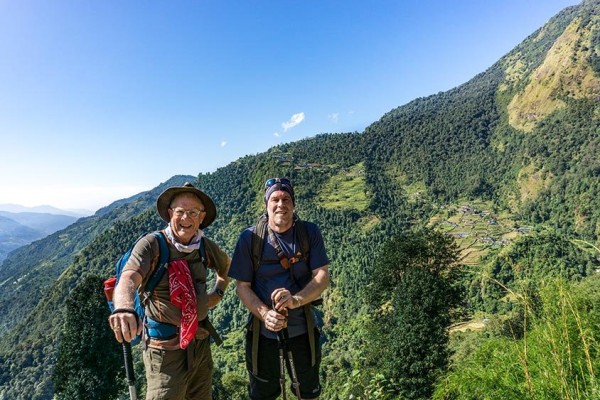 Rather than the hiking itself, the biggest adjustment required for most people is the culture. Stepping out of Kathmandu Airport can be an exciting, daunting and overwhelming experience all at once. It's a complete sensory overload, with the shrieks from competing taxi drivers, honking rickshaws, smells wafting from food stalls and even animals in the streets! Once out in the mountains, it's serene and peaceful as you begin hiking up the valley, through rhododendron and oak forest. All the way along the trail you'll pass through small villages where you'll get a first-hand and authentic insight into the way of life of the local people and this is often one of the standout lasting memories that our hikers comment on.

Equipment
Having the right equipment is extremely important; hiking boots that are comfortable and worn-in is a good place to start! As mentioned earlier, a porter will carry the majority of your gear (13kgs/28lbs) so you'll just need a comfortable day pack whilst on the trail. Because of the variable temperatures – from night to day and as you gain altitude – layering is very helpful and adds extra warmth. We recommend purchasing good quality layers made out of fibres that breathe well, dry quickly and don't hold body odour, such as merino wool (one brand you may be familiar with is Icebreaker). A windbreaker or fleece as a mid-weight layer is a good idea and then a down/puffer jacket is the best option for a top layer (unless it's raining). A good rain jacket is essential, so make sure to bring one that you feel comfortable hiking in with a backpack. Gor-Tex is still the leading fabric in this department, but there are other fabrics that are breathable and potentially harder-wearing.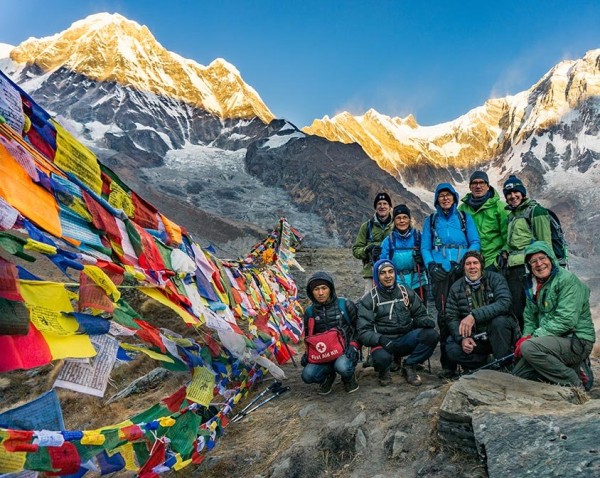 A good quality, warm sleeping bag is also essential, but if you don't have one, or don't want to travel with one, we have a supply of these in Nepal that we rent out. We also rent hiking poles and these are highly recommended as they help with balance and if you need to catch a breather, they're the perfect 'leaning stick'! If you're after a more comprehensive gear-list with suggested quantities and all the specific bits and pieces, feel free to ask us!

Getting the Most out of Your Trip
Visit Nepal with an open mind. Be in good physical shape, bring good quality gear, be prepared for a culture shock and of course, don't forget your camera!
If you like reading about your destination, you may be interested in some of these books:
Seven Years in Tibet and the sequel Return to Tibet – Heinrich Harrer
The Snow Leopard – Peter Mathiessen
Himalaya – Michael Palin
Into Thin Air – Jon Krakauer
The Path to Enlightenment – the 14th Dalai Lama, Tenzin Gyatso
Sherpas: Reflections on Change in Himalayan Nepal – James Fisher
Go forth and adventure!