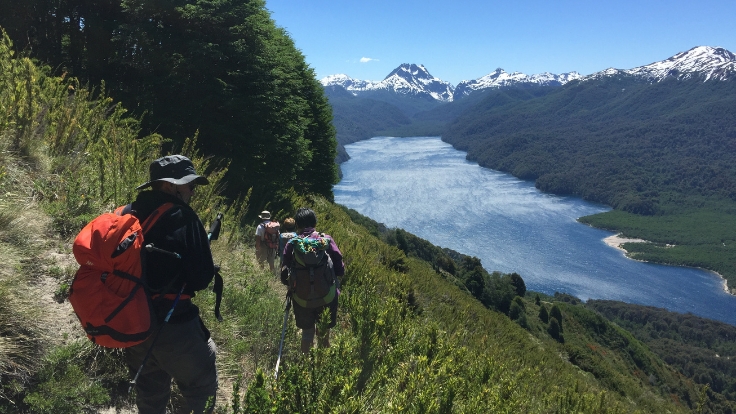 So you like to be active, huh? That's totally cool with us. In fact, Northern Patagonia Adventure tour features the best of the best when it comes to an active vacation - hiking volcanoes and kayaking fjords - and you may just see some really amazing things along the way.
The Best 14 Days Patagonia Itinerary
Here's the perfect itinerary for 14 days in Patagonia for all of the ultimate explorers out there...
Day 1: Start in Bariloche, Argentina
Get your bearings in Bariloche with an authentic Patagonian meal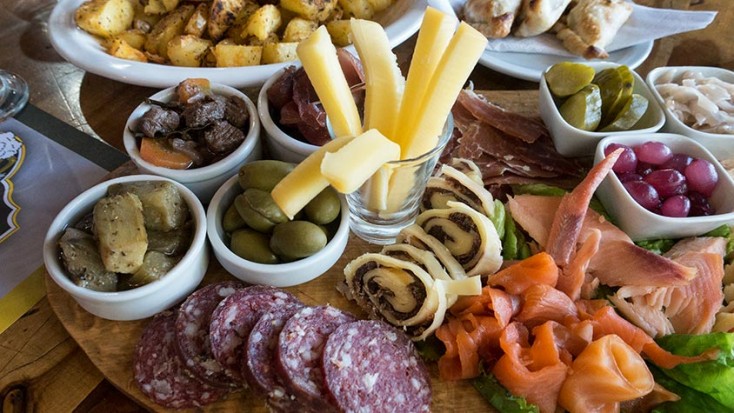 We all know traveling takes a lot out of you. One of the best jet lag cures? Food! And you're going to love Patagonian cuisine.
Your arrival to Bariloche brings you to the chocolate capital of Argentina. Artisan chocolate shops line the streets, beckoning you inside. And why not? You're about to spend two weeks on the move—live a little!
Dinner tonight features a typical Patagonian meal. Entrees include beef, spit roast lamb, trout, king crab, and wild boar. Served alongside your meats are potatoes, breads, and cheeses. All of the foods come from the surrounding landscapes, from the glacial rivers (trout) to the dense forests (wild boar) to the Atlantic Ocean (king crab).
Day 2: Trek to Cerro Llao Llao
Warm up your hiking legs with a trek to Cerro Llao Llao and cool off with a dip at Playa Tacul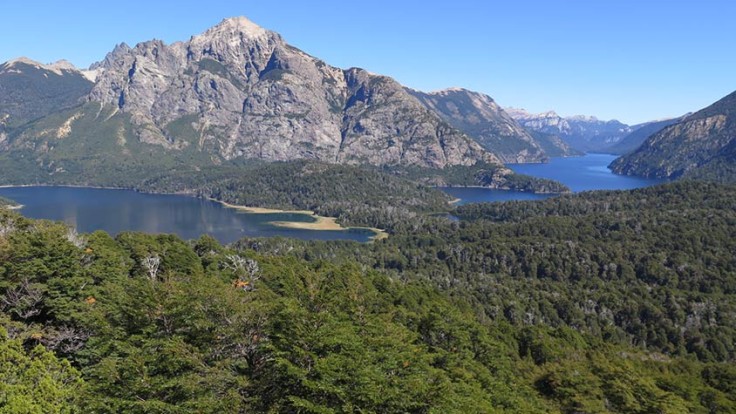 It's your first official day on the trail! And what better way to spend it than amongst the lakes and peaks of Patagonia. Cerro Llao Llao sits in the midst of three different lakes, all of which can be seen from the top of your hike. Popping up in the distance are the tops of Cerro Lopez and Cerro Capilla.
Wind your way through a wooded trail to the top for a mid-morning tea break, a very "Patagonian" thing to do! After finishing your tea, descend Cerro Llao Llao to lake-level. Here you can walk the sandy shores of Playa Tacul or even jump into the crystal clear and clean waters of the lake. No matter how you choose to spend your time, you are sure to love the lago (that's Spanish for lake!).
Day 3: Hike up Cerro Bella Vista
Get your heart pumping with a brisk climb to Cerro Bella Vista—you won't believe the views
It's day three in Argentina, and you may be feeling one of two ways: Completely ready for the next adventure or exhausted as your body is still trying to adjust to Patagonian life. The good news is you get to choose how you want to spend your day!
For those ready to hit today's Patagonian path, head to Cerro Bella, which literally means "beautiful views." You're going to want to make sure you have your camera and/or smartphone for this one. Binoculars wouldn't hurt, either.
It's quite a trek to the top, with a heart-pumping ascent above the tree line, but it's well worth it for 360 degree views of the myriad lakes and crowded horizon line of huge peaks.
If you'd rather spend the day exploring Bariloche and its surroundings, that's completely fine too! Who wouldn't want to sample the rich and smooth chocolate the town is known for? Or maybe do some souvenir shopping?
Day 4: Explore Argentina's 'Lake District'
Hike the "Road of the Seven Lakes" to Cerro Falkner and panoramic views of Argentina's Lake District
If you signed up for spectacular sights, today is the day for you. Your journey today takes you through the "Road of the Seven Lakes" to Cerro Falkner. The trail twists and turns through lush forests, by cool-blue lakes, and past wondrous waterfalls. Feel free to take a dip in the water if you're feeling so inclined!
Soon, the base of Cerro Falkner emerges ahead, and you're ready to begin your climb to the top. The trees you pass are coihue and ñire, the latter of which is the southernmost tree on earth as it was found on Hoste Island. Once you reach the tip of the mountain, you'll be happy for every step you took on the way up. Marvel at all seven of the lakes from a bird's eye view, it's just amazing.
Day 5: Adventure to a Volcano!
Enter the "Ring of Fire" with a trek up the south face of Volcan Lanin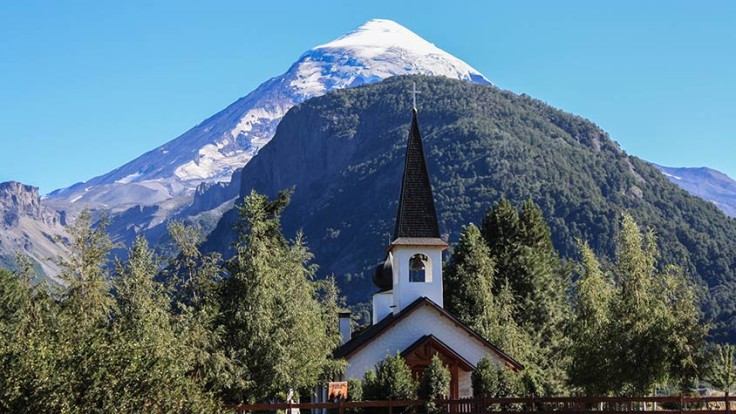 If you can't stop singing a certain Johnny Cash tune right now, no one will blame you. That's right, we're headed into the "Ring of Fire."
Volcan Lanin straddles the border of Argentina and Chile and has two National Parks on its slopes (one for each country). The wild woods of the mountain enhance your hike. Lookout for the peculiar Pehuén, or monkey puzzle tree.
As you encounter the volcano's snowline, you might think you've gone "North of The Wall" as snow exists year-round here. Mountains upon mountains go as far as the eye can see, creating a breathtaking backdrop.
Day 6: Immerse yourself in the Chilean rainforest
Stay at the incredible Huilo Huilo Reserve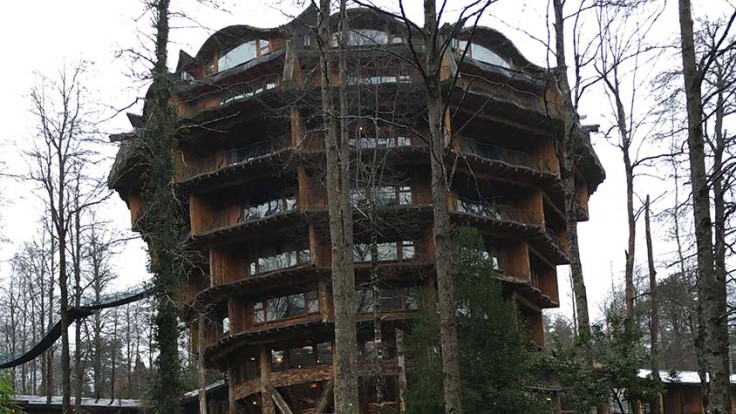 After one last Argentine ascent (the red-hued Cerro Colorado), you're on your way to Chile. Once over the border (that's another stamp to your passport!), board a ferry on Lago Pirihueico for a ride to Huilo Huilo Reserve.
This private, biological reserve is 600 square kilometers of Chilean temperate rainforest. There's a high amount of precipitation here and relatively warm temperatures during the summer. Wildlife enthusiasts will be in Patagonian paradise. There are 81 known species of bird throughout the forest as well as the phantom puma — we say phantom because you will most likely never see the big cat due to its timid and nocturnal nature.
Here you'll never be far from the local flora as your hotel is literally shaped like a mushroom. Reino Fungi Hotel pays architectural homage to the fungi found in the forests near the lodging. Enjoy a house-brewed beer as a nightcap before getting a good night's rest. Tomorrow has a lot in store!
Day 7: Discover the Valdivian forest and waterfalls
Explore the Valdivian forest and waterfalls along the Fuy River
© Marcos Escalier
We won't have to go too far for our hike today. The Fuy River and Valdivian forest are practically on our doorstep. As you wander through today's trail you'll feel as if you're in a fairytale. Songbirds serenade you from the treetops, and picture perfect waterfalls break up the many tributaries.
While these sights are amazing, you can choose instead to have a relaxing day at the hotel, if you'd prefer. Soak up the sun with lakeside views and a coffee or hot chocolate. Or perhaps you'd rather soak yourself in the lodge's hot pools. Whatever your fancy, you can't go wrong at our friendly, fungi inn.
Day 8: Rafting in Patagonia
Raft the Petrohue River past four magnificent volcanoes. [Free day option]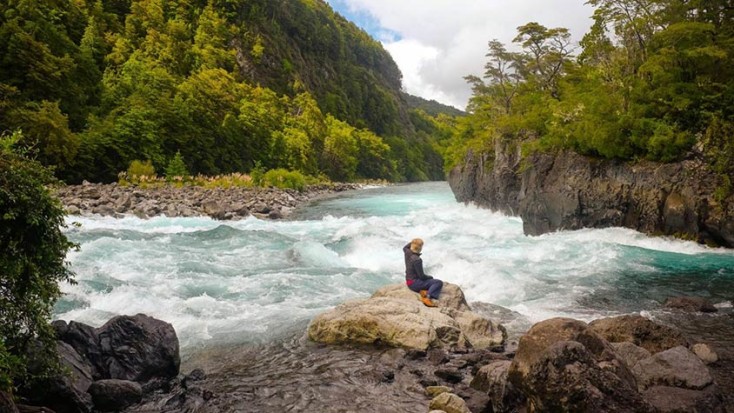 © amira_a
Welcome to Puerto Varas! There are so many options for you to consider today, but no matter which you choose, you're going to have a blast. It's a free day in this Chilean town, but that doesn't mean there is no adventure to be had.
A great way to spend your afternoon is rafting the rapids of Petrohue River. As you navigate through the white and wild waters, be sure to look up at the four vast volcanoes that line the river.
Cyclists will appreciate the opportunity to show off their skills at the Osorno Volcano pump track. And of course, you can always choose to stay within town limits for shopping, sightseeing, and sampling of local cuisine.
Day 9: Explore Hornopiren National Park
Check out the Chilean fiords and hike Hornopirén National Park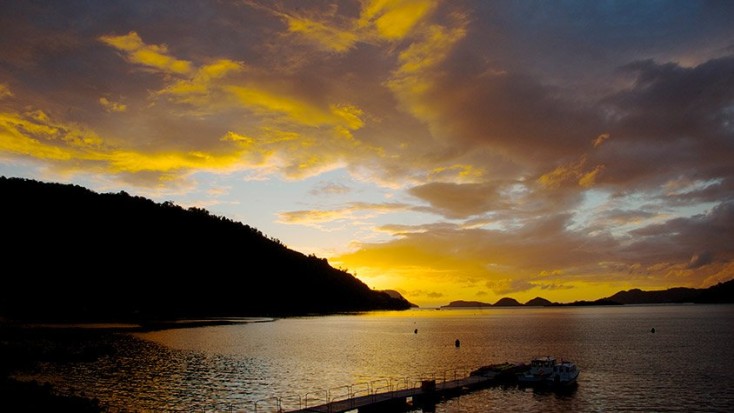 On the Chilean coast is the village of Hornopirén, its name derives from the nearby volcano and means "snow oven." No matter where you look, the views are outstanding. The Andes Mountains are dissected by the Chilean fiords, and glaciers cover their slopes.
Lunch at the local market brings you closer to understanding the Chilean culture. Try a fresh catch of Merluza or Congrio (Southern Hake and Conger Eel) or grab one of the many colorful fruits and vegetables.
Bellies full, it's time to get inside Hornopirén National Park, renowned for its mountains, glaciers, and volcanoes all packed into a relatively small area. Animal lovers will also love the wide variety of fauna residing in the untouched temperate forest. A ferry ride to Llancahue Island takes you home for the night.
Day 10: Hot Springs in Patagonia
Soak in the hot springs at Cahuelmo Fjord
It's your 10th day in Patagonia. You've seen some incredible sights, but you might be feeling in need of a "pick me up." The hot springs of Cahuelmo Fjord will do just the trick. The springs are located inside Parque Pumalín, created by the late American entrepreneur and ecologist Douglas Tompkins, founder of The North Face.
One of the things that makes Pumalin Douglas Tompkins National Park unique is the way in which the local economy thrives alongside conservation. Within the park you'll find small organic farms with activities such as animal husbandry, cheese making, ecotourism, wool handicrafts, and honey production.
Beginning with a short boat ride on Quintupeu Fjord, you'll see wonderful waterfalls and granite peaks. The azure waters of the fiord are met with the steep, emerald forested walls of the Andes.
Following up the spectacular scenery will be spectacular springs. In the temperate rainforest lies Cahuelmo Fjord, which produces relaxing hot springs just waiting to be lounged in. Let any tension in your body flow out into the warm waters. There's no better way to end your day than with a reflective soak in the hot springs.
Day 11: Kayaking in Patagonia
Kayak where fresh and saltwater meet—and maybe meet some friends along the way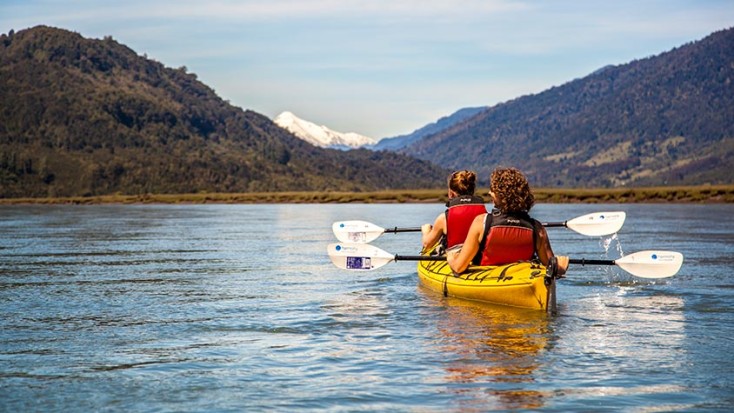 Water-lovers will enjoy getting on tandem kayaks on the Reloncavi Fiord. Kayaking is the best way to see the snow-capped mountains, cascading waterfalls, and even certain sea-friends (sea lions and dolphins might just swim by!).
After disembarking from your kayak, lunch will be a special treat at a locally-owned farm for an authentic asado (lamb barbecue). Meet the Yolanda family, who have been living on the banks of the fiord for three generations. Chatting with the Yolanda's will allow you to fully embrace Chilean culture and understand the Andean way of life.
Day 12: Discover Osorno Volcano
Test your limits on a trek to Desolation Pass on Osorno Volcano—the views are absolutely worth it!
Hiking Osorno Volcano takes you through many different kinds of landscapes. First, your trek will begin on a lunar landscape—rocky and desolate of any vegetation. As you climb further up the slopes, lush woods emerge, bringing you back down to earth. Finally, as you ascend to the top (known as Desolation Pass), the stunning skyline comes into view. Below is Lago Todos Los Santos, it's crystal clear waters reflecting the surrounding sights.
Back at your home-away-from-home for the night is a hearty meal complete with a glass of red wine. If you're looking for more than a libation to relax, try lounging in the wood-fired hot tubs.
Day 13: Cruise a spectacular Patagonian lake
Take a catamaran cruise across Lagos Todos los Santos before crossing the Andes into Argentina
Today's travels begin on Cruce Andino, or the lakes route. Cruise on a catamaran over Lago Todos los Santos towards your lunch in Peulla. Then, it's time to get back to Argentina, but not before a dramatic crossing over the Andes Mountains.
On the other side are even more lakes just waiting to glide you across their mirror-like surfaces. A boat ride, bus ride, and catamaran cruise later and you're back at Bariloche, where this journey began.
Day 14: Farewell tour of Bariloche
Celebrate your Patagonia adventure with a farewell tour of Bariloche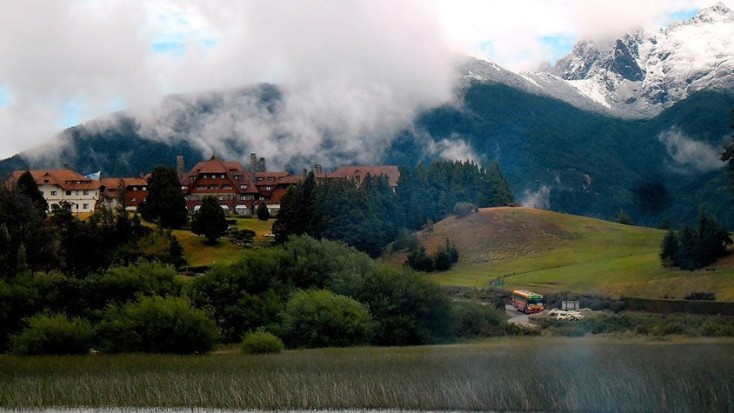 Before departing the paradise of Patagonia, be sure to get in some last-minute activities in Bariloche. Fill up on a festive Argentine feast with your newfound friends, before heading to the airport. Do some last-minute shopping for souvenirs to take home to loved ones (postcards are great for remembering your favorite sites!). Delight yourself with some delectable desserts in the corner chocolate shops or take one last stroll around the city for beautiful, Swiss-style architecture.
As you board your flight, headed home, reflect on the last two weeks. Maybe you like to journal. Maybe you have a blog of your explorations. Perhaps pictures on your phone are the best way to remember the good times you've had. Adios, Argentina! It was fun.
Click on the button below to learn more details about our Patagonia tours!