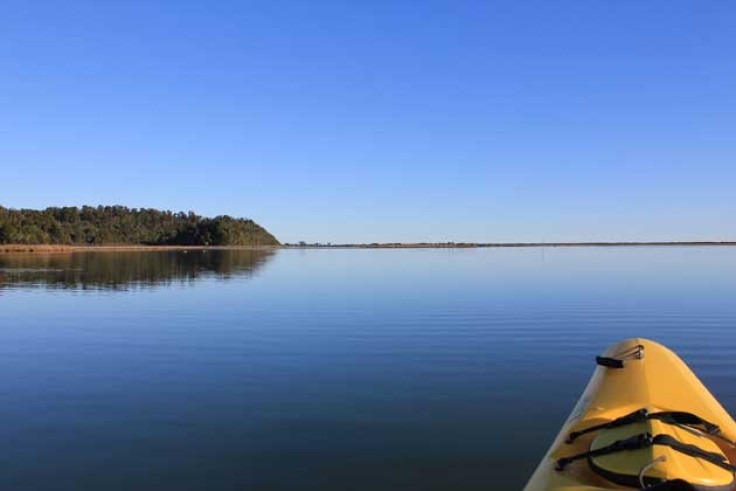 Sea kayaking tours are a splendid way to enjoy New Zealand's pristine coastline, amazing sounds and rugged fiords. Because we cater for both beginners and advanced paddlers you won't need any previous sea kayaking experience, just a partner to paddle with in a modern double sea kayak.

Sea Kayaking Tour Options


Sea Kayaking on Queen Charlotte Sound
You can spend several days paddling on Queen Charlotte Sound near Picton as part of our 'Rimu' 14-day South Island adventure. This optional sea kayaking tour is a highlight for many of the trip for many people who love the stunning scenery and the remote waterfront lodges. Experience is not necessary for our trips as we provide training for beginners & challenges for the experienced!
The Marlborough Sounds is located at the 'top end' of the South Island and covers an area of 50,825 ha. Unlike many parks, it is not a single unit but rather separated into 104 different reserves, allowing a wide range of activities to occur within the many confines of its watery expanses. Reaching out into the Pacific Ocean like the fingers of a welcoming hand, the Marlborough Sounds is made up of three different sounds - the Queen Charlotte, Kenepuru and Pelorus Sounds. This collection of drowned river valleys is a natural wonder, created when the mountains sank in earth movements and the sea flooded into the valleys. Bordered by forested hills rising almost vertically from the water's edge, the Marlborough Sounds are a true scenic wonder. The water displays a thousand shades of colour, ranging from the deepest green to the brightest turquoise. The backdrop is also a myriad shades of green due to a combination of overhanging native tree ferns, rata vines and beech trees.
The Sounds are home to a wide variety of bird and marine life, with a number of specific wildlife sanctuaries dotted throughout its waterways and inlets. Seabirds are in abundance and include species such as blue penguins, petrels, shags, gannets, terns and gulls. The local marine life is also varied with fur seals, dolphins and at times whales. Hectors dolphins, gentle creatures are currently endangered and are endemic to New Zealand waters, can also sometimes be found within the sheltered waterways of the Sounds. Throughout the Sounds, there are nature reserves that are open and accessible from the water. You can paddle your kayak up to one of these islands and go and explore the protected worlds they contain.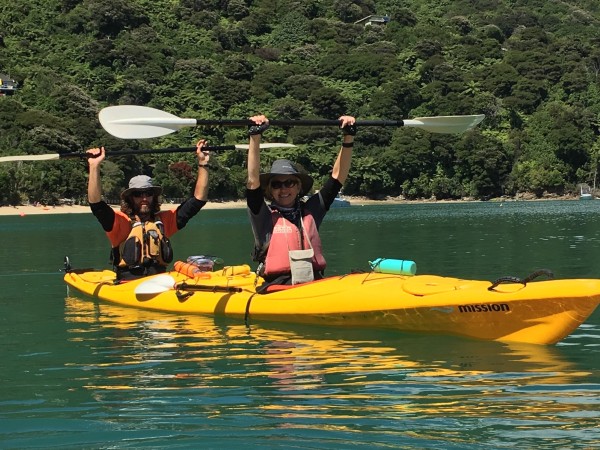 Sea Kayaking on Okarito Lagoon
Paddle out to the White Heron colony on Okarito Lagoon as part of our 14-day Ultimate South Island Adventure 'Rimu' trip. Sea Kayaking is by far the best way to enjoy the wildlife and grandeur of the lagoon. This is one of New Zealand's premiere eco-experiences for wildlife and natural wetlands; here you can enjoy nature on your own terms. We have kayaks and canoes to suit the special conditions on Okarito Lagoon.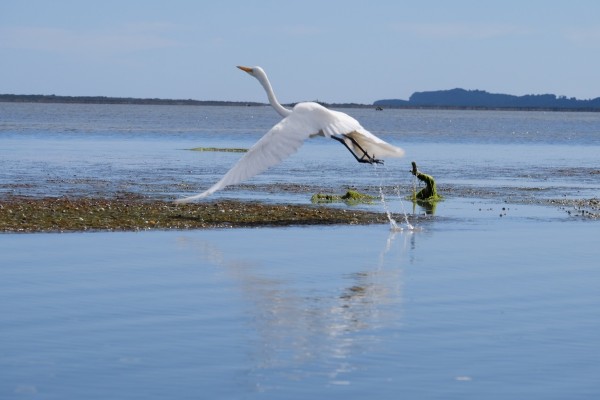 Sea Kayaking tours on Milford Sound
You can also Sea Kayak on Milford Sound on our Ultimate South Island Adventure 'Rimu', Milford Hiking Adventure 'Manuka', South Island Explorer 'Kiwi' and Essence of the South Island 'Tui' trips.
Since we stay in protected waters, all our sea kayaking is suitable for beginners - but even veterans will be blown away by the views that the Milford Sound offers including stunning waterfalls and the world famous Mitre peak.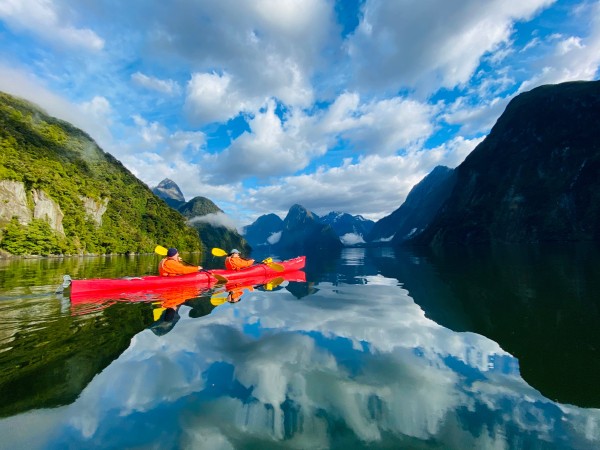 Other Sea Kayaking Vacation Options


The short travelling distances between paddling destinations allows for a variety of sea kayaking experiences leaving you with options to experience unrivaled fresh water kayaking on our pristine lakes through to multi day coastal trips. It simply would be impossible to list all the sea kayaking tours possible, so we have created a short list of our favourites. If you would like to find out more information about sea kayaking options in New Zealand, please feel free to contact us.


Coromandel Peninsula
The Coromandel Peninsula is famous for its spectacular scenery, long sandy beaches and friendly resort towns with unique visitor attractions. Coromandel is a top rating holiday playground for both New Zealanders and tourists from around the world.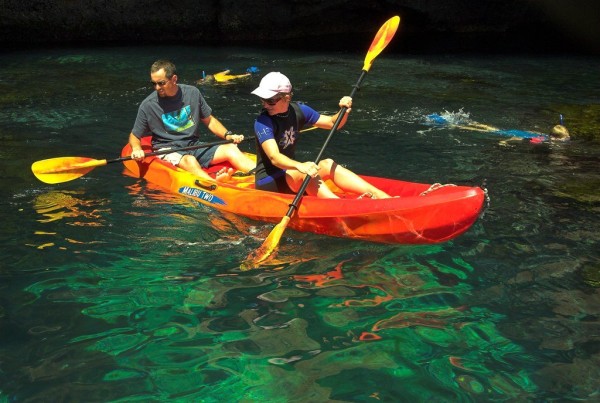 Bay of Islands
The Bay of Island is renowned for some of the most beautiful scenery in New Zealand. The Bay of Islands Maritime Park has 144 islands, secluded bays and an abundance of marine life such as marlin, whales, penguins, dolphins and gannets.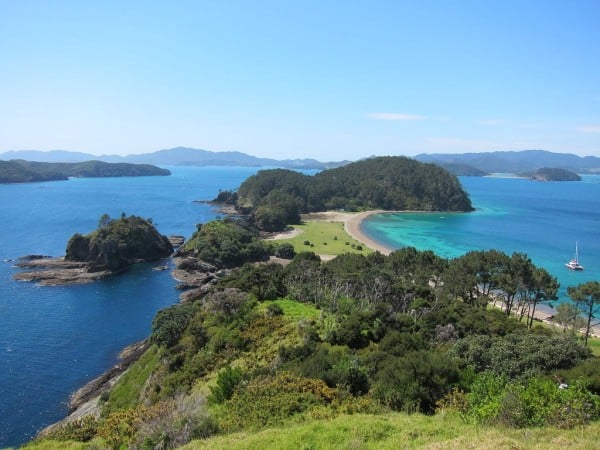 Dusky Sound
The pristine forest, sheer rock walls and tumbling waterfalls are a breathtaking sight. Local inhabitants include bottlenose dolphins, New Zealand fur seals and Fiordland crested penguins

Abel Tasman
The Abel Tasman National Park is known for it's pristine golden sand beaches forming a point from Tasman Bay to Golden Bay at the top of the South Island of New Zealand – Nelson, New Zealand. This is New Zealand's smallest national park but unique to the world as a coastal recreation area for New Zealand hiking and tramping. With its mild and sunny climate, curving beaches of golden sands, large tranquil lagoons, and forest covered hills on the edge of turquoise seas, Abel Tasman National Park is a pocket of coastal paradise. At the top of the South Island, Nelson and Golden Bay are fast becoming areas of tourist interest for cultural and crafts and pottery as well as unique scenic beauty.