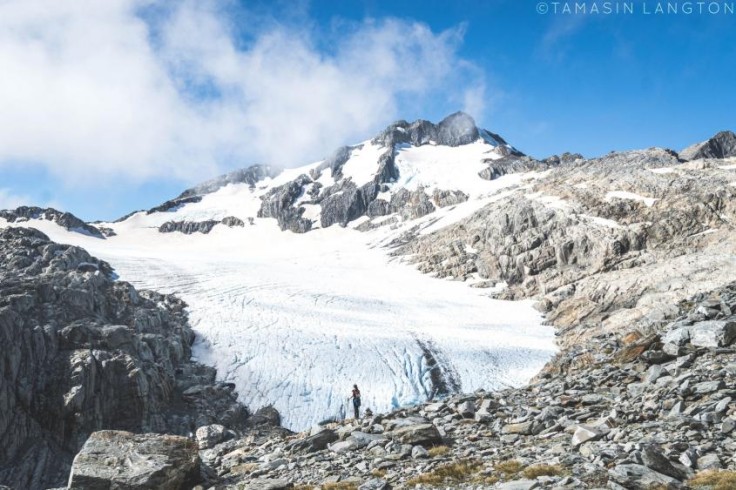 Many travelers to New Zealand are familiar with our two most famous glaciers, Franz Josef Glacier and Fox Glacier, because after all, they are pretty unique. They are two of only three glaciers in the world to flow down into a temperate rainforest. New Zealand government statistics define a glacier as 'a body of slow-moving ice, at least 1 hectare in area, that has persisted for two decades or longer'. A quick Google search will also tell you that there are about 3,144 glaciers in New Zealand, however, although it seems like New Zealand has an excess of glaciers, with the continuing threat of climate change those numbers will likely decrease. A case in point is the Tasman Glacier in Mount Cook National Park. As New Zealand's longest and largest glacier, it has been losing on average 590 feet (180 meters) a year since the 1990s. So, although there are currently plenty of glaciers, you should see them now whilst you still can.
Franz Josef Glacier and Fox Glacier
On the west coast of the South Island, Franz Josef Glacier and Fox Glacier are two of the most easily accessible glaciers. However, it's not called the Wild West Coast for nothing, and each year there are usually a couple of heavy storms that cause floods and slips, changing the routes of roads and trails. However, that's no different to how glaciers have been behaving for millennia, and it certainly adds an extra element of adventure. In favorable weather, you can walk up the valley floor for a close-up of Franz Josef Glacier's terminal face, but unfortunately, you're unlikely to be alone. Being a relatively easy flat walk, it usually attracts a lot of people. If you look a little further afield, however, there are some other nearby hikes in Franz Josef (towards Alex Knob and Robert's Point) that climb up the steep valley sides and afford spectacular views of the glacier from a higher vantage point - and you could even have the view all to yourself! Alternatively, if you have a little extra money and want a unique up-close experience, you can join a helicopter trip to land on the glacier itself and enjoy a guided exploration of the crevasses.
Aside from the famous Fox and Franz glaciers, the Southern Alps is also home to many more equally stunning glaciers, with the hikes to these have journeys that may even rival the destination. Here are a few more to discover.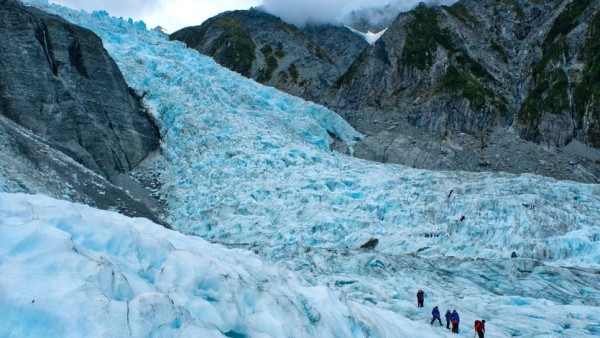 Mt Cook National Park
One of the best places to spot an epic glacier in New Zealand is also home to its highest mountain, Aoraki/Mount Cook (3724m), and there's a hike to suit all abilities. The 3-hour return Hooker Valley hike meanders up to an iceberg-ridden glacial lake at the base of Aoraki/Mount Cook and is surrounded by impressive glacier-topped mountains the whole way. Alternatively, if you fancy raising your heart rate a bit more you can tackle the stairs up to Sealy Tarns and beyond, all the way up to Muller Hut for a spicy 1000m in elevation gain. The return hike should take around 6-8 hours but can be broken up with an overnight stay in the hut if you've booked a bunk in advance. The view is breath-taking in every sense of the word and as you look about in awe it's clear to see how the many glaciers, although small shadows of their former selves, once dominated the landscape creating and carving the valleys and lakes now left behind.
Rob Roy Glacier
Mt Aspiring National Park, just over an hour North West of Wanaka, has many glaciers that have enticed climbers, mountaineers and even base jumpers over the years, and it's not hard to see why. From the Raspberry Flat carpark, the popular Rob Roy Glacier walk takes around 2 hours to reach the base of a natural amphitheatre, surrounded by towering mountains, crowned with ice. There are a few steep sections of track along the way but the beautiful beech forest, kea (New Zealand native mountain parrot) calls, and countless waterfalls provide a welcome distraction.
French Ridge Hut
Beyond the turn-off for Rob Roy Glacier, the Aspiring Valley really opens up; with trails leading to several huts and mountaineering adventures. The hike up to French Ridge Hut is quite a challenging hike of two halves: the first section is a reasonably flat, easy 4-hour stroll along the valley floor, whereas the second section is pretty much the exact opposite. For the following 2 hours as you begin to climb up (yes, it is definitely a climb in places) there should almost be a warning sign to say: 'No switchbacks were attempted in the creation of this track!' As well as having some impossibly steep, rooty sections, there are also a couple of rock features that require nothing short of Olympic gymnastics skills to conquer. If it wasn't for the little orange track markers, at times it would be fair to question whether you're on a track at all! However, after feeling somewhat like Tarzan you'll eventually break out of the bush. Don't be fooled into congratulating yourself too much as you're not there yet, there's about another hour of false summits before the hut finally comes into view, and arguably the most scenically sited long drop toilet in the world! With the Bonar Glacier as its backdrop, along with several other hanging glaciers, it's certainly a rewarding bed for the night, and although the trail is a little tricky in places, it is definitely worth the adventure.
Brewster Hut
Brewster Hut hike is just north of the Haast Pass and has a track that favors a similarly straight-up route. However, as it only takes 2-3 hours to reach, the popularity of overnighting at the hut means you do need to book a bunk in advance (unlike a few years ago when a weekend mission over the public holidays could find 40 keen hikers having to sleep like sardines in a 12 bunk hut!) If you continue up past the hut for another couple of hours, it's possible to reach the summit of Mt Armstrong (2174m). The route is only marked by the odd cairn so not advisable in poor visibility, but the steep slog up to the top is definitely worth it for the beautiful views of Brewster Glacier and even the shores of the West Coast on a clear day.
Glaciers have quite literally shaped New Zealand. From Franz Josef to Fiordland, they have created the brightest blue lakes and the most impossibly steep, sheer-sided valleys. To see them and their landscaped legacy is to see and experience the natural wonder of New Zealand, but don't take my word for it, come and see the glaciers in New Zealand for yourself!
Article written by Amanda Tutton, Active Adventures Guide
Photo: Tamasin Langton Photography