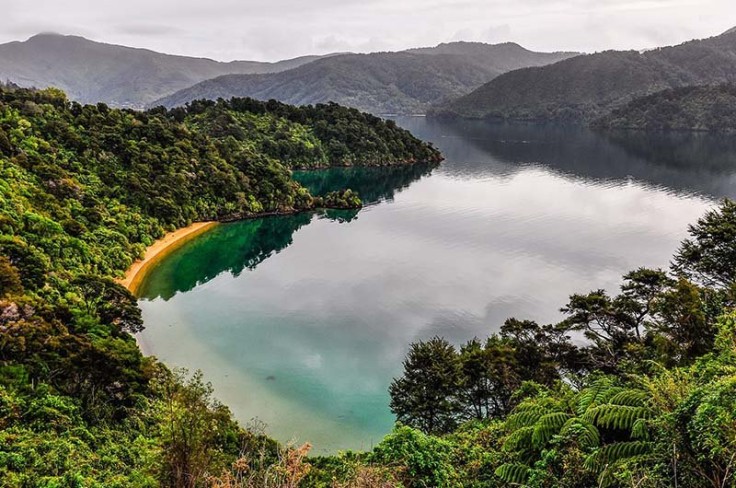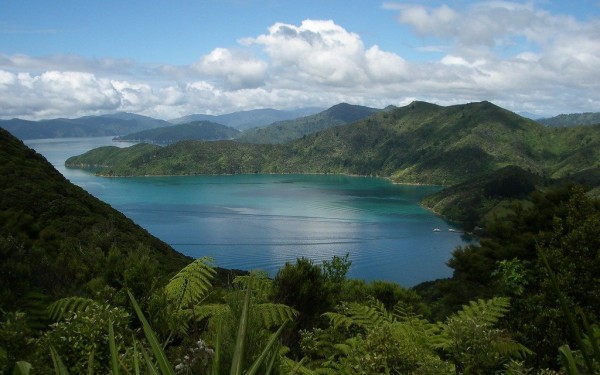 The Queen Charlotte Track offers a spectacular trip through the Marlborough Sounds, from the historic Ship Cove through to Anakiwa in the Grove Arm. It passes through lush coastal forest, historic bays, and along skyline ridges with unsurpassed views of Queen Charlotte and Kenepuru Sounds.
Most of the track is wide and benched, and all major streams have been bridged. For walkers, boots and a good level of fitness are required, and the 71-kilometre trip can be done in 3-5 days.
The entire Queen Charlotte Track is open to mountain biking from March 1 to November 30 each year. The trip takes about 13 hours. At other times of the year, from December 1 to February 28, mountain bikes are permitted on the Kenepuru Saddle to Anakiwa section of the track only.
Skip to Weather | Fitness | Accommodation | Etiquette | Bookings | Itinerary | Gear List | Extra background
Location: Where is the Queen Charlotte Track?
Nearly all walkers and mountain bikers arrive via Picton, a small town nestled in the Marlborough Sounds, at the top of the South Island. Picton can be reached by road from Christchurch or Nelson, or by commercial ferry from Wellington.
Most walkers start from Ship Cove, which can only be reached by boat. Transport can be arranged through a range of Picton tourist operators, who can also carry your pack to each night's intended destination. When you end the track, a boat will bring you back to Picton.
Queen Charlotte Track Map
Weather on the trail : When is the best time to hike the Queen Charlotte Track?
The track can be walked year-round, as this region benefit from a very mild climate. Temperatures can range between 15 and 33°C (59-86°F) in summer, while winter temperature can range between 2 and 20°C (35-68°F). The trail will be busier between December and February, when the warm days of hiking can end with a refreshing dive in one of the multiple bays. Spring and fall are a bit quieter, but the weather is still really enjoyable, even if the evenings are a bit fresher.

Fitness: How fit do you need to be to hike the Queen Charlotte Track?
Any fit person can walk the Queen Charlotte Track. You will need to be able to carry all your own gear (if camping) on a well formed track, climbing and descending slightly for up to 20 kilometres (12.4 miles) a day with a maximum elevation gain of 400 metres (1,300 feet) over the whole trail. It's an ideal trip for groups or individuals.
This track offer the advantage of various starting points, so you can opt for a shorter walk if you prefer. If you don't want to carry to much weight, you can stay in the lodges, where food is also available.

Accommodation and facilities on the Queen Charlotte Track
Accommodation on the trail
There are a number of accommodation houses along the track route, providing cabin, motel and hotel lodgings and tent sites.
There are also seven DOC campsites, each with toilets and water supply. Camping fees should be deposited in the self-registration boxes at the campsites, or paid to the DOC office in Picton.
Toilets
Please use toilets at huts and shelters. If this is not possible bury toilet waste well away from watercourses. Remember drinking water at huts and shelters comes from rivers and lakes.
Track etiquette and how to prepare
Please remember when trekking on the Queen Charlotte Track
Fires: No open fires are permitted. The use of gas cookers if preferred.
Cooking: There are no cooking facilities at the campsites.
Water: It is advisable to carry water between the Kenepuru and Te Mahia Bay saddles. Please use water in the campsites sparingly.
Private land: Sections of the track cross private land. Please respect the owners' property, and do not take vehicles, firearms or dogs on the track.
Rubbish: There are no rubbish facilities on the track. Please take your rubbish away with you.
Wasps: Wasps are common in late summer and autumn. Carry anti-histamines if you are allergic to their stings.
Expect to meet mountain-bikers: Bikers are allowed on the Kenepuru Saddle to Anakiwa section of the track throughout the year. They are also allowed on the Ship Cove to Anakiwa section from March1 to November 30 annually.
Respect their right to be there: Bikers have as much right to be on the track as you.
Co-operate with their movements: Help bikers to help you. No one wants collisions or close shaves.
Mountain bikers are reminded to observe the Mountain Bikers Code at all times. In particular:

Give way to walkers: Walkers have the right of way at all times. It's your responsibility to make room for them on the track.
Overtake with care: Don't surprise walkers from behind. Carry a bell or give a yell.
Control your speed: Don't go so fast that you can't stop within the visible distance ahead of you.
Avoid excessive braking: Heavy rear braking can damage the track surface, especially after rain.
How to book the Queen Charlotte Track

Going by yourself
If you decide to stay in the campgrounds, the only thing you'll need book ahead is your boat transport (there are limited spots, so make sure you book a couple of days in advance if in high season) as well as your QCTLC Pass, that you can purchase at any i-Site. Make sure you bring cash to pay the campgrounds fees as well.
Going guided
If you don't want to worry about the logistics, are keen to meet like-minded travellers and want to enjoy the experience and knowledge of two expert Kiwi guides, you're the perfect candidate for a guided hiking tour. With a maximum of 14 others guests, you'll visit some of the most pristine areas of the South Island, while indulging in delicious food and wine every night. Doesn't sound too bad hey?
Detailed itinerary
For hikers
Ship Cove to Resolution Bay, 2 hrs, 4.5km
Resolution Bay to Endeavour Inlet, 3hrs, 10.5km
The track follows an old bridle path over a ridge and into Endeavour Inlet. Cabin and motel accommodation is available along the way.
Endeavour Inlet to Camp Bay, 4hrs, 11.5km
The track stays near the shoreline on the way to Camp Bay, where there is a DOC campsite. Cabin accommodation is also available at near-by Punga Cove.
Camp Bay to Torea Saddle, 8hrs, 20.5km
This is the longest and most arduous section of the walk, as it traverses the main ridge between Queen Charlotte and Kenepuru Sounds. DOC campsites are located above the Bay of Many Coves and Kumutoto Bay. Near Torea Saddle, there is a DOC campsite at Cowshed Bay and accommodation at Portage Hotel.
Torea Saddle to Mistletoe Bay, 4hrs, 7.5km
This part of the track also follows the main ridge, with a significant climb out of Torea Saddle. A DOC campsite is located at Mistletoe Bay, and there is also accommodation at near-by Te Mahia Bay.
Mistletoe Bay to Anakiwa, 4hrs, 12.5km
This section follows old bridle paths high above the water. There is a DOC campsite en route at Umungata (Davies Bay). At Anakiwa, bus and boat transport is available to Picton and near-by accommodation.
For bikers
Ship Cove to Camp Bay, 5hrs, 26.5km
Ship Cove can only be reached by boat. Transport can be arranged through a range of Picton tourist operators, who can also arrange to carry your bags to your intended destination.
No camping is permitted at Ship Cove, but there is a DOC campsite at Camp Bay. Accommodation is also available on the way through Endeavour Inlet and at Punga Cove.
This section of track is mostly single-track, and is the most technically demanding part of the ride. This section is closed to mountain biking from 1 December to 28 February each year.
Camp Bay to Torea Saddle, 4hrs, 20.5km
The section of the track leads bikers on a long climb to the main ridge between Queen Charlotte and Kenepuru Sounds, but offers spectacular views.
DOC campsites are located above Bay of Many Coves and Kumutoto Bay. Near Torea Saddle, there is a DOC campsite at Cowshed Bay and accommodation at Portage Hotel.
This section is open to mountain biking throughout the year. It is also possible to cycle from Camp Bay to Torea Saddle via the Kenepuru Road, which offers an easier ride at sea level.
Torea Saddle to Anakiwa, 4hrs, 20km
This makes a good day trip, with bikers able to continue from Anakiwa to Picton along the road.
This section is available to mountain biking throughout the year.
It is also possible to cycle as far as Mistletoe Bay via the Kenepuru Road, which offers an easier ride at sea level from Torea Saddle.
Gearlist: What you need to pack
For your own safety it is essential to carry the equipment listed below, no matter how warm it is on the day of departure:
Most equipment is available for hire or purchase in Queenstown and Te Anau, as well as a full range of food. Basic stores are available in Glenorchy and Milford Sound, but with limited variety.
Clothing
You will need at least one set of clothes to walk in, and another dry set to change into at night.
Boots (need to be comfortable and well broken in)
Woollen or thermal socks
Shorts (cotton/ nylon)
Shirt (wool/polypropylene)
Longjohns or trousers (wool/polypropylene)
Jersey or Jacket (wool/polypropylene)
Undershirts/ T-shirt (wool/polypropylene)
Gloves (for winter)
Sun-hat and warm hat (winter)
Raincoat (waterproof, windproof with hood)
Extra socks, underwear, shirt or lightweight jersey.
NB: cotton clothing such as jeans, T-shirts, sweatshirts are NOT suitable.
Personal Equipment:
Pack: with large waterproof liner
Sleeping Bag: good quality down or hollofil
Matches/ Lighter: in waterproof container
Torch: spare batteries
Eating utensils: knife, fork, spoon, plate, and cup
Cooking utensils: pot/pan/billy, pot scrubber
Toilet gear: soap, toothpaste, toilet paper, small towel (remember do not wash in lakes or streams)
First Aid Kit: insect repellent, sunscreen, blister kits, pain relief, and assorted bandages
Drink bottle: you need to drink regularly during day
Optional extras: sunglasses, camera, and lightweight shoes for in hut, earplugs for communal bunkrooms
Campers need to carry gas cookers, tents and bedrolls. Campers are not permitted to use the lodge facilities.
Food
Is not available for purchase on the track.
Food should be lightweight, fast cooking and high in energy value e.g.
Breakfast: cereal, firm bread, honey or other spreads
Lunch: cracker biscuits, cheese, salami, margarine, jam/jelly, powdered fruit drink, fruit
Dinner: instant soup, pasta/rice, dried vegetables/fruit, cheese or dehydrated (freeze dry) meals.
You will also need: snacks, biscuits, muesli bars, tea/coffee, powdered drink, emergency food in case of any delays on the track.
Water
You will need to drink regularly while walking, even on cooler days, to avoid dehydration. You need to carry some water, as you may not be able to find any enroute. To treat the water you can boil it for 5 minutes, use a filter, or chemically treat it. Drinking water at the camps comes from the rivers and lakes.

A bit of extra background about the Queen Charlotte Track
History of track
The track passes through a variety of vegetation types, from grassy farmland to undisturbed native forests. At sea level, the forests are particularly lush. Ferns, tree ferns, nikau palms, climbing kiekie vines and perching plants make up a spectacular coastal forest.
Several forest birds are common along the track, including the bellbird, tui, fantails and the weka.
Along the shoreline shags (cormorants), gannets, terns and shearwaters can also be glimpsed.
Flora and Fauna: What to look for on the Queen Charlotte Track?
You'll find a great diversity of ferns of the trail, including the iconic silver fern. Native trees you'll encounter include manuka, nikau palms and kanuka trees.
In terms of wildlife, you'll probably see many birds, such as the Tui, the Kereru (native pigeon) and grey warbler. Check out your food, as the trail if full of Wekas, a flightless native bird that if often mistaken with the famous Kiwi and known to be a notorious thief.