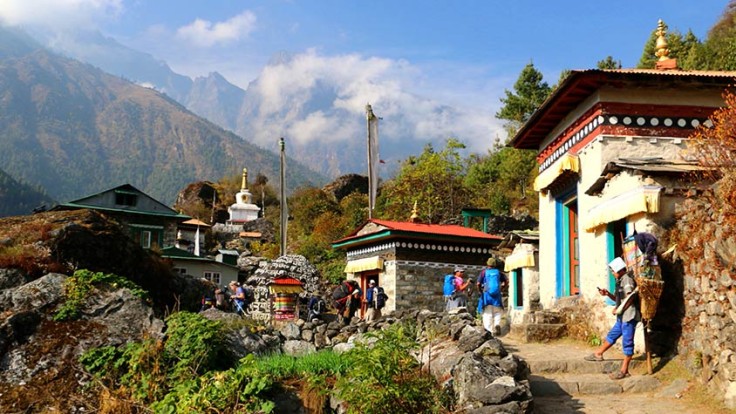 If you're heading to Nepal to immerse yourself in the culture and day-to-day life of the heart-warming locals, you'll find real authenticity and warmth in the rural villages.
We pride ourselves on our knowledge of guided trekking in Nepal, and have carefully crafted our Himalayas adventures to ensure that we spend time in, and support, the villages along the trekking trails. Our goal is to not only show you Nepal, but to help you truly experience the way of life, in a way which is sustainable, and allow you to feel as though you've made even the smallest difference to the lives of those less fortunate.
Our guides have been taking folks just like you trekking in Nepal for a while, and with their help we've selected some of our favourite villages from our trips in the Everest, Annapurna and Mustang regions to share with you.
The Everest Region
Khuzjung
Location: North East Nepal, it's a Khumbu subregion inside Sagarmatha National Park (a UNESCO World Heritage site).
Elevation: 3,790m / 12,430ft (above sea-level)
Khumjung is a beautiful village with charming little houses all painted white with green roofs. It is the largest in the Khumbu region and sits at the foot of the sacred peak Khumbila which gives it the name 'the hidden village'.
Khumjung is a rural community and largely inhabited by Sherpa. It is here that you'll find the Khumjung Monastery which, it is claimed, holds the scalp of a yeti!
Phakding
Location: in the Dudh Kosi River valley, north of Lukla
Elevation: 2,610m / 8,500ft
Phakding is a popular place to stay for a night on the way to Everest Base Camp. The altitude makes for an ideal spot to begin the acclimatisation process and the friendly locals make exploring easy. There are many guesthouses to choose from and once you've had a wonder around, you can keep busy with a stroll to the nearby picturesque Dudh Kosi River.
Namche Bazaar
Location: North East Nepal, in the Khumbu region
Elevation: 3,440m / 11,280ft
Your excitement levels are likely to building as you approach Namche Bazaar - the gateway to the world's tallest mountain. It is once you leave here that you'll first get your glimpse of Everest as you continue your journey towards her.
Namche is home to the world's highest marketplace and is a hub for trading in the Khumbu region. It is the gateway to the high Himalayas and altitude starts to play a role in the experience from here and as you continue upwards.
The town is situated on a hillside and electricity is supplied from a nearby hydropower plant. You'll be surprised at just how well a village can operate in the middle of the mountains, with internet cafes, lodgings and a number of shops. You'll also find a Saturday morning market and a daily Tibetan market with clothing and cheap goods for sale.
The Annapurna Region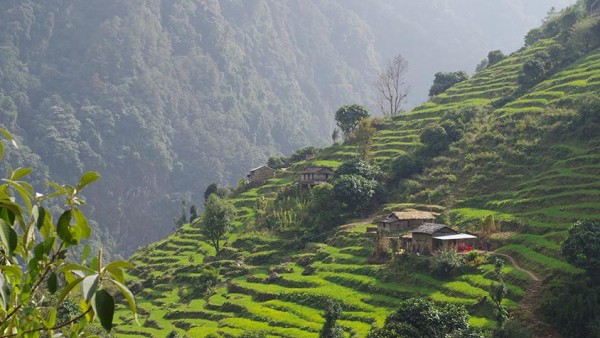 Chhomrong
Location: Annapurna region, north-west of Kathmandu
Elevation: 2,170m / 7,100ft
Believe it or not, Chhomrong is famous for its European bakeries - the chocolate crossaints and apple pies make for a well deserved treat after a big day on the trails.
The village is spread over a hillside and offers incredible views of the Annapurnas and Machupachare, the tip is to get up early and catch first light as it hits the mountain tops. Machupachare is regarded as a sacred mountain by the Nepalese and therefore climbing to the summit is forbidden, so it remains unconquered.
Tolka
Location: Annapurna region, north-west of Pokhara
Elevation:1,700m / 5,570ft
Tolka is a popular stop on the Annapurna Sanctuary Trek and as it's often one of your last, it's a great place to celebrate your adventures and enjoy a beer. Here you'll find people singing and sharing stories of the places they've been and the people they've met.
The sunrise in Tolka is spectacular, as it lights up the snowy peaks of the mountains they turn a rosy pink colour - the perfect welcome to a new day. Whilst you wonder around the village, you'll see children walking to school in their uniforms and yaks grazing on the sides of the road.
The Mustang Region
Chhusang
Location: Mustang District, northern Nepal
Elevation: 2,930m / 9,600ft
Chhusang is a breath-taking village in the Upper Mustang and seems to appear from nowhere from the desert plain. It is surrounded by ruined castle walls and gigantic red and grey cliffs, spotted with ancient cave dwellings. The rock formations are like nothing you've ever seen, sure to spark your imagination with thoughts of who may have lived in those caves many years before.
Charang/Tsarang
Location: Mustang region, north Nepal on the Chinese border
Elevation: 3,500m / 11,480ft
Charang is the second largest settlement in Mustang and is a popular stopping point for trekkers in the region. There is a palace in the village that now lies in ruins upon a hill with a stunning desert backdrop that is any photographer's dream. The scenery really packs a punch, with the massive, natural coloured chorten, the differently striped Gompa and the wind-swept plateau surrounded by hills.