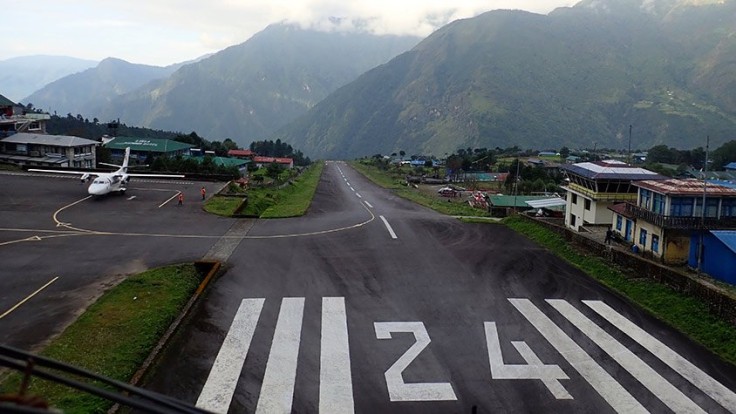 Lukla is found in north-east Nepal and sits at 2,860m above sea level. It means 'place with many goats and sheep' but despite the name, you'd be lucky to spot one at all these days.
Although it's small, the town is buzzing with the happy sound of excited trekkers either getting ready to set off on their expeditions or finishing off a well-deserved beer after completing a good chunk of hiking! It is also home to the Tenzing-Hillary airport which is named after Tenzing Norgay and our favorite kiwi Sir Edmund Hillary, the first people to reach the summit of Mt. Everest.
The views are remarkable but there's not much to do here in the way of activities and the quickly changing weather conditions can mean there's a chance you'll be hanging around longer than you planned. We're going to help you out by giving you some handy information about the airport, the climate and what to do if you're passing some time before your flight.
Tenzing-Hillary Airport (Lukla Airport)
You may have seen the dramatic news reports claiming that Lukla airport is dangerous, but did you see the reports that named it the most spectacular flight you'll ever experience? The negative makes for a great headline, but in reality, there isn't much truth to it. Thousands of people fly in and out of Lukla every year incident free and it seems that it has gained this reputation through its location rather than its incident rates.
The runway itself is short with high terrain at the Northern end and a steep drop at the Southern end which doesn't leave much room for error. The Civil Aviation Authority of Nepal have set high standards for the pilots that are allowed to fly in and out of Lukla airport, they have to have completed at least 100 short take off and landings and have at least one year of experience doing this in Nepal as well as having to complete ten flights into Lukla with a certified instructor, so you're in safe hands!
If you travel with us, we have buffer days at the beginning and end of our Himalayas adventures so if the weather isn't optimal, we'll wait for good flying conditions and spend an extra day in Kathmandu. As with all our trips, we do our research and safety is our number one concern, so we make sure we only use airlines with great safety records.
The location of the airport wasn't the first choice for the developers either, it was built back in 1964 under the supervision of Sir Edmund Hillary. He had originally wanted a nice flat piece of land nearby, but the farmers declined his offer and he was forced to look elsewhere. The runway wasn't paved until 2001 and in order to keep the land flat and compact, it's said that Sir Ed bought liquor for the Sherpa that were helping him build and asked them to perform a 'foot-stomping' dance – fortunately it's only a short runway!
Whether you enjoy flying in small aircraft or not, it is the only direct way into Lukla as no roads have yet been completed (one from Kathmandu is underway). You can bus, drive or fly to Phaplu or another nearby town and walk from there, but it will take you 3-4 days. So you may as well buckle up, get your camera ready and enjoy one of the most scenic flights you'll ever do.
Climate
Lukla is situated in the mountains and these regions can be notoriously difficult to predict when it comes to weather. Nepal is in the Northern Hemisphere so if you're based in the US or the UK, it's pretty straightforward as far as seasons go:
Spring (March – May): Temperatures reach max 27°C (80°F), great for trekking.
Summer (June – August which also includes monsoon season from July – September): Temperatures reach max 28°C (82°F), lots of rainfall and a little too hot and humid to trek with unstable conditions in the Everest region due to melting snow.
Autumn (September through to November): Temperatures reach max 26°C (70°F), similar to spring, also a great time to trek with the hills beaming shades of green from monsoon season.
Winter (December – February): Temperatures reach max 18°C (64°F), it can get very cold in Lukla during these months, trekking isn't recommended as many lodge owners pack up and head further down the hills for some warmer weather.
Spring and Autumn are the best times to visit Lukla and trek in the region if you want to stay cool and dry. The weather is at its most enjoyable during these months with perfect hiking conditions and clear skies.
What to do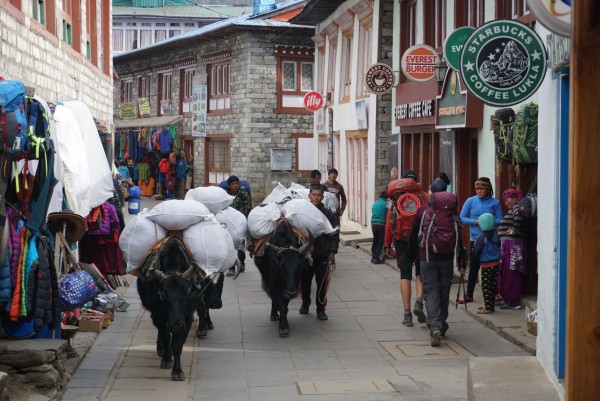 Lukla was made available to the world in 1964 when the airport was built, it was then that trekkers began to use the town as a base for their Mt Everest expeditions. It has since served as a spot for people to sleep before or after their hikes and as a result, not much has been put in place for those having to stay a little longer than expected.
The changing weather conditions can mean that flights are cancelled or delayed and if this happens, you might find yourself struggling to find something to do. We've put a few ideas together just in case:
You can head out to one of the local villages to experience some of the rich culture.
Watch the flights come in and out of Lukla airport – this is definitely an extreme airport and well worthwhile watching.
Make somebody's day and visit the local school or hospital, you can take some gifts or leave a donation.
Check out Kemgon Gompa, there are some beautiful paintings to capture if you're into photography.
Read a book and taste the local cuisine – Sherpa Stew is a warming dish to start with and as meat is flown in, it may be best to stick to vegetarian options.
It's also a good idea to spend a day/night in Lukla before heading off on your treks, it's a great time to begin your acclimatisation regime and there are some short walks from the town for you to enjoy. Lukla is what you make of it and although delayed flights and bad weather can give new meaning to the word stress, safety is more important. So kick back, relax and enjoy as much as you can.