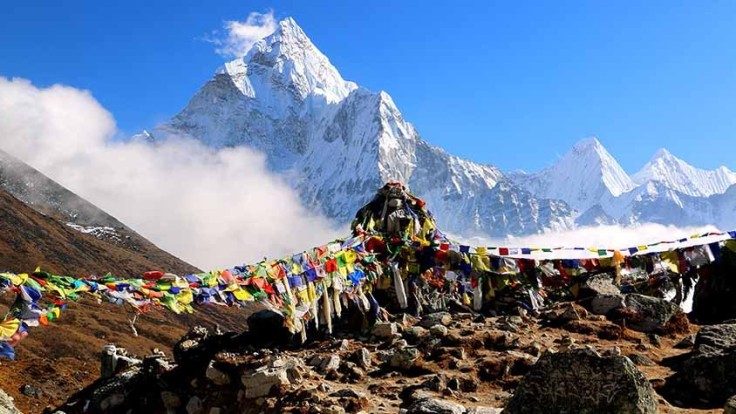 To hikers and trekkers from all over the world, the Nepalese Himalayas are synonymous with adventure and epic expeditions. But trekking in the Himalayas is just as much about the warm and welcoming Nepali people and vibrant culture, as it is about getting up close and personal with the tallest and most majestic mountains in the world.
So strap on your best pair of trekking boots, learn about Nepal's most famous trekking routes, and discover what makes a multi-day trekking journey in the Himalayas so special.
Skip to: Khumbu (Everest) region | Annapurna region | Mustang region | What's the food like in Nepal? | How to avoid getting sick | What's the water quality like? | What are the accommodations like? | Best time to trek in Nepal | How fit do you need to be | How to get fit for your trekking journey
What makes a multi-day trekking trip in Nepal so unique?
Before we answer this question, you'll notice that we talk a lot about 'trekking' as opposed to 'hiking', and it's important to explain why.
So what's the difference between 'trekking' and 'hiking'?
It's simple really, the answer revolves around where you're going, and how well you're supported along the way. Hiking can be a single or multi-day excursion, always taking you away from civilisation and into the wilderness with very little support. You'll have to carry your own food, and you'll stay in make-shift back country huts, refugios or tents. But trekking is always a multi-day excursion, and it's well supported. On a trek you can expect to stay in towns or villages with teahouses, backpackers', hotels or motels. Due to the support on a trek, expeditions can be as long as 3 or more weeks, compared to a hiking expedition often taking up to a single week – simply due to the volume of food and equipment that hikers need to carry with them.
The best way to describe Nepal's trekking system is by comparing it to a back-country hiking experience in a western country. Take New Zealand for example – down here us Kiwis are proud of the fact that we can safely enjoy stunning multi-day hiking routes in our pristine wilderness. Our trails are wide and well-engineered, our mountains are dramatic but still relatively low lying (Nepal has 21 peaks that exceed double the height of New Zealand's tallest peak!) so there are never any health and safety issues with high elevation, we have no dangerous wild animals, and our winters are still amazing for hiking – meaning our climate is relatively mild, safe and predictable.
But Nepal is home to the Nepalese Himalayas. This incredible mountain range covers an area of 83,900 square kilometres (32,400 square miles) and (along with the Karakorma Mountain Range) is home to the 14 eight-thousanders. 'Eight-thousander' is the colloquial term given to the 14 peaks on Earth that exceed 8 thousand metres in elevation. And Nepal alone is home to 8 of the 14 Eight Thousanders! So with that, you start to understand the magnitude of the Nepalese landscape, and the attraction Nepal has to climbers and trekkers alike.
Mount Everest, being the tallest mountain on Earth, is the crown jewel of the 14 thousanders. For centuries now, mountain climbers have been scaling the epic giant, although the first successful (return) summit was claimed in May of 1953 by Nepalese Sherpa Tenzing Norgay and Kiwi compatriot Sir Edmund Hillary. The path to Mount Everest began for Norgay and Hillary in Nepal's Kathmandu, and they trekked deep into the Nepalese Himalayas, set up base camp on the Khumbu icefall, at the base of Everest on the Nepalese (south) side. Today, this South Base Camp on the Nepal side (opposed to North Base Camp on the Tibetan side) is still the preferred base for climbers attempting to summit Everest, and is a popular destination for intrepid trekkers.
As you can imagine, the amount of climbing gear required to conquer the tallest mountain on earth made it impossible to trek for 13 days to the Khumbu Icefall without support. So Tenzing and Hillary trekked to Everest by following an ancient roadway that connected dozens of small villages – where they were provided with food and shelter along the way. As you now know, this is the definition of a trekking journey.
Following the successful summiting of Everest, climbers and trekkers from all over the world began to flock to the great mountain – because the impossible was suddenly possible. So in 1964, Sir Edmund Hillary built Tenzing Hillary Airport (aka Lukla Airport) which allowed climbers to skip the first 7 days of trekking from Kathmandu to Lukla, and cut the total journey to Everest Base Camp down to 6 days – plus a few more days to acclimatize along the way.
Back to the question - what makes a trekking journey in Nepal so unique?
Unlike many western countries that primarily contain unsupported backcountry hiking trails, Nepal is all about the epic multi-day trekking routes into some of the most iconic locations on Earth. A trekking journey through the Nepalese Himalayas will see you staying at a different small village every night, immersing yourself in the local food, culture and artesian markets, while you follow in the footsteps of ancient trading routes and modern mountaineering legends. The pull of each trekking region of Nepal is unique, but all are life-changing and beautiful.
The most popular trekking regions in Nepal are:
The Khumbu (Everest) Region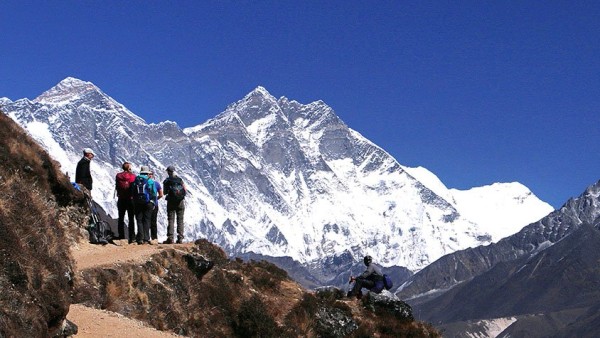 The Khumbu region is the most popular region of Nepal for trekking and adventure tourism, because it's home to Mount Everest and the trek to the South Everest Base Camp. Extending to 8,848 metres (29,029 feet) above sea level, Mount Everest creates a border between Tibet and the Khumbu region of north-eastern Nepal.
As you can imagine, with Mount Everest being the tallest mountain in the world and the Southern Everest Base Camp being the most popular base camp for climbers attempting to summit the great peak - thousands of climbers and trekkers are drawn to the Khumbu Region every year. In fact, the Khumbu region has become so synonymous with Mount Everest that it's widely referred to as the Everest Region.
As we mentioned earlier in this article, the Khumbu region is most commonly accessed via Tenzing Hillary Airport (Lukla Airport), which is a natural starting point for the trekking journey to Everest Base Camp (South). The trek to Everest Base Camp is one of the most physically challenging trekking journeys in the world – not because the trail is technical, but due to its elevation. Along the way, trekkers are advised by their guides to take one step per breath – which sounds crazy to most trekkers, but at 4,000+ metres of elevation it's the only way to prevent altitude sickness or fatigue. Read on to find out more about the required fitness to enjoy a trekking journey in the Nepalese Himalayas, or take a look at the Everest Base Camp Trekking Tour here.
The Annapurna Region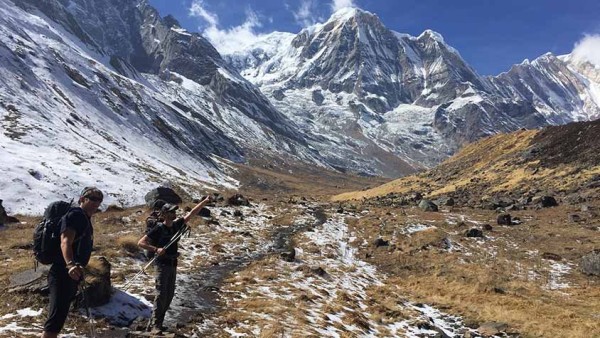 Nepal's Annapurna Massif is widely regarded by mountaineers and climbers alike as one of the world's Holy Grails. Located in Central Nepal, the Annapurna Massif is home to one peak over 8,000 metres (26,000 feet) and thirteen peaks over 7,000 metres (23,000 feet). This one peak over 8,000 metres is called Annapurna I (otherwise known as Annapurna South); it's an extremely technical climb, and purely due to his fear of Annapurna I's scale and danger – famous mountaineer Ed Viesturs let it be his 14th and final ascent of the world's 14 highest peaks.
But the landscape surrounding these great peaks is where you'll find the real difference between Annapurna and Everest. Annapurna's mountains are spread farther apart than the mountains of the Khumbu Region, and the valleys connecting them are much deeper, lower in elevation, and clad with dense jungle, fertile farmlands and lush meadows.
So when it comes to trekking in the Annapurna region, there's a completely different feel to the air here, compared to the Everest Region. Thousands of tourists pour to Everest each year, in search of touching the mountain that stretches to the tallest point on earth. And while the Annapurna region's peaks are enormous, beautiful, and technical and attract the world's best mountaineers, they can't claim responsibility for putting Nepal on the trekking map like the Everest Region can, and they don't necessarily feature on as many trekker's bucket lists.
But you know what all of this means – it's great news for those trekkers that enjoy culture, a vast variety of landscapes, and like to get off the beaten track. The Annapurna region offers more relaxed trekking, you'll share the trails with less tourists, and you'll immerse yourself with the locals in each village you visit – all whilst surrounded by 8,000+ metre high mountains on the skyline!
The most popular trekking destination in the Annapurna region is the journey to Annapurna Sanctuary, including Annapurna Base Camp (ABC). The Annapurna Base Camp lays at the foot of the legendary Annapurna I, and is the most popular location for climbers to base their summit expeditions. Unlike the very popular Everest Base Camp, which is alive with hundreds of mountaineers and their support parties – Annapurna Base Camp exudes peace and tranquillity, while still looking up at the tenth tallest, and one of the most technically challenging mountains in the world.
For trekkers, Pokhara is the gateway to Annapurna Circuit, and a popular layover point for trekkers venturing onwards to Jomsom in the Mustang Region. And for backpackers and adventure seekers, Pokhara is well established as a tourism hub.
This lakeside city in Central Nepal sits at 827 metres (2,713 feet) above sea level - far lower than Kathmandu (1,400 metres or 4,600 feet). It's the largest city by area in Nepal, and second largest by population in Nepal, behind Kathmandu.
The Mustang Region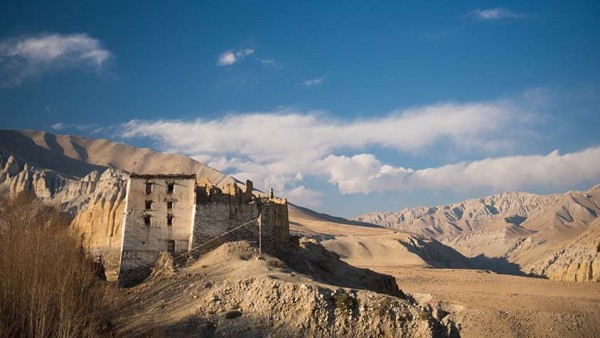 If the Annapurna Circuit still sounds a little bit 'busy' for you, then you can still take a step further off the beaten track, and journey deeper into 'the untouched Nepal'. Located behind the Annapurna mountain ranges, close to Nepal's boarder with Tibet is where you'll find the Upper Mustang Region. The name Mustang is derived from the Tibetan word 'mun tan' which translates in Nepali to mean 'fertile plain', and it's clear to see why. The landscapes in this beautiful region are littered with fluted sandstone cliffs, overlooking lush and fertile valleys; full of wheat, barley, buckwheat and potatoes.
Trekking routes in the Upper Mustang region follow ancient trading routes between Tibet and Nepal – connecting barren desert plains with green oases, pastures and stunning villages. All with the epic backdrop of the Annapurna Massif. Trekkers to the region begin their journey in Kathmandu and fly to Jomsom – where the first day of trekking leads to the small town of Kagbeni. The path to Kagbeni is not technical or difficult, so it's a great 'warm up' for those legs that have travelled a long way to be here. Along the way, the trail is overlooked by the huge peaks of Dhaulagiri, Tukuche and Nilgiri, while to the south the entire Annapurna massif stands tall. Kagbeni, with its narrow alleyways and tunnels, irrigation canals, fields of wheat and barley and a beautiful Gompa (the first of many monasteries you could visit), gives trekkers an awesome glimpse into what to expect from the Upper Mustang region.
In the same way that Pokhara is the gateway to the Annapurna Circuit, Jomsom is the gateway to the Mustang region. Travelling to this beautiful town you'll pass from Kathmandu, to Pokhara, then on again to Jomsom.
A trekker's first impression of Jomsom is a raw and immediate immersion to the stunning Mustang region. Situated at 2,700 metres (8,860 feet) Jomsom sits on the banks of the Kali Gandaki Gorge, and is surrounded by the Annapurna Massif, with valley plains blooming with rhododendrons and lush green apple gardens. The Kali Gandaki Gorge is home to the Kali Gandaki River, which runs through Tibet, Nepal, and on to India, where it's a left bank tributary to the Ganges River. So with this in mind it's easy to appreciate the importance the Kali Gandaki River, and the role it plays in providing along ancient trading routes – on which much of the trekking in the Mustang region takes place.
Perhaps the most famous aspect of the Kali Gandaki Gorge (and the Mustang region) is its depth - it's thought to be the deepest canyon on Earth! But like every good claim, it's not without dispute. For those making the claim, the measurement is taken from the summit of Annapurna I on one bank, down to the riverbed of the gorge. The total depth is then recorded at 5,571 metres (18,277 feet)! Compare that to America's Grand Canyon, which only measures 1,857 metres (6,093 feet). But for those who oppose the claim, the argument is that the peak of Annapurna I isn't a fair location from which to measure the canyon's rim. You can decide for yourself!
The second most important village for trekkers in the Mustang Region is located 3 kilometres south of Jomsom, and is called Marpha (literal translation being 'hardworking people'). Marpha is the apple growing capital of Nepal, and made famous by its Marpha brandy and jams.
Trekking in the Mustang region of Nepal is regarded as the least physically challenging of the 3 popular regions that we've covered in this article, and is most famous for its agriculture, beautiful villages, barren countryside and amazing culture – as opposed to the Annapurna and Everest regions, which are a draw card for mountaineers and high elevation trekking.
What is the food like in Nepal?
Kathmandu is awash with western style cafes, restaurants, and fast-food joints, as well as the local delicacies you might expect to find. Once you head off the beaten track though, as we like to do, the food is a little different - though still delicious!
The main dish throughout the country is dahl bhat, which is a lentil curry usually served with rice. You're likely to experience a few variations of the dish on a trip to Nepal, but we haven't found one yet that we don't like! On the most popular trails like the route to Everest Base Camp you'll still find a good variety of dishes available - pizzas, pastas and fried rice as well as the customary dahl bhat. Something to be aware of though, is that slaughtering animals within national parks is prohibited, and with limited electricity access for refrigeration, this means that it's best to steer clear of the meat served in eateries along the trails in Nepal's national parks.
As you gain altitude on trails like the Everest Base Camp route, it's not uncommon to lose your appetite, so we'd recommend bringing some energy bars that you know you'll enjoy, in case you don't feel like eating the local food all the time.
What if I'm a vegetarian?
Vegetarians are very well catered for in Nepal; the majority of religions practised in Nepal involve vegetarianism, so you'll find lots of delicious local dishes to try.
What if I need a gluten free diet?
Eating a gluten free diet on a trip to the Himalayas can be challenging, particularly if you like variety at mealtimes. It's definitely still possible to find gluten free options (like dahl bhat for example!), along with other rice dishes, but spending between 9 and 14 days on the trail can mean meals become a 'fuel stop' rather than an exciting opportunity to experience something new. If you have a severe gluten allergy it's worth noting that in the tea houses meals are prepared in close proximity, for that reason the possibility of cross contamination of gluten containing ingredients is higher than you'd expect in more developed countries.
What if I'm vegan?
As with vegetarians, vegans are well catered for in Nepal where the locals' religions, in many cases, require strict dietary habits. Once we're on the trail, and further from developed centres it can be a little more difficult to find vegan meals as milk and eggs are often used in cooking - it's definitely worth bringing your own supplements to make sure you're getting the right amount of energy and protein for sustained effort on the trails.
How to avoid getting sick from the food in Nepal
Your guides are the experts here, and they'll take you to some great restaurants with reliable food standards over the course of the trip. Kathmandu is a dusty city, so be sure to wash your hands thoroughly with soap and/or hand sanitiser before handling food.
It's not impossible that the sudden change in diet will cause stomach problems to begin with on your trip. Many guests will take probiotics for a week or two prior to the trip, or 'practise' eating curries and high carb rice-based meals for a while before the trip. Other than those suggestions, it's also advisable to avoid eating meat within the national parks, as mentioned above, as electricity for effective refrigeration is lacking, and because it's illegal to slaughter animals inside the national park.
Here's our list of top tips for staying healthy on your Himalayas trip of a lifetime:
Get fit - use the stairmaster at the gym! But also practise hiking specifically.
Walk slowly as you gain altitude.
Hydrate, hydrate,hydrate (once you've treated the water of course).
Avoid alcohol, caffeine, and excess salt.
Cover your airways with a buff to avoid inhaling dust and germs.
Eat high carbohydrate meals.
Take Diamox (seek medical advice first)
What is the water quality like?
You cannot drink the tap water anywhere in Nepal and you should only drink purified/filtered water, or add purification tables to water before drinking. The same applies to brushing your teeth. The hotel you'll stay at in Kathmandu, Thamel Eco Resort, is working on becoming one of the first hotels in Kathmandu to provide safe water straight from the tap for their guests - it's definitely best to check with your guide or local hotel staff though to be on the safe side.
We try to avoid buying bottled water due to the impact of the single-use plastic on the environment, so water tablets are a great solution - your guides will provide these for you. Most restaurants also provide water fountains dispensing filtered water safe for drinking. We'll usually just use our own reusable water bottle with purification tablets, it works just fine. You can also by UV laser pens which make water safe to drink too.
What are the accommodations like in Nepal? What about the bathrooms?!
Accommodation in the large cities, like Kathmandu and Pokhara, is good. Rooms can be double, twin share or supplemented single occupancy - accommodation providers can easily cater to your requirements. You'll find facilities are clean, safe, and functional, rather than lavish.
When is the best time to trek in Nepal?
Like North America, Nepal experiences spring, summer, autumn, and winter. But Nepal has a fifth season, monsoon, which tends to occur after summer, and before autumn. The monsoon season brings blooming landscapes, and lush vegetation; it leaves behind those famously crystal clear views of the massive mountains. The hindu calendar also recognises a sixth season in Nepal, by adding pre-winter prior to winter proper – pre-winter is an opportunity to harvest crops after festival season has passed, before winter really kicks in.
The Nepalese spring runs from mid-March through to mid-May – and it's the perfect time to witness blooming rhododendrons, and immerse yourself in the buzz of climbers attempting to summit the great peaks of Annapurna I and Everest. This makes spring the most popular time to trek to Everest Base Camp and Annapurna Sanctuary.
The Nepali summer tends to experience its warmest days between mid-May and mid-July. Summer sees fresh fruit growing in the fertile areas, and is a time for agricultural activity – farmers will be planting their crops to allow them a head-start before the heavy rains of the monsoon.
The monsoon season is across roughly two months of summer, from mid-July to mid-September, trekking in Nepalese Himalayas is fairly well limited. But the Upper Mustang region sits to the north of the Annapurna Massif, and in the rain shadow of the Annapurna's. It is a fairly cool and semi-arid climate, where the lush green plains of the Thak region give way to the mighty Tibetan Plateau. So toward the end of summer, the weather is settling and more epic blue sky days are popping out – making August the best time of the year to visit the Mustang region of Nepal.
The autumn/fall is a less popular time for climbers to summit these great peaks, but it means the trails have less tourists and you'll have a better connection with the local villagers that you meet along the way – this is our favourite time to trek in Nepal.
How fit do you need to be to trek in Nepal?
You don't have to be a professional athlete - or even close - to enjoy your trekking trip in the Nepalese Himalayas. You'll be surprised at what you can achieve with an experienced guide at your side and a little camaraderie. That said you'll definitely enjoy yourself more if you do some preparation so your body is conditioned and ready to enjoy and make the most of the outdoors. We recommend that you start training for your trek in Nepal about three months prior to stepping off the plane into the vibrant city of Kathmandu. Create a diary and plan your progression, starting with as little as a gentle 2 kilometre (1.2 miles) uphill stroll, three times a week. By the end of the twelve weeks, you should be able to comfortably hike fifteen kilometres (9.5 miles) in hilly terrain with a daypack.
How to get fit for your trekking trip in Nepal:
1. Take every opportunity you can to be active. You can improve your fitness a lot just by adopting some new habits; take the stairs at work, go for a walk at lunchtime, and park your car away from work and walk. These behavioural shifts may sound trivial but they will certainly help you to prepare for more specific training.
2. Rev up your ticker! Think 'interval training', which means doing short bursts of high intensity work with recovery time in between. Depending on how fit you are this can mean strolling with bursts of power walking, or jogging with sprints. Either way the aim is to get your heart rate up.
3. Join a local walking or running group. This is a great way to get fit and you'll also see new places, meet great people… and make them all jealous when they find out what you're about to do on your travels.
4. Hill training. The most spectacular views aren't from the bottom of a valley – so the places we go on our trips aren't flat. Training on hills and stairs is an investment that'll pay off big-time when you're on your trip. When it comes to hills there's no hurry – get into a slow steady rhythm and you'll be at the top before you know it. Nepal is famous for the largest mountains in the world, so their hills are slightly larger too! We suggest you aim to be able to hike a 1000 metre (3000 feet) elevation gain comfortably at a steady pace.
5. Warm up, cool down and stretch. If you're doing a workout then make sure you start and finish gently and stretch any tight muscles – this will help you avoid any aches, pains and pulled muscles. If you're a member of a gym try some yoga, tai chi or pilates classes to build up your flexibility, stability and balance.
6. Practice 'backpacking'. Grab your daypack and head for the hills! Remember, you'll have a porter on the trek who will take most of your gear, so you'll only need to carry things such as your drink bottle, extra layers of clothing, camera, waterproof jacket, personal items and snacks. Make sure your daypack is comfortable and ensure you've spent some time adjusting the various straps so you know how it feels in different positions.
7. Break in your hiking boots. Blisters and sore feet are no fun at all! Make sure that while you're getting yourself ready, you're doing the same for your boots. Start by just wearing them around the house, then down the road, and walking the dog. Then ideally do a couple of decent length weekend hikes to prepare them for what is to come. We recommend a pair of waterproof hiking boots with good ankle support and a solid tread.
8. Practice using hiking poles. We're often asked 'should I use hiking poles?' and really it's a matter of personal preference, but we can't stress enough how helpful they are on our treks in Nepal. There are many steep hills and steps which poles just make a whole lot easier. They particularly help those who have knee or ankle issues and they're useful on rocky, uneven ground. They're also great to help you balance when going downhill. The modern poles are very light and ergonomically designed to be comfortable and prevent jarring. If you don't own a pair of hiking poles, no worries, we can supply them free of charge!
9. Understand the effects of altitude. Altitude sickness or acute mountain sickness (AMS) typically only occurs at altitudes above 2500 metres (8300 feet), so for those of us that don't live at these altitudes, we can only guess how our bodies may react. Altitude is caused by a decrease in the density of the air and with thinner air it becomes harder for the body to sustain mental and physical alertness. Whilst fitness and even age have little bearing on altitude sickness, there are certainly some steps you can take to help you acclimatise and minimise your symptoms. Read on below to learn more.
10. Go slow. Hiking at altitude requires a different technique to what you may be used to at sea level. The days before you get to altitude are crucial to how your body will cope with less oxygen, and, more importantly, how you will feel and enjoy your trip. In the mountains your guides will be pacing you from the first day to give you the best chance of feeling good at the top. This pace is more of a slow plod than a race up the hill, so work at training your muscles to find a constant slow pace (try one breath per step) and keep working at that level for a few hours. It can be a challenge for some, but once you've mastered it, you can hike safely at high altitudes any time you like!
11. Stay hydrated. When you suddenly ask your body to walk or be active, it needs a bit more fuel than it needs when, say, sitting at a desk all day! The main thing your body needs is water, especially in the cold dry air of alpine environments, so stay hydrated and practice sipping water often. When you are trekking, you'll be surprised at how much water you will consume, and you'll find it a great help to proactively train your body to handle the increase in water intake before you leave. Getting a water bottle or hydration bladder is a great way to make sure you have it on hand at all times. In the Himalayas your guide will be asking you to drink around 4 litres of water a day (sounds like a lot, though you'll be surprised at how much you'll need it) so getting used to drinking 2 litres of water at home will put in a good footing. You won't need to carry that much water as there are plenty of refill opportunities along the way, the most you'll carry is around 2 litres at a time.
12. Nutrition. Eating little and often will keep your body well fuelled for outdoor exercise. You may find at altitude that you have less appetite anyway, but it's important to regularly snack on super foods like nuts and dried fruit and avoid coffee and alcohol. The odd bit of chocolate and a few boiled sweets are good for keeping your blood sugar levels up while you're hiking as well!
13. See your doctor. Getting a medical check-up is a must before heading to altitude, as it will help you discuss your current condition with your doctor and receive advice for the trip ahead. If you have a travel doctor in your town or a doctor you know who has altitude experience they will be able to give you the best advice. Make sure you are prescribed Diamox, this is a safe medication proven to help at altitude.
14. Have fun! The most important point of all! You are about to embark on the trip of a lifetime. You're going to meet some amazing people, see some wonderful places and create memories that will stay with you for life. The more prepared you are to tackle the various challenges, the more fun you will have. Also, with all the endorphins you create from all this training, you'll be smiling from ear to ear! It's a great way to boost your happy vibes.
If you have any questions about what to expect on your trip, or what else you can do to prepare, give us a call any time. It's our mission to make sure you have an awesome time!