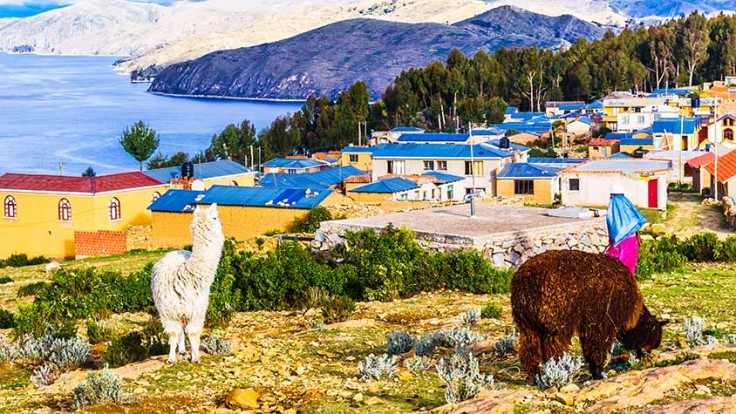 Wedged between two mountains, Copacabana is a small and colourful town on the shores of Lake Titicaca, it is the main Bolivian town on these waters and around 6,000 people call it home. Many people use the town as a stopping off point between Peru and Bolivia, but it is a destination that should be celebrated alone, so set aside some time to explore it and you might just surprise yourself.
We stop in this quaint town on our 'Chinchilla' trip so we've picked up a bit of knowledge along the way. We'll give you some information on things to do, how to get there and the climate in Copacabana.
Skip to: What to do | How to get here | The climate
What to do in Copacabana
Visit Isla del Sol and Isla de la Luna
Copacabana is the gateway to two of the most sacred islands in Lake Titicaca - Isla del Sol and Isla de la Luna. Both Islands offer hiking and Inca ruins to explore and not only are the islands beautiful, so is the boat ride across the sparkling blue waters of the lake.
On Isla de la Luna (Island of the Moon) there are some fascinating ruins, including Inak Uyu on the northeast shore, believed to be the convent of the Virgins of the Sun. Keep an eye out for the ruins of an Inca nunnery on the eastern shores too.
On Isla del Sol (Island of the Sun) you'll find more Inca ruins and you can also spend the night with accommodation options available. In the religion of the Incas it was believed that the sun god was born here.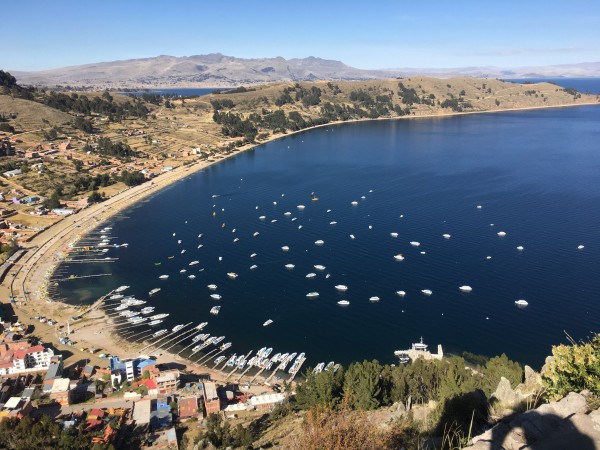 Check out the Basilica
The cathedral in Copacabana is stunning and everything you could want from a historical building, huge white pillars and echoing domes laced with small Portuguese-style red and blue tiles. The paintings on the walls are over 200-years old and the gold covered altar sits prominent with beautifully carved detail.
It is open every day except for Sundays (when the church is reserved for Baptism and weekly mass services) and you won't regret a visit.
Eat fresh trout
Along the lake front in Copacabana you'll be spoilt for choice in your selection of fresh trout, cooked and dressed in every way you can imagine. It is some of the best trout you can eat in South America and well worth a taste. The people of this town are experts in preparing the dish so you wont be disappointed, unless you don't really like trout, we can't help you with that!
Explore pre-Inca ruins at Horca del Inca
Horca del Inca is one of the most sacred sites in this region and sits overlooking the town of Copacabana. The ruins are believed to be carved by ancient Incas that created a sort of astronomical observatory with holes that allow for the suns rays to shine through and create different patterns on the ground.
This site is regularly visited by locals and when the June solstice comes around, they still use the stones to predict how fruitful the coming harvest will be.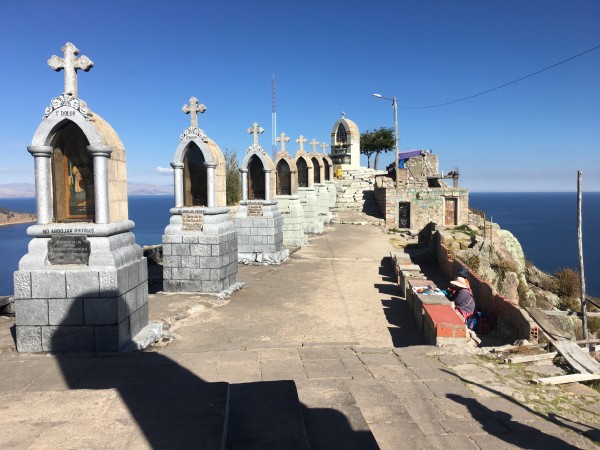 Getting here
Copacabana is often a stop off point for many travelling from Peru to Bolivia so heaps of buses pass through the town and it is likely you'll be hopping off here and getting back on to continue on your travels.
There are no airports nearby, the closest are El Alto and Juliaca which are a 3-4 hour drive away, so the only way to get here is by bus or driving.
If you are travelling between Peru and Bolivia, there is a one hour time difference so be sure to keep that in mind when making arrangements (11am in Peru in 12pm in Bolivia).
The climate
Copacabana is located in the tropics so the temperature doesn't vary much throughout the year and at 3,841m above sea level, it can be quite chilly. The average temperature year-round is 10°C and the minimum around 4°C but it's not uncommon for temperatures to drop below freezing so it is better to be prepared for all conditions. Rainy season is November – March and dry season from April – October.