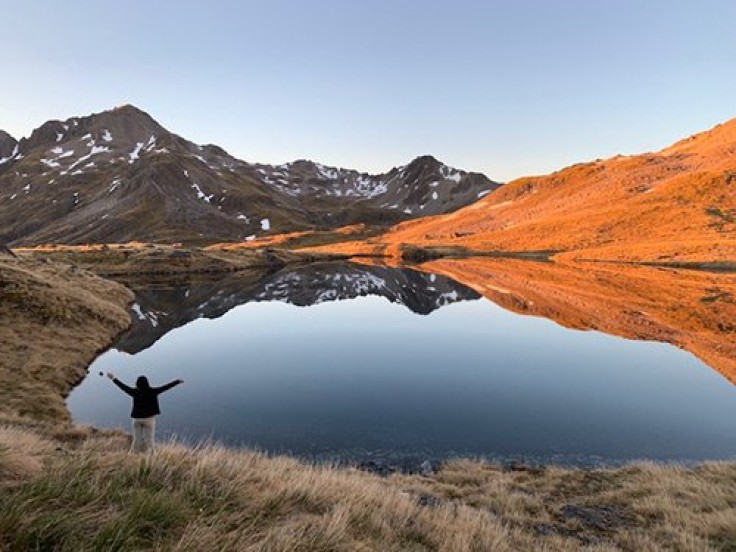 The team here at Active Adventures are an outdoorsy bunch! Every weekend you'll find a handful of us out hiking in the hills or paddling the lakes and rivers, getting stuck in to New Zealand's natural wild beauty. One of our favourite ways to spend a long weekend is grabbing a backpack - packing a toothbrush, cooker, a few meals and a sleeping bag; and heading on an overnight mission up to one of the 950 huts dotted all over the country. Here we'll talk about spending multiple days in the back country and offer some advice on how best to tackle the great New Zealand outdoors.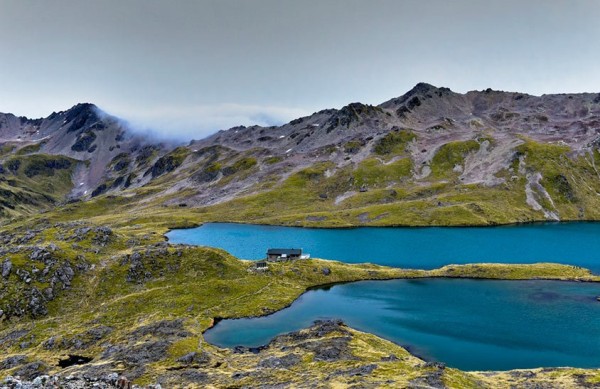 Angelus Hut in Nelson Lakes National Park


Exploring our very own backyard
As Kiwis, we are lucky enough to have some of the best hiking trails in the world. New Zealand has hundreds of trails weaving through vast mountains, rainforests, coastlines, glacial valleys and volcanoes. The majority of these are maintained by the Department of Conservation (also known as DoC). The huts first started appearing in the 1800's and were initially a network of shelters for hunters on overnight missions in the hills. Today they've become a huge contributor to tourism in New Zealand, and are a symbol of our national identity. The most unique thing about hiking in New Zealand is the variety of landscapes you can immerse yourself in. No trail or hut is like the other!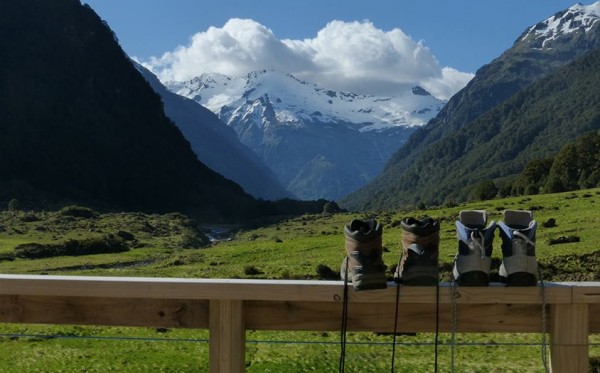 Scenic trail views featuring well walked in boots


The Milford Track
Most people who know of New Zealand have heard of the undeniably breath-taking Milford Sound. There's no denying it's one of the things that puts this country on peoples travel radars! The Milford Track is one of New Zealand's 10 Great Walks – all Great Walks are preserved by DoC and are known for their heart stopping views of our Kiwi countryside and coast lines. These are only a handful of our hundreds of multi-day walks down here however, and we're still trying to tick some off!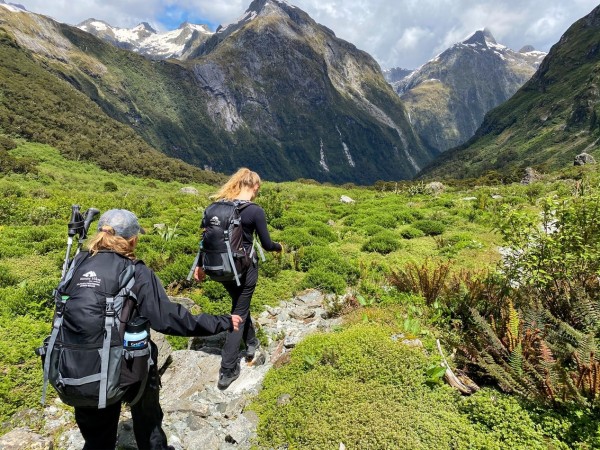 Milford Track


Why are we so addicted to getting out there?
We'd describe our love for multi-day adventures in the hills as natural - an essential part of growing up and embracing the Kiwi lifestyle! Being able to escape traffic, light pollution and cell reception in a matter of minutes from home, is a privilege that should not go to waste. There's something primitive about making it to your hut of choice after a challenging day of tramping and being greeted by a log fire, smiles of encouragement from fellow hikers, and a cosy bunk. When you're in a backcountry hut, your personal daily worries are paused. You spend the evening sharing experiences and stories with others, creating friendships and simply live in the moment. It's a very special experience, topped off with a true sense of achievement! Not only are there heaps of physical health benefits for getting out exploring the outdoors, but you emerge from your backcountry bubble feeling mentally refreshed and recharged.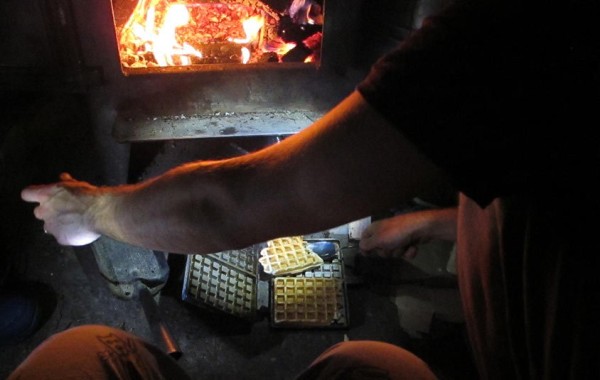 Fire toasted waffles anyone?
Benefits of guided trips
Over the years our guides have learned a few tricks when it comes to overnight hiking - we know how valuable local knowledge is! When you're out and about exploring, you'll want all sorts of information about the area you're in including its history, culture, plant life and wildlife - your guides will share this all with you. You'll be taken to every scenic viewpoint so that you don't miss out on any incredible landscape shots, as well as share a few secrets to having a smooth sailing experience, such as what to pack or how to best prepare for certain activities. They'll take care of all the nitty-gritty details whilst you can just relax and enjoy the country at your own pace! Lastly, let's not forget that your guides have spent heaps of time in the hills and are masters of the backcountry cooker! You'll be fed delicious, nutritious meals after a day's hiking - waking up recharged ready to go again.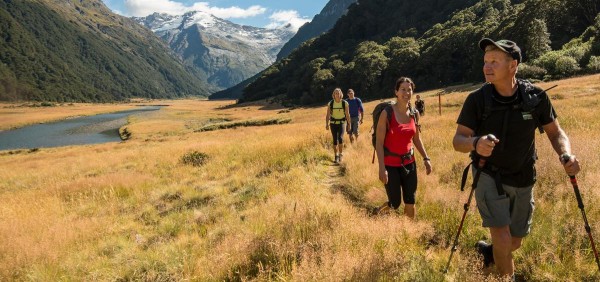 Our guides loving what they do


Safety first!
Our guides have comprehensive training in all sorts of areas - some of which we hope they'll never need. They're required to undergo training by external agencies in First Aid, and also go through our rigorous pre-season training program, which includes outdoor leadership and management, hazard identification and minimisation, evacuation procedures, and so on. Not to mention, they are in constant communication with our Operations Team here at Active HQ throughout the trip!
Everyone's number one priority in the outdoors is safety, especially on multi-day hikes. Because of its separation from other large land masses, New Zealand gets some very interesting weather. Particularly on the South Island, with the Southern Alps dictating weather patterns - we end up with very changeable conditions. Our local guides have spent their lives amongst those conditions and are always prepared for four seasons in one day. They'll approach every hike with a plan A, a plan B, and often a plan C. Rivers can change course or rise rapidly, groups can either be super keen for a challenge or wanting to go at their own relaxed pace and our guides are prepared to adapt for all capabilities! They react with a calmness that will make you feel comfortable and safe at all times.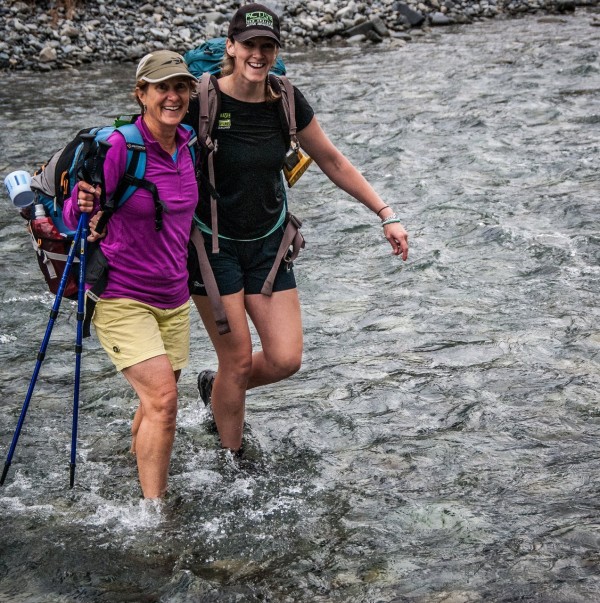 Crossing rivers unguided is a dangerous game, we're here to keep you safe


Recap of a guided adventure
Guides are highly knowledgeable of the flora and fauna of the country.
Experts in tricks of the trade e.g how to pack your bag, or make a pillow.
Comprehensive safety training.
Backed up by an Operations Team.
Experienced in safely maneuvering groups through all weather conditions
Logistics – arrange transport, activities and meals for you
Providing the small things that are easily forgotten – bug repellent, hand sanitizer etc.
Form new friendships and connections all over the world!
So, if you're itching to head out into the hills and see what the real New Zealand is all about - we reckon your best bet is to do so with a local guide. The best advice we can give you is to embrace the whole experience, trust your guides and keep in mind that it's sharing these experiences with them that makes it so special. You'll walk away with a handful of unforgettable life long lasting stories!