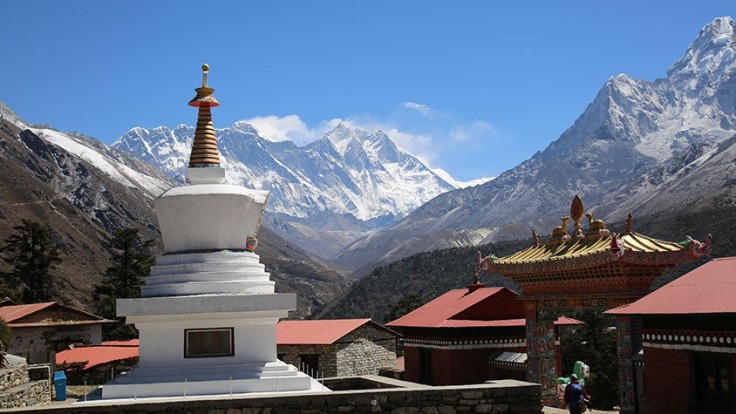 Nepal is a cultural mecca, it is architecturally rich with religious sites in the form of monasteries, gompas and stupas, many guarding a treasure trove of vivid artwork that is a feast for the eyes.
It is no surprise that the country is peppered with these structures, in the 2011 consensus over 99% of the population identified as being a part of a religion and the spiritual nature of the country is inescapable. But what is a surprise, is the bright and psychedelic dyes that have created the powerful art that lines the walls of these buildings – a stark contrast to the rugged landscape.
It has been said that the art here is 'at its purest level, art of the imagination' and we can vouch for it, it's guaranteed to stop you in your tracks.
You'll find some of our favorite sites below with a little explanation as to what a monastery, a gompa and a stupa is. At the bottom of the page you can also check out our guided treks in Nepal, we visit the sites below and many more as we take you off the beaten track and venture through this diverse country.
Skip to: Definitions | Popular religious sites | Our trips

Defining the terms monastery, gompa and stupa
The difference between monastery, gompa and stupa is not clear cut with some overlapping definitions and a little confusion. To give you a brief idea, check out our definitions below:
Monastery: This one is pretty straight forward, it is a building occupied by a community of monks living under religious vows.
Gompa (temple): A Buddhist religious building or structure that is a place of ancestry, learning and provides a means of accomplishing spiritual training through worship (like a university for monks) – if monks are dwelling there they can be considered as monasteries and can also be referred to as temples.
Stupa: This is a mound-like or hemispherical structure that contains sacred relics. These can either be solid buildings with no entry or can contain a central chamber that is often covered in elaborate decoration. You will find people walking around these in a clockwise direction, this is to accumulate merit and bring favour to your current life and afterlife.
Popular religious sites

Swayambhunath Temple
Swayambhunath consists of a stupa, a variety of temples and a monastery, so you're safe to go with any of these titles when you're asking for directions! It is one of the most sacred places to visit among Buddhist pilgrims and among one of the oldest religious sites in Nepal founded over 2,000 years ago.
The temple is also known as 'Monkey Temple' and as we're sure you've guessed, the place is mobbed with monkeys. They're used to humans walking around and seem uninterested in us, so as long as you give them some space, you can watch them play and grab a few photos.
This really is a destination that speaks for itself and one not to be missed on your visit to Kathmandu.
Boudhanath Stupa
Boudhanath dominates the skyline and is one of the most visited tourist spots in the Kathmandu area. It is among the largest of the spherical stupas in Nepal and is said to entomb the remains of Kassapa Buddha.
The stupa sits on an ancient trade route from Tibet and has been a resting spot for Tibetan merchants for many centuries. It is rich with history, stories and mythology, you'll find it hard to leave without being warmed by it's undeniable spirituality.
Jhong Cave Monastery
In Chhoser, Upper Mustang you'll find the mysterious Jhong Cave, this is one of the many sky caves in the area but its secrets are attracting archaeologists from around the world.
Inside this cave is more than 40 different rooms spanning over 5 stories, all man-made a very long time ago. Some of these were converted into monasteries and they're quite unlike any other religious buildings that you'll find in Nepal.
We still don't know who built them and for what purpose, but they have served as many different things over the years and there is still an untold history to uncover.
Kagbeni Monastery
Kagbeni is at the foot of the Upper Mustang where traditional and seemingly untouched Tibetan life is the norm. The monastery walls are laced with brightly colored artwork whilst the ceiling is painted with intricate mandalas and depictions of life lessons used for meditation.
The sunsets from Kagbeni are spectacular and from the roof of the monastery you'll be able to catch the last light as it hits the crumbling town walls and surrounding mountains.
Thame Monastery
Thame Monastery is the oldest in the Khumbu region and is found 200m above the village at an elevation of 3800m, so the views surrounding it are epic. Thame has been home to some legendary climbers, it was a childhood home of Tenzing Norgay (one of the first men to summit Everest) and is still home to Apa Sherpa who holds the record for summiting Everest 21 times.
The Monastery also celebrates Mani Rimdu Festival, this is a big event in the town with monks performing a series of ritualistic dances whilst wearing extravagant masks and costumes. The shows vary from serious to comical and on the last night everyone joins in, singing and dancing all night long.