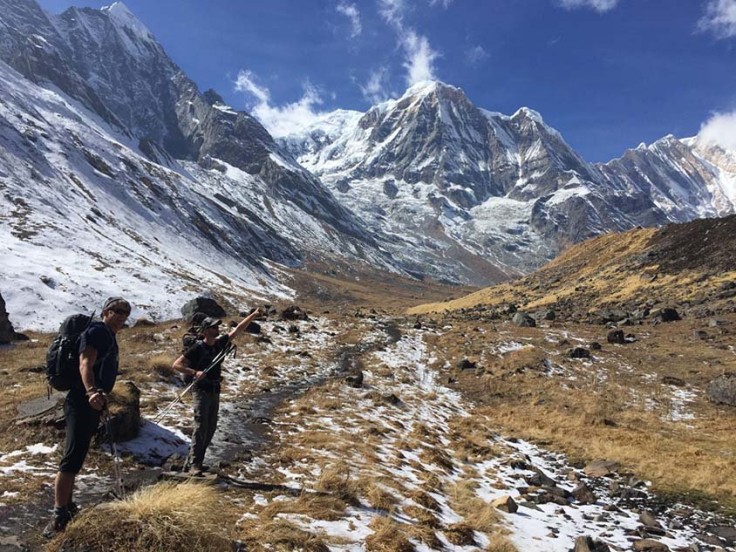 Photo competitions. They're not necessarily a good thing for an organisation like us to run, because there can only ever be one winner, and we leave hundreds of other people disappointed. But we can't help ourselves, can we? That's because it's just too damn hard to take bad photos on our trips and we're naturally compelled to share them with everyone. And what's life without friendly competition amongst family and peers?!
But rather than showcase just the one winner, here's the top 10, in no particular order, all taken by you guys on our trips in 2015. What a year it was!
We'll tell you who the winner is also – don't worry.
1. Aoraki Mt Cook & Lake Pukaki, 'Rimu' – Allen Cameron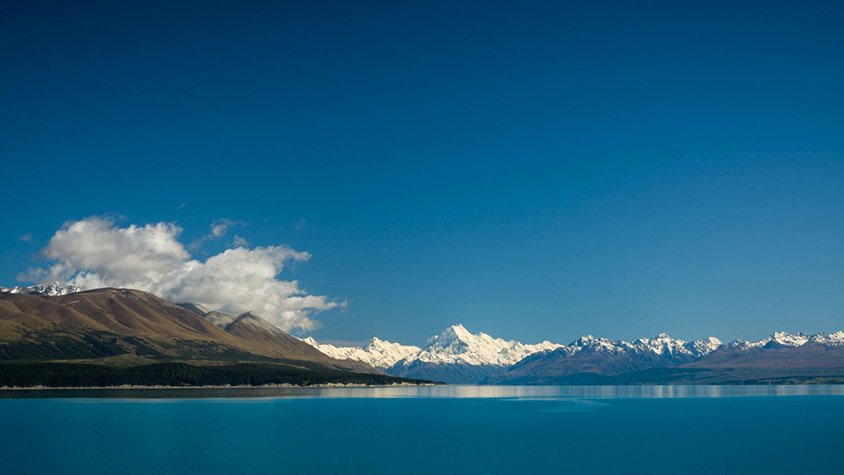 Aoraki Mt Cook
This is a scene our guides never tire of seeing, no matter how many times they visit the Aoraki Mount Cook National Park. There's always the butterflies that flutter in your stomach as this landscape greets you. As you get closer, the waters of Lake Pukaki become more radiant and the slopes of Aoraki Mount Cook and the surrounding hills become more dramatic. After passing Lake Pukaki you'll delve deeper into the National Park and get the chance to hike onto Mueller Ridge, where you'll experience the most mind blowing mountain views in New Zealand.
2. Hiking Siberia Valley, 'Tui' – Bob Secor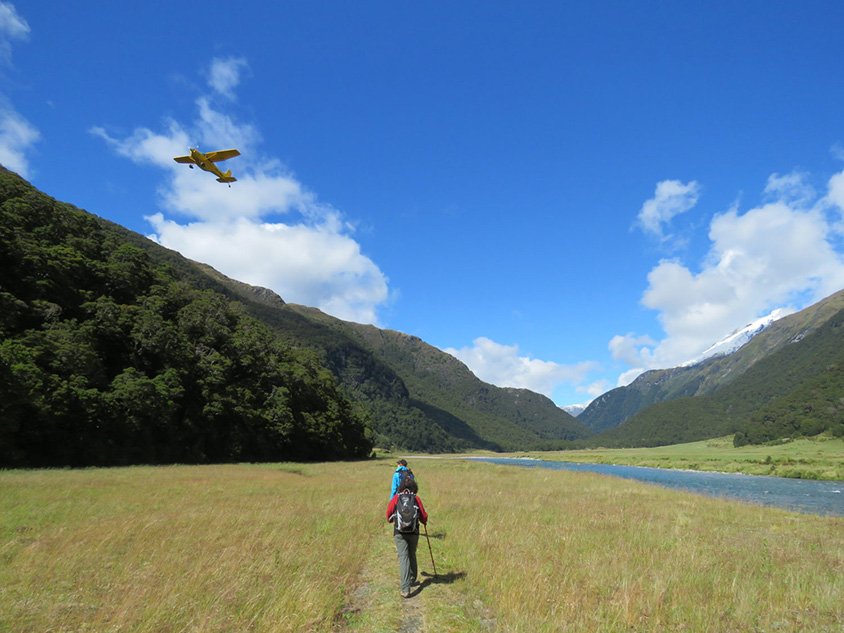 Hiking Siberia Valley
You step out of the aircraft that has just dropped you into arguably New Zealand's most isolated and dramatic wilderness area, and there's just one way out from there; on foot. The plane takes off again and you realise it's just you, your fellow hikers and the native birds accompanying you through this area of untouched beauty. Not a bad way to spend a couple of days. Well... technically you'll get to take a jet boat ride down the Wilkin River as well, so it's not just hiking!
3. Sand Boarding Te Pouahi Reserve, 'Kauri' – Bonnie Mullin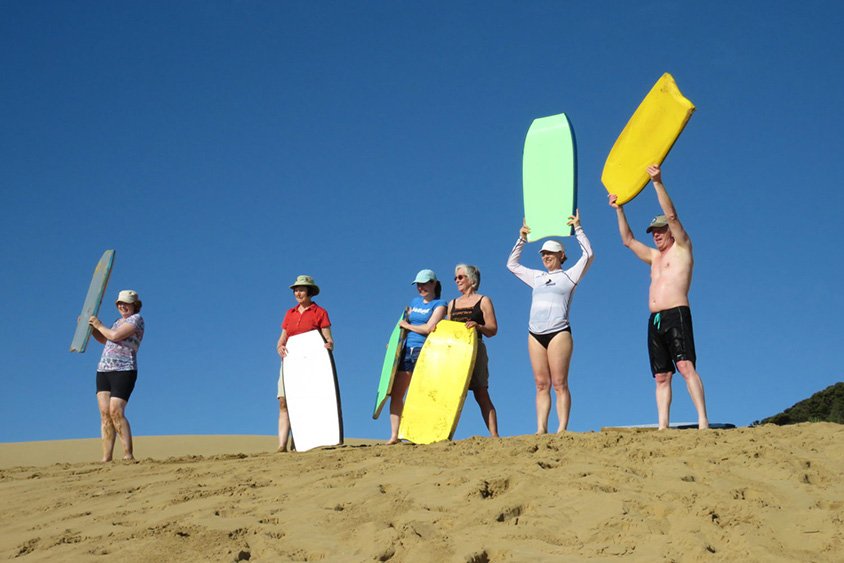 Sand Boarding Opononi
Sometimes it's important to just be a kid again. And what better way than taking an old body board (not intended for anything other than use on the water, but hey – it's fun!) and sliding down a huge sand dune and getting completely covered in sand? It can't all be too civilised can it?
4. Swimming with a Turtle, 'Tortuga' – Charlotte Sherman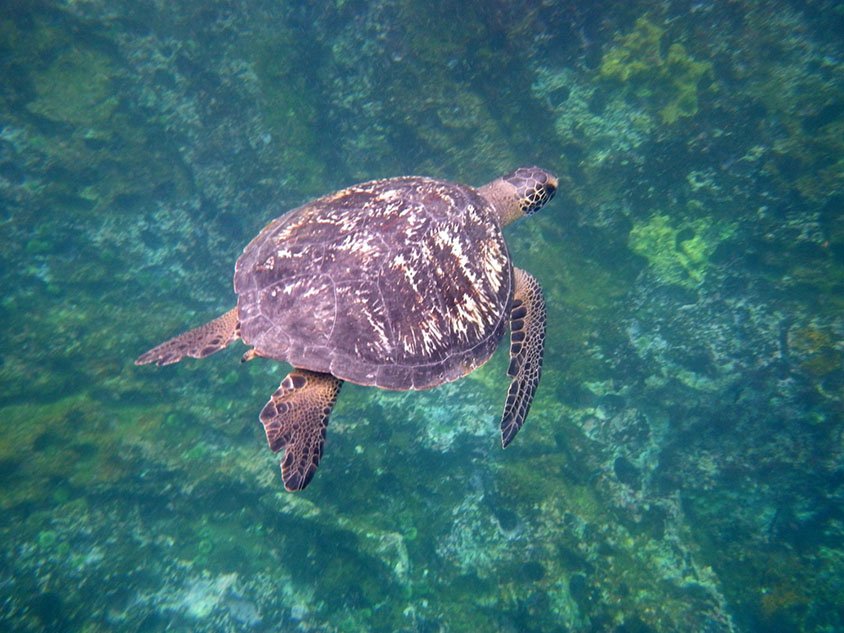 Swimming with a Turtle
If you don't swim or at least see a turtle when you join us on our 'Tortuga' trip in the Galapagos Islands, then there will certainly be something wrong with the space/time continuum and we'll have to look into getting into another business. Here's the reason why we called the trip the 'Tortuga' - they're everywhere and you never get sick of seeing them, especially in crystal clear water!
5. House on the Svelte, Patagonia, 'Condor' – Dennis Wilson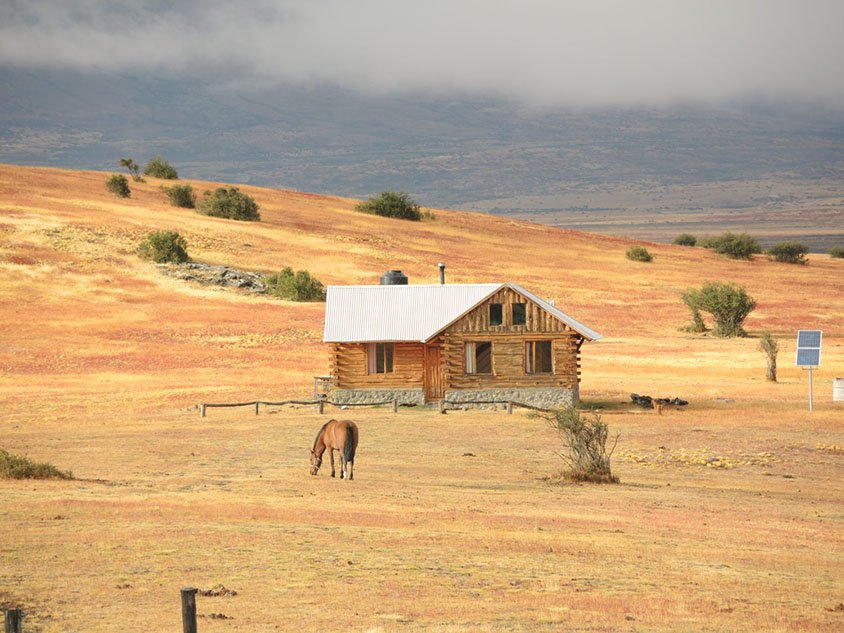 House on the Svelte
Patagonia has many faces, yes there's the enormous granite peaks and glaciers of Torres Del Paine and Glaciares National Park, fiords and picture perfect lakes. There's also the windswept plains dotted with grazing cattle and traditional "Gaucho" farm houses (now with solar power!). You find yourself wondering if you've stepped into a time machine.
6. Immaculate Forest Walk, Nelson Lakes National Park, 'Rimu' – Donal Rafferty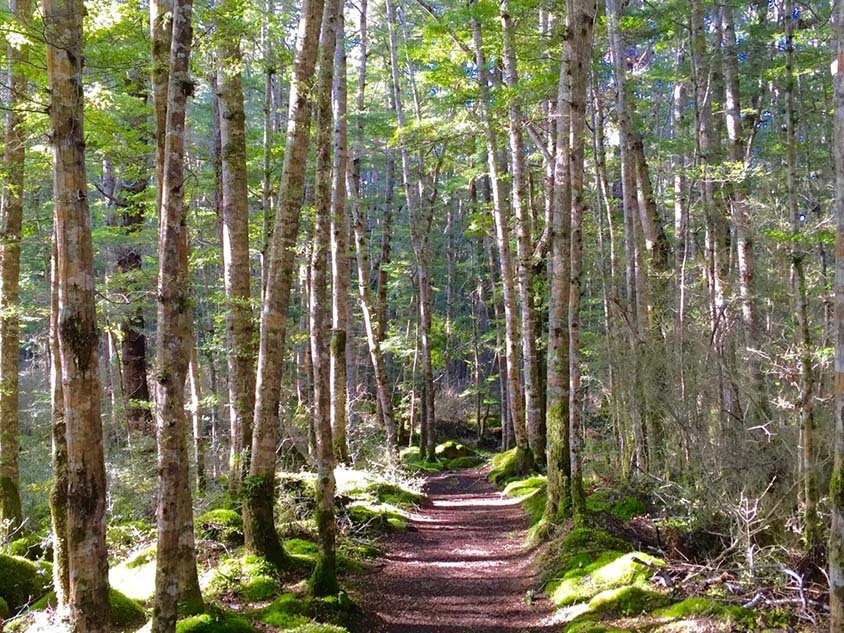 Immaculate Forest Walk
Can you see the hobbit in the trees in this shot? Well, there is no hobbit but you'll be forgiven for expecting some sort of ancient creature to walk across the trail as you're hiking in Nelson Lakes National Park. So no hobbits here, but you'll probably be greeted by a South Island Robin – one of our most inquisitive native birds. They often peck at the ground you've walked on as they know your hiking boots may have opened up some soil for worms!
7. Machu Picchu Selfie, 'Jaguar' - Jen Risser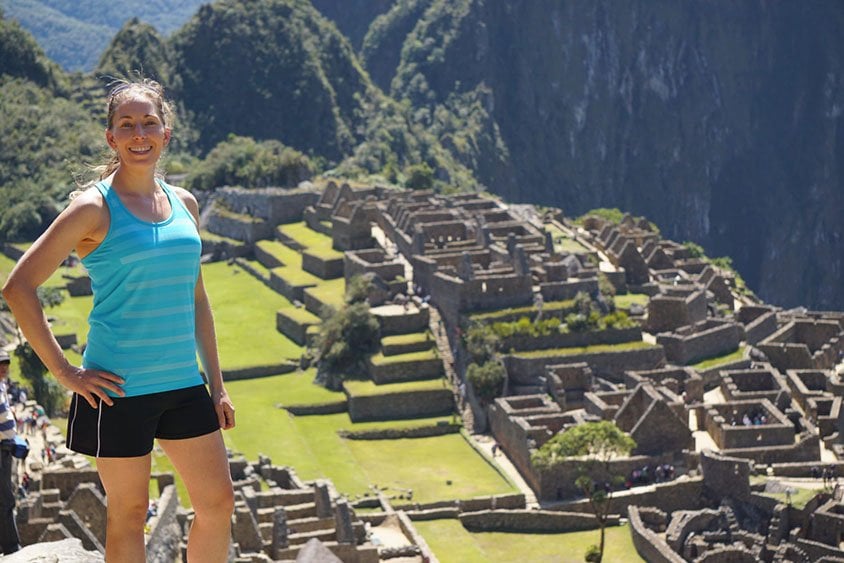 Machu Picchu Selfie
Check out how happy Jen Risser is, after hiking for 3 days on the Inca Trail to get to Machu Picchu. We arrive at Machu Picchu super early in the morning before the sun comes up and get ahead of the numerous people who visit the site every day, but when the sun does come out, it shines directly down on the site all day – it's an incredibly refreshing place to be. The other thing we've noticed about this photo is that it's a reminder of how much of a big job it'd be to mow those lawns, just look at em!
8. Milford Sound Kayaking, 'Rimu' - Jim Lane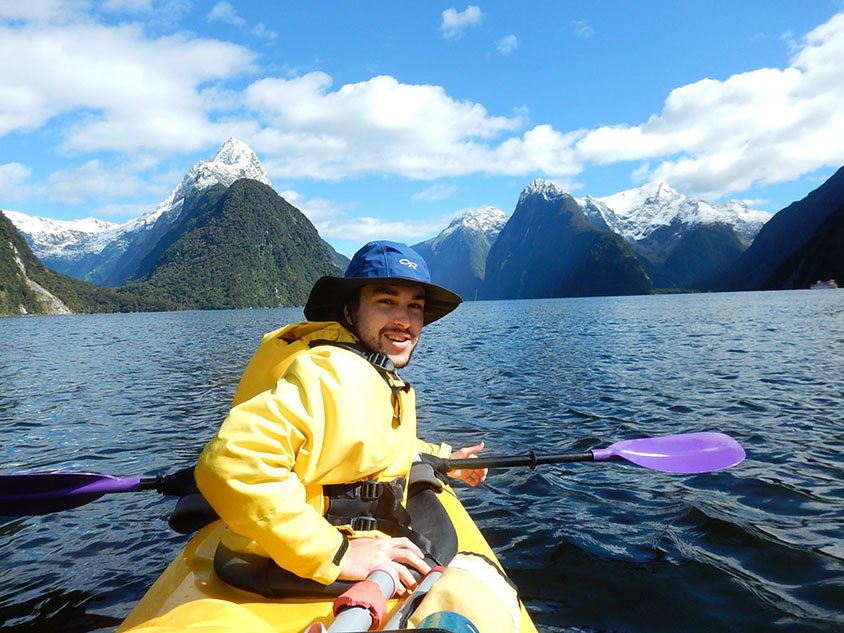 Milford Sound Kayaking
Believe it or not, photos like this are EXTREMELY rare. Not because it has captured a truly perfect moment in time for Jim and his son Ben Lane, in the world's most spectacular fiord, but because it's captured a person in a double sea kayak who isn't engaged in an argument with their fellow paddler... For that reason, this photo is our winner! Who needs flat horizons anyway...
9. Blue Duck in Repose, 'Manuka' - Joyce Barbour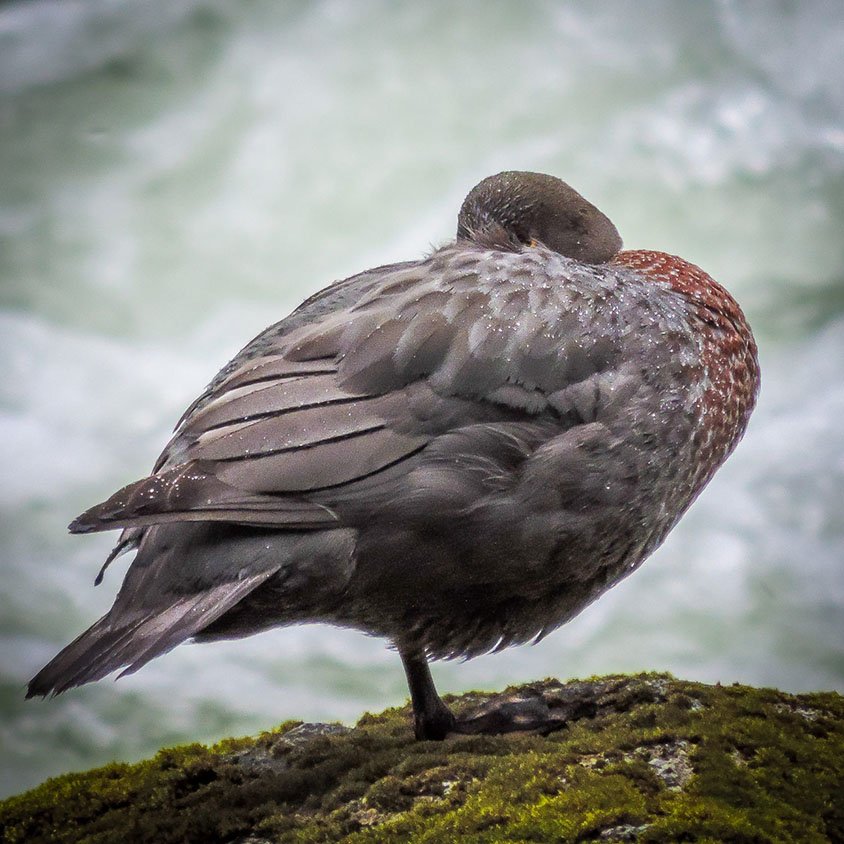 Blue Duck in Repose
Our native Whio (Blue Duck) are known here in New Zealand as the "whitewater duck", as when they're spotted, they are often seen riding the rapids in our streams and rivers. They are also extremely rare. Contrary to how it appears in this photo, they do actually have heads, and two legs.
10. Hiking Amongst Giants, 'AST' - Marjorie Pilli
Hiking Amongst Giants
Almost there! In this shot, you're only about 30 minutes from arriving at the Annapurna Sanctuary – a spectacular alpine amphitheatre that has to be seen to be believed. That's our guide DK in the picture, pointing out the surrounding peaks but clearly not holding the attention of the other guy in the photo. It's OK – we're working on his presentation skills... :-)