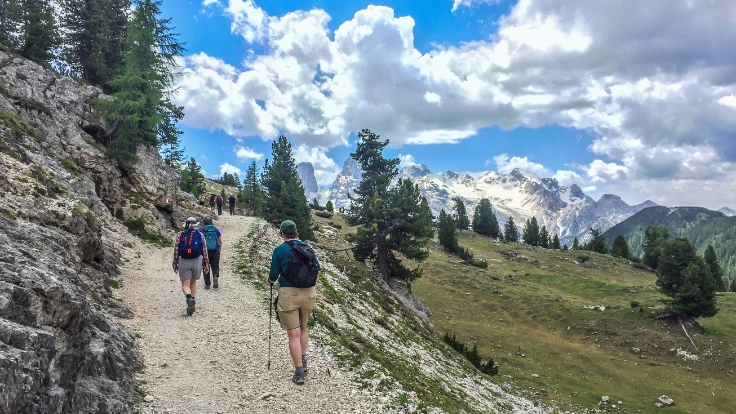 Pictures of the towering rock monoliths of the Italian Dolomites are everywhere. You've no doubt seen the too-picturesque-to-be-real images of rolling green meadows, villages and hotels that look like they're straight out of a fairy-tale, and lakes so beautiful that will make you question the website's use of photoshop. However, the Dolomite region has so much more to offer than what you can snap in a camera.
1. Hiking in the Dolomites
It's hard to think of much else when you think of a trip to the Dolomites. Almost as hard as it is to find out just how many hiking trails there are – needless to say, you and your boots will be WELL catered for. There's an endless supply of beautiful day or half-day hikes as well as some more adventurous multi-day hikes. With terrain this breathtakingly beautiful it could very well take you 20 minutes to walk 20 meters (65 feet) as you stop every two steps to look up, look down, take a photo, facetime home…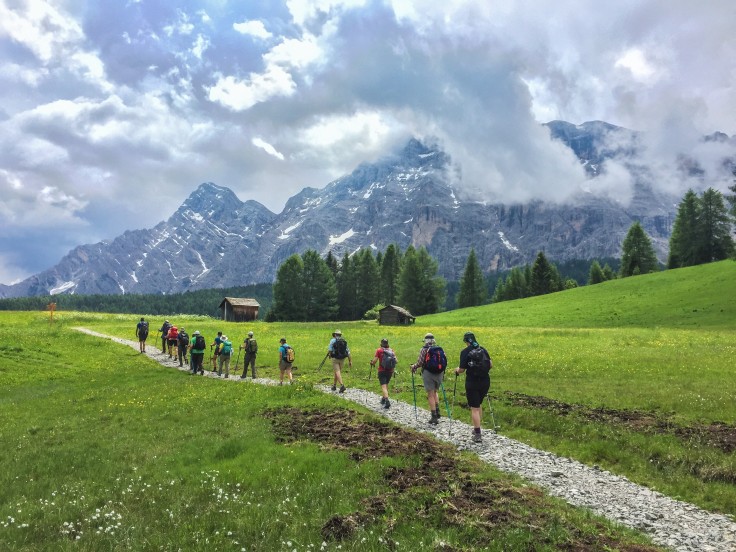 2. Hike the Tre Cime di Lavaredo (The Three Peaks – Triplet Peaks)
OK, so we're still in the hiking category, but this one deserves a special mention. Undoubtedly the most spectacular hike in the area, the three mountain peaks stand out from all other ranges, and loom over hikers from all angles. The Tre Cime circuit circumnavigates the trail so you can be sure you get the best possible angle and is an easily achievable 10km (6.2 miles) hike.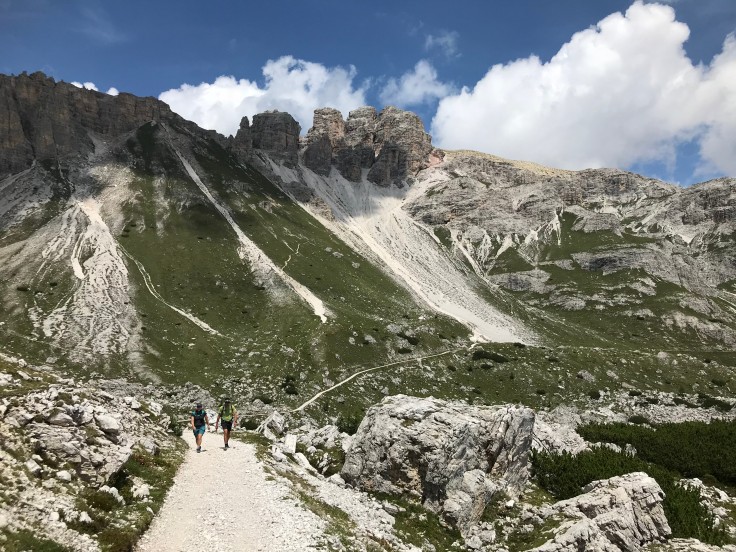 3. Go back – waaaay back and try a via ferrata in the Dolomites
If you're not a history geek, or a war geek, then you just may become one after visiting the Dolomites. During World War One, the front line of warfare between Italian and Austro-Hungarian units ran right through the region staging a scene of fierce mountain warfare.
"In order to protect their soldiers from enemy fire and the hostile alpine environment, both Austro-Hungarian and Italian military engineers constructed fighting tunnels which offered a degree of cover and allowed better logistics support. Working at high altitudes in the hard carbonate rock of the Dolomites, often in exposed areas near mountain peaks and even in glacial ice, required extreme skill of both Austro-Hungarian and Italian miners." – Wikipedia.org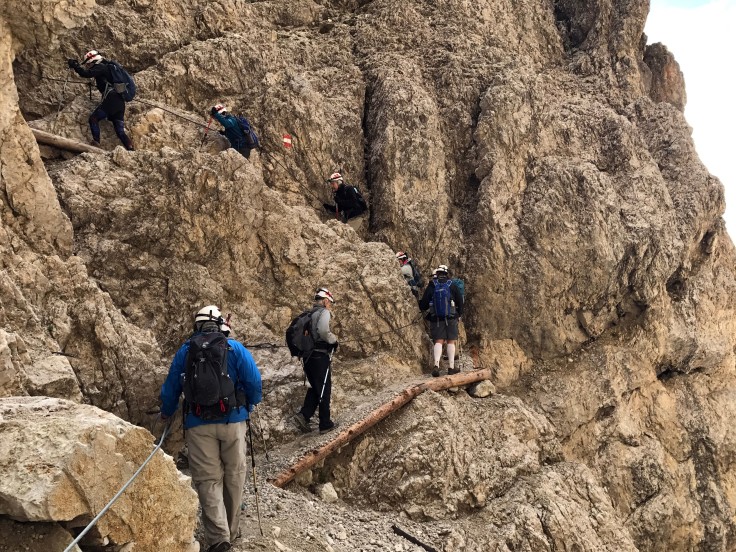 Not only can you walk through some trenches, and see remnants of this violent period, but the Dolomites also offers over 30 museums. The Italians do many things well – and understanding and celebrating their history is certainly one of them.
The Dolomites are also home to multiple via ferratas, which are protected climbing routes using steel cables, ladders, or rungs to allow soldiers to safely climb up and down the sketchiest sections of the mountains. You can now do these via ferratas with only a harness and no technical climbing knowledge, for a totally safe adrenaline rush. The via ferrata Cinque Torri, featured on our 'Dolomites Adventure' trip, goes to the summit of Mount Averau, for what we believe is the best 360-degree view of the entire Dolomite Mountain Range.
4. Find a paddle and glide along the best lakes in the Dolomites
With huge sometimes snow-covered mountains come startlingly blue mountain lakes. If it's calm, rent a paddleboat, or a kayak and explore some of the most beautiful lakes you'll ever see – or if you're daring why not try an icy dip?!
In the winter, don some snowshoes, or ice skates and make the most of the icy conditions. Everywhere you look there'll be a postcard-ready scene, from rocky boulders under crystal clear waters, to bright green pine trees lining the shoreline, to the snow-capped peaks towering overhead. We like to mix up the forms of transport on our trips – here's an opportunity for you if you want to as well!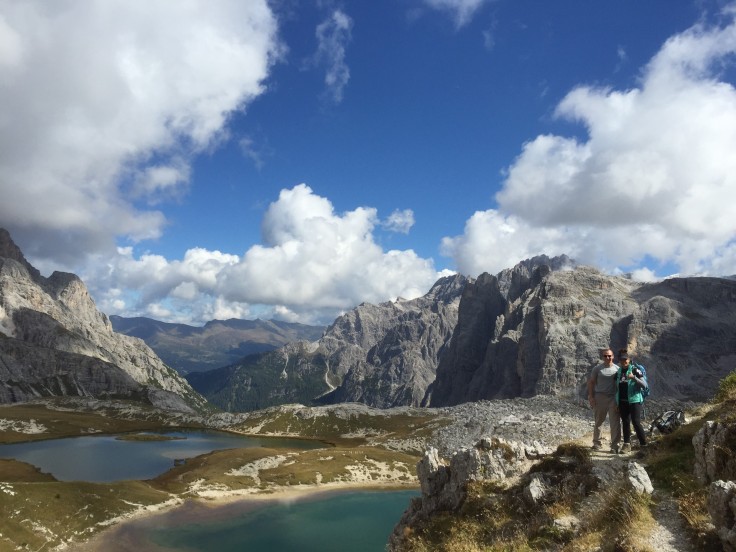 5. Hop on a bike, and cycle from Cortina to Dobiacco
From Cortina, you can start an epic cycling route along the converted Val di Landro railway, once the only communication link between the towns of Calalzo, Cortina and Dobbiaco on the Austrian border. This route cuts through some of the most iconic and dramatic scenery in the Dolomites. Ride over iron bridges that skirt deep canyons, through tunnels and across gentle passes that afford dramatically beautiful views of some of the Dolomites' steepest peaks, including Tre Cime de Lavaredo.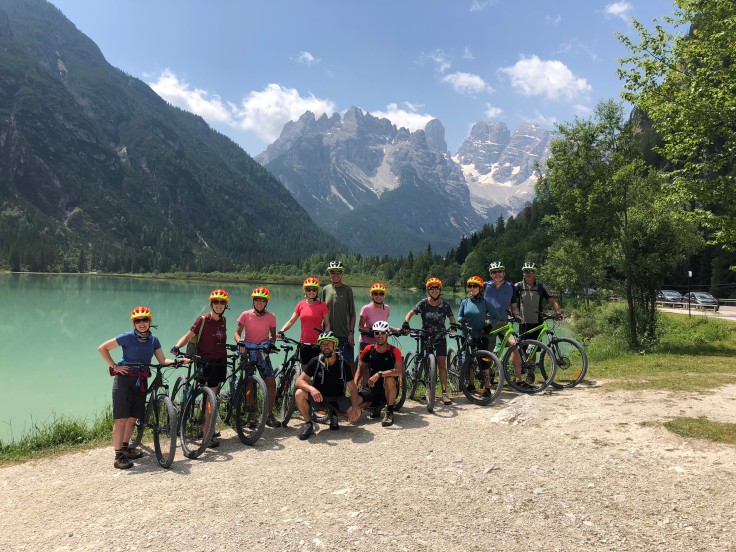 6. Get your adventure kicks with skiing or rafting (depending on the season)
No, the mountains in the Dolomites are not just for hiking, in fact, skiing in the region is so good, it's home to the FIS Ski World Cup and boasts over 30 snow parks. Picture a rustic hut in the middle of a snow-covered forested mountain landscape and easy access to perfect fresh snow. Add in a mulled wine and we're there!
If you happen to visit during the summer months and have had enough of the hiking trails (if you can ever get enough of the hiking trails) then strap on a helmet and grab a paddle – there are hundreds of small and big rapids and white water canyons to tackle. Companies all over the region will take you on the water, and if you're up for an adventure it can be an amazing way to see the area and have a spectacular day out.
7. Sample the best food in the Dolomites
What is a vacation in Italy without a heavy focus on food? Try some of the local game (deer, goat, etc), refuel with some Polenta bread, or stick with the tried and true – pasta. The region is known for its pumpkin and spinach ravioli, but you'd be hard-pressed to find a bad pasta meal. Just remember, it's not just about the (EXCEPTIONAL!) flavors of what you're eating, food in Italy is a religion. It's to be savored, and enjoyed slowly, with friends (and usually wine). An unforgettable pasta dish in the Dolomites will be the perfect cherry on top of a spectacular day of hiking.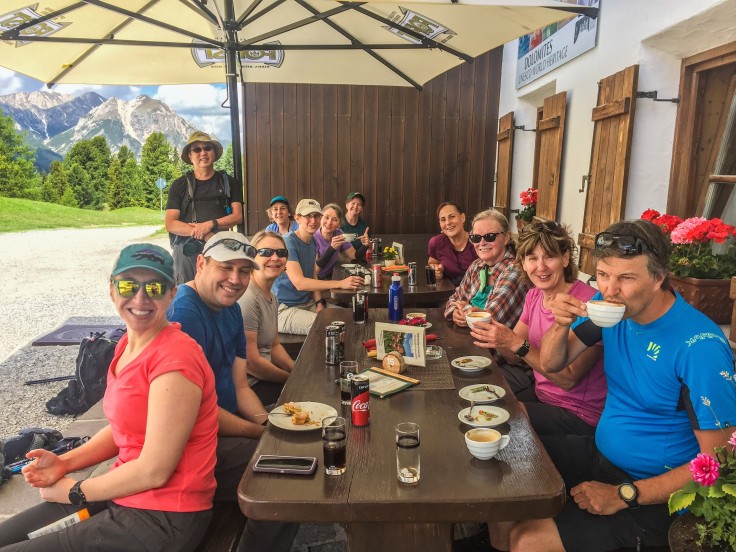 8. Spend the night in a Refugio
How to best describe the Dolomites' refugios? Close your eyes. You've been hiking all day, you think you're miles away from any form of civilization but suddenly, you walk the crest of a hill and it's there, the most picture-perfect mountain lodge, windows with colorful shutters and wood exterior, smoke coming out of the chimney. Other hikers are having a cold beer and a cheese fondue or a 'croque-monsieur' in the outdoor dining area, and every room has an equally stunning view, and comfortable beds with freshly washed linen. Do you get the idea?
Our Dolomites Adventure stops at two equally stunning ones: the Refugio Fodara Vedla and the Refugio Fanes.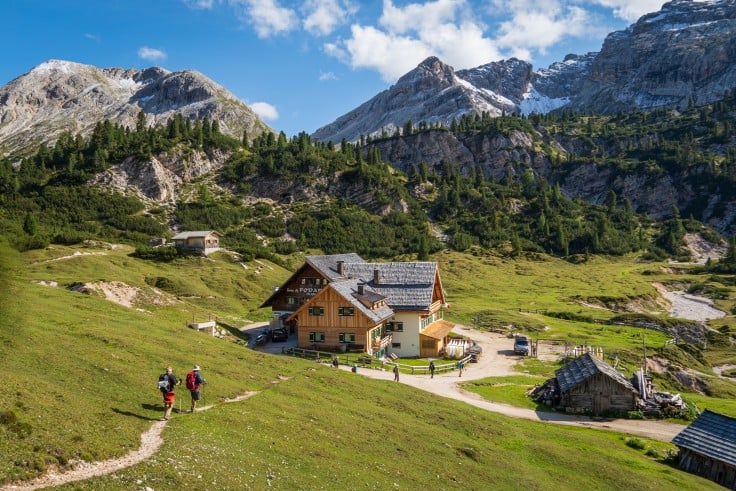 Hopefully, you are feeling inspired, and your Dolomites adventure is taking shape. If all these things appeal to you, and you're keen to put the planning in expert hands, then have a look at our 'Dolomites Adventure'!