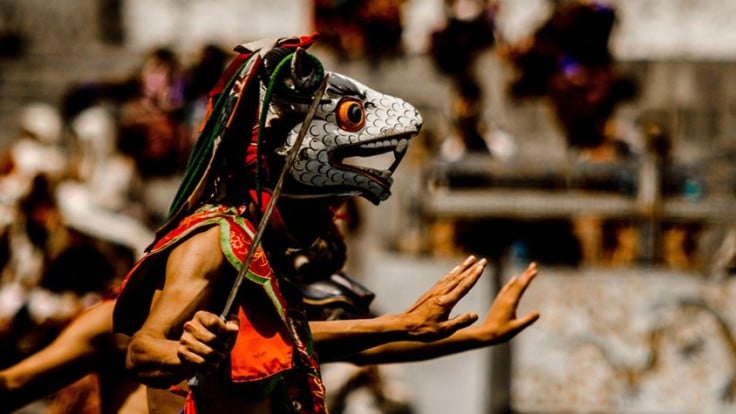 Bhutan is located deep in the Himalayas, and if there is one thing to be said for all mountainous regions, it's the varied weather! The vast change in altitude throughout the country makes it difficult to place the whole region in one pigeonhole. We've focused on Paro and Thimphu - this is where most of the major attractions can be found. You'll find all you need to know about each season below, and if you've still got some questions, don't hesitate to get in touch!
Bhutan spring - Mild and bustling
Months: March/April/May
The min/max temperatures in Paro and Thimphu: 11-29°C (54-84°F)
Hiking conditions: Spring is an ideal season for trekking in the Himalayas with stable conditions and warmer climates!
Events: In march Punakha Drubehen and Punakha Tshechu celebrate a battle won against invading Tibetan forces in the 17th century, Paro Tshechu in April is the most popular religious dance festival in Bhutan and Ura Yakchoe festival is held in May.
Why we love spring…
In Springtime, you'll find the bright purple Jacaranda trees in full blossom at Punakha Dzong (we head here on our Thunder Dragon and Snow Leopard trips). It's a beautiful time to visit Bhutan, which is why it can be popular. It's great for rafting and kayaking and to make things even better, spring brings with it heaps of festivals - the towns are alive with vivid colours and fresh vegetation!
Bhutan summer - Wet and lush
Months: June/July/August
The min/max temperatures in Paro and Thimphu:15-25°C (59-77°F)
Hiking conditions: Summer can be an unsafe time to trek, especially along the southwest border. Some trails are open but you'll need good boots and prepare yourself for a little sludge!
Events: The Haa Summer Festival occurs every summer in early July to celebrate traditional living-culture, the festival is an insight into the lives of the nomadic herding communities in Bhutan and a must-see for visitors.
Why we love summer…
Okay, so summer season in Bhutan does mean lots of rain, it is their monsoon season and it brings 60-90% of the Western region's rainfall. It tends to hit in mid-June and whilst it does mean rain jackets and umbrellas, it also means lush greenery and quiet sights. Bhutan's rich summer months also create the best conditions for mushroom gathering in the drizzly forests at lower elevations.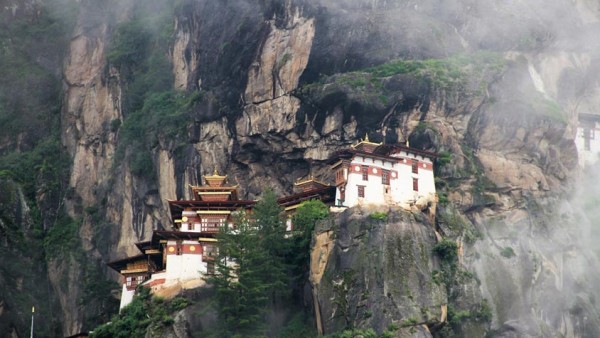 Bhutan Autumn - Crisp and clear
Months: September/October/November
The min/max temperatures in Paro and Thimphu: 15-18°C (59-64°F)
Hiking conditions: September to November is a great time for trekking in Bhutan, its popular because of the clear skies and warm autumn sun.
Events: In September the Thimphu Tshechu is held, one of the biggest festivals in the country. Wangdue Tshechu and Tamzhing Phala Choetpa are also held in September, famous for the dances performed in traditional Bhutanese style. The Festival of the Black Necked Crane occurs early in November in the Phobjikha Valley to generate awareness for this endangered species and the Jambay Lhakhang Tshechu is in November too!
Why we love autumn…
Autumn brings clear and crisp blue skies, moderate temperatures and great photo opportunities. It is one of the busier times to visit (like Spring), but due to their philosophy of low volume tourism, the lines are never too long. As you travel around you'll see the many rice fields turning gold ready for harvest and take some time to get out into the fields to see the endangered Black Neck Crane, they settle here at this time of the year.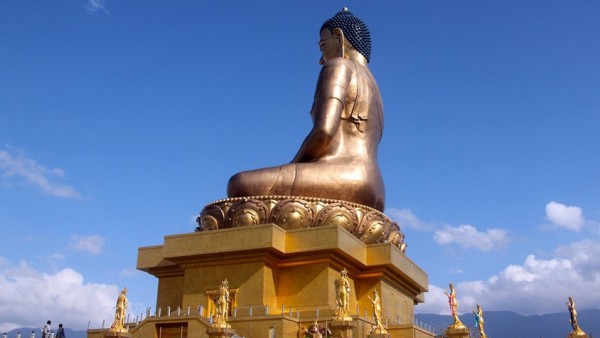 Bhutan Winter - Quiet and magical
Months: December/January/February
The min/max temperatures in Paro and Thimphu: -1-14°C (30-57°F)
Hiking conditions: During the winter months the heavy snow in the Himalayas makes high altitude hiking dangerous but there are some hikes that are ideal this time of year (ie. Samtegang, Nabji Korphu and Manas trek).
Events: The Druk Wangyel Tshechu is celebrated every December in Thimphu. It is unique because the Royal Bhutan Army performs rather than the monks and it's set from the spectacular vantage point of the Dochu-La Pass.
Why we love winter…
Winter tends to be Bhutan's off-season when it comes to tourism, so if you're not a big fan of crowds, it's the perfect time to visit the country. Sure, at night time it gets cold, but during the daytime, it can reach 14°C which makes for a pleasant exploring temperature! The snow sitting on top and around the temples adds to the beauty of the place and the hot springs are incredibly appealing.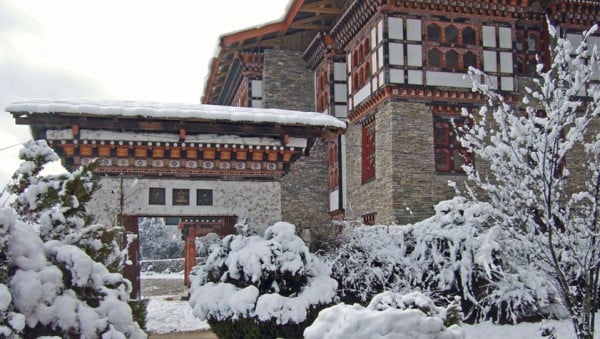 So, when is the best time to visit Bhutan?
We don't have a straightforward answer for you! It depends on what things to do in Bhutan you hold most important. If you prefer quiet places, then you should consider the wintertime. If you love festivals and vibrancy, Spring or Autumn may be for you. If you have your heart set on lush greenery, you'll need to stop by in the summertime. The temperature may also play a role and you should choose a season that best suits your preferences. But, this is the Himalayas and the weather can be unpredictable, to say the least. So pack for all weather conditions and enjoy yourself, rain or shine, on your Bhutan tour!