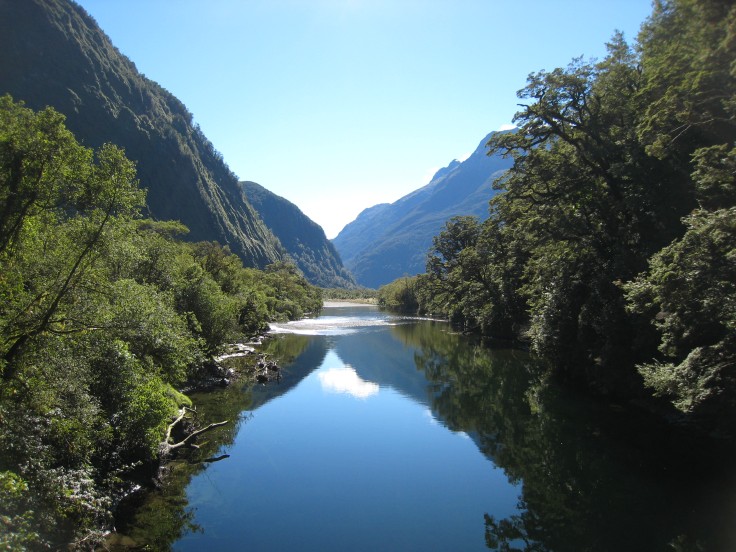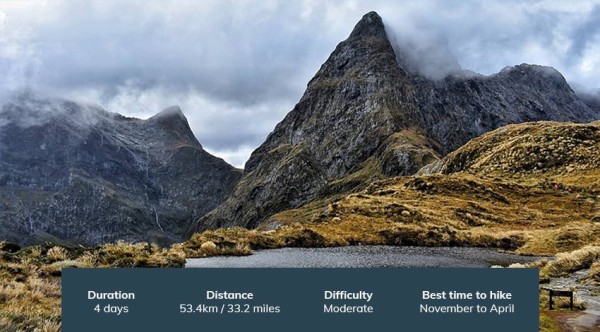 The 53.5 kilometre (33.2 mile) Milford Track is one of the jewels in the crown of New Zealand's extensive walking track system and the most famous and popular of its ten Great Walks. Located in the heart of spectacular Fiordland National Park on the South Island, it is part of the Te Wahi Pounamu South West New Zealand World Heritage Area. Over 12,000 people walk the track each year and about half of them walk it independently as a 3 nights/4 days trek during the summer.
The rest opt for the full-service 4 night/5 day guided option. You carry a large day pack (rather than a backpack with all your food and a sleeping bag), have a knowledgeable guide always on hand, and finish each day's walk with a hot meal, warm showers and sleep under a comfy duvet each night. If you can imagine this level of service for two weeks, have a look at our Manuka 14-day hiking tour, which includes the Milford Track Guided Walk as well as many of the best day walks on the South Island.
Skip to Weather | Fitness | Accommodation | Etiquette | Bookings | Guided Walk Guide | Extra background
Location: Where is the Milford Track?
The Milford Track is located in the southwest of New Zealand's South Island and starts at the head of Lake Te Anau and finishes in Milford Sound. Te Anau, the nearest township, has a full range of accommodation, shopping and hiking gear hire services. It is a 1 hour 45 minute drive from Invercargill, 2 hours from Queenstown, 3 hours 30 minutes from Dunedin and 8 hours from Christchurch.
Milford Track Map
Weather on the trail : When is the best time to hike the Milford Track?
The best time of the year to hike the Milford Track is during the hiking season, from late October to late April. October and November daily highs are around 13-16 degrees Celsius (55-61 F), and alpine flowers bloom all around. December to February are warmer and dryer but also busier, and daily highs around 18-20 degrees Celsius (64 – 68 F). Finally, April to May daily highs sit between 12-19 degrees Celsius (54-66 F) and the trail is a bit more quiet. But remember, The Milford Track is in Fiordland National Park, which has high rainfall and changeable weather. It is a small price to pay though, for hundreds of waterfalls cascading down the mountainsides during wet weather.
During the winter season (late April to late October) snow and avalanche danger (56 avalanche paths cross the Milford track) can make the track impassable. Please check current track and weather conditions at the Fiordland National Park Visitor Centre before departing on the track.

Fitness: Should I hike the Milford Track independently?

Going by yourself
Any reasonably fit person can walk the Milford Track. You will need to be able to carry all your own gear over rough rocky uneven surfaces, climbing and descending for up to 20 kilometres (12.4 miles) a day. It is an ideal trip for groups or individuals. The Milford Track is not recommended for children under the age of 10 due to the mountainous terrain and adverse weather conditions. Make sure all of your party is capable of undertaking the trip. Fording flooded waters up to one metre deep may be necessary after periods of heavy rain. Physical fitness and good equipment will make the difference to your enjoyment regardless of the weather. It is suggested you start a regular walking programme 1- 2 months before your departure on the track. This programme should include some practice at carrying your pack on hills or stairs.

Going guided
To enjoy your walk on the guided option, you need to be able to carry a relatively light backpack containing your personal belongings (see the recommended gear list below), a packed lunch and a sleeping sheet (both of which are provided) for 6-8 hours over 15-21kms (9-13 miles) of mountain tracks each day.
There is no pressure to walk with others or to keep up with the fastest walkers. There is always a guide at the rear of the party. The track surfaces vary from smooth well-formed paths to rough terrain broken by rocks and tree roots. There are steep rocky down hill sections and you may have to ford small streams and wade in deep water after heavy rain. We recommend wearing hiking boots that provide firm ankle support. If you are not a regular walker, we suggest you begin a daily walking regime 6-8 weeks before departure. Gradually increasing the distance you walk, carrying a backpack and staircase or hill climbing will leave you even better prepared to enjoy your challenge.

Accommodation and facilities on the Milford Track

Going by yourself
Backcountry huts
There are three Department of Conservation huts on the track: Clinton, Mintaro and Dumpling. Independent walkers are expected to leave the shared DoC huts clean and tidy, and take their rubbish out with them. In the winter season huts are supplied with tables and benches, water supply, stove for heating in main hut and pit toilets. In the booked walking season tables, benches, lighting, heating, cold running water and gas cooking rings are supplied in the main hut. Ablution blocks have flush toilets and wash basins. In both seasons walkers sleep in communal bunk rooms, mattresses provided - no lighting or heating. Conservation staff are in residence over the booked walking season. They are equipped with radios for use in emergencies and for weather forecasts. Camping or staying overnight in the rest shelters is not permitted on the Milford Track. Facilities for guided walkers are not available to independent walkers.
Toilets
Please use toilets at huts and shelters. If this is not possible bury toilet waste well away from watercourses. Remember drinking water at huts and shelters comes from rivers and lakes.
Going guided
Lodges & food
When you arrive at the clean, private lodges at the end of your day's walk (independent walkers stay at shared public huts), you will be greeted by the friendly Milford Track staff who will have afternoon tea waiting. After a hot shower, you can make use of hand laundry facilities and efficient drying room, before joining your fellow walkers in a board game or sing-a-long accompanied by the piano or guitar. Each night you will be served a sustaining three course meal, catered to you dietary needs. New Zealand wine is also served with the meal.
You are welcome to provide your own liquid refreshments if you want a night cap before sinking into your comfortable bunk bed in a shared room. Or ask to upgrade to a private room at time of booking, they are available at additional cost and tend to go quickly. Warm duvets and pillows are provided, but if they are not enough to take the edge of a cool night, you can warm your bed with a hot water bottle. The lodges have their own electricity supply. Hair dryers are provided, and flush toilets at the lodges add a little extra comfort. You'll start each day with a hearty breakfast and given a freshly packed lunch, which you'll carry.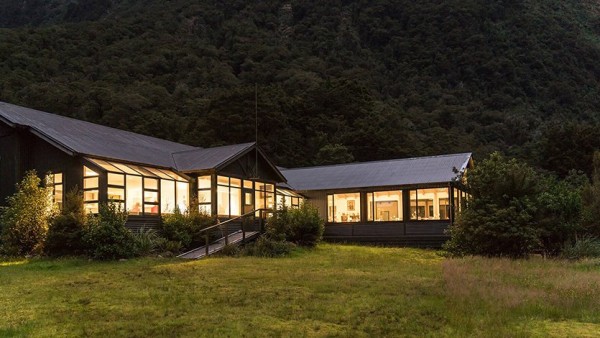 Quinton Lodge by Ultimate Hikes

Track etiquette and how to prepare
Travel Insurance
We recommend you arrange travel insurance to guard against loss of costs associated with cancellation or delay of your trip. The Department of Conservation will not be liable for injury, damage or any costs incurred by intending walkers. Emergency evacuation from the track can only be arranged by Conservation staff. For your own safety please sign hut books when you arrive. Know the symptoms of exposure. React quickly by finding shelter and providing warmth. If you become lost, stop, find shelter, stay calm and try to assist searchers.
Please Remember When Trekking in New Zealand
All native wildlife in the park is protected. To protect ground dwelling birds no dogs or other domestic animals are permitted on the track or in the park. All rubbish must be carried out of the park. Fire is a major threat and open fires are prohibited - please use portable stoves for cooking. Smoking is not permitted in the huts and shelters. A permit is required before a firearm can be carried into a National Park.

How to book the Milford Track

Going by yourself
You can book the Milford Track on the DOC website, around mid-June each year, but you better be quick: spots can disappear in a few hours for the full season. It's, after all, the finest walk in the world... You have to book all the huts and start in Te Anau (you can't decide your own itinerary or pace). Don't forget to book your transportation for the start and finish as well.
Going guided
Have a look at our 14-day hiking tour Manuka, which covers the entire Milford Track Guided Walk or the 5 day Great Walk Discovery Takahe for an alternative option - which hikes sections of Ben Lomond, Milford, Routeburn and Kepler tracks.

Milford Track Guided Walk : The complete guide
The Milford Track Guided Walk is an amazingly luxurious 5 day/4 night adventure - as far as multi-day hiking goes - traversing the heart of Fiordland National Park and a World Heritage area on New Zealand's scenic South Island. The Milford Track is the most famous and popular of New Zealand's nine renowned Great Walks, and taking the guided option means anyone with a reasonable level of fitness can do the "finest walk in the world" without having to carry a heavy pack, cook, or give up any of the comforts of home.
If you'd like to hike the Milford Track in its entirety, or experience the most famous sections of Fiordland's Great Walks and a handful of the most stunning hikes around the South Island, we recommend taking a look at our Takahe or Manuka trips.
Detailed Itinerary
Day 1: Queenstown to Glade House - 1.6km/1 mile, 20 minutes walking
Your Milford Track adventure begins at the rear of the Station Building, at the corner of Shotover and Camp Streets, Queenstown (9.15am check-in) where you'll catch a coach to Te Anau (departing 9.30am) arriving in time for a light lunch and a group photo. If you join the group in Te Anau, your briefing will be at 9.30am in the Centra Hotel. After lunch you drive to Te Anau Downs boat harbour, where a launch waits to take you up to the spectacular northern end of Lake Te Anau. From the wharf it is a short walk to historic Glade House, our first lodge, for a hot shower, a filling meal and a comfortable bunk.

Day 2: Glade House to Pompolona Lodge - 16km/10miles, 5-7 hours walking
After crossing the emerald green Clinton River, you follow it up the valley to the Hirere Falls lunch shelter. The beech forest gets more luxuriant the further you go, until it releases you on to the Prairie. From this meadow you can capture the true nature of the ice carved Clinton Canyon. It is a short climb to Pompolona Lodge from here.

Day 3: Pompolona Lodge to Quintin Lodge - 15km/9miles, 6-8 hours walking
This is the most demanding day, especially in inclement weather. The track leads to Lake Mintaro at the head of the Clinton Valley, before climbing the Mackinnon Pass in a series of zig-zags. Take your time. At the top you will be rewarded with endless views and lunch in Pass Hut. After the rocky descent into the Arthur Valley, you will welcome a hot cup of tea at Quintin Lodge. It should be enough to refresh you for the 90-minute round trip to the Sutherland Falls, the world's fifth highest cascade.

Day 4: Quintin Lodge to Mitre Peak - 21km/13 miles, 6-8 hours walking
Your final day on the track. You walk down the Arthur Valley to Boatshed for a cup of tea; on past MacKay Falls and Bell Rock, which was turned out of the river during a particularly violent flood, to the lunch spot at Giants' Gate waterfall. The final stretch of the track follows tranquil Lake Ada to Sandfly Point, where according to Maori legend the goddess Te Hine-nui-te-po released the sandfly to stop men lingering too long on the beauty of Fiordland. From here it is a short launch trip to Mitre Peak Lodge where you will enjoy a celebratory dinner.

Day 5: Cruise on Milford Sound, Transfer to Queenstown - No Hiking
After breakfast you will board one of the Real Journeys Milford Sound Cruises for a cruise on Milford Sound. Watch for dolphins and fur seals and pray for rain. (No-one believes us, but the waterfalls are absolutely incredible during a downpour!). Following the cruise, you start your spectacular journey through the heart of the Fiordland National Park to the Homer Tunnel and on to Te Anau. After a light lunch you will continue to Queenstown arriving at approximately 3.30pm. A spectacular option for the return is a scenic flight back to Queenstown this afternoon, retracing your steps from a bird's eye view.

Expert guides & Safety first
While on the Milford Track, you will be accompanied by the Track's own guides. They are trained outdoor enthusiasts who will explain the natural and human history of the area you are walking through. They pride themselves on their safe, efficient and friendly service, and provide everything from a warming cup of tea at lunch to an evening briefing on the following day's walk. All Milford Track guides are trained in first aid and are in portable radio contact with each other, the lodges and our Queenstown base at all times. Your safety is of paramount importance so your guides' decisions must be adhered to.

The compulsory briefing the night before departure
You must attend an essential briefing on the evening prior to the departure of your guided walk. Here they can answer any of your questions, issue you with a sleeping sheet, lend you a backpack and raincoat if you need them, and arrange your departure details for the following morning. It is your chance to meet you travelling companions and confirm any special dietary or medical needs with the Milford Track Guided Walk staff.
Please meet at 4.00pm at the Ultimate Hikes office, Level 1, The Station Building, corner of Shotover and Camp Streets in Queenstown. If you are unable to attend this briefing, it is essential that you advise us where you are staying in Queenstown so they can deliver a back pack, raincoat and briefing notes.

Gearlist: what you need and don't need to bring for the Milford Track Guided Walk
The following is a list of essential equipment. At the pre-departure briefing in Queenstown, you are welcome to borrow a raincoat, backpack, linens etc. for the walk, or you can bring your own if you prefer.

We do not recommend you walk in cotton garments, jeans or silk thermals. Perspiration means you are likely to feel damp and cold inside the best raincoat. We recommend you put all your clothing in plastic bags inside your pack liner for added rain protection. Keep your pack as light as possible while still taking the essentials. Hand laundry facilities (including drying rooms) are available in the lodges, so you really only need to wear one set of walking clothing and carry one set of clothes for the lodge. Remember, a lighter pack will enhance your experience.
Provided by Milford Track Guided Walk (free of charge, or you can bring your own)
Waterproof raincoat with hood
Backpack, 40-litre capacity
Plastic pack liner
Sleeping sheet with pillowslip
Towel
For Walking
Boots or strong walking shoes, preferably with ankle support
Wool or polyproylene thermal underwear (top and bottom) is essential
Warm hat
Wool sweater or fleece top
T-shirt for fine days
Gloves
Shorts for walking
Wool socks - two pairs
Sunscreen
Insect repellent
Water bottle
Camera
For Evenings
Shirt or sweater
Trousers, skirt or sweat pants
Underwear - two sets
Sandals or lightweight shoes
Pajamas or night wear (keep in mind you may be sharing a mixed-gender dorm)
Handkerchiefs, not tissues
Toilet requisites (soap, shampoo and conditioner are provided)
Optional items you may want to include
Sun hat and sunglasses
Swimsuit
Spare laces
Journal
Second skin for blisters
A bit of extra background about the Milford Track

History of the Milford Track
The early Maori of Southland and Otago likely travelled what would later become the Milford Track route in search of pounamu (greenstone) near Milford Sound. In 1880, Donald Sutherland, who was the first European resident of Milford Sound, added to Milford's reputation as the Eighth Wonder of the Natural World (according to Rudyard Kipling), when he discovered a spectacular waterfall (the 5th highest fall in the world) that he would name after himself.
In order for visitors to see Sutherland Falls, he started building a walking track up the Arthur Valley, but the rugged Fiordland coast greatly limited access to Milford Sound so finding an overland route from the great lakes of the interior became an imperative if Milford was ever to become a popular destination.
In 1888, Sutherland and others were commissioned to cut a track up the Arthur Valley as far as Sutherland Falls, while explorer/surveyor Quintin Mackinnon and his companion Ernest Mitchell were employed to cut a track up the Clinton Valley from the north end of Lake Te Anau. Persistent rain soaked them to the skin, wetted all available firewood and eventually caused a flood that washed away their provisions. After beating a retreat to Te Anau Downs for new supplies, Mackinnon and Mitchell returned to the valley and in October, 1888, they reached the head of the Clinton Valley, crossed the pass and continued down the Arthur Valley on the track cut by Sutherland, to Sutherland Falls and finally Milford Sound. The pass was named in honour of Mackinnon and the next two years were spent completing that first track.
Despite their efforts, in 1890, it was still a lengthy and fairly arduous journey to Milford Sound for visitors. It could take days to row up Lake Te Anau. Mackinnon was the first Milford Track guide and was long remembered for his good nature and ability at cooking pompolonas, a type of scone made from mutton fat candles which one of the guided trip huts takes its name, and did his best with kaka (a native parrot) and pigeon stew. He ferried parties in his sailing boat Juliet to the head of Lake Te Anau, then up over the pass to Lake Ada where another boat ferried them to Sutherland's accommodation house at Milford Sound.
Sutherland was also reportedly rather piqued the pass had eluded him for 8 years and he insisted on calling Mackinnon Pass "Balloon Saddle", adding that he could have discovered it at any time if he had wanted to. He regarded Milford as his own, and his rather brisk attitude towards city folk (or "asphalters" as he called them) is noted by many of the walkers who signed the visitor's book in the chalet he built at Milford in 1891.
The title 'the finest walk in the world' first accompanied an article by poet Blanche Baughan which was published in the London Spectator in 1908. In the early days packhorses were used to carry stores to the huts. Beyond Pompolona hut, a cleared area is an old horse paddock and stables site. It was not uncommon to be hut-bound by flooding for several days at a time. Old number eight wire and insulators visible along parts of the track are the remains of a telephone system that linked huts before radio communication was adopted. Then at the end of it all, you had to walk back the way you came until 1954, when the Homer Tunnel was cut and the Te Anau-Milford Sound highway opened. It took a hundred years of refining but these days more than 12,000 visitors hike the Milford Track each year to make it one of the most famous treks in the world.
The New Zealand Department of Conservation (DoC) manages the public huts on the Milford Track and it's by far the most popular of its ten Great Walks. In 1992, it sold the license to operate the guided walk, which accounts for about half its visitors. The new operators, known as Ultimate Hikes, invested extensively to upgrade the facilities, build their own accommodation along the track, and are now the exclusive commercial operators for the Milford Track Guided Walk.
Flora and Fauna: What to look for on the Milford Track
For the last two million years huge glaciers have shaped the landscape of Fiordland. They have left behind U-shaped main valleys, ice-gouged ledges and the hanging valleys of tributary streams. These formations are well preserved because of the hardness of the mainly granite, rock.
Silver, red and mountain beech forest dominates the lower Clinton, with colonising species such as fuchsia, wineberry, broadleaf and mountain ribbonwood common around slips and avalanche paths. Beyond Mintaro the track climbs above the forest through sub-alpine scrub and into the tussocks and alpine herb communities of the pass. In early summer the white flowers of the mountain buttercup Ranunculus lyallii, mountain daisies and snow marguerites can be seen. From the pass the track drops through a shrubland zone which includes mountain three finger, the tree daisy Senecio bennettii (with yellow flowers), and a native broom Carmichaelia grandiflora, which has sweetly scented mauve flowers. The higher rainfall and milder temperatures in the lower Arthur Valley produce a more diverse forest, which includes silver beech, kamahi, miro, totara, fuchsia, mahoe and pate. Ferns, mosses and lichens are abundant around the track.
Common bush birds are bellbirds, tomtits, grey warblers, and rifleman. Brown creepers are often conspicuous near the bushline, while robins prefer beech forest in the lower Clinton. Yellowheads are scattered through each valley. Flocks of redpolls and silver eyes feed in more open areas, and occasionally a falcon may be seen. Rock wrens inhabit the subalpine scrub and kea are common on the pass. Brown kiwi, kaka, weka and morepork are often heard calling at twilight. During the summer, calls of the long-tailed and shining cuckoos may occasionally be heard. Rare blue ducks live on the fast-flowing Clinton and Arthur Rivers.