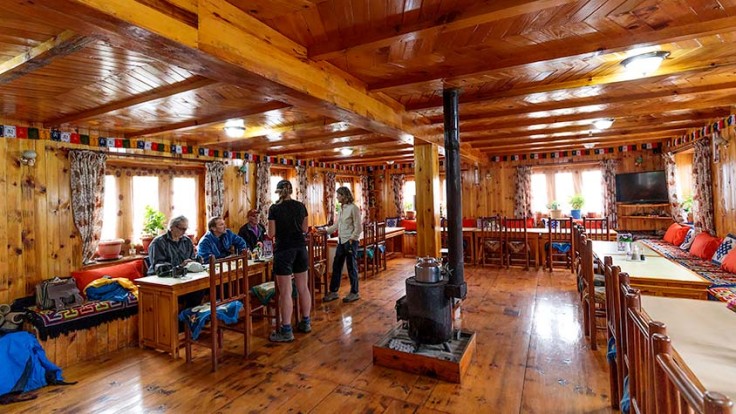 When visiting the Himalayas, you'll get as much of a buzz from the vibrant Nepalese culture as you will from the grandiosity of its mountains. As we guide you through the vast mystical beauty of the Himalayas; the numerous ascents and descents, this impressive and majestic country will take your breath away - literally!
The beauty of the Himalayas is in their unique rustic, calm, tranquility; an unperturbed natural aura - it's no wonder then, that tests show this mountain range is geographically alive, growing a quarter of an inch every year! The name Himalayas means 'house of snow', and according to Hindu Mythology, the God Shiva who resides in the Himalayan Mountains holds a purifying power. This power is held on a personal and universal level and Shiva has also been known to help shed old habits and attachments.
From the challenging aspects of the various trails, to sharing a cup of tea with your new found companions, whilst exploring some of the most diverse terrain in the world, words really cannot describe that moment of zen you'll feel as you immerse yourself in the Himalayas. Some say you'll get a sense of a spiritual enlightenment as you take in the sights and sounds.
There will be many moments on your journey that will simply take your breath away, and in the 20 years that we've been running hiking adventures all over the globe, the Himalayas is still one of the most epic places that we have visited on Earth.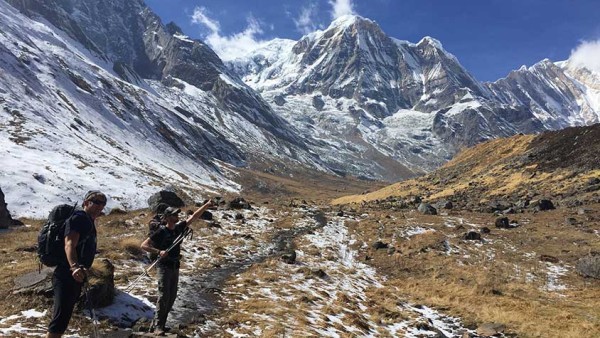 So what are these breathtaking facts/moments/places?
Mount Everest Base Camp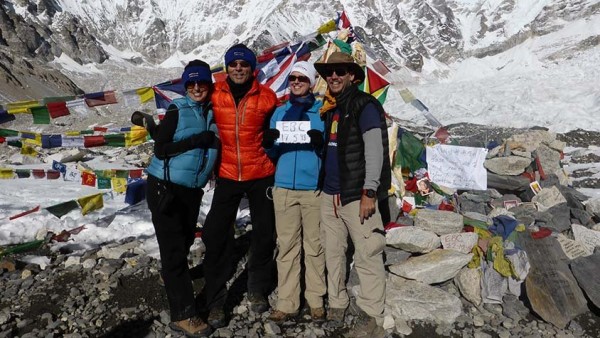 Everest holds a pretty special place in our hearts, as New Zealand's very own Sir Ed Hillary, alongside Tenzing Norgay from Nepal, conquered Mount Everest on 29 May 1953. The Nepalese call the Everest mountain Sagarmatha, "goddess of sky", while the Tibetans call it Chomolungma, "mother goddess of the universe". Hey, nowadays you can even tweet from the Mountain!
On the Everest Base Camp trip (and our other Himalayas adventures) you'll get to trek with one of our awesome kiwi guides. Having an Active Adventures New Zealand guide alongside the Nepali team of porters is a huge advantage and helps to bridge the gap between cultures. You'll learn to interact with the Nepali a lot faster and we'll ensure nothing is lost in translation!
Of course, we'll also keep a close eye on your acclimatization, so that you can fully enjoy one of the most rewarding hiking expeditions you will get to experience in your lifetime. With an impressive climb culminating at 5,364 meters (17,598 feet), you'll be absolutely thrilled and in awe once you reach Everest Base Camp. Head over to our page all about Everest Base Camp to find out more.
Annapurna Base Camp
Trekking the Annapurna Sanctuary will definitely give you that surreal breath-taking moment. You'll get to absorb the wonderful views of this extraordinary rich countryside as you hike to the Sanctuary. A high glacial basin lying 40km directly north of Pokhara, this natural amphitheater is made up of three Annapurna mountains; South, South 1, and South 2.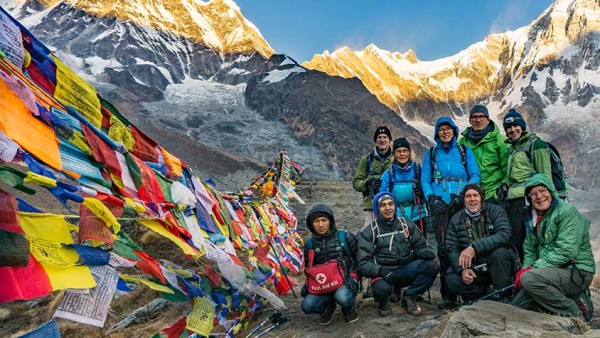 A unique combination of its height, along with only receiving 7 hours of sunlight per day, the Annapurna Sanctuary has a wide variety of ecosystems, which we think is pretty cool. The first few days of your trek will follow glistening streams up plush valleys, passing through dense transcendent Rhododendron forests and the charming Gurung villages of Ulleri, Gorepani and Chhomrong. As you climb to 4,130 metres (13,549 feet), you'll feel an intense achievement at reaching this point, a true accomplishment for any avid trekker. The scale of these incredibly challenging peaks of Annapurna South, Hiunchuli, Annapurna 1 and Machapuchare is truly humbling.
Tea Houses
Tea Houses The Nepalese word for "Tea House" is Bhatti; a place to reside at the end of the day to stay overnight. The Tea House is a well-mixed combination of a guest house, restaurant and social hangout. The Tea House is also the family home therefore this welcoming dwelling is seen as a home away from home. Now it's not just about the quality of tea, but the quality of the people running them, so be sure to say 'namaste' when greeting your hosts. Place the palms of your hands together in prayer position, you can do this without a word but just a slight bow to the head which will mean, 'namaste', 'I bow to you'.
Tea houses give you a great opportunity to people-watch. Your first Tea House on the Annapurna Sanctuary Trek will be at Kyumi, where, if you're lucky, you'll get to see the multi-tasking Langur monkey, this funny little character lives off tree leaves. Later on the trail you'll be at another Tea House in Deurali, your closest point to Machapuchare; the warm hot fire will be your saving grace once you reach this point.
Between Deurali and Machapuchare Base Camp you'll be taken aback by the awe-inspiring panoramic views of the Annapurna massif peering through! There are only a few places on Earth that can match the peaks of Annapurna South, Hiunchuli, Annapurna 1 and Machapuchare – and you'll get to witness them first-hand!
Culture
The culture of Nepal is unique, with a multi-dimensional heritage that encompasses a full range of ethnic diversities. Legend has it that 'dance' in the Nepalese culture originates from Lord Shiva, where he performed the Tandava. The Tandava dance is described as an energetic routine that is the source of the cycle of creation, preservation and dissolution.
The two religions in Nepal are Hinduism and Buddhism, the various festivals relating to these religious beliefs are celebrated continuously throughout the year. The music, the vibrancy, the local delicacies and the colours are something quite extraordinary. The powerful music of Nepal is an integral part of this amazing culture.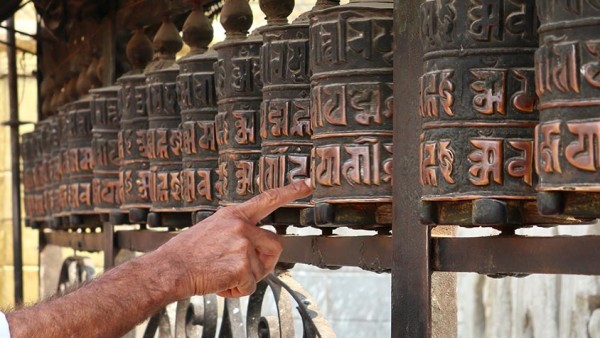 An old folk tale of Nepal, tells us that the legendary Abominable Snowman also resided here; commonly known as the Yeti, Bigfoot or Sasquatch. Sightings of this large ape-like creature have been reported over the years, however no tangible evidence has been found yet. Although Tenzing Norgay's father did have some probing evidence that supported this claim. When you are in Nepal we want you to have a great understanding of the Nepalese way of life. By showing simple gratitude to Nepali customs, you will show value and trust, helping to create a sustainable relationship between you as the traveller and the local customs and traditions of the Nepalese people.
If you're ready to check out these incredible parts of the Himalayas for yourself, check out our Himalayas trips here and everything you need to know about travelling to Nepal here!