Iceland is a hiker's paradise. Its vast wilderness calls to be discovered, and with endless hidden waterfalls and landscapes to explore, one could spend a lifetime hiking and not tick off all the trails. However, even if you don't have years to wander remote Iceland, you can still hike many of its stunning landscapes in just one to two weeks with the right guides. If you're ready to conquer the dramatic landscapes of Iceland, check out our list of best day hikes and best multi-day hikes in Iceland and start planning your hiking Iceland adventure today!
Best Day Hikes in Iceland
1. Glymur Waterfall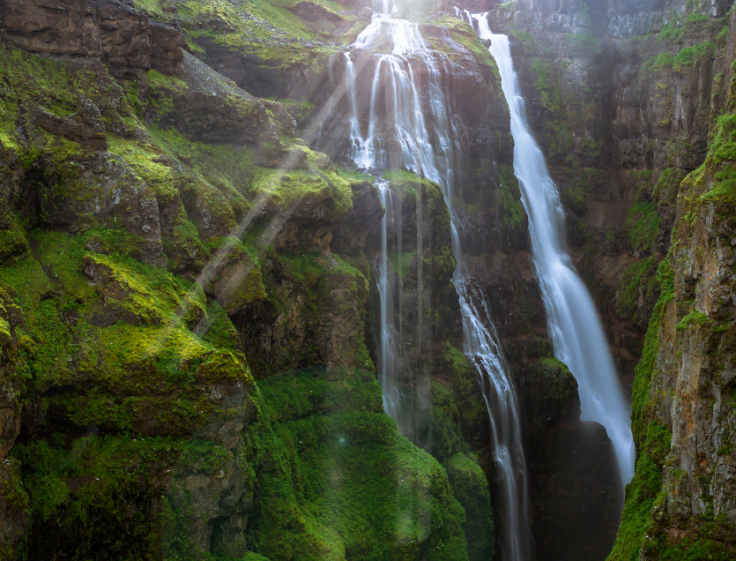 Photo by Marcus Berberich/ Getty Images
Time: 3 to 4 hours
Length: 3.8 miles (6.1 km)
Difficulty: Moderate
Step for step, this is one of the most breathtaking hikes in Iceland. Following the valley of Hvalfjordur, you'll meander through a cave, across a log placed over the Botnsá River and up the side of a cliff until you reach the second-highest waterfall in Iceland - sitting at 198 metres (650 ft) tall. From here, you'll be rewarded with endless views of Hvalfjordur valley.
As the path can be slippery in some places, you'll want sturdy trail shoes. Otherwise, it's a reasonably easy hike as long as you have a good level of fitness. Be sure to bring along plenty of snacks, but feel free to fill up your water bottle in the river.
2.
Eldfell Volcano
Photo by Sergey/Getty Images
Time: 1 hour
Length: 1.2 miles (2 km)
Difficulty: Easy
See for yourself the destructive power of Mother Nature as you hike to the peak of Eldfell Volcano ('Fire Mountain' in Icelandic) on Haeimaey of the Vestmannaeyjar Islands. Impressively new, the mountain formed in 1973 when an unexpected volcanic eruption began spewing lava on the outskirts of town. This continued for six months until finally, the eruption came to an end, leaving a trail of destruction in its place.
Having cooled, it's now possible to hike to the peak of Eldfell Volcano, where you'll be rewarded with views across to the mainland and down into the scarred town of Haeimaey. At the top, be sure to stop and take a look around. Hot and steamy crevasses are still found, along with red lava cooling to this day.
3. Reykjadalur Valley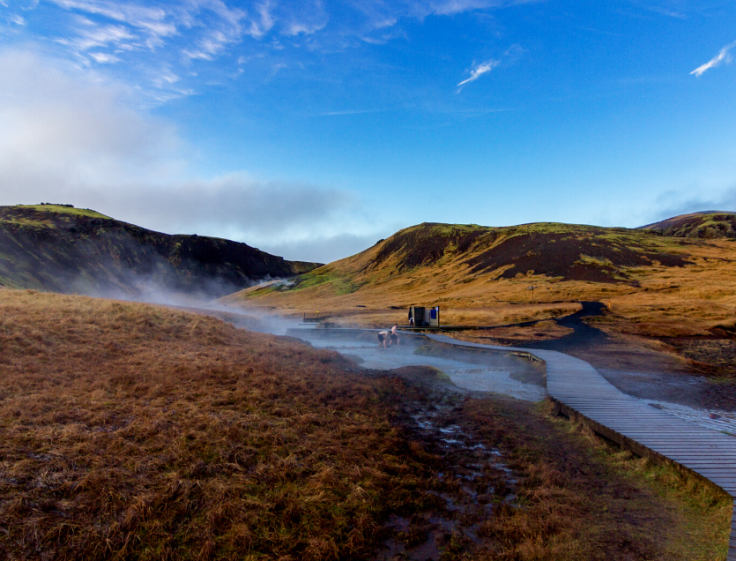 Photo by Julen Arabolaza/Getty Images
Time: 3 hours + bathing time
Length: 3.7 miles (6 km)
Difficulty: Easy
For a true, all-natural 'Viking bath', hiking up Reykjadalur Valley is a must - because what's better than enjoying a mid-hike bath to refresh and enjoy your surroundings before heading back to civilization? Reykjadalur, meaning "steamy" in Icelandic, gets its name for obvious reasons. Being located in an active geothermal area, the valley is filled with springs, mud pools and an iconic hot river that's perfect for bathing.
The hike itself is relatively easy and takes about an hour and a half to reach the best bathing areas. You'll know you've arrived at the perfect spot when you see bridges built on each side of the river, giving easy access to the water. The hike isn't just about the hot river either; as you hike back down, you'll enjoy stunning views over the South Coast, and with clear skies, you can even spot the Westman Islands.
4. Ingólfshöfði Headland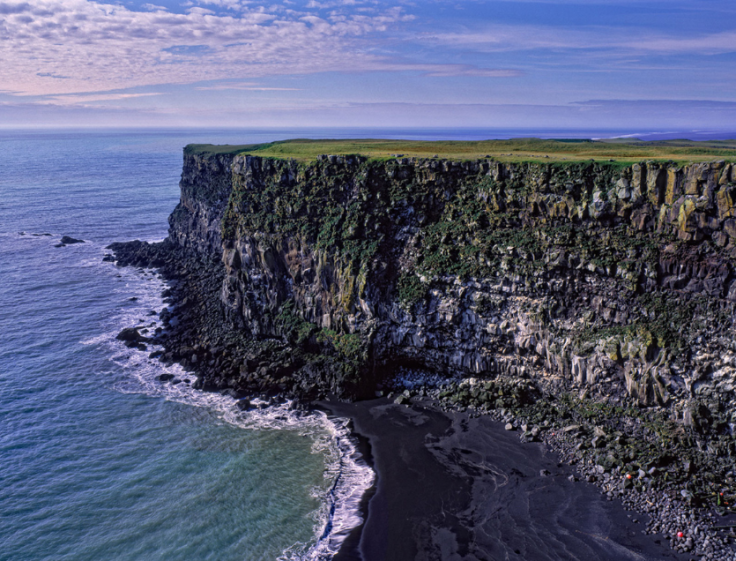 Time: 2.5 to 3 hours
Length: 1.9 miles (3 km)
Difficulty: Easy
If spotting puffins playing along the Icelandic coastline is on your bucket list, Ingólfshöfði Headland is the place to do it. Located beautifully between black sand beaches and the Atlantic Ocean, birds of all shapes and sizes, including puffins, razorbills, kittiwakes and fulmars, come here to fish the rich waters.
As the headland is located in a private nature reserve, you need permission to visit. Or, join a group tour that includes a very knowledgeable guide who knows just where the puffins enjoy hanging out and who provides plenty of local knowledge. Once you've reached the cliffs, enjoy a gentle hike along the coastline and see puffins sitting on nearby rocks.
5. Seljalandsfoss, Skógafoss & Kvernufoss Waterfalls
While technically, these are three different hikes, we've grouped them together as they can easily be done in one day. Located on the southern coast about two hours from Reykjavik, it's well worth spending time to visit all three waterfalls, each with its own unique characteristics.
Seljalandsfoss Waterfall - 1.2-mile (1.9 km) loop trail brings you to the base of the 60 metres (197 ft) waterfall. Be sure to bring rain gear for the full experience of walking behind the waterfall and letting the refreshing mist wash over you.
Skógafoss Waterfall - located just off the road, it only takes a few minutes to walk to the base of the waterfall. Being one of Iceland's largest waterfalls, at 60 metres (197 ft) tall and 25 metres (82 ft) wide, it's hugely impressive to watch the powerful water crash down. For those wanting more adventure, hike up the 500 some steps to get to the observation platform above Skógafoss.
Kvernufoss Waterfall - the neighbour of Skógafoss, Kvernufoss doesn't look like much from afar. However, after hiking for 20 minutes through a mystical gorge, you'll see the true magic of the waterfall. Especially as you'll likely have the trail all to yourself and can even walk behind the waterfall.
Best Multi-Day Hikes in Iceland
1. Víknaslóðir Trail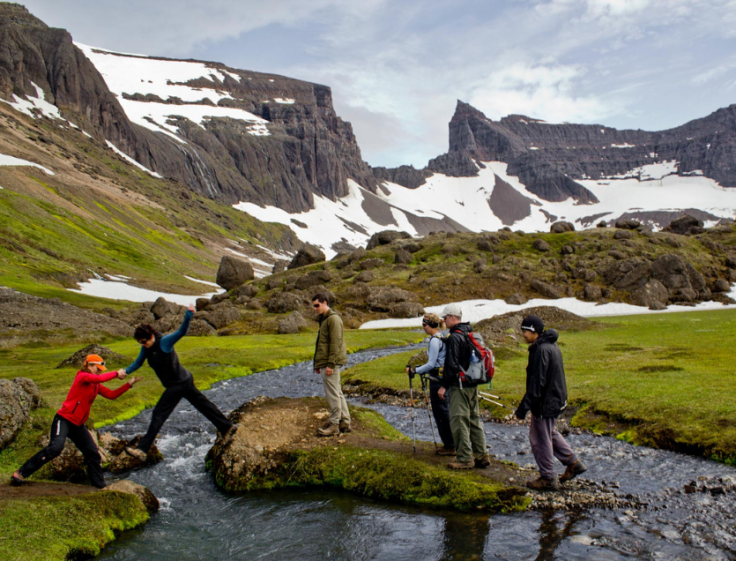 Time: 1 hour to 5 days
Length: Up to 50 miles (80 km)
Difficulty: Moderate
As the Víknaslóðir hiking trail is not a set trail, you have the freedom to wander around at your pleasure. Stick to day hikes and return to your lovely accommodation each night, or pack a bag and hike the longest section, which stretches 50 miles (80 km) and takes around five days.
If you choose to go guided with Active Adventures, your journey will begin at the Loðmundafjörður hut. From here, journey along the impressive Loðmundafjörður valley until you reach Inlet Húsavík. The valley used to be home to some of the most remote farms in Iceland, and ruins can still be seen along the trail today.
After spending the night in a quaint cabin, you'll head further north over a low mountain range towards Inlet Breiðavík. Here you'll find absolutely nothing, in the most magical wave possible - simply a cosy cabin surrounded by a stunning green valley with the Atlantic Ocean at your doorstep.
2. Kjolur Trail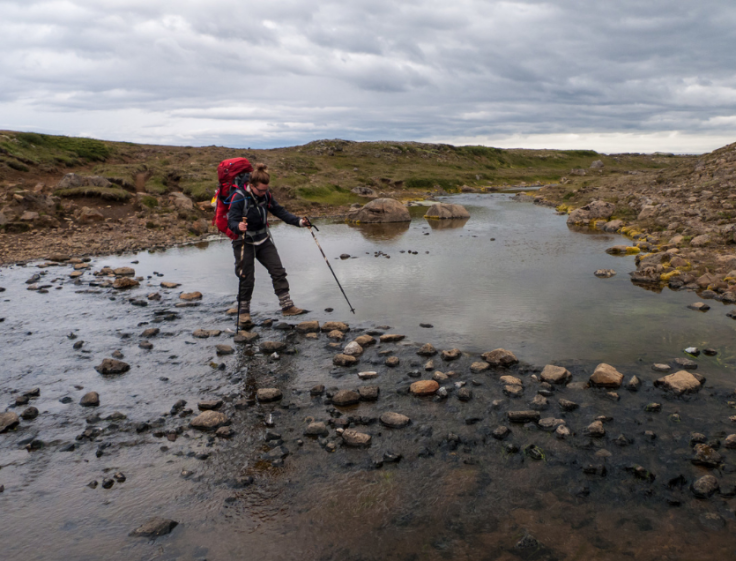 Photo by Jurriaan Persyn/flickr
Time: 2 to 3 days
Length: 30 miles (48 km)
Difficulty: Challenging
Nicknamed the haunted highway, this is a hike for those who like to challenge themselves physically and mentally. Wedged between glaciers, the Kjolur trail is just under 30 miles (50 km) long and connects the North and South of Iceland. Besides the tricky terrain, it's the variable weather that causes the most challenge. The trail is known to have unforgiving weather conditions, with harsh winds and intense storms seemingly coming from nowhere.
The hike itself takes between two to three days and extends from Hvítárnes to Hveravellir. If you're not experienced, it's best to go with a local guide who will ensure you have all the necessary gear and safety equipment and won't get lost should a storm come in.
The best part, at the end of the trail in Hveravellir, there are hot springs just waiting to be soaked in!
3. Laugavegur Trail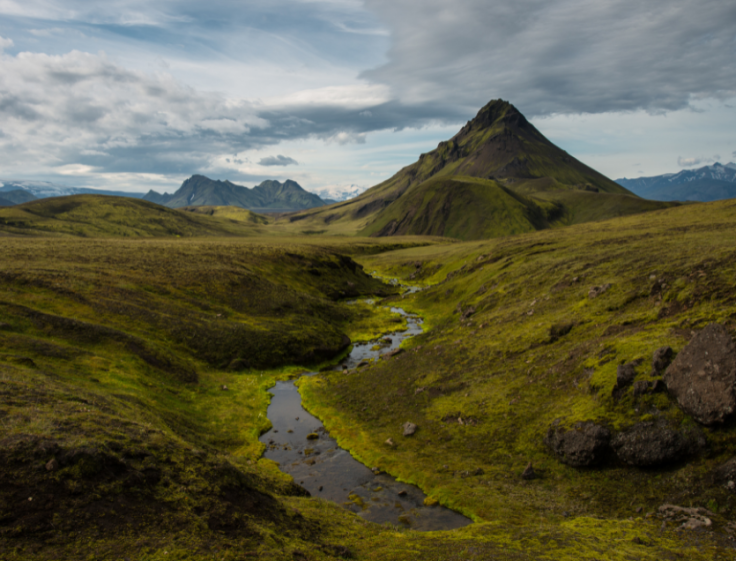 Photo by aufzehengehen/Getty Images
Time: 4 to 6 days
Length: 77 km (47.8 miles)
Difficulty: Challenging
Named one of the world's best multi-day hikes, the Laugavegur Trail is located in southern Iceland and takes you through an astonishing array of landscapes. Starting in Landmannalaugar, in the heart of the Southern Highlands, you'll journey along fairy tail like green valleys and over mossy ridges before arriving in the forested valley of Þórsmörk.
With basic huts spread out along the trail and no WiFi or reception, this is a true back-to-nature experience. Be sure to pack properly, bring extra food and always tell someone when you're expected off the trail. If you'd like an even greater challenge, continue onto the Fimmvorduhals trail, which crosses between three glaciers and passes by the Eyjafjallajökull volcano before ending at the famous Skógafoss waterfall.
Tick off some of the best Iceland hikes on an Iceland adventure tour
Ready to explore the vast wilderness of Iceland? Let's plan your Iceland Adventure now. We'll take you from iconic waterfalls to deep in the Eastern fjords. Plus, with two local guides and all your transport and accommodation sorted, you can see the best of Iceland in just 11-days. Without having to worry about a single detail!