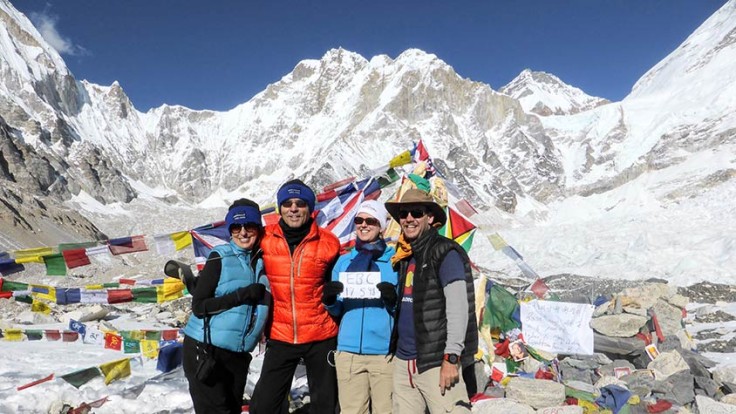 Everest Base Camp represents either an origin or a destination for all trekkers who visit. For those looking to summit the world's highest mountain, it is an origin - a safe haven, the last place of real comfort and luxury (comparatively speaking) between themselves and the biggest physical and mental challenge of their lives. For those on a trek to Everest's Base Camp, as opposed to a climb to her summit, it is their destination. Reaching Everest Base Camp represents a physical, emotional, and geographical high point on a challenging trek to one of the most sought after 'bucket-list destinations on Earth.
Here we're telling you all about Everest Base Camp itself, the history, how big it is, the facilities, and the views you can expect when you get there. If you're more interested in finding out about the trek to Everest Base Camp, the trip itinerary, the required fitness, the best time of year to visit, and more, then you should head to this page instead.
Skip to: There are 2 Everest Base Camps! | When was Everest Base Camp established? | How big is Everest Base Camp? | Views from Everest Base Camp | How to get to Everest Base Camp | What if there's an emergency at Everest Base Camp | More info about our Everest Base Camp trip
Trekkers to Everest Base Camp spend a long time getting fit for the trek, they spend time and considerable effort on the trek itself, and they usually also spend several days en route acclimating to the thinner air, all to give themselves the best chance of reaching Everest Base Camp. So why? What's so special about Everest Base Camp that makes all this effort worth it? Let's find out.
Did you know there are 2 different Everest Base Camps?
That's right, there's two of them. North Base Camp on the Tibetan side of Everest, and South Base Camp, in Nepal. North Base Camp is less commonly visited, even though it sits at a lower elevation (roughly 5200m/17,060 feet) than the Nepal Everest Base Camp, and access to within a few kilometres can be gained by road.
There are several reasons why the North Everest Base Camp is less commonly visited than its Nepali counterpart, but it comes down to a few main contributors. Firstly, North Everest Base Camp is less developed for tourism with only very rudimentary facilities – and emergency medical care can be far more difficult to access there. This brings us to another reason for North Everest Base Camp's lower visitor numbers - there are no helicopter rescues for climbers above Base Camp on this side of the world's tallest mountain (and the climbing routes on this side are, in many cases, more technically challenging).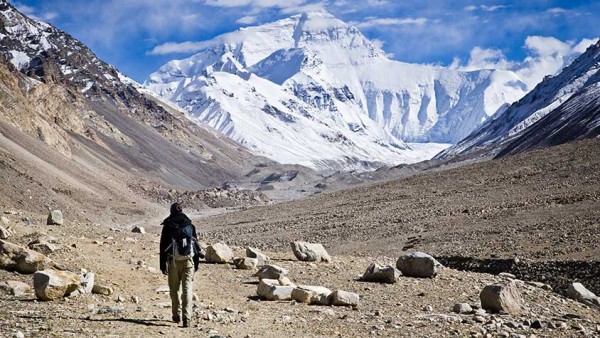 Approaching North Everest Base Camp in Tibet
There are numerous commercial operators at Everest's Base Camps, but the majority choose the safety net of helicopter access as high as Camp 2, which means the Nepali side is their preferred operating base.
South Base Camp is likely the camp you've seen in all the photos you've looked at whilst dreaming of visiting Everest Base Camp. Sprawled out on the west side of the Khumbu Glacier, this camp is well established, and abuzz with activity from international teams, commercially guided operations, and independent trekkers beginning their journey to the top. The South Everest Base Camp is where our Everest Base Camp trekking itinerary will take you, under the supervision of a team of Kiwi and local guides, and Nepalese porters – and is the pinnacle of a visit to the Khumbu region of the Himalayas.
The trekking journey from Lukla Airport up to South Everest Base Camp is stunning, and a big part of the physical, emotional, and social journey of the trek to Everest Base Camp. You'll pass through numerous villages, as well as the Sherpa capital of Namche Bazaar, and have endless opportunities to interact with the Nepali people. We'd argue that this should be your reason for choosing this route to South Everest Base Camp over the northern route to the Tibetan alternative.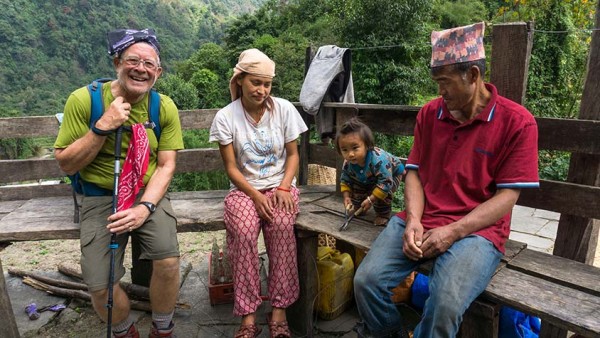 South Everest Base Camp is located at an elevation of 5,364 metres (17,600 feet), and around 2 hours' trek from Gorak Shep, which is the launch point for a trek to the summit of Kala Patthar for unsurpassed views of a Himalayan sunrise, the Khumbu Glacier, Nhuptse, Lhotse, Pumori and Everest.
When was Everest Base Camp established?
The first time a recognised base camp was established on the Nepali side of Everest was by Sir Edmund Hillary's party, led by Colonel John Hunt. On that occasion – the occasion of the first successful summiting of the world's highest mountain incidentally – they established base camp a little higher than its position today, much closer to the foot of the Icefall. The Khumbu Icefall above today's Everest Base Camp is a fast-moving frozen river that was likely to have been much further up the glacially carved valley in 1953 – allowing the famous climbing party a closer look at the Western Cwm from which the Icefall flows.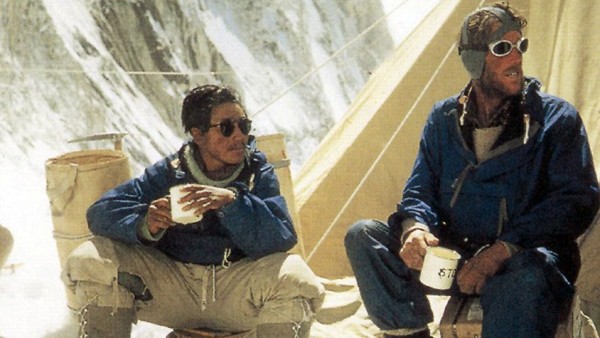 Tenzing Norgay (left) and Edmund Hillary at Everest Base Camp (image courtesy of boston.com)
It's important to remember though, that there were other attempts on the summit prior to Hillary's success, most notably by George Mallory in 1921, 1922, and 1924, his attempts, however, were made from the north side in Tibet - their is still much controversy around whether Mallory reached the summit before he died on his final expedition in 1924. On the Nepali side there were numerous 'scouting' expeditions to Everest prior to Hillary and Tenzing Norgay's success, in search of routes both through the Icefall, and beyond to the summit. It is unclear where those scouting parties established base camps, but it's likely that Colonel John Hunt and his team based their choice of location on the shared knowledge and experience of these previous parties, alongside their own knowledge and experience of the Khumbu region.
The small settlement of Gorak Shep, around 2 hours trek below today's Everest Base Camp on the Nepal side, used to be the traditional base camp for Everest itself. Today it is more often the overnighting spot for trekkers after they've visited Everest Base Camp. Gorak Shep is an ideal starting point for a climb to Kala Patthar for sunrise, the high-point of most Everest Base Camp trekking itineraries, including ours – and an amazing opportunity to gain a panoramic view of the Khumbu region, Pumori, Nhuptse, Everest, and Ama Dablam.
How big is Everest Base Camp?
Everest Base Camp in the peak climbing seasons is like a small town. There are often over 1000 tents for teams of climbers with commercial, private, and independent expeditions. It is not possible for trekkers to Everest Base Camp to spend the night there, so these tents all house either those dreaming and aspiring towards the summit or playing a supporting logistical role in the attempt.
Everest Base Camp is laid out on the glacial moraine on the west side of the Khumbu Glacier, or on the scree-covered glacier itself - and so it's a rocky, lunar landscape. For that reason it's extremely difficult to find flat ground to pitch a tent, or a group of tents in most cases – which is why the area covered by Everest Base Camp is considerable, and changes every season.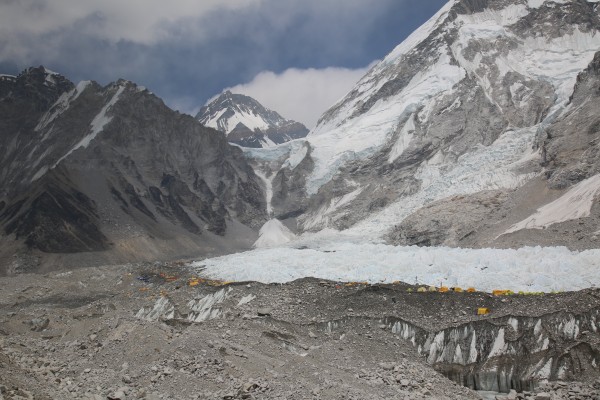 Views from Everest Base Camp
The views from Everest Base Camp are nothing short of spectacular. You're in the world's biggest mountain amphitheatre, and the steep walls on three sides are lined with hanging glaciers, moraine walls, and icefalls - merciless mountainous terrain that you'll be glad to appreciate from a safe distance!
As Base Camp stretches out over several kilometres, you'll likely take in the lower part of the permanent camp. From there you can look directly across the valley to the scree-covered Khumbu Glacier, and up the steep sides of Nhuptse, which forms one of the two natural pillars between which the Khumbu Icefall flows. You'll be struck by the magnitude of an Everest summit challenge when you survey Nhuptse and remember that it's almost 1000m (3000 feet) shorter.
Further up the valley beyond the highest part of Everest Base Camp you'll see the menacing teeth of the lower Khumbu Icefall, the first major challenge for those aiming to summit. The Khumbu Icefall is a fast moving frozen river flowing out of Everest's Western Cwm, and its ever-changing landscape means the area is responsible for many of the deaths on the mountain.
On the Camp side of the Khumbu Icefall is the second natural pillar, the West Shoulder, the other side of the valley to Nhuptse, dissected by the frozen flow of the Icefall. It is an easy mistake to make to assume that the tip of the West Shoulder is the summit of Everest, particularly being in the foreground and looming so large. However, the summit is hidden behind the West Shoulder, and not visible from Everest Base Camp – we'll get to see it from Kala Patthar the following morning, along with Nuptse, Ama Dablam and a wider perspective of the Icefall.
Finally, the third side of the amphitheatre into which we've spent the last 9 days hiking is dominated by the ridge-summit of Kala Patthar, and the connected peak of Pumori. Like all its siblings in the region, Pumori is covered with glaciers; they descend almost as far as the ridge at Kala Patthar. It was from these hanging glaciers that the fatal avalanches of 2015 swept through Everest Base Camp and across the Khumbu Glacier.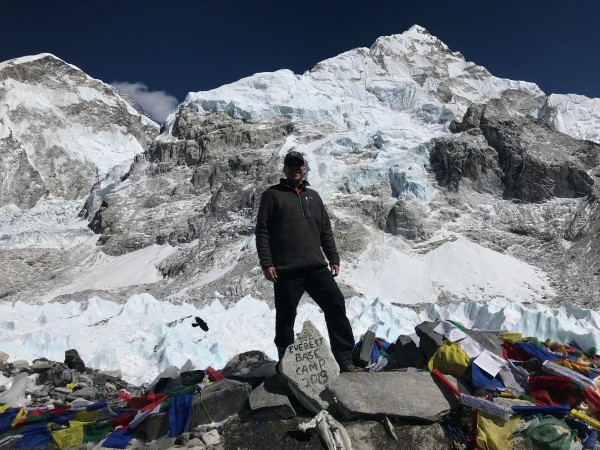 How to get to Everest Base Camp
It is possible to trek to Everest Base Camp independently, as long as you obtain the required permits. However, we'd advise always travelling with someone who has experience of both the region, and of the symptoms and treatments of altitude sickness. If you're interested in a trek to Everest Base Camp, and are already aware of the importance of travelling with the experts, then check out our page with everything you need to know about trekking to Everest Base Camp.
Alternatively, you can travel by Helicopter from Lukla or Kathmandu, directly to Everest Base Camp. However you'd miss a massive opportunity, and the single most special part of an authentic Nepali trekking experience – the people. Besides, celebratory drinks taste all-the-sweeter when they're earned. And a trek to Everest Base Camp definitely counts as earning it!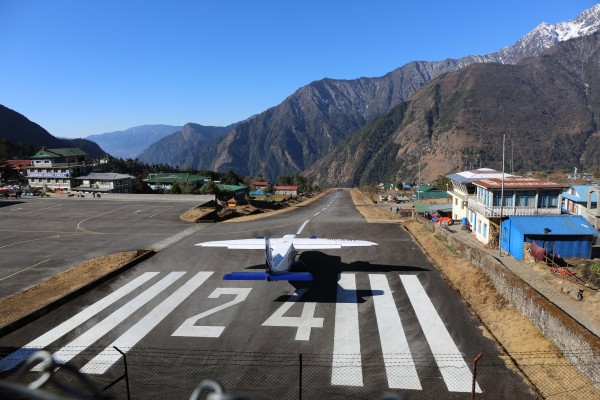 What happens if there is an emergency at Everest Base Camp?
Health and safety is the number one concern for our guides, Kiwi or local, and our porters. Your safety is our number one priority and we have an outstanding safety record. Our guides have extensive experience of the various ways people react to altitude and what to look out for, and this is probably the most important reason to travel with an English-speaking, medically trained guide.
In the unlikely event that there is an emergency whilst in the vicinity of Base Camp your guides are well-equipped to react quickly and efficiently. They carry satellite phones which allow them to make direct calls to the Operations Manager of Active Adventures even without cell reception, who can then set the wheels in motion on the necessary next steps. All guides also have cell phones and Nepali sim cards, and reception tends to be consistently good – they can stay in contact via instant messenger with our team at HQ in Queenstown, which allows us to keep everyone in the loop as the situation progresses.
Helicopters have no problem landing near Base Camp or the nearby Gorak Shep, or it may simply be a case of transporting the individual to lower altitude on horseback, to be closely monitored by one of our trained guides.
With regards to travel insurance, we always insist that our guests purchase a policy, you won't be allowed to join our adventure without it. But we also recommend very strongly that you consider a policy that covers helicopter evacuation and international flight delays/cancellations. Bad weather around Lukla can mean flights back to Kathmandu are cancelled, which in turn can make it necessary to reschedule/cancel outbound international flights. So we always urge our guests to consider this when they're buying an insurance policy.
If you're interested in trekking to Everest Base Camp or in the Everest Region, but without the higher altitudes, you should check out our Everest Base Camp Tours.