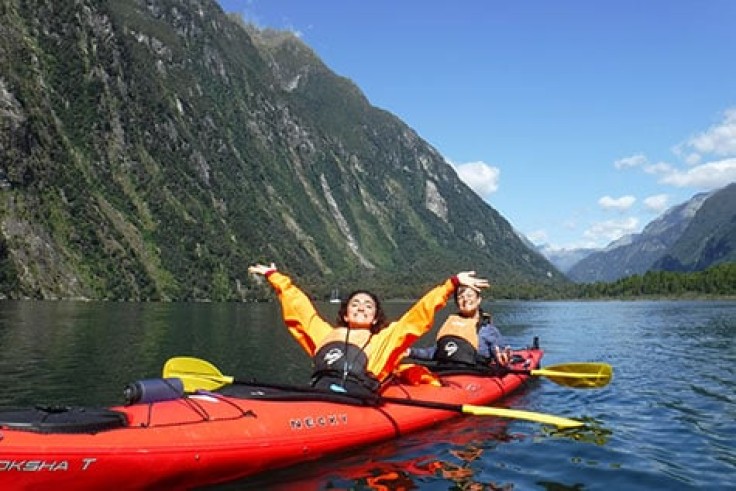 Are you planning a vacation in the land of the long white cloud? Well, here are a few of the must sees in New Zealand that, mixed with a sample of our best hikes, will guarantee you a vacation you won't forget any time soon. From sandy beaches to dramatic fjords and lush green rain-forests, you'll be amazed of how diverse this country can be.
1. Explore the 8th Wonder of the World... by kayak. (Milford Sound)
Rudyard Kipling called Milford Sound the 8th wonder of the world, and if that's not enough, it was voted the world's top travel destination in an international TripAdvisor survey in 2008. Most people take a Milford Sound boat cruise, but we prefer to meet the local wildlife while paddling among the incredibly steep forest-clad mountains, with more than their fair share of waterfalls, plunging almost vertically into a deep fiord. If you've never kayaked before, there's no better place to start and if you're a seasoned paddler, this place will feel like the first time all over again. Just be warned, it might just spoil you for kayaking anywhere else.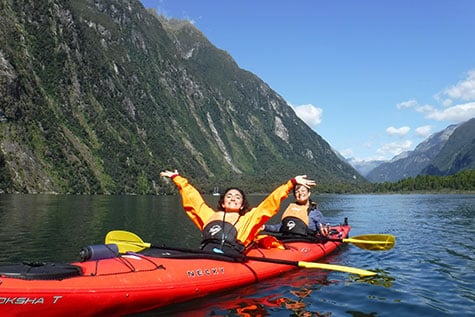 2. Hike to the 8th Wonder of the World. (Milford Track Guided Walk)
Milford Sound is so special it really is worth mentioning twice. New Zealand is a hiker's mecca with an extensive network of well-maintained trails and wilderness huts in epic-movie-worthy scenery with nothing out here that can really harm you (ie. no snakes, bears, mountain lions, scorpions, disease carrying insects, etc). If you don't want to leave anything to chance, you can't go wrong with a fully-guided trek on the famed Milford Track Guided Walk. Or walk all nine of the legendary multi-day great walks in New Zealand and decide for yourself which one is the best.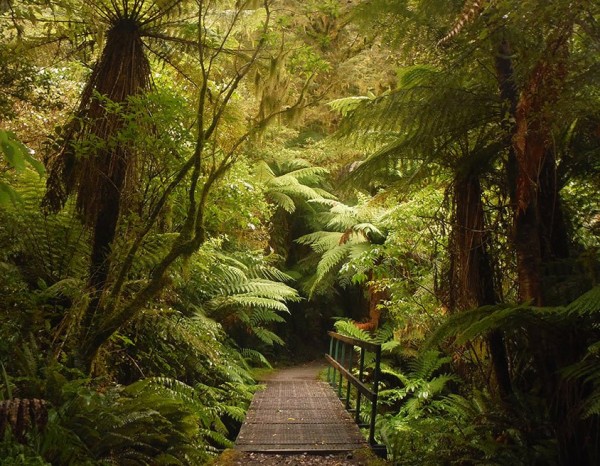 3. Walk on Mars. (Tongariro Crossing)
Arguably the finest day-hike in the world, the Tongariro Crossing takes hikers on a dramatic journey through volcanic alpine landscape in the central North Island. Vivid blue crater lakes dot the perimeter of the Mars-like Tongariro volcanic complex and a handful of geothermal vents add a touch of steamy activity to this already other-worldly landscape.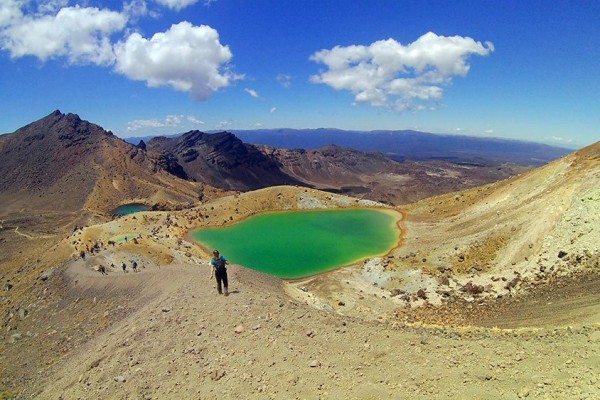 4. Stare death in the face with a grin. (Queenstown)
Queenstown is the home of bungy jumping and with the range and popularity of adrenaline-inducing activities on offer here, it's no wonder this little ski town on the shores of a glacially-carved lake is known as the Adventure Capital of the World. No worries if you're not a hard-core thrill seeker, there's still plenty to keep you amused here from Central Otago wine tours and fine dining, to a vintage steamship and photographic opportunities galore – it has everything. Although a visitor was overheard asking if there were any dolphins in the lake… so, perhaps not everything.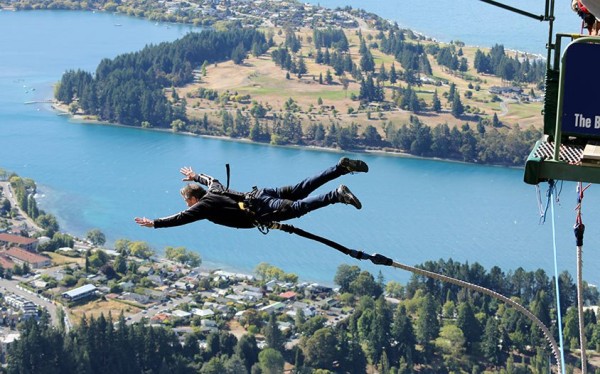 5. Be part of a tribal gathering. (Rotorua)
New Zealand's indigenous culture is strong, particularly in the North Island. One of the easiest ways to learn about and experience the culture of the Maori people is to attend a Maori cultural performance and hangi, where a feast is steam cooked in an oven dug in the ground, giving the meats and vegetables a fantastic smoky flavour.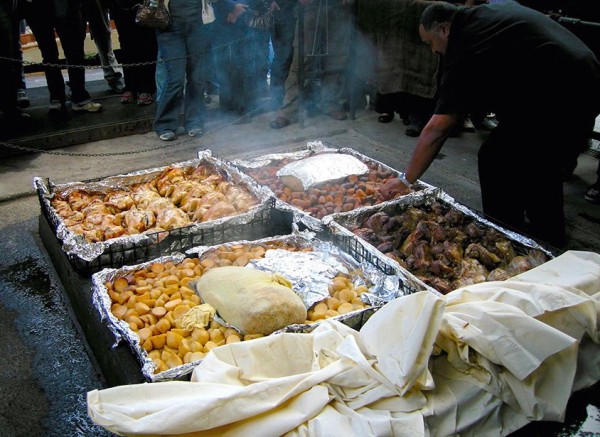 6. Capture a whale... through a lens. (Kaikoura)
There's a 95% chance of seeing whales in the waters near Kaikoura year-round, so it's no surprise the whale-watching boat tours have become one of the most popular activities amongst New Zealand tourism. Getting the perfect shot isn't up to the whale though! The Serengeti of the South Pacific, as it's known, boasts a vast array of marine wildlife feeding in the nutrient-rich waters on the northeast of the South Island.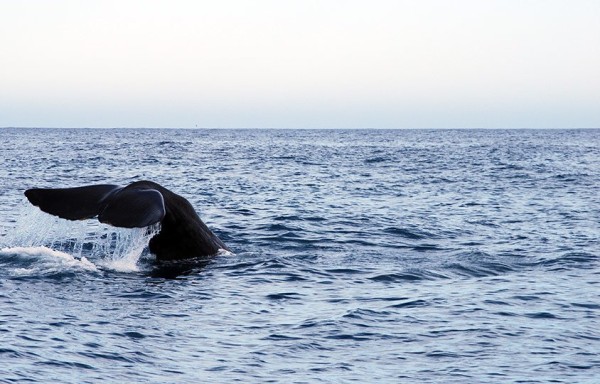 7. Witness a glacier cutting through a rainforest. (Franz Josef and Fox Glaciers, West Coast)
Get your cameras ready because how often do you see glaciers surrounded by temperate rainforest advancing to near sea level? Never, in fact, except on the rugged West Coast of New Zealand's South Island, where there are some terrific short hikes near the Franz Josef and Fox Glaciers. Or take a helicopter ride and walk amongst the frozen rivers of ice that flow down from the highest peaks of the Southern Alps.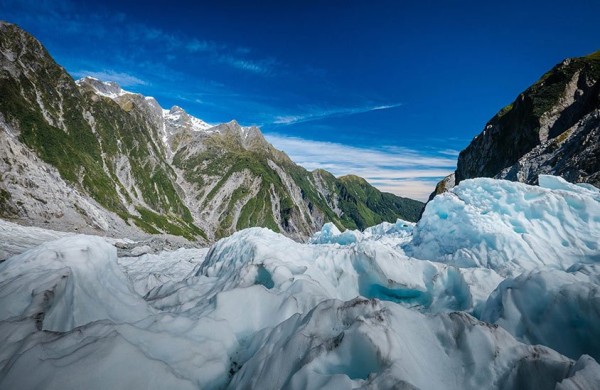 8. Take an outdoor bath, au naturel (Welcome Flat hot pools)
Hidden in a remote valley on the west coast of the South Island, the Copland Track leads you to a cluster of natural thermal hot pools nestled amongst the rainforest surrounded by sheer snow-capped mountains. The hike to this spot is challenging, but with an experienced guide on hand, even those new to hiking New Zealand can be soaking their toes in one of the best natural baths anywhere by the end of the day. The North Island, a geothermal wonderland, also boast numerous opportunities to rest weary legs in steaming natural spring water.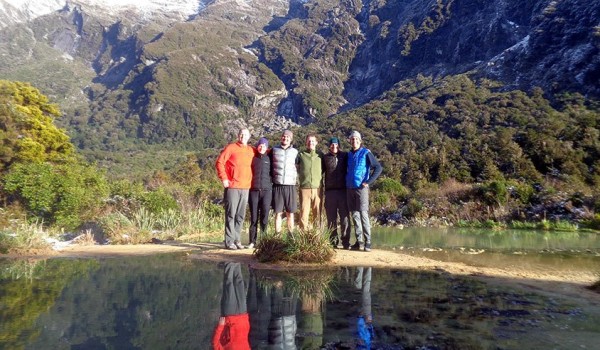 9. Go boating in six inches of water (Queenstown)
The jetboat is another clever Kiwi invention that combines the outdoors with adrenaline and fuel. For a quick thrill, go for a spin (quite literally) through the dramatic Shotover Canyon. The experienced jetboat pilots will get your heart rate raised as these boats pass just inches away from the canyon walls at high speed. Or give those hiking boots a rest and spend the day travelling at breakneck speed deep into the rugged wilderness of Mount Aspiring National Park only accessible by shallow streams.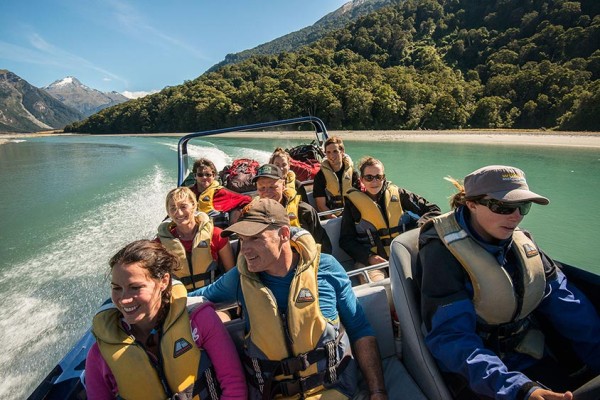 10. Hang out with the stars. (Aoraki Mackenzie Dark Sky Reserve)
Aoraki/Mt Cook National Park and the nearby Mackenzie Basin forms the world's largest International Dark Sky Reserve and recently it was the first to be awarded the top gold level status for almost light-pollution free skies, which officially makes New Zealand among the best places on Earth for stargazing. While you wait for nightfall, there are plenty of hiking trails to choose from since the views around Aoraki/Mount Cook, New Zealand's highest mountain, are equally stunning.