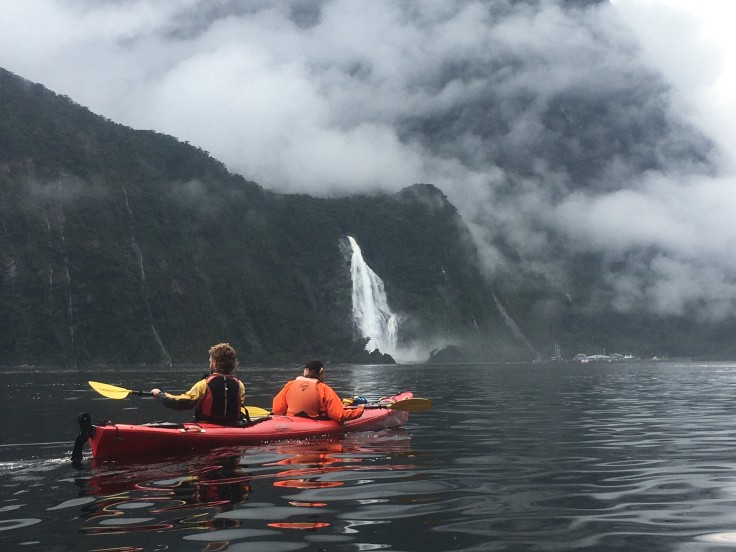 The largest of New Zealand's fourteen national parks, Fiordland National Park makes up a significant part of the Te Wahipounamu World Heritage Site. This magnificent wilderness area stretches over 200 km (124 miles), from Milford Sound in the north to Preservation Inlet in the south, and covers 1.25 million hectares. The eastern edges of the national park are defined by large lakes that give way to the drier pastoral land of Southland. The Tasman Coast is on the western boundary and to the northeast lie the Southern Alps.
Fiordland's extraordinary serrated coastline and deep branching lakes were carved out by glaciers thousands of years ago, leaving behind a land internationally acclaimed for its spectacular scenery, isolation and uninhabited environment, which is now a designated World Heritage area. It's hard to grasp just how large and remote Fiordland is without spending days exploring the countless valleys, rivers and fiords, or if you're lucky enough to line up a short flight, a bird's eye view really puts things into perspective.
Things to see in Fiordland National Park
We're not going to lie, lots of the famous natural features, stunning waterfalls and dramatic views the park has to offer will require some effort from your end, as they are only accessible by foot, by kayak or by helicopter. If your time is limited, then a guided tour is an ideal option to maximize your time in this enormous national park. As there's only one road going to Milford Sound, and a single accommodation available, you don't want to miss out, especially in the busy summer months.
Some of the best ways to experience the park are to hop on a day cruise in Milford Sound or Doubtful Sound, join a kayak excursion, or treat yourself to an overnight cruise to really experience the full spectrum of the beauty of this remote piece of paradise.
Best hikes in Fiordland National Park
Being so vast, Fiordland National Park contains many of the best hikes in New Zealand.
The Milford Track (4-5 days)
The Routeburn Track (3-4 days)
Hollyford Track (4-8 days)
Dusky Track (8-10 days)
The Kepler Track (3-4 days)
The Lake Marian Track (3h return)
Hike to Key Summit (site trip of the Routeburn)(3h return)
Gertrude Saddle Hike (4h return)
The Chasm Path (20 min return)
Mirror Lakes (10 minutes)
And so much more!
It is a hiking, climbing, and kayaking paradise... when the weather collaborates!
Flora & fauna in Fiordland National Park
Moa in Fiordland National Park
It's no wonder that Fiordland was the last refuge for what was once New Zealand's largest flightless bird, the moa. Weighing in at around 230kgs (over 500lbs) and reaching a towering height of 3.7 metres (12 ft), Fiordland would have been one of the only places where moa could hide from Maori hunters. It is widely believed that after Maori arrived in NZ around 1300 A.D., moa were driven to extinction in only 100 years, but records of sightings exist to show there could have still been the odd moa as late as 1878!

Then in the 1970s some local farmers used their own helicopters to land a couple of old lawn mowers on a river bank in the heart of Fiordland. They then radioed back to the Department of Conservation (DoC) that they'd spotted a couple of 'moas' at this location. As you could imagine, there was instant hype and a swarm of helicopters were in the air immediately... until they realized it was April Fools Day! Good ol' kiwi humour…
Takahe in Fiordland National Park
The takahe is another flightless, indigenous bird that owes its survival in large part to the wilderness of Fiordland. It was long thought to be extinct after the last four known specimens were taken in 1898. However, after some careful searching, 50 years later a few survivors were rediscovered in Fiordland in 1948! The Department of Conservation has for many years taken the takahe under its wing with a conservation program that is slowly showing results. The challenges are immense as takahe take several years to reach maturity and also have low levels of fertility.

Because, like the kiwi, takahe have evolved in a predator-free environment to be flightless, they're also particularly susceptible to introduced species such as stoats and rats. For these reasons a number of small offshore islands in Fiordland and around NZ have been completely eradicated of pests and the takahe reintroduced to these fortress-like sanctuaries, now a crucial feature of the conservation program.
Pounamu/Greenstone in Fiordland National Park
Fiordland National Park lies within a larger UNESCO World Heritage Site called Te Wahipounamu ('The Greenstone Waters'), which is effectively most of southwest New Zealand. Ngai Tahu are the local iwi (Maori tribe) from this area and they recognize the great mountains and valleys as the places of Atua (gods). Māori used to use the ancient tracks through Fiordland's valleys to reach rich greenstone sources such as those found around Lake Wakatipu near Queenstown. Even today, much of the greenstone jewelry worn by locals and purchased by travelers comes from the Wakatipu Basin. One of the great hiking tracks of New Zealand, the aptly named Greenstone Track (which connects to the Routeburn Track) was once an ancient Maori greenstone trail.
The next best thing to Seeing New Zealand's Fiordland National Park
If spending years studying how the light changes in this remote wilderness sounds appealing, you'll want to at least take the crash course. Go and find a copy of the locally made film 'Ata Whenua – Shadowlands', an utterly spectacular 32-minute tribute to Fiordland that was filmed across all seasons using a variety of techniques and perspectives. One memorable sequence in particular taken from a helicopter as it flies over the crest of a magnificent waterfall is breathtaking, especially if you're particularly sensitive to vertigo! To really do it justice, view this film at the Fiordland Cinema in Te Anau.
Fiordland is truly one of those rare places that just has to be experienced firsthand. Learn more about this unique wilderness area with experienced local guides on most of our South Island tours and see for yourself what the fuss is all about!