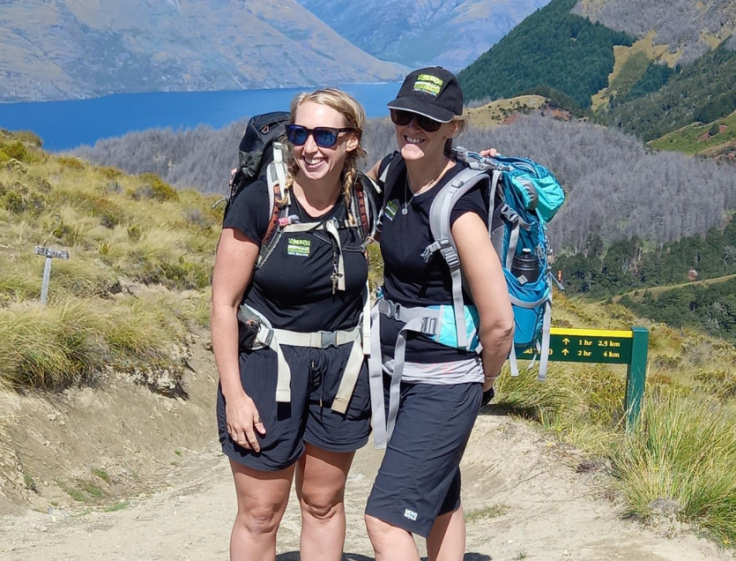 You've heard us say it before, and you'll hear us say it again, we have the best guides in the world down here in New Zealand! Their love of adventures, unmatched energy, passion for sharing their backyards with others and renowned Kiwi ingenuity is the perfect recipe for being the backbone of Active Adventures trips.
In fact, their guide style is so brilliant, we send our New Zealand born guides all over the world to ensure all trips are packed full of the Kiwi hospitality we're known for. Yet, with the world of travel nearly coming to a standstill, many past guests have been asking... What have these incredible humans been up to?
Answering this question is no easy task. From swimming across the Cook Straight to biking the length of New Zealand, our guides have been conquering incredible missions. They've also been sticking by our side, showing up with big smiles when we have trips ready to hit the road, and joining our guide engagement weekends when the opportunity arises.
Yet, a few sentences certainly don't give these epic guides justice. So read on and see if you can spot what your favourite guide has been up to!
Community contributions by Active Adventures guides
Emily Stonehouse – Biked 2,300 km (1,430 miles) from Bluff, the bottom of the South Island, to Cape Reinga at the tippity top of the North Island. While doing this, she raised $1,398 for the Mental Health Foundation.
Pim Greven – Hiked the length of the South Island on the Te Araroa trail. In 60 days, he hiked 1300 km (800 miles) and raised over $5,000 for St John New Zealand and Wellington Free Ambulance.
Lauren Alexander – Is running events in scuba gear (yes, full scuba gear!) to raise money for ocean conservation. So far, she's helped raise $1,479 for Project AWARE.
Dan Keys – Our long-standing Nepal guide and leader of Active Hearts has set up Covid-19 relief parcels for families in Nepal. So far, he has raised over $17,000 and helped countless families ensure there's food on their table.
Liana Smith - Has traded in her hiking boots for a swimsuit and is completing the Triple Crown of Ultra Marathon Swims in New Zealand. Having swum Lake Taupo and the Cook Straight already this year, she's looking forward to the Foveaux Strait swim still to come. So far, she's raised over $8000 for youth mental health and is still going strong.
Melissa McArtney – Completed the Himalayan Trust Summit Challenge by climbing 17,732 metres (58,175 feet) of elevation, twice the height of Mount Everest! Melissa raised $1,672 to help combat the effects of the Covid-19 pandemic in Nepal.
Lucy Pringle – Organised her third annual 'Lemon Charity Ball', held in Wellington in July to raise $3,123 for The Common Unity Project.
Guide engagement week hosted by Active Adventures
When the time comes when New Zealand's borders reopen and we can once again welcome visitors with open arms, we want to be prepared. In mid-August 2021, we hosted a guide engagement week to ensure our guides are up-to-date with skills, qualifications and knowledge. Plus, it was a great way to reconnect and create excitement for the many good things to come. A few of the training sessions included:
Te Reo training and Marae visit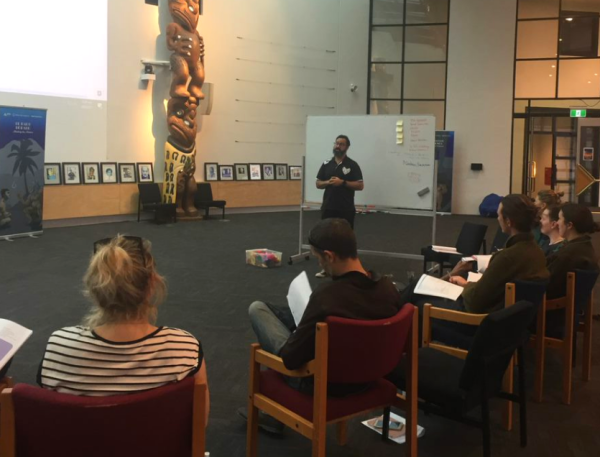 Thirteen participants took time out of their weekend to attend a two day, one-night all-inclusive Introduction to Te Reo (Maori language) and Tikanga (Māori customary practices or behaviours), including an overnight at Ara Te Puna Wanaka Marae.

Guides learnt the foundation and fundamentals of the Maori culture, basic greetings and questions, played some games to ingrain set words, as well as learning our mihimihi (a brief personal speech used to introduce oneself in a way that goes beyond one's name), which by the end of the weekend, everyone who attended could say confidently, albeit with their notes in their hands!
Navigation Training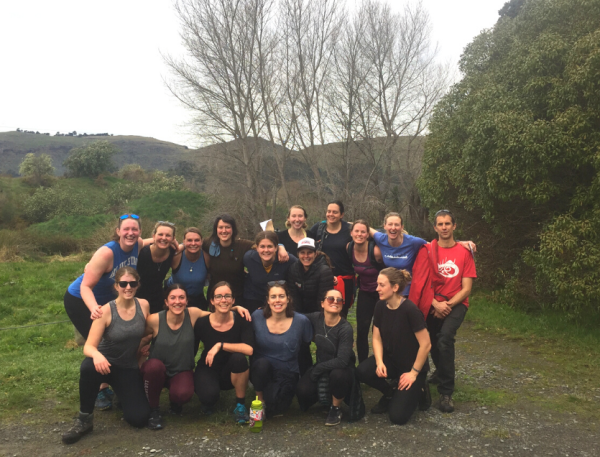 Led by Nora Audra, an incredible adventure racer taking to the ranks of Bear Grylls, our guides got a refresher course on backcountry map reading and how to use a compass correctly. To test their skills, they headed out on a short rogaine in the Port Hills. After an hour of intense running and map reading, it was clear we had a competitive bunch on our hands.
Cooking Skills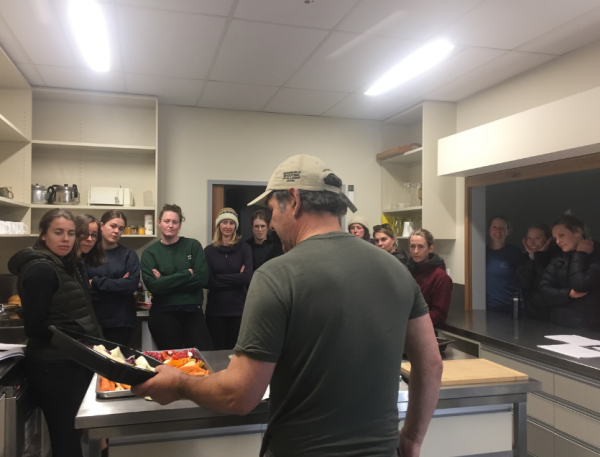 If you've joined us for an Active Adventures trip, you're well aware of the quality of food our guides whip up, seemingly out of nowhere. Dave Futter (a previous personal chef for James Cameron!) enhanced our guides' skill of creating delicious and beautiful dishes for a range of dietaries. Speed was of the essence, and with pots and pans galore, he showed the ins and outs of juggling many recipes at once and ensuring culinary delights for our guests.
Outdoor First Aid
This portion of the weekend was very hands-on. Over two days, Peak Safety refreshed and taught guides the skills of emergency care in the outdoors and ensured each guide was up to date with their Outdoor First Aid qualifications. While we hope these skills never need to be used, our guides must have all the tools to provide care should an accident happen.
Returnee Guide Information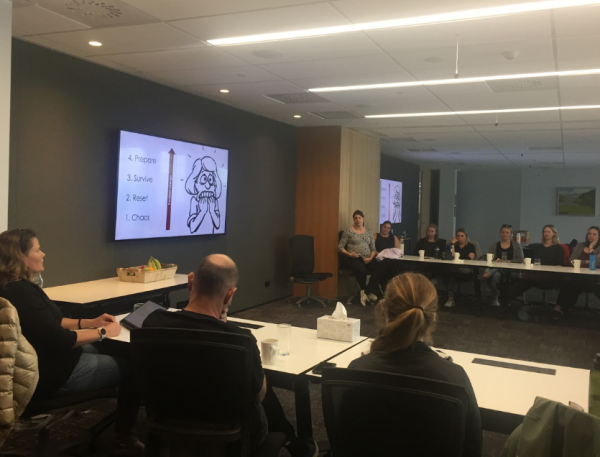 For us, mental health is just as important as technical skills. Wendy, Active Adventures & Austin Adventures CEO, led the way along side the Operations Team to chat about the challenges of 2020 and 2021. Wendy and the Operations Team talked through plans for the future and how our new merger with Austin Adventures would lead to increased opportunities for all. With 31 guides in attendance, it was amazing to see the passion, enthusiasm and engagement for endless adventures when the time comes.
We're ready when the world is!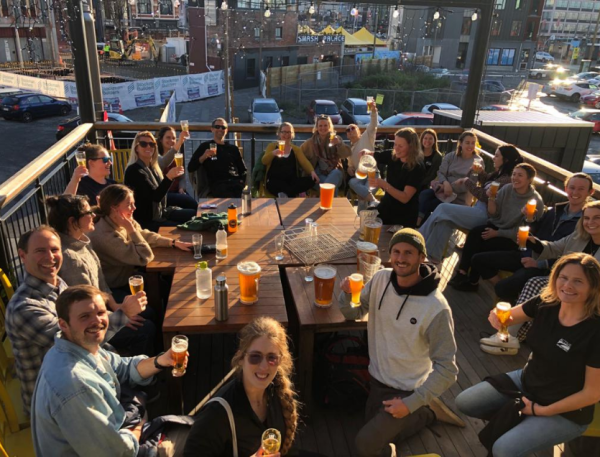 To say the least, guides are the backbone of Active Adventures trips, and we cannot wait to share their brilliant knowledge with you. With the light at the end of the tunnel shining brightly, we look forward to being full steam ahead here in New Zealand soon. We can't wait to see you on the trail!