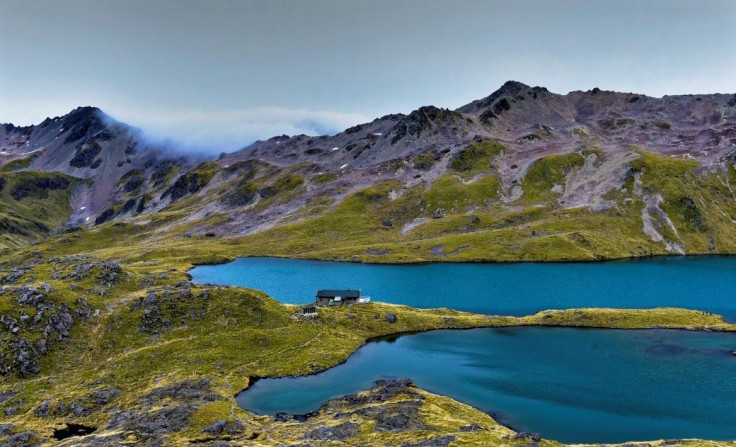 Not many travel companies will share these unbiased truths about how to choose your trip. Read on to discover the 5 essential steps that you should take, to make sure that you choose the New Zealand hiking and adventure tour that you'll talk about for the rest of your life, for all the right reasons.
Step 1: Information is FREE! Collect as much as you can
It may be an obvious point we make here, but unlike purchasing a new car, you can't test-drive a trip to New Zealand! So make sure you have the right tools to satisfy the test-driving requirement, from the comfort of your own home.
For most people, an adventure trip to New Zealand is a chance to get offline and disconnect with the digital world, so why not start before you leave home? There's nothing like making a hot cuppa coffee, kicking your feet up and immersing yourself in a physical booklet – which we'll send to you – wherever you are in the world, from all the way down here in Queenstown, New Zealand!
But if you love trees as much as we do, we've created an interactive, digital version of our popular New Zealand travel brochure. It comes complete with incredible videos of our trips, and it's a direct path to checking a trip's availability, or chatting online with one of our epic New Zealand travel experts.
Step 2: Pick a travel date
Relax – there's never a bad time to visit New Zealand! Most of our guests either have a specific set of dates in mind, or they're open to ideas. Either way, this is one of the most enjoyable parts of planning your trip – because when you look at a calendar and pick a date, you'll realise that's only 'this many sleeps', or 'that many weeks', or 'Christmas seems to come around sooner every year, and we leave just after!' So this is your first big hit of reality.
We (like most operators) run trips all year round. New Zealand's wider summer window spans from October to April, and the winter months are still mild enough to hike through the valleys and lower mountain passes on the South Island (there are loads of blue sky days with snow capped mountains, which makes for epic photography!), and the North Island's tropical climate almost seems winter-less.
The most popular time to visit is in the height of summer – from December through February, and for good reason. These days are long, warm and the trails are bustling with life. And as busy as our trails get at this time of the year – it's important to remember that we've specifically designed our trips to take you off the beaten path, on trails that us Kiwi's hike to avoid the crowds.
Step 3: Decide what sort of hiking you would like to do
Before you wonder what's wrong with the 'less popular' trails we mentioned above in 'step 2', we'll stop that thought in its tracks. As we're sure you already know, New Zealand's wilderness is some of the most wild and dramatic in the world. Epic granite mountain peaks are clad in lush rain forest, overseeing beautiful meadows full of lakes, rivers and (you guessed it) over 500 incredible hiking trails! Trails that are easily lost, just by taking a few steps off the path.
So in years gone by, New Zealand's Department of Conservation required all hikers to check into the local DOC office at the start and finish of a hike. Before embarking on the journey, hikers would register their intention for a hike – including start and finish dates, where they'll sleep etc. Upon their return, all hikers had to check back into the office to say that they made it out of the mountains safely. But the system was flawed – people forgot to check in at the end of their hike, and helicopters with Search and Rescue teams were deployed to find them – while the 'apparently lost' hikers were already sipping a latte in the next town! So the decision was made by the New Zealand Government to create the 10 Great Walks of New Zealand.
The Great Walks of New Zealand offer a safe and easily navigable trail network, which dramatically reduces the number of hikers getting lost in the wilderness. These trails are 4 feet wide at their narrowest point, and a huge marketing effort by New Zealand Tourism has put trails like the Milford Track, Tongariro Crossing and Abel Tasman Coast Track on the world map, and priority on most hiker's 'bucket lists'.
But what most people don't realise, is that amazing single-day hiking options are available on the Great Walks – so it's easy to indulge yourself in the Great Walks, while not having to spend your entire trip to New Zealand on one single trail. Wouldn't you rather spend your back country multi-day hike on a trail that you can hike for days on end without seeing another hiker?
Here's an example to wet your appetite, the little-known Angelus Circuit in the Nelson Lakes National Park:
Step 4: Make sure you trust your information
Trusting an adventure tour company goes beyond their impeccable safety record (like ours!), the fact that they only hire the best guides (like ours!) and the fact that they have 2 local guides on every trip, so every person can take their own pace (like on our trips!).
And did you know that only 10% of travel websites offering New Zealand travel packages are actually from New Zealand? So who are the other 90%?! They're offshore operators, trying to get a piece of the New Zealand tourism boom. Most of them are good at what they do, but they'll never know New Zealand as well as people from New Zealand.
So, we're here to tell you that we're the real deal, and here's why. Writing this article, my name's Will, I'm a born and bred Kiwi lad. I've been a part of the team here at Active HQ in Queenstown (New Zealand) for over 5 years now, and I grew up in the countryside near Nelson.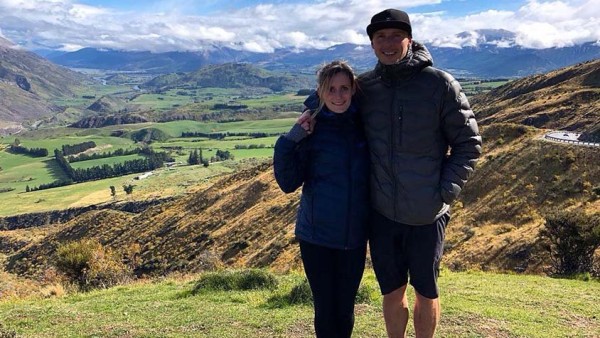 My wife (Ali) and I on the Crown Range, overlooking Queenstown and Lake Wakatipu
The Nelson Lakes National Park is where I learnt to fly fish with my family, Lake Rotoiti is where I learnt to sail a yacht, I spent my winters skiing in the isolated club fields of Mount Robert and Rainbow Ski Area – often skipping the comfort of sleeping in cosy mountain huts for the adventure of falling asleep to the echo of my brother's laughter in our hand-dug snow cave high on a ridge, overlooking the valley below. And most importantly, it's where I fell in love with hiking.
Now, I'm lucky enough to have the unique opportunity to share this beautiful part of the world (and my childhood) with avid adventurers, just like you! The Angelus Circuit is the multi-day hiking option on our signature trip – the 'Rimu - Ultimate South Island Adventure' trip here on the South Island. But don't worry, we'll only go into the park when the days are long, warm, with no sign of snow caves! Every big day of hiking will be rewarded with dramatic sunsets, followed by delicious candle lit dinners in the cosy mountain huts.
And as I'm looking around the HQ, I'm surrounded by friends/colleagues from all over New Zealand, brought together by a shared love for adventure. We all have a similar story to tell, from another part of this epic country that we call home. So this is what makes an Active trip to New Zealand so unique – if we're not the real deal, who is?!
Step 5: Don't be afraid to talk to an expert
Because at the end of the day, we don't know what we don't know! Whether you're travelling solo, or with friends, family or a hiking group – whether you want to spend all of your time hiking, biking or kayaking, on the Great Walks, avoiding the Great Walks, whatever your dream trip is in your mind, it's nice to know that your perfect trip does exist! We've spent the past 24+ years perfecting the art of finding the perfect trip for everyone – if you don't believe us then take a look at our raving reviews – while over 40% of travellers go on to do another trip in one of our other destinations – which is a true testament to the calibre of our trips!
But at the end of the day, we want what's best for you – and if that's joining us to explore the most wild and remote parts of New Zealand's countryside, then we'll make it happen. But if you can't find one of our trips to suit your needs, we promise we'll point you in the right direction for a trip that does.
So go ahead, start with step 1 now! I have a load of brochures behind me that are dying to get thrown in an envelope and sent to your letterbox today. Otherwise, save a tree and get yourself a digital E-Brochure emailed directly to your inbox.