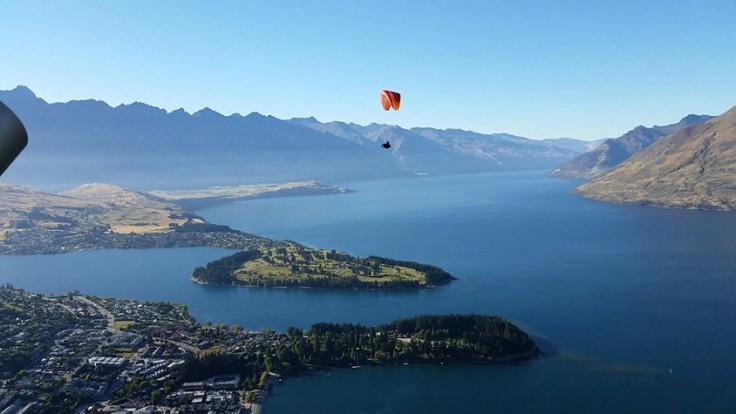 Queenstown is a little town with a big personality. Nestled on the shores of Lake Wakatipu in the South Island of New Zealand, beneath the majestic 'The Remarkables' Mountain Range, it has firmly established itself as the 'Adventure Capital of the World', and all year round it's a great place to visit.
Having originally got its name for being fit for Queen Victoria, it's now a well-known destination for adventure opportunities as well as stunning scenery. Don't be worried if you're not into adrenaline sports though, Queenstown has matured over the years into a place with something for everyone – from mountain biking or paragliding, to stunning hiking trails, beautiful wineries, and world-class restaurants.
We make a firm stop here on all our Active trips and your Active guides will help you plan your visit. There's enough to keep you busy, but you'll also find all the joys of civilization here with great cafes, food stores, pubs, classy bars, and shops.
The Active Hub is located in Queenstown, and we chose to base ourselves here as we all enjoy the outdoor lifestyle so much! And we're not the only ones who like it here... In 1998, Queenstown was voted "Friendliest Foreign City" in a poll of 37,000 readers of Conde Nast Traveler, a top US travel publication. In the same publication, we were positioned as the 14th best city in the world (the only New Zealand destination to rank in the top 20) alongside others such as Vienna, London, Paris, and Hong Kong. More recently, Lonely Planet rated Queenstown and the Southern Lakes as one of the Top 10 regions to visit in 2012.

Our Favorite Things to do in Queenstown
Level Three: Adventure Junkie
Do a bungy jump (or four).
Launch yourself off a cliff at the Canyon Swing (in any of 100 different ways).
Jet Boat though the Shotover Gorge, passing just inches from the rocks.
Paraglide off Coronet Peak ski field (the views are off the "wow" scale).

Level Two: Thrill Seeker
Ride up the gondola and have a go on the Luge track (involves whizzing down track in a speedy cart! Great for the competitive amongst us).

Jet Boat on Lake Wakatipu (lots of fun and great scenery too).
Have a go on the Zip Line through the forest above town.

Level One: Just for Fun
Take a wine-tasting tour and enjoy lunch in the sunny courtyard of a local vineyard.
Take a ride up the gondola and check out the view over Queenstown and the surrounding mountains.
Take a trip across the lake on the Earnslaw steamship to a high-country sheep farm for high tea.

Places to Eat and Drink in Queenstown
Fergburger – probably the best burgers in the world, if not the universe. Try going there at an unusual time for the shortest wait, or be prepared to wait in line at dinner time! Favorites are fiercely argued in the ACTIVE office but the original Ferg with Cheese, or the Southern Swine (with bacon and avocado), are preferred choices. And the hot chips (otherwise known as fries) are awesome too, especially with their homemade aioli. They are all best enjoyed after a day of adventures with the outdoor air still fresh on your cheeks. *Gluten-Free Friendly: Gluten-free buns available upon request and their sauces are gluten-free and made fresh on-site.
Winnie's Pizza – tasty pizzas in a fantastic place (actually an old cinema) – watch for the opening roof. Especially cool in a snowstorm. We recommend a large Montanara Pizza (with pistachio sour cream!) washed down with a Monteiths Original Ale.
Vudu Café – a popular locally owned café in the heart of town serving amazing coffee and numerous tasty homemade treats. We recommend the caramel slice with a flat white. Delicious! Also try its newest location, Vudu Larder, for a more urban feel.
Patagonia – Argentinean ice cream and desserts to satisfy the sweetest of teeth. Try the Chocolate Volcano or the dark chocolate with macadamia ice cream. For the adventurous, try a chunk of their dark chocolate with chili or lavender hot chocolate! It's open late for dessert too.
Queenstown Activities - Things to do in Queenstown
Hiking
You don't have to spend money to have a good time in Queenstown. Hiking is a great way to explore and enjoy the town too. There are about a dozen well-marked hikes around town that you can explore on your own, and many more just a short distance away (you can always try and hitch a ride from a friendly local). Ask your guide for a map or pick one up at the Department of Conservation (DOC) office (located in outside Sports) when you get into town.
Ben Lomond
If you have a full day then we recommend taking on Ben Lomond for amazing views of the lake, town, and surrounding mountains. Allow about 6-8 hours if you're going to hike the whole thing. And take a good lunch! Start on Thompson Street and follow the road up towards the gondola. Follow the trail signposts to Ben Lomond. It's signposted the whole way, but take a map and a phone and be prepared for changes in weather. The last hour or so up to the summit is pretty steep, but well worth the climb. It's about 3 hours to the saddle and another hour up to the summit. For a head start, take the gondola up the first stage to cut off a bit of the climb and a little time, or catch a ride back down after enjoying a celebratory beverage in the bar up there.

Queenstown Hill
The Queenstown Hill Walking Track is a bit of a climb but it's a good hike to get the heart pumping and to get above the treeline. Follow the signposts from Ballarat Street up to Belfast Street from town and head on up. It takes around 2-3 hours round trip and the views from the top are awesome. Check out the 'basket of dreams' on the way up.
For an easier hike, take the Sunshine Bay walking track that starts and finishes about 1km past the Fernhill roundabout on Glenorchy Road. It's an easy, 1-hour return along the lake. Another option is to stroll around the lakefront in Queenstown Gardens. The Gardens are home to a Frisbee Golf course, a sport taken very seriously by the locals, but it's great fun to have a go.
Mountain Biking
Mountain biking in Queenstown has seriously taken off over the last few years with jump parks, downhill tracks and new single trails popping up all over the place. The Skyline Gondola even takes bikes up the hill now. It's becoming an important destination for the sport and there are many races and events for mountain bikers throughout the summer.
Areas to mountain bike include Jardine Park, the Gondola Trails, Seven Mile, Coronet Peak and the Gorge Road Jump Park. If you're looking for a more gentle trail then the Frankton Track, Kelvin Heights Track, and the Jack's Point Track are all stunning lakeside trails with gently undulating terrain! If you want to head out for a bit longer then the Moke Lake to Lake Dispute track and the Moonlight track are both a good challenge. Grab a mountain bike route map from Torpedo 7 on Shotover Street.
Queenstown Mountain Biking Club


Bungy Jumping
In 1988 AJ Hackett created the very first commercial bungy jump in the world in Queenstown, launching off the Kawarau bridge over the icy cold river below. Many people flock to this 'original bungy' site while they're in town, and it's a great place to be a spectator as well! Others choose to take on the highest one, the Nevis Bungy, or the Ledge Bungy overlooking Queenstown. Some choose to do all three. When in Rome!
AJ Hackett
Shotover Canyon Swing
If leaping off a high platform head first with elastic tied to your ankles doesn't spin your wheels, but you're still after a top-class adrenaline rush, then try the Canyon Swing instead. You'll be secured in a full body harness with ropes attached round your waist, and you can jump from the platform in any number of ways – you can step off, jump off, leap off, jump backwards, roly-poly, drop from a rope or be released. A three second freefall and a sweeping swing across the canyon make for an awesome ride! The guys at the swing are great fun and will ensure you have an incredible experience.

Jet Boating
Jet boating is a fast, exciting, thriller of a ride. Just imagine what you can do in an extremely powerful, highly maneuverable craft that only requires 4 inches (10 cm) of water to skim over. The most thrilling ride is through the dramatic Shotover Canyon where you'll skim across the river inches away from the cliff faces. There's also the Skippers Canyon Jet which gets you a bit more bang for your buck and into some incredible back country, as well as the Dart River Safari in Glenorchy or the K Jet or Thunder Jet on the Lake.
Shotover Jet
Kawarau Jet
Dart River Safaris
Skippers Canyon Jet
RealNZ Jet
Whitewater Rafting
Raft the mighty Shotover River through icy blue glacial waters (wetsuit provided) and past steep canyon walls. You'll be with world-class raft guides and a highly experienced operator – Queenstown Rafting. There's the option to raft the Kawarau River as well, depending on the level of adventure you are after.
Skydiving
Is there a little bit of you that wants to know what it feels like to fly? If so, then you must have a go at skydiving. As the anticipation builds and you fly higher and higher, the countdown begins, and then when your tandem instructor gives the signal - you make the ultimate jump! You'll free fall at speeds of up to 200kph (125 mph) before your instructor pulls the shoot and you glide peacefully and gracefully down to a soft landing at the foot of the mountains. You might have landed on the ground physically, but you'll feel high for days.
Skydive Queenstown
Golf
Queenstown is lucky enough to be home to six golf courses, several of which are world-class. Arguably New Zealand's most scenic golf course, Kelvin Heights was opened in 1975 and is located on a peninsula overlooking Lake Wakatipu, close to picturesque Queenstown. The magnificent setting ensures that this is a course highly sought after by local and overseas golfers. The sheer beauty of the surroundings makes it a delightful course to play in any season. The snowcapped peaks of the nearby mountains, together with the ever-changing colors of the lake will ensure a round you'll long remember and cherish. Millbrook, away from town is a very prestigious "Country Club" resort and world-class golf course. Jack's Point is a challenging course located between the Remarkable Mountains and Lake Wakatipu. Lastly, The Hills is one of the country's most prestigious courses and has been home to the New Zealand Open on several occasions. It's also home to a clubhouse that was recently shortlisted as a finalist for the World Architecture Festival.
Millbrook Resort
Jack's Point
The Hills
Fishing
If you want fresh fish for dinner, it's not far from your plate. New Zealand has some of the best trout and salmon fishing in the world, and Queenstown is a renowned fishery and popular base for anglers in the South Island. From a few hours fishing from a boat charter on Lake Wakatipu with an experienced guide to helicopter-accessed fly-fishing on a remote backcountry river for the more experienced fisherman, there are options for every level angler. Or bring your own rod and try your luck in some of the numerous lakes and rivers around Queenstown.
Queenstown Fishing
Wine Tasting
The Queenstown and Central Otago wine region is the fastest growing in New Zealand. This area is renowned for Pinot Noir and has won more gold medals for this variety than any other New Zealand region. This region is also achieving recognition for quality Chardonnay, Riesling, Pinot Gris and Sauvignon Blanc varietals. Wine tours of the vineyards in the area are very popular and you will be a half-wine expert by the time you've finished!
Central Otago Wine Tours
Queenstown Accommodation
Some options in Queenstown include:

Crowne Plaza Queenstown - Modern, stylish hotel with arguably the best location and some of the best views in town. Located right down by the lakefront, a flat 2-minute walk to town. We stay here on most of our trips.

Heartland and Scenic Hotels Queenstown - very nice, centrally located - another place we stay.

Heritage Hotel - very nice, located on Lake Wakatipu.

Queenstown has accommodation for every budget, and if you're looking for something special then there are many choices. When we win the lottery we'll be booking into one of these places to celebrate!

The Dairy Guesthouse - provides luxury bed and breakfast accommodation in Queenstown, New Zealand. Experience fine lodging in the heart of Queenstown.

Matakauri Lodge – recently refurbished this lodge is a dream place to stay just five minutes from Queenstown on the edge of the lake.

Blanket Bay Lodge – located in Glenorchy at the other end of the lake, this lodge is frequented by the rich and famous looking for a quiet getaway. It's discreet, well hidden and absolutely beautiful.