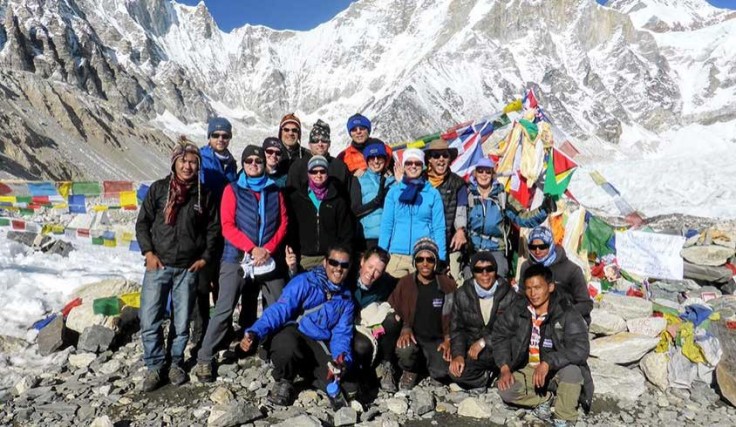 A trek to Everest Base Camp is a 'bucket list' activity that only a small, exclusive group of dreamers get to tick off in their lifetime. Most travellers arrive in Nepal with a focus on the destination, the goal of arriving at Everest Base Camp, but they leave with profound respect and love for the people of Nepal, to go alongside (or above) that feeling of elation at achieving the physical goal.
So buckle up your best pair of trekking boots and read on to learn everything you need to know about the journey to Everest Base Camp, from how to prepare and the required fitness levels, to packing lists, what to expect when you arrive in Kathmandu, our Everest Base Camp itinerary, and how to book!
Skip to: Map | Best time to trek EBC | Arriving in Kathmandu | EBC Trekking Tour Itinerary | Required Fitness | Facilities | What's included | What to bring
First, let's get a quick introduction to the trek to Everest Base Camp
The trek to Everest Base Camp starts on touch-down at the small airport of Lukla in the Khumbu region, and culminates 2504 vertical metres (8215ft), and 65km (40.4miles) away at Everest Base Camp. On the 8th day after arriving at Lukla airport (5 days of trekking interspersed with 3 days of acclimatisation) you'll reach Everest Base Camp, usually in the mid-afternoon.
When you arrive you're unlikely to begin to fathom the magnitude of your achievement, that comes later. Right then, in that moment, you'll be hugging and celebrating with your fellow trekkers, looking up the valley at the ever-grinding teeth of the lower part of the Khumbu Icefall, surveying the slopes of Nuptse and the steep Nuptse Glacier, intersecting the Khumbu Glacier on its persistent journey downhill. You'll wonder at the achievements, aspirations, and personalities present in that place – the gateway to the world's tallest mountain, and the start and end-point of one of mankind's greatest challenges.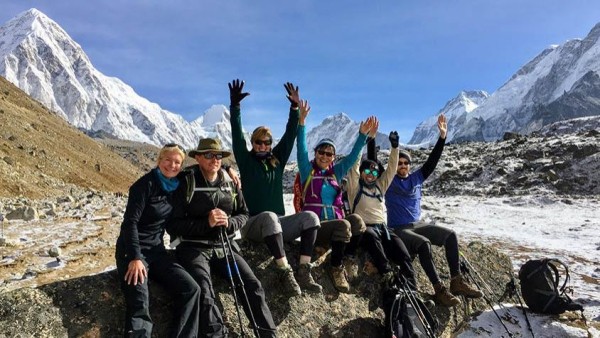 Read on to find out everything you need to know about embarking on the trek to Everest Base Camp. You can also see the itinerary for our 19-day Everest Base Camp trip which visits: Kathmandu, Swayambhunath Temple, Lukla, Phakding, Namche Bazaar, Deboche, Tengboche Gompa, Dingboche, Nangkartshang, Lobuche, Everest Base Camp, Kala Patthar, and Jorsalle! Our version of the Everest Base Camp trek focuses on immersing you in the culture of Nepal; you'll share the homes of locals, visit teahouses, and travel with a local guide and porter alongside our Kiwi team. We'll show you hidden gems of the Khumbu region on a life-changing 19-day adventure.
Everest Base Camp Trail Map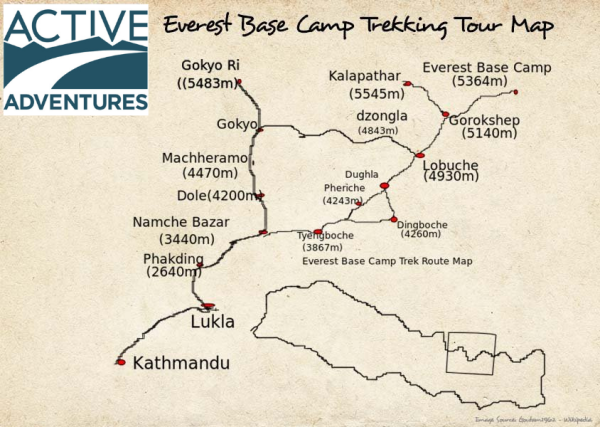 Best Time to Trek to Everest Base Camp
The trekking seasons around Everest, in the Khumbu region, are the autumn/fall months of September, October, and November when days are generally clear, temperatures are comfortable, and you can expect trails to be a little quieter. Autumn is also a good time of year to catch some local festivals in the Khumbu region.
The other trekking season in the Khumbu region is spring – March, April, and May. It's not unheard of to be trekking towards Everest Base Camp in a t-shirt during the Nepal spring. You can expect blooming rhododendrons, and the buzz of the main Everest climbing season (for summiteers that is!). In our experience both autumn/fall and spring are great times of year to realise your dream of reaching Everest Base Camp.
What to Expect When You Arrive in Kathmandu
The scene at Kathmandu Airport when you arrive can be a culture shock to many, although to a lot of inbound travellers it's exactly what they expect – noisy, crowded, humid, and initially disorientating. Luckily all you'll need to do if you're travelling with us is spot the Active Adventures sign high above the crowd and make your way over – we'll quickly help you get your bearings, away from the crowds. Your guides will wrap you up in a blanket of confidence and take care of everything for you on your Himalayas trip of a lifetime.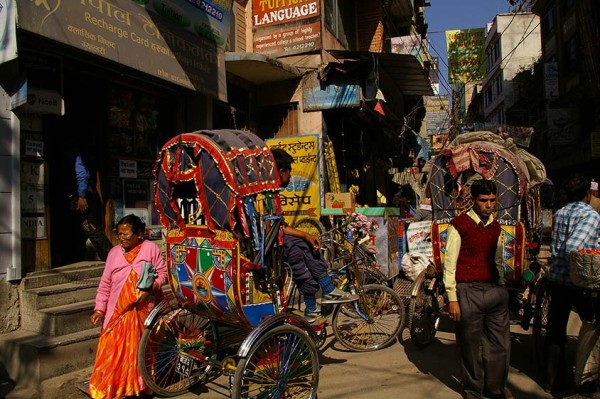 Everest Base Camp Trekking Itinerary
Days 1-3 – Arrive in Kathmandu, journey to Lukla and trek to Phakding
On the afternoon of your first day your trip leader (guide) will talk you through what to expect from your Himalayas adventure. In these first few days we'll also visit the Buddhist temple of Swayambhunath, and take a fixed-wing flight to Lukla, before trekking downhill to Phakding to stay the night on day 3.
Days 4-6 – Trek to Namche Bazaar, acclimatisation, first glimpse of Everest, Deboche
We're entering Sagarmatha National Park on day four, where we'll be for the next 12 days or so. We'll spend a couple of nights in Namche Bazaar, with an acclimatisation day in between – a good chance to check out the world's highest marketplace! We'll get our first glimpse of Everest on day 5 and trek on to Deboche for the night of day 6.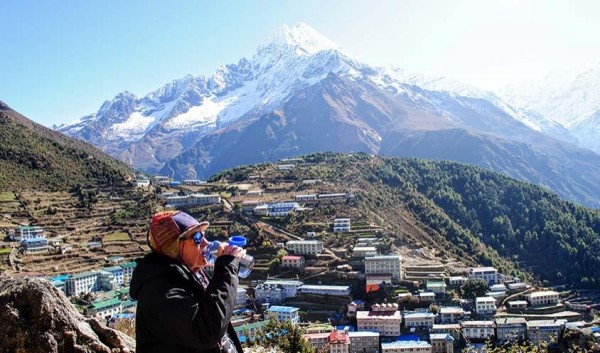 Days 7-9 – Acclimatisation in Deboche, monasteries, and more acclimatisation in Dingboche
Play soccer or cricket with the locals, go for a short side-hike, or visit one of the many monasteries during either of these two acclimatisation days (days 7 and 9). In-between, on day 8, we'll hike for around 4 hours (11 kilometres / 6.8 miles) for an elevation gain of 622m (2041 feet), to Dingboche.
Days 10-12 – Khumbu Glacial valley, Everest Base Camp, sunrise at Kala Patthar
On day 10 we'll spend the night at the aptly named Oxygen Lodge, then your guides will blaze the final stretch of the trail to Everest Base Camp. A night at Gorak Shep makes the ridgetop of Kala Patthar for a memorable sunrise view nice and accessible, before beginning our descent to Pheriche, where we'll have hot showers and cold beers to celebrate our achievement!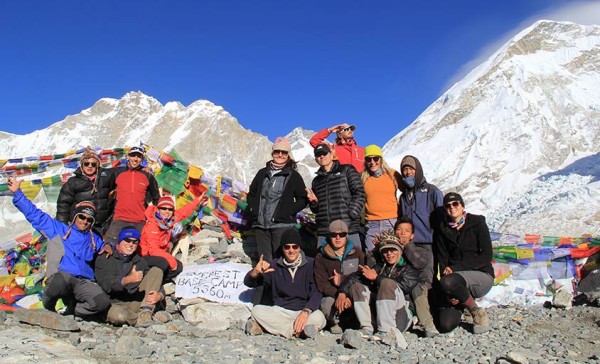 Days 13-15 – Descent Pheriche to Deboche, Khumjung, and then Jorsalle
With the descent comes more oxygen-rich air, and you'll feel like a world-beater. From the rocky, unforgiving lunar landscape of the Khumbu region's higher throes, we'll gradually return to forest, rhododendrons, and the sound of yak bells. On the way down we'll take in some new settlements on the path less travelled.
Days 16-19 – Return to Lukla and fly to Kathmandu, free time, celebrations, depart
On the evening of day 16 we'll have a celebration with our team of porters and cooks, guides and fellow hikers. It's a lovely opportunity to thank them for helping you realise your Everest dream. Finally, we'll fly from Lukla back to Kathmandu, and enjoy some free time in the capital before a farewell dinner as a group.
Required Fitness
You don't need to be an athlete to enjoy our Everest Base Camp adventure! But we do recommend that you're in the habit of doing regular exercise. Age is not important on this trek, we help people of all demographics to realise their dream of reaching Everest Base Camp, and we're firmly of the opinion that slow and steady wins the race – generally you won't hike for more than about 2 hours before you have a break.
Your guides will recommend, as you reach higher elevations, that you take just one step per breath. Ridiculous right?! It takes some getting used to, but the extra work your body is doing internally, to continue delivering oxygen to your working muscles needs to be offset somehow, and this technique allows you to keep moving at a steady, rhythmic pace. Trust us, it works!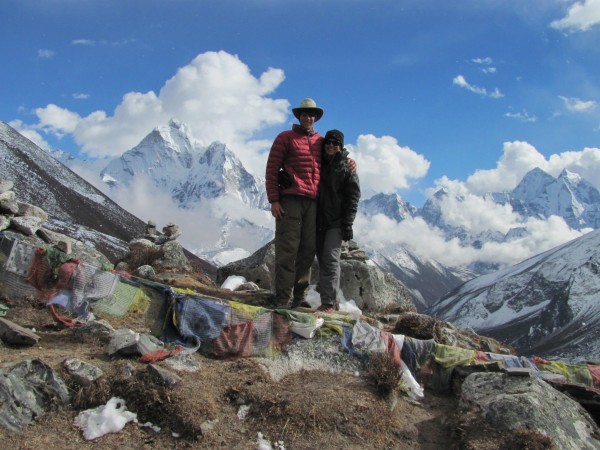 The distance you'll be hiking per day averages around 9.4 kilometres (5.8 miles), although obviously some days are bigger, and harder than others, and as you get to thinner air the one-step-per-breath technique will slow things down – everybody reacts differently to altitude. Your guides have heaps of experience in this environment and are outstanding at looking after your safety at all times.
Your guides will check your blood pressure and heart rate each day, and you'll have gross conversations about bowel movements and stomach aches! Another really important thing your guides will do is ask you if you've noticed anybody else in the group struggling, and this is crucial. Nobody wants to miss out on reaching Base Camp, and so anybody who is struggling or feeling the affects of altitude sickness might be reluctant to admit it, and that can be really dangerous - be sure to keep an eye out for your fellow trekkers, they'll be doing the same for you.
In terms of training you can do before your trip, we can definitely give you some suggestions. We'll usually recommend some interval training, as well as joining a local walking or running group. For the Everest Base Camp trip particularly it's important to train by hiking hills, and carrying a full day pack. On top of that stuff we also suggest that you take every opportunity to be active, that means taking the stairs at work and parking further from the office!
What are the facilities like en route to Everest Base Camp?
On the trek to Everest Base Camp you should expect a wide spectrum of accommodation experiences, all of which are authentic opportunities to engage with the local people of Nepal. We've carefully chosen the accommodations on our trips so that they're comfortable, whilst also supporting the local communities and giving our guests the best experience of the generosity and kindness of the Nepalese. Most accommodations also offer charging facilities for small electrical devices like cameras, cell phones, and tablets. You'll either pay per socket for a fixed time period, or per device charged.
You might be surprised to learn that you can expect cell phone data to be available for purchase on the whole route form Lukla right up to Everest Base Camp (NCell is the best network above Lukla). Trekkers can buy data cards to check emails and post about their adventure. As you climb higher in the Khumbu region the cost of charging and cell phone data tends to increase. You can expect to pay anywhere between 200NPR – 600NPR (USD$1.82 – USD$5.48) per charge, and the same per 200MB of data – dependant on the remoteness of the place you're buying it.
What are the accommodations like on the Everest Base Camp route?
As you'd expect, the route to Everest Base Camp has the most developed facilities of the popular trekking routes outside of Kathmandu and Pokhara. All rooms are typically twin share and some have en-suite toilet facilties. The tea houses are are much the same, with a large common area where meals are served and guests relax around a warm stove (usually fuelled by yak dung!), and then separate unheated bedrooms with a bed, pillow and blanket.
What are the bathroom facilities like on the Everest Base Camp route?
On the Everest Base Camp trek, as far as Dingboche most of our rooms have en-suite bathrooms. However the higher you go the more simplistic the facilities become - remember that most things have to be hiked in and out! Showers are provided up until Deboche, but as the trail gains elevation and it gets colder we do not recommend showers for risk of getting cold and becoming ill (so that's 4 days without a shower!).
As for the toilets, throughout Nepal there is a mixture of Western and Asian style facilities. In most tea houses on the Everest Base Camp route there are western style toilets, but if you're stopping along the trail you're more likely to be using an Asian style toilet, or even something more rustic!
What's Included?
The Team
Your team of adventurers will be in the care of at least one guide from New Zealand, and these folks are amazing. They've all guided for us in multiple destinations, and safety is their number one concern. On top of that they're also great at reading group dynamics, and individuals' needs and concerns. They'll control the pace of your trek and make sure everybody has the best possible chance of success.
Supporting our Kiwi guides will be at least one local guide. These guys will be with you on the trail every single day, you'll get to know them and their customs, you'll learn about their family and they'll quickly become an indispensable part of the group. Having a second guide allows your group to move at a pace that suits every member, and it's a great chance to really appreciate what sets Nepal apart from other destinations with beautiful mountains and bucket-list hikes – its people.
Your group will also be supported by a team of local porters. These guys are machines. They'll carry most of your gear for you, meaning you'll only need to worry about your day pack whilst you're on the trail. When you arrive at your accommodation your porters will be there with your clean socks, or extra layers for the chilly evenings. The camaraderie amongst the porters, and between hikers, porters and guides alike is a special part of this adventure, and we promise it will be the human connections you remember first when you look back on your trip.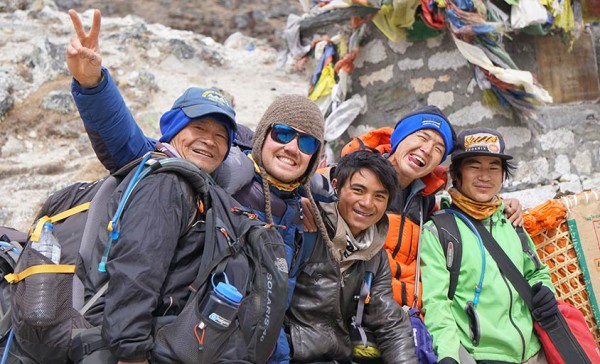 Food
All meals are included on the Everest Base Camp trip, with the exception of one evening meal and one lunch in Kathmandu, when you're free to choose from a multitude of exciting culinary experiences in Nepal's capital city.
Accommodation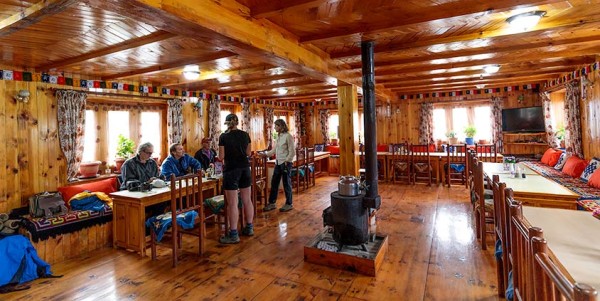 Every night's accommodation on this 19-day trip is included in your trip fare. You should be prepared to experience the full spectrum of sleeping arrangements, from a comfortable hotel in Kathmandu to teahouses in the high mountains. We love hearing feedback from our guests about the authentic Nepalese experiences they've had with us, and we pride ourselves on choosing the best places to stay, to maximise your engagement with the local culture.
Transport
All transfers are included in your trip. If you're arriving at Kathmandu airport in time for your trip start then your guide will meet you at the airport and take you to your hotel. Return flights from Kathmandu to Lukla are also included.
What to Bring on Your Everest Base Camp Trek – 32 things you'll want to remember!
We provide our guests with a comprehensive packing list, which includes gear, essential documents, and optional extras. We'll also give you the right information about vaccinations you might need prior to the trip. Follow this link to our list of 32 essentials for a memorable Everest Base Camp Trek.