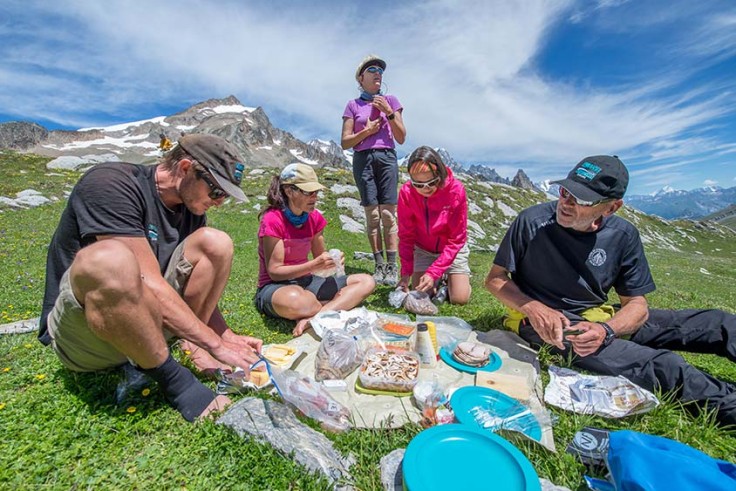 Thinking of joining us here in Europe for a bucket-list trek but not sure when the best time to hike the Tour du Mont Blanc is?
Well, we're here to help! The best time to do the Tour du Mont Blanc is in the summer months: June, July, and August. The days are the longest and warmest, with the least rainfall, and the trails are buzzing with life. Most hikers are looking to complete the famous circuit, rather than attempting any serious mountaineering, and summer is definitely the best time for it.
For that reason our 'Tour du Mont Blanc' trip only runs during the summer months. Our 12 day adventure is a great opportunity to tick off another alpine trek from your bucket list, and do so without sacrificing the creature comforts you love to have when you travel. Beautiful, challenging hikes, delicious local food, and an authentic experience with a local guide, is how we'd describe our 'Tour du Mont Blanc' adventure. Below we've detailed what you can expect from a hike on the famous trail in each month.
Here's a neat infographic we've put together that gives you a good idea of when is best to hike the Tour du Mont Blanc: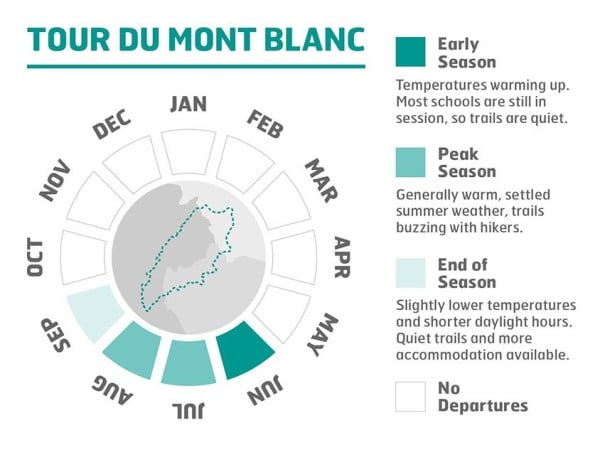 Summer on the Mont Blanc Massif
June
June is a great month to hike the Tour du Mont Blanc. You'll find much quieter trails during much of June, as the school holidays for France and Italy don't start until early July. You can also expect comfortable temperatures: 11 - 24C (52 - 75F). The average rainfall for the month of June is fairly low, only around 70mm (2.75ins), but we'd still recommend you take rain gear, as the weather on the route is notoriously unpredictable. In June we'd recommend making reservations for accommodation to avoid disappointment, although it's less crucial than in the high season months of July and August. When you travel with us you can relax knowing we've got all of these details covered for you.
July
If you like to travel at the hottest time of year, then July is the month for you. Average temperatures are between 13 - 26C (55 - 79F), and the average rainfall is only around 60mm (2.4ins). July is one of the peak months for hikers on the Tour du Mont Blanc, and seeing as it's also school holidays for all three countries on the route (France, Italy, Switzerland), you can expect the trail to be buzzing with people enjoying the high temperatures on the famous route. July is definitely a month you'll need to make reservations for, to avoid disappointment after tough days on the trail.
August
Much like July, August is a peak month for people visiting the region to hike the Tour du Mont Blanc. Temperatures are nice and warm, and you can comfortably hike in shorts and t-shirt - 12 - 26C (53 - 79F). Rainfall numbers are similar to June, around 70mm (2.75ins) for the month, on average. If you enjoy hiking in warm weather, and don't mind sharing the trail with lots of other happy hikers, then August is a great month to get out there and do it!
Autumn on the Mont Blanc Massif
September
September is a good time to hike the Tour du Mont Blanc, as long as you're happy to hike in cooler, but not chilly weather. The average temperature range for September is 9 - 21C (48 - 70F). By September school holidays will be over for most, so the trail will be noticeably quieter, and rainfall figures for the month are fairly typical, an average of around 60mm (2.4ins). The fact that the majority of the mountain huts on Mont Blanc are open from June until around mid-September gives a good idea of when is best to hike the famous route. Our final trip of the season usually starts in the last third of the month of September, and overlaps into early October.
October
October is when autumn really becomes noticeable in the Mont Blanc region. Our trips aren't on the trail beyond the first week of the month, as daylight hours become short, temperatures drop, and mountain huts are closed for the season. In October you can expect temperatures of between 5 - 17C (41 - 62F), and rainfall of around 75mm (3ins).
November
November is the final month of autumn, and temperatures start to drop to levels that make hiking uncomfortable without serious alpine gear. The region will begin to look even more beautiful as the cold weather brings snow lower and lower in the foothills, but hiking the Tour du Mont Blanc route in November could prove physically and logistically challenging with very few accommodations open, and weather conditions dangerously unpredictable. Average temperatures for November are 0 - 10C (32 - 50F), with expected rainfall of around 80mm (3.1ins).
Winter on the Mont Blanc Massif
December
The winter months can be unforgiving in the Mont Blanc region, and as temperatures drop further, the rain turns to snow, and the trail becomes more difficult and can require technical ability in some places. The winter months are a great time to try snowshoeing, but we'd always recommend going with a guide who knows the area. Average temperatures for December are -3 - 6C (27 - 43F), and precipitation, which generally falls as snow, of around 90mm (3.5ins).
January
Whilst January is a popular month for snowshoeing, hiking on the Tour du Mont Blanc route isn't advised. With that in mind, the area can be quite busy with tourists over the christmas period, but once the crowds have gone home, January is a good time for exploring in snowshoes as long as you don't mind the cold or the snow! Average temperatures for January -3 - 6C (27 - 43F), and expect around 100mm of snow (4ins).
February
Still winter in the northern hemisphere, February means a snow-covered Tour du Mont Blanc trail. It's a time of year that requires technical ability and knowledgeable local guides to explore the area, and we'd recommend waiting until a warmer time of year to get out there on an adventure. Average temperatures for February are -2 - 8C (28 - 46F), and you can expect around 70mm of snow (2.8ins).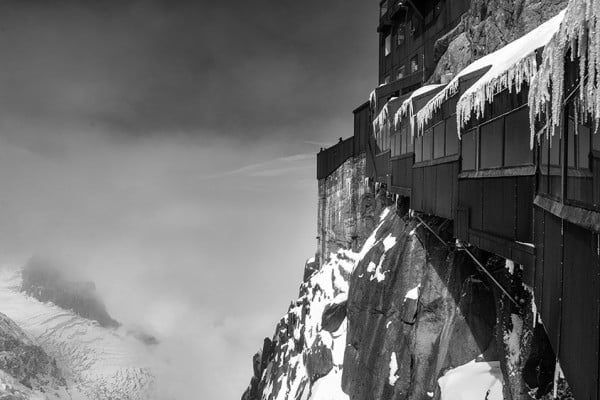 Spring on the Mont Blanc Massif
March
March sees the first signs of warmer weather, but with spring comes the risk of avalanches. Average temperatures in March are 2 - 12C (35 - 54F), and this increase means snow is melting, rivers are rising, and the risk of rockfalls and avalanches are significantly higher. However March is a popular month for downhill skiing in the region, and on a blue sky day there are few places in the world more spectacular. We'd suggest avoiding the hiking trails this early in spring, and always have a guide if you're hiking in the off-season. Average rainfall is around 60mm (2.4ins).
April
April sees the end of the wintery showers, and rainfall levels drop to only around 50mm (2ins) for the month. Spring skiing is still in full swing though, and well worth checking out. In April in the Mont Blanc region you can expect to see new life, of both flora and fauna, green pastures shedding their white winter coats, and slowly warming temperatures 3 - 15C (37 - 59F). The risk of avalanche and rockfalls is still prominant though, which is why we'll avoid hiking the trails until summer really kicks in.
May
May is the warmest of the spring months, and typically a little wetter than April. The combination of more rainfall and warmer temperatures means that river levels and avalanche risk can still be very high. Spring skiing is virtually over and visitors will trade their ski boots for their hiking boots in preparation for much warmer conditions and beautiful flowering landscapes. May sees a nice jump in temperature to between 9 - 21C (48 - 70C), and rainfall is around 70mm (2.8ins).
If you're considering doing the Tour du Mont Blanc any time soon, click on the banner below to view our small group guided Tour du Mont Blanc Circuit, and read about other travelers who did it. Seen you soon!