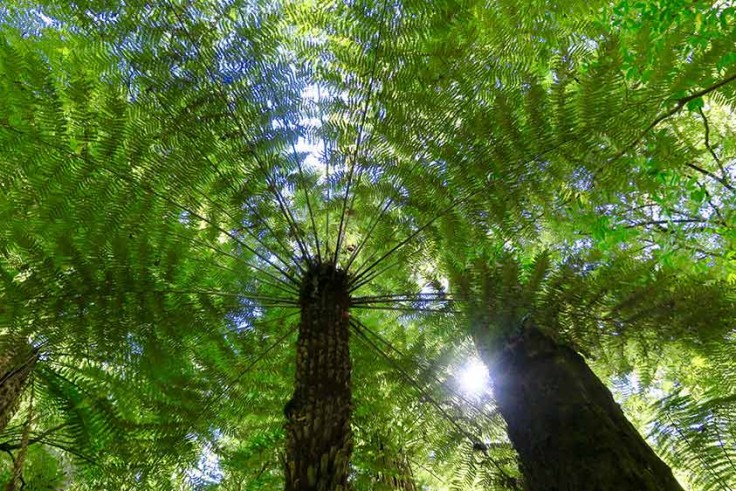 There's nothing quite like standing amongst the rimu trees and nikau palms in the temperate rainforest near Punakaiki on the West Coast of New Zealand's South Island… the flora of New Zealand is really special. In fact, all around NZ you'll have plenty of experiences just like that, and they'll all be special in their own way.
New Zealand has some of the best forests around. From beech forests in Nelson Lakes National Park, to the rimu and kahikatea rainforests of the West Coast, to the stands of massive Kauri at the top end of the North Island. New Zealand has substantial tracts of lush green forest, full of ferns, tall native trees and some intriguing plants that have adapted to a land that was lost in time for about 80 million years.

Hiking New Zealand's wilderness is the best way to see many of our plants, and taking the time to rest in one spot and take in all the native trees, broadleaf shrubs, ferns and mosses is a must. And if you're on one of our adventure trips and one of our guides hands you a funny coloured leaf and says "chew this" then just do it… you'll be surprised how interesting plants can be!


Rimu tree (Dacrydium cupressinum)
The rimu is the most common native conifer you'll find around New Zealand. It can be found around much of the North Island and the lowland forests of the South Island, especially on the West Coast, where the densest populations can be seen. It's a tall tree that can reach heights of up to 50m (165ft), when fully grown. As a young tree, it has bright olive-green weeping branches that are softly spiky to the touch, and as it matures these become drooping branches, both of which make it look very different from surrounding trees. The rimu is a member of the Podocarp family, and has 'male' and 'female' trees, different to most conifers, which tend to have both male (pollen) and female (seed) cones on the same tree.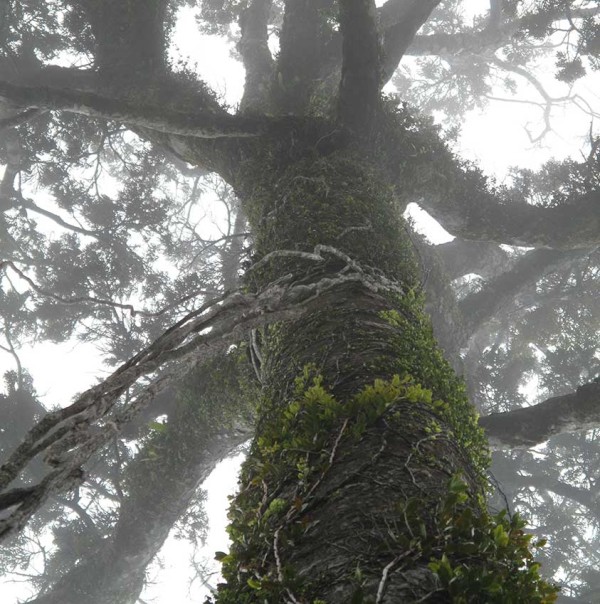 The Rimu can live to a ripe old age – 1000 years is not unheard of, although 500-600 is probably more the norm. This slow-growing tree was the most common native tree that was milled for a long time, and many older houses will have the beautiful reddish-brown timber for polished and stained floor boards, doors and panels. Nowadays, the trees are protected from logging on public land and only limited logging occurs on private land, often extracted by helicopter. As a result, recycling rimu timber for furniture is a popular practice.
The rimu tree means a lot to us here at Active Adventures New Zealand. It's the name we gave to our signature trip and you'll have the opportunity to see one up close while hiking on pretty much every adventure tour we run here in New Zealand.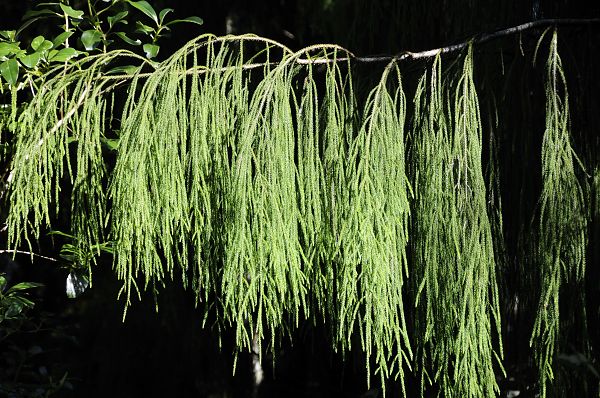 Kauri tree (Agathis australis)
New Zealand's largest tree species is also one of the world's largest and longest living trees. This inspired the name of our Ultimate North Island Kauri Adventure and you'll find this conifer north of about 38° south, at the top of the New Zealand's North Island. The tree has small narrow leaves and smooth bark. Kauri forests are some of the world's oldest and its ancestors date back to the Jurassic period, 190 million years ago.
The best living specimen of the kauri is an ancient tree known as Tāne Mahuta (meaning 'Lord of the Forest' in Maori). The tree is New Zealand's largest known living tree, with a height of 51.2m (168ft) and a 4.4m (14ft) diameter trunk. The tree is located in Waipoua Kauri Forest, Northland, and is thought to be between 1,250 and 2,500 years old. According to Maori mythology, Tāne is the son of Ranginui, the sky father, and Papatuanuku, the earth mother, and he created the space and air where all living things dwell by pushing the sky and the earth apart with the strength of his legs.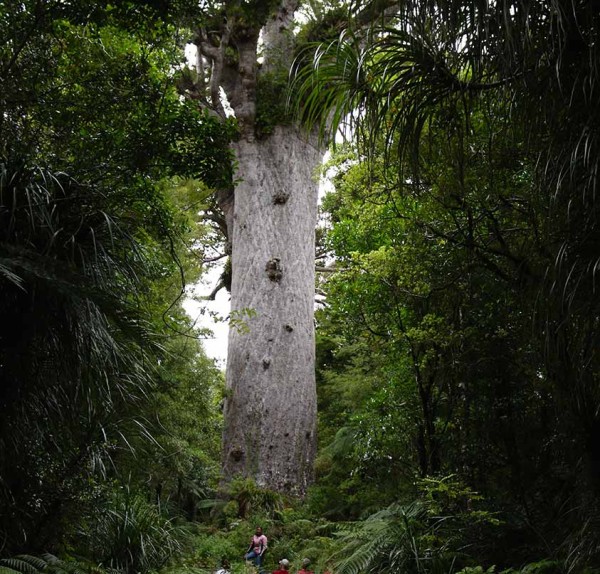 Kauri forests, now protected, were extensively logged from the mid-1800s onwards and by 1900 the majority of the forests had been cut down. The largest recorded kauri tree was known as the 'The Great Ghost' and had a trunk diameter of 8.5m (28ft) prior to being killed by fire around 1890. The timber is very strong and was sought after for boat-building and house constructions. The gum for the trees has also been dug up from swamps and exported for use in linoleum and varnishes.


Manuka Tree (Leptospermum scoparium)
The manuka or 'tea tree' is a common small tree or shrub found around New Zealand, particularly in drier areas where it is generally the dominant shrubland plant. The manuka plant is related to the Australian 'tea tree' (melaleuca) and both have many medicinal uses. The plants became known as tea tree because early pioneers used it to make a tea, although it would be safe to say that flavour isn't one of manuka tea's strong points! Manuka sawdust, however, is used for smoking fish and meats to impart a delicious flavour.


Photo by Nzmanukagroup.com

New Zealand Manuka Honey is highly prized not only for its distinctive strong taste but it has been shown to have extraordinary anti-bacterial and anti-fungal properties. It is often used topically to help heal boils, burns, cuts and even acne as well as soothe sore throats when taken either by the spoonful or in freshly brewed lemon, manuka honey and ginger tea. If you're buying manuka honey for its healing properties, look for a seal certifying the highest "Unique Manuka Factor" (UMF) you can find, or afford. UMF is still being studied, but its amazing healing properties is said to be due to a unique ingredient only found in New Zealand manuka honey and its health benefits haven't been duplicated by any other type of honey or natural remedy.


Where to find the Manuka Tree
The Manuka, our New Zealand hiking tour, was named after this plant that grows prolifically just north of the township of Te Anau, on the drier eastern edge of Fiordland National Park. The manuka plant can be seen on most of our South Island adventure tours that explore Milford Sound. Look for an evergreen shrub that grows up to 5m (16 feet) high and has small spiky leaves and very dark branches. The plant has pretty white flowers (sometimes pink) and it's commonly confused with its close relative, kanuka, which has softer leaves and grows taller.