The longest continuous bike ride in New Zealand, the Alps to Ocean trail, showcases Mother Nature at her finest. Where else in the world can you bike from beneath the country's tallest mountain, alongside vivid blue glacier lakes, through stunning open valleys and right to the Pacific Ocean? Extending 300 km (190 miles) from Aoraki / Mt Cook to Oamaru, you'll discover some of the finest landscapes in New Zealand and even learn a bit about yourself along the way.
If you're ready to tick off this iconic New Zealand bike ride, check out below what to expect, the perks of going guided and some FAQs. The Alps to Ocean trail is calling; will you answer?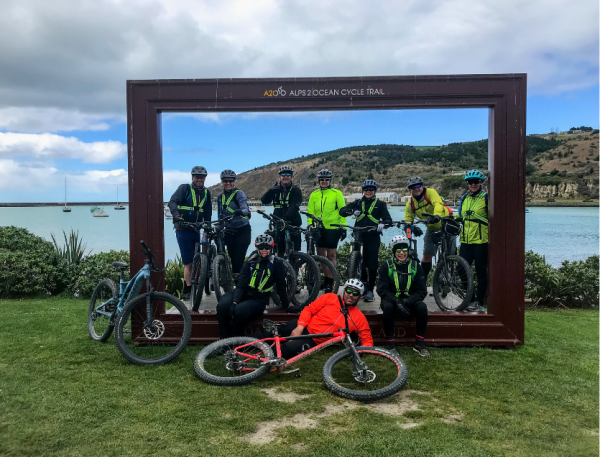 Your typical itinerary for an Alps to Ocean biking adventure
While there's no 'right' or 'wrong' way to conquer the Alps to Ocean trail, we've put our years of experience to good use and crafted an itinerary that'll allow you to tackle the entire length of the track over 6-days, and stay in incredible accommodations along the way.
Day 1: Arrive in Aoraki / Mt Cook National Park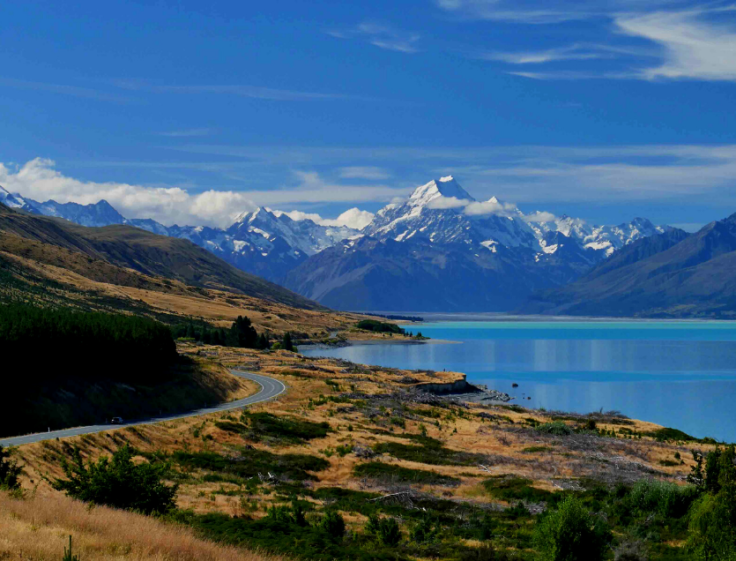 Start: Christchurch
Finish: Aoraki / Mt Cook Village
Distance: Up to 8 kilometres (5 miles)
Starting your adventure is just as scenic as the adventure itself! If you're joining an Active Adventures trip, you'll meet your guides in Christchurch and enjoy a scenic drive to Aoraki / Mt Cook National Park. Here, you'll be fitted with your bike and head out for your first ride to White Horse Hill Campground. Make the most of your time in this stunning National Park and enjoy a short hike along Hooker Valley.
Day 2: Aoraki / Mt Cook Village to Tekapo B Power Station
Start: Aoraki / Mt Cook Village
Finish: Tekapo B Power Station
Distance: 55 kilometres (33 miles)
Today your adventure begins. After a short ride to the helipad, you'll board a helicopter with bike in tow and fly over the mighty Tasman River. After, you'll once again hop on your bike and ride along a flat gravel road, with next to no traffic, to the road end at Tekapo B Power Station. A bus will be waiting at the finish line for the day and bring you back to Braemar Station, right in the middle of a working sheep station.
Day 3: Tekapo B Power Station to Lake Ohau Lodge
Start: Tekapo B Power Station
Finish: Lake Ohau Lodge
Distance: 62 kilometres (38.5 miles)
Blue is the colour of the day today as you bike along the East side of Lake Pukaki, pass through Twizel and then onto Lake Ohau Lodge. The trail is primarily quiet sealed roads with some wide flat-packed gravel trails leading up to your accommodation for the night. Have your camera ready today; the striking blue lakes look magnificent against the dramatic backdrop of the Southern Alps.
Day 4: Lake Ohau Lodge to Otematata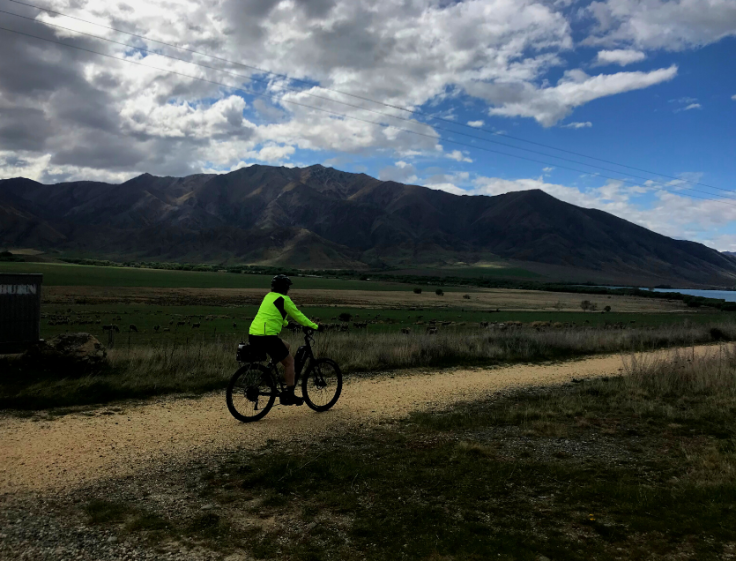 Start: Lake Ohau Lodge
Finish: Otematata
Distance: 79 kilometres (49 miles)
Make sure to enjoy a hearty breakfast as today you'll tackle the longest section of your Alps to Ocean adventure. The day begins with a steady climb up to Tarnbrae; sitting at 900 metres (2953 feet), you'll enjoy views for days before hopping back on your bike for a glorious downhill coast to Omarama and then on to Otematata. Today, the trail varies and includes sealed roads, gravel roads, grass and gravel trails.
Day 5: Otematata to Duntroon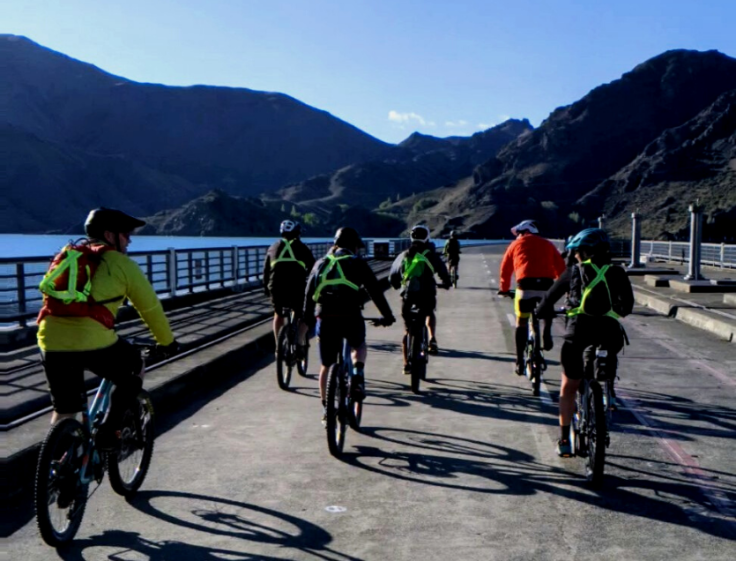 Start: Otematata
Finish: Duntroon
Distance: 73 kilometres (45.4 miles)
Another big day today! Starting in Otematata, you'll ride along a low-traffic tar-sealed road for the first 45 km (30 miles). From here, the trail turns to gravel as you continue to Duntroon. Highlights include passing by New Zealand's second-largest hydro station, Benmore Hydro Dam and biking around Lake Aviemore and into Korow, an immerging pinot noir paradise.
Day 6: Duntroon to the Pacific Ocean in Oamaru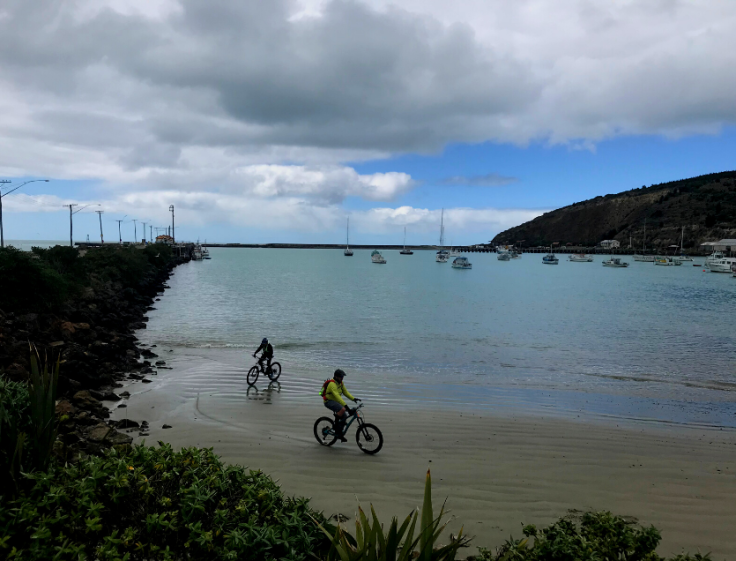 Start:

Duntroon

Finish:

Oamaru

Distance:

54 kilometres (33 miles)
Your last day on the trail! Today you'll ride a smooth flat-packed gravel trail from Duntroon to Friendly Bay harbour in Oamaru. Pass by picture-perfect farmland, the Elephant Rocks and even ride through a 100 metre (328 feet) tunnel. When the ocean pops into view and you bike right onto the beach of the Pacific Ocean, you'll know you've completed the longest continuous bike ride in New Zealand. We'll grab a celebratory drink at a local pub before driving back to Christchurch to say our goodbyes.
Top 5 benefits of choosing a fully guided Alps to Ocean tour
1. Enjoy flexibility with your ride
With a fully vehicle supported trip, you can ride as much or as little as you'd like each day. If you're keen to push on and ride the entire trail, or even further, our guides will make sure you're well-fed and hydrated to complete your ride in comfort. On the other hand, if you need a break or want to opt-out of a particular section of the trail, you can hop on the bus until you're ready to get out again.
2. Every detail sorted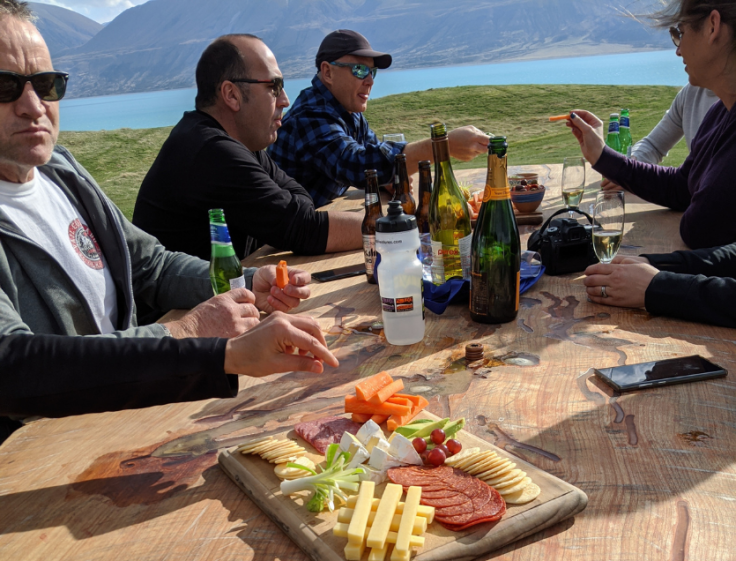 Leave your stresses at home and let the guides take care of all the finer details. Your accommodation, all meals, transport, snacks and permits will be looked after so you can simply enjoy each day's adventure. Plus, what's better than hopping off your bike, into the shower and when you come out, cold beer and tasty platters will be waiting?!
Raewyn, from North Shore, joined our Alps to Ocean trip. Here's what she had to say...
Just when you thought you had seen the tour highlight, you'd turn a corner, and there would be another amazing view or cool trail to ride. Our guides were exceptional. They took care of every detail, from cooking superb meals to keeping us safe on the trails and ensuring the smooth running of the bikes (even cleaning them one night)!
3. Safety
No matter how prepared and fit you are, you never know what mother nature will throw at you. Or when a random corner or bump takes you by surprise. With two guides, one riding in the front and one riding in the back, they'll be by your side if anything happens. You'll also have the Active HQ on call if weather changes plans or anything unexpected happens.
Judy, from Auckland, joined our Alps to Ocean trip. Here's what she had to say about the experience...
Initially, I was apprehensive about this trip as it challenged my riding endurance, technical skills and comfort zone. However, I knew there was the backup of a guide and the van. I am now motivated to try more challenging biking trips after this experience.
4. Expert guides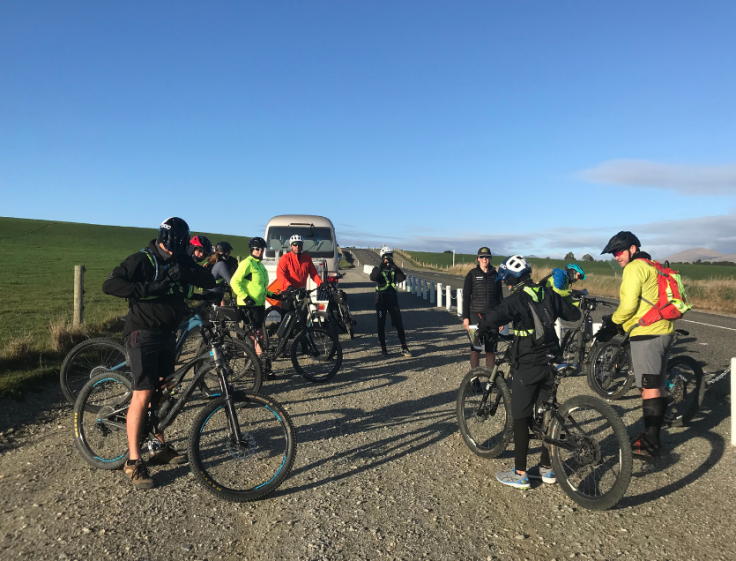 We've already mentioned your incredible guides a few times, but we promise, once you meet your guides, you won't be able to stop raving about them. Not only are they incredibly knowledgeable about the flora, fauna and history of New Zealand, they're also experts at fixing bikes, adjusting seats, and have a sixth sense for the needs of the group.
Judy, from Auckland, join our Alps to Ocean trip. Here's what she had to say about the accommodation, food and our guides...
As a group we had a great deal of fun, stayed in comfortable atmospheric accommodation...my favourites were Braemar Lodge and The Brydone, Oamaru. We ate fabulous food. Our guides Elder and Ken are chefs supreme. Gourmet picnics appeared like magic, as we lounged on deck chairs. Cafes and coffee were abundantly provided for. Nothing was too much trouble for our guides.
5. Meet new friends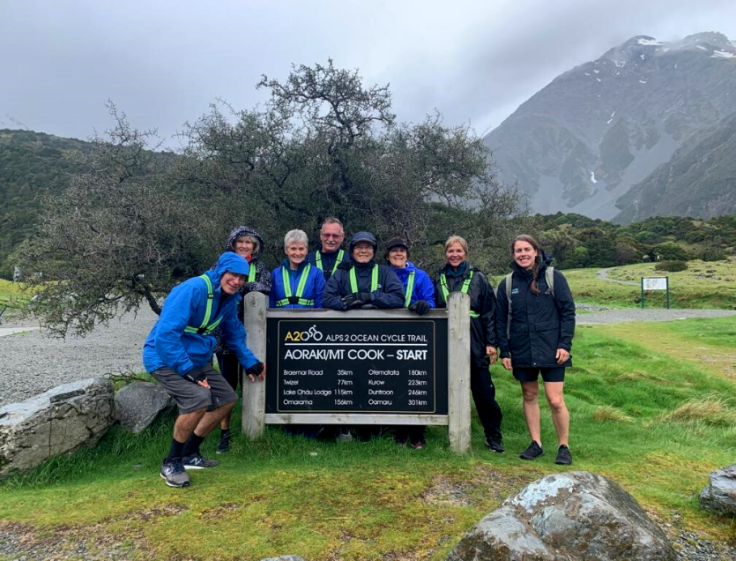 We find our trips attract nature lovers who love challenging themselves, and everyone tends to get on very well. With small groups (the most we'll have on a trip is ten guests), you'll feel more like a group of friends than a bunch of strangers.
Alan, from North Shore New Zealand, joined our Alps to Ocean trip. Here's what he had to say...
This trip was brilliant. Admittedly the fantastic weather we encountered made it even more beautiful, but weather can't replace great people. The whole group was great and entertaining, but the Active Adventures guides Ellie and Elder made it very special. Nothing was too much trouble, their cooking was outstanding and general hospitality skills marvellous. They are a credit to the company and themselves.
Alps to Ocean map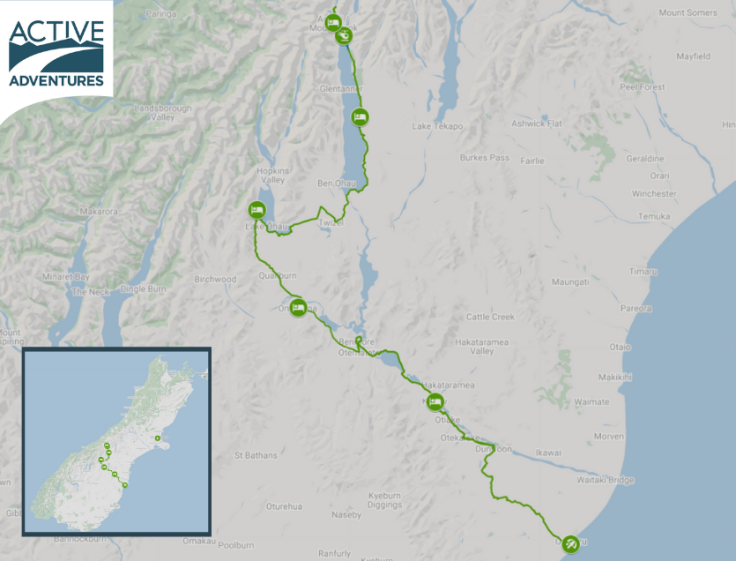 FAQs about the Alps to Ocean Trail
1. Can I use an E-Bike?
Yes - many people choose to use an E-Bike to conquer the Alps to Ocean trail. For an extra fee, we're happy to supply you with an E-Bike that's perfect for the trails we'll be riding. If you'd prefer to use a standard bike, that's certainly okay with us too!
2. How fit do I need to be, and how much biking experience should I have?
Whether you're using an E-Bike or a standard bike, you'll want a decent level of fitness and some experience riding on different kinds of trails. As the ride is fully vehicle supported, you can always hop in the van for part of the ride if you'd like. However, we always recommend getting out on plenty of rides before joining. The more fit you are, the more fun you'll have!
3. What type of trail will I be riding?
You'll be riding on a mix of sealed roads, gravel roads, flat-packed dirt paths and some loose gravel trails. There are a lot of ups and downs on the trails as well, so you'll want to ensure you're comfortable with hills.
I'm ready to conquer the Alps to Ocean trail! What now?
Ticking off this bucket-list adventure is easy. You can bike the full length of the Alps to Ocean trail on our 'Alps to Ocean' trip here or incredible parts of the trail along with other iconic New Zealand biking trails on our longer 'New Zealand Biking Adventure'. Get in touch with us today, and we'll help get your planning started!