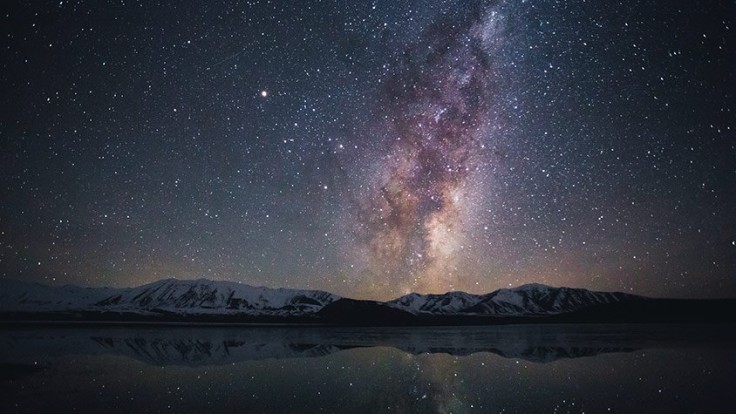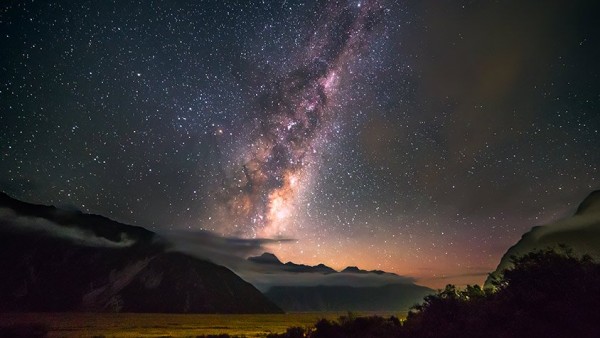 The Milky Way over Mt. Cook National Park
The astronomer Bart Bok once said: "The Southern Hemisphere holds all the good stuff" and we whole heartedly agree. We boast some of the most captivating stargazing in the world and the best part is, you can enjoy it in countless locations with nothing more than your own two eyes. Down here in New Zealand you don't have to travel far to get away from the masses, find a dark, quiet spot and just gaze up into the unknown (especially on the South Island!).
Mankind has long been fascinated with the stars and it is easy to see why. We've used them for navigation, to keep track of time, to tell stories of gods and legend and we've made a few wishes along the way. In New Zealand the stars symbolise the coming of the Maori New Year. This is kicked off by the arrival of Matariki (the Maori name for a group of seven stars know as Pleiades) in the early June sky. Matariki has two meanings, Mata Riki means Tiny Eyes, and Mata Ariki means Eyes of God.
If you're even just a novice astronomer, you'll have seen the documentaries on Netflix, considered buying a few books and be familiar with the dreamy voice of Neil deGrasse Tyson. But whether you have done the research or not, there is a lot to love about the night sky. New Zealand has it all and we'll let you in on some good spots.
The Northern and Southern Hemispheres
Let us start by explaining why it is so much better here in the South. The Northern and Southern Hemispheres offer very different views of the beyond and to reiterate the wise words of Bart Bok, we got all the good stuff. Here's a few reasons why: we can view two awe-inspiring galaxies through the naked eye - yep, you just have to look up - these being the Large and Small Magellanic Clouds. We can see the three brightest stars in Earth's sky; Sirius, Canopus, and Alpha Centauri. And finally, the galactic centre in the milky way is positioned overhead, sweeping from one side of the horizon to the other.
So, if that isn't enough to entice you, maybe the prominence of the stars in the sky here will win you over.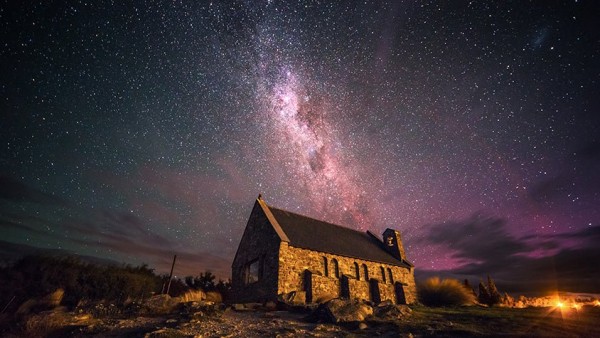 The Church of the Good Shepherd on the shores of Lake Tekapo
Dark Sky Bliss: Dark Sky Sanctuaries in New Zealand
You may or may not have heard of dark sky sanctuaries, either way, we're sure you'll agree that they sound pretty cool. A Dark Sky Sanctuary or a Dark Sky Reserve is an area in which artificial light pollution is restricted and this is generally to promote astronomy. For a more technical answer, The International Dark Sky Association defines a Dark Sky Sanctuary as "public or private land that has an exceptional or distinguished quality of starry nights and a nocturnal environment that is protected for its scientific, natural, or educational value, its cultural heritage and/or public enjoyment".
This is something that us Kiwi's do very well, we have a dark sky sanctuary on Great Barrier Island which is situated off the coast of the North Island and the Aoraki Mackenzie International Dark Sky Reserve on the South Island (Stewart Island has just applied for Dark Sky Sanctuary status too and could soon be approved!). Great Barrier Island is (currently) the only island sanctuary in the world. They have a very small residential population which means light pollution is easy to confine and the isolation can make this a desirable spot for some gazing. They offer guided tours on the Island, or you can choose to wonder around by yourself and enjoy some privacy. If you have the time whilst you're here, we highly recommend it.
The Mackenzie region in New Zealand holds some of the more well-known stargazing spots, and rightly so. Aoraki/Mount Cook, Lake Tekapo and Twizel are home to some of the darkest skies in NZ and Bob Parks, the International Dark-Sky Association executive director agrees; "To put it simply, it is one of the best stargazing sites on Earth". Which is why we've chosen to include the area on a handful of our South Island trips - the 'Weka', 'Manuka', 'Rimu', 'Kea' and 'Kiwi' - and some top-notch accommodation providers. Lake Ohau Lodge offers spectacular views of the starry sky above. Equally Braemar Station provides remarkable stargazing with stunning views of Lake Pukaki and mighty Aoraki/ Mt Cook, as well as some special insight into Kiwi farming life. Our awesome guides can share some astronomy knowledge with you, but if you'd like to experience the stars through a gigantic telescope, we'd recommend Mt. John Observatory in Tekapo. There are 5 large telescopes on the mountain in regular use and guided tours are available.
The Milky Way over Lake Tekapo and Mt. Cook National Park
A Little Less Known Stargazing Spots
If you prefer to do your own thing when it comes to vacation activities, we can recommend a couple of areas that are a little less publicized.
If you're staying in Queenstown and you have a car, Glenorchy is a small town situated just 45-minutes away. You can head over for dinner or just as the sun is setting for an extremely scenic drive alongside Lake Wakatipu before settling on a quiet spot for some stargazing.
In the deep south we have Stewart Island (mentioned above). Here you'll find Rakiura National Park, the name is a Maori word which translates to 'the land of the glowing skies'. Not only do these skies offer insane stargazing, if you are really lucky, you'll get to see The Southern Lights (also known as Aurora Australis). In the words of Dr. Ian Griffin from the Otago Museum "I have watched an aurora wearing shorts and sandals, something that only the most hardy Northern Hemisphere observer can do." Fair call, Ian!
If you're spending most or all your time on the North Island you should consider hiking the Tongariro Crossing at night. Please be aware that this should only be done with a guide!! It can be dangerous and you're much safer alongside somebody familiar with the terrain. You'll need to be brave enough to get up at 2am to begin the climb with nothing but headlamps and torches (and of course the night sky) to light your way. Stop for a breather and for some incredible stargazing before reaching the top of the geothermally heated red crater to watch the sunrise. You'll avoid the crowds and you can check out the views on your way back down – but you might want to pack a coffee… or two! Whether you're here specifically for the Southern Hemisphere night sky, or if it is just the starry icing on top of the mountain cake, all of our trips offer the opportunity to indulge your inner astronomer. We pass through numerous areas of minimal light pollution, from Milford Sound to Arthur's Pass. When it comes down to it, the opportunities for stargazing in New Zealand are endless, so what are you waiting for?
Some Quick Tips to See the Stars
Best time to visit: For clear skies the best time to visit is Summer and Autumn (December – May). For a higher chance of seeing the Aurora Australis your best bet is to visit between March and September. Stargazing is available all year round and is impressive all year round, so long as the weather is on your side.
Constellations/ Planets you should try and spot: The Southern Cross (it is on our flag, after all), The Anchor, Maui's Fish Hook, Orion, The Pot, Jupiter, Mars, and Saturn.
Fun pointless fact: The movie 'Ted' has an accurate night sky throughout, they made sure that the sky that was visible was correct to the timing of the year with the help of Neil deGrasse Tyson.
Phone app's for mapping the sky: Night Sky (iOS: Free), SkySafari (iOS: Free), SkyView Free (Android, iOS: Free).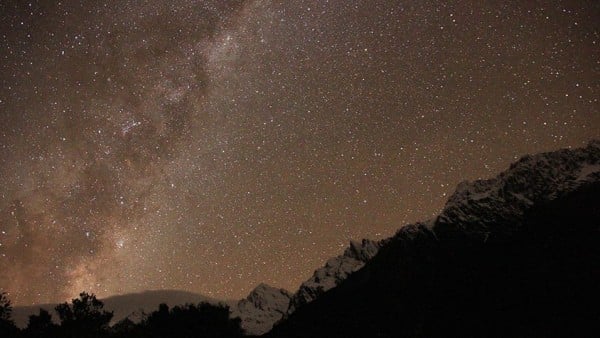 Beautiful night sky at Welcome Flat Hut, Copland Track. Winter Rimu trip