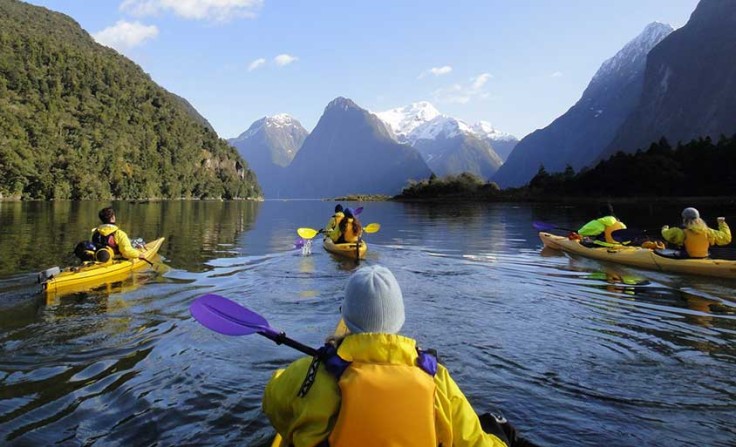 Kayaking is a great way to get out there and experience Milford Sound in all its natural beauty. We love getting out on the water bright and early, before the trip boats start chugging back and forth on the fiord, and seeing what wildlife we can see. On this page we'll talk you through a kayaking trip on Milford Sound, and do our best to answer the questions you'll have.
When is the best time to kayak Milford Sound?
As mentioned above we think the morning is the best time of day to get out on the water. Your kayaking guides will make sure you get a good breakfast, and your morning coffee hit, before you head down to the wharf to get kitted up for your paddle.


So what do I wear?
Your kayaking guides will talk you through the best gear to wear, it'll depend on the forecast and the time of year. The kayaking company will provide you with the following: a warm fleece, splash proof jacket, woolly hat, gloves, and a personal floatation device. So all you need to worry about is extra layers if you don't think you'll be warm enough with all that. It might be a good idea to wear some thermal underlayers if you tend to feel the cold.
We'd also advise packing a change of clothes in your day packs, which you can leave at the kayak shed, so you can change as soon as you come off the water into something clean and comfortable.


What else do I need to bring with me?
Your camera! Milford Sound was described by Rudyard Kipling as the 'Eighth wonder of the world' so you're going to want to be able to reminisce about your visit by looking back through those photos. And don't worry, there's ample opportunity to lay your paddle down for a moment and grab a snap – you'll be paddling double kayaks so make sure you let your partner know you're planning to stop paddling!
Your kayak guides can supply you with dry bags to store your phone or camera in, so that it doesn't get splashed as you paddle.
Before you get off the bus be sure to raid the snack basket so you've got some fuel for your energetic morning. Fruit and muesli bars are great to munch on whilst you're on the water, just be sure to take your rubbish away with you, and don't put soft fruit in your dry bags with your electronics! It's also a good idea to take your water bottle with you, it's really easy to secure them to your kayak. And if the forecast is for a sunny day, don't forget to slap on some sunscreen!
The famous New Zealand Sandfly is abundant in Fiordland National Park (according to Maori legend it was created to keep people moving and working, instead of staring at Milford's incredible natural beauty) so repellent is always a good idea. The flies won't bother you once you're moving, it's only on the shore where they're an issue.


How long is the kayaking trip?
The length of the kayaking trip is always weather dependent. Ideally you'll be out on the water exploring for around three hours. Your guides will lead you to different areas of the fiord, showing you waterfalls, naming peaks, and telling Maori legends.

The focus of the kayaking trip isn't as much about a physically demanding workout, as it is about experiencing Milford Sound's stunning natural beauty. So your guides will keep to a sheltered part of the fiord, and away from the trip boats, where you can explore at a leisurely pace. Three hours gives you long enough to do some exploring, take loads of photos, and build up a big enough appetite to get stuck in to lunch when you come off the water.
Some other ways to see Milford are via air, or do either a day cruise, or even better, an overnight cruise.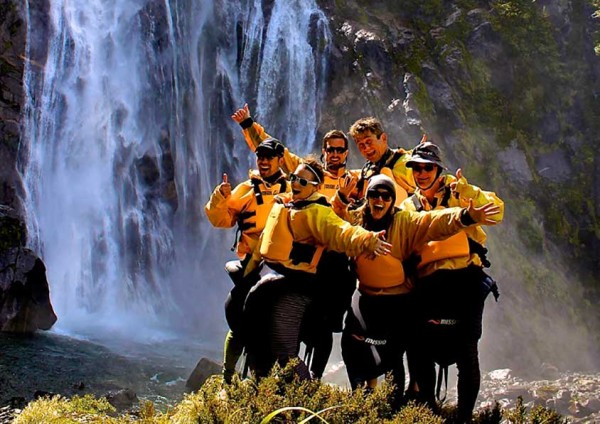 What can I expect to see?
Do you mean aside from the sheer granite mountain faces, hanging valleys, hanging forest, and at least two permanent waterfalls?! Milford Sound is a haven for lots of marine life, and at different times of year, you can expect to see a variety of animals.
Milford Sound regularly hosts Southern fur seals (also known as Antarctic fur seals) all year round. Another common sighting – but only during their breeding season of July to November – is the Fiordland crested penguin.
Dolphins are also a relatively regular sighting in Milford Sound. Bottlenose dolphins, and occasionally dusky dolphins, will come into the fiord. They can be seen riding the bow waves of the trip boats, and will often come and get close to your kayaks as you paddle around.
Aside from the animals that spend their time in the water, New Zealand also has a wide variety of birdlife, both native and introduced, so keep your eyes peeled! Most of our New Zealand tours include one or two days in Milford Sound, with a day cruise, or sometimes an overnight cruise with a kayaking option.