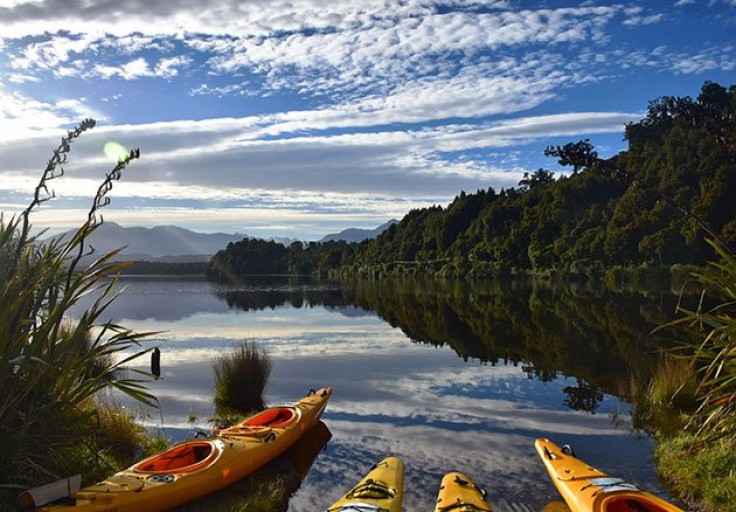 The view from Okarito Lagoon cannot be surpassed by any other landscape on the globe" so wrote Julius von Haast in 1869, an early explorer. The lagoon remains today in its natural state. It is surrounded by magnificent rimu and kahikatea rain forest and on a clear day provides awe-inspiring views of the Southern Alps. It is New Zealand's largest unmodified wetland covering 3240 hectares of shallow open water and tidal flats.
The Lagoon is a bird-watchers paradise. Every year the White Herons or Kotuku return to Okarito to breed at their only nesting site at Waitangi-roto River. The breeding season - October to February - coincides with the migration of the "whitebait" a small fish renowned as a delicacy on the West Coast. The birds take turns to collect fish on Okarito Lagoon and return to their nests to satisfy the voracious appetite of their chick.
As well as the Kotuku more than 76 other bird species have been recorded. They include migratory waders, shags, gulls and terns on the estuarine mud flats and black swans, ducks, scaup, and crested grebes, in the upper freshwater. In the surrounding wetland vegetation are tui, bellbird, pigeon, kingfishers, fern birds, bitterns and crakes.
Kayaking
Kayaking is by far the best way to enjoy the wildlife and grandeur of the lagoon. This is one of New Zealand's premiere eco-experiences for wildlife and natural wetlands where you can enjoy nature on your own terms. We have kayaks and canoes to suit the special conditions on Okarito Lagoon. Previous kayaking experience is not necessary.
If you're interested in kayaking on the Okarito Lagoon, check out the following New Zealand tours
Rimu – 14 day South Island adventure trip
Tui – 8 day South Island adventure trip
Kiwi – 14 day South Island adventure trip
Winter Rimu – 14 day South Island adventure trip