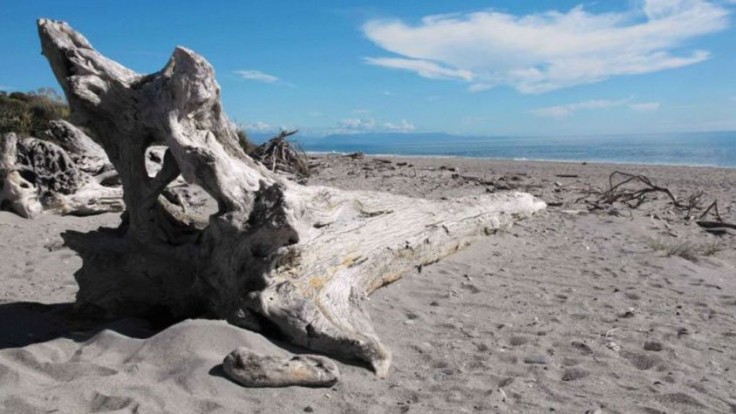 If you have ever graced the shores of Aotearoa, New Zealand before, you'll (hopefully!) agree that we have some of the best, most beautiful beaches in the world. From the alluring, pristine, golden sandy dunes to the black volcanic sand, with an impulsive coastline and boisterous surf, when it comes to beaches we're a bit spoilt for choice really. Stretching across an extensive 15,000 km (just over 9,000 miles) of coastline, the beaches of New Zealand are clean, clear and have a range of activities to get both your sensory and physical juices flowing. It also helps that summer down under is nice and warm, with typical temperatures from December through to March ranging in the low 70's and mid 80's (20 to 30 degrees Celsius), even during the winter months these beaches are among the most popular destinations to visit.
So with a raft of beaches to choose from, we've selected a few of our favourite spots and compiled a list of the 6 most beautiful beaches in New Zealand. Let's see if you agree with our picks!
1. Mount Maunganui, Bay Of Plenty, North Island
A local attraction or commonly known as 'The Mount', this is by far one of the best beaches in New Zealand and possibly in the world. With the dormant volcano – Mauao towering over the Mount Maunganui township – this patrolled white sandy beach is a one of a kind. With a reputation as the surfing mecca of New Zealand, the rolling waves are framed by Mauao's transparent-coloured sand dunes. This once quaint fishing village is also home to an abundance of marine life in the crystal clear waters. Mauao in fact, means 'caught by the morning sun'. Maori legend tells us of the magical mountain doomed by love, drowning in his sorrows he was bought up from the depths of the ocean only to be struck by daylight to be grounded in his position today, guarding the entrance of the Tauranga Harbour.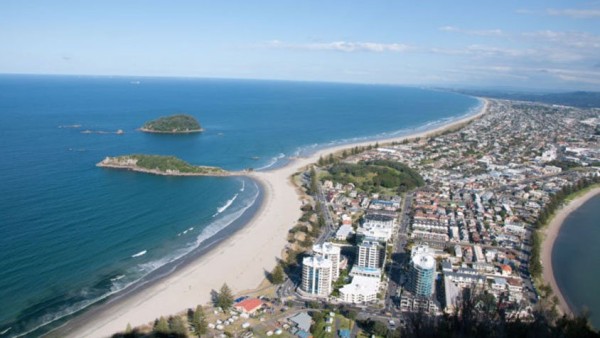 View from the top of Mauao, Mount Maunganui
2. The Beaches of the West Coast, South Island
On the West Coast of the South Island lies a rugged and dramatic coastline tucked away amongst a temperate and lush rainforest. This sparsely populated 600 km (372 mile) coastline, hosts an array of Mother Nature's offspring - famous pancake-shaped rocks, unscathed beaches, native Nikau Palms and ferns, mysterious caves and effortless waterfalls. The beaches of the West Coast are truly something else; a slice of heaven and a taste of the 'real' New Zealand, the locals say.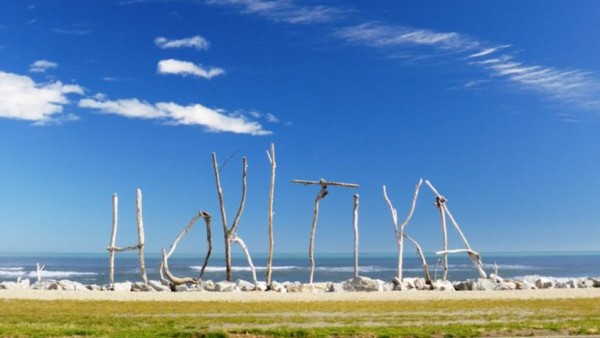 The Beautiful Hokitika beach, on the West Coast of the South Island
Further down the West Coast you'll stumble upon a picturesque township called Hokitika, famous for its Pounamu (Jade), that has been washed down from the nearby rivers. From beaches to glaciers, the West Coast is home to two of New Zealand's most stunning glaciers; Franz Joseph and the Fox Glacier. Once you reach Haast you'll be on the brink of New Zealand's true wilderness, getting up close and personal with the Fiordland Crested Penguins, exploring Ships Creek where you'll be rewarded with some of the most stunning views that overlook the coastal landscape, finishing with the sun setting over the Tasman Sea.
Ship Creek, Haast West Coast
It would be a bit much to see all of this in one day, so to really take in that West Coast experience we recommend joining the Ultimate South Island Adventure 'Rimu' trip, where you'll spend 3 nights on the coast.
3. Piha Beach, West Auckland, North Island
Piha is home to some of the wildest surf in the country. The surf will energetically crash against the shore, humming nature's tune. With black velvety sand, rugged cliff faces, sheltered lagoons and several streams, Piha holds a great mystery of isolation to its visitors. Lion Rock divides the North and South of Piha, this natural formation is an eroded 16-million year old volcanic neck resembling a strong familiarity to that of a lying male lion. Strong currents and rips makes swimming at Piha's beach mainly for the experienced swimmer and surfer. A local's tip is to make sure you have your jandals (flip flops) nearby because in the height of summer the black sand can get pretty hot!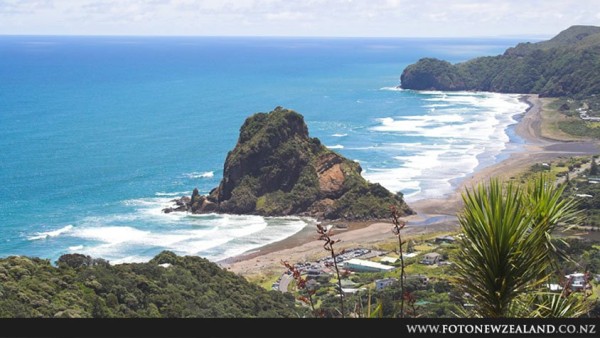 Lion Rock at Piha Beach, by www.fotonewzealand.co.nz
4. Ninety Mile Beach, Cape Reinga, North Island
Actually a misnomer, Ninety Mile Beach spans across a 55 mile stretch, which converts into 90 kilometres! So why is this beach so beautiful? Well, the dunes resemble a desert landscape, with people often flying down the chalky sandy hills on bodyboards. There is the world renowned sunsets coupled by one of the best surf breaks in the world. If you adventure away from the beach and head up towards the hills, you'll be greeted by the conspicuous Aupouri Forest that was once covered in massive Kauri trees 50,000 years ago.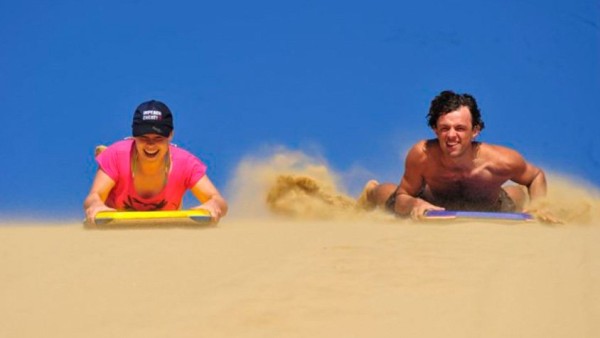 Sandboarding at 90 Mile Beach, by www.newzealand.com
5. Hot Water Beach, Coromandel, North Island
Jacuzzi anyone? Bring a spade, dig a hole, then sit and marinate in nature's natural bath. This unique entity to New Zealand's North Island is a geothermal wonderland of hot water below the surface of the sand. Soaking in the hot water can be enjoyed at any time of the year – summer or winter! Making it even more enticing for a visit.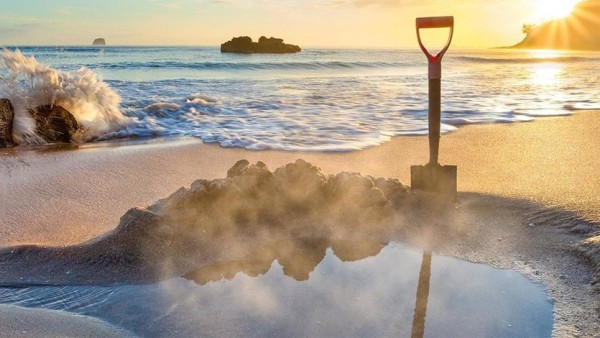 Hot Water Beach, Coromandel, by The Coromandel
6. Koekohe Beach, Otago, South Island
The Moeraki boulders seen at Koekohe Beach, are a mysterious group of partially submerged large spherical stones that have similar characteristics to veined dragon eggs. Golden sand entrenches dozens of these boulders while the wind, waves and rain unearth these incredible primeval sea floor sediments one by one. These large calcite concretions were created by the hardening of ancient sea sediment that was exposed through sea erosion some 60 million years ago. Measuring up to three metres in diameter, the Moeraki boulders are a combination of crystallisation of calcium and carbonates. It's pretty cool to jump inside one of these monstrosities too (some of them look like cracked eggs)! But unlike the warmer more northern beaches, if you're thinking of going for a dip in the water we would recommend wearing a wetsuit.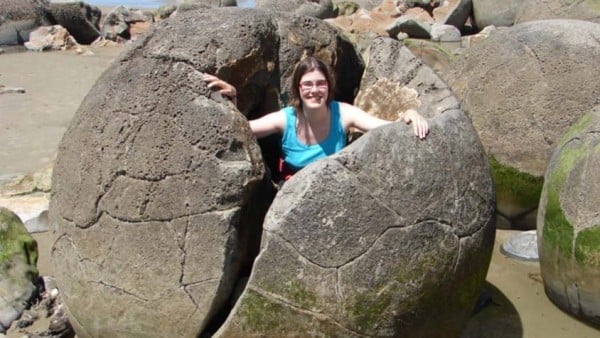 Sitting inside the Moeraki Boulders at Koekohe Beach
This really is just a snapshot of the beaches we have in New Zealand; whether you love exploring, lying on the beach, catching a wave or taking in a beautiful sunset, New Zealand's beaches offer a diverse range of awe-inspiring beauty and lavish wilderness that will suit anyone's desires. Summer is always just around the corner, and we can't wait to go exploring our beautiful coastlines once again!