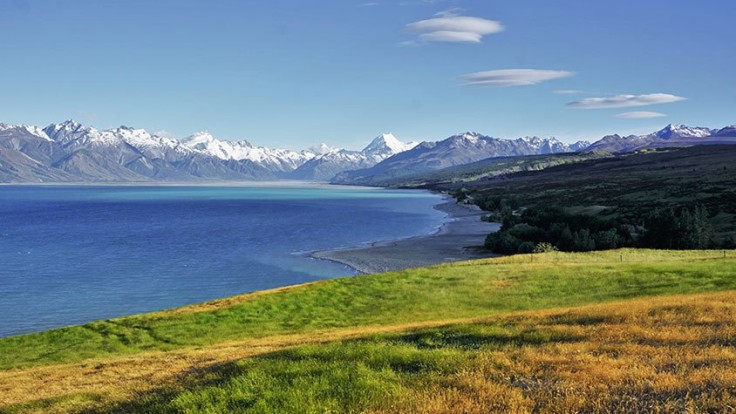 A trip to New Zealand's South Island isn't complete unless you're able to view at least some of these lakes. They each have their own unique identity and story, not to mention truly awe-inspiring views! They give a sense of the enormous amount of space for roaming, adventuring and exploring that we are blessed with here in New Zealand. We are lucky enough to have several of these impressive lakes in the South Island; some are hidden gems off the beaten track and others, like Lake Wakatipu, are world-famous! We've picked the seven most beautiful lakes in the South Island of New Zealand that you should put on your to-do list when visiting our shores, so see what you think!
Lake Wanaka
Lake Wanaka is picturesque and vividly framed, with the craggy peaks of the Southern Alps striking a pose in the background. Wanaka Township is popular with both domestic and international tourists, with two major ski fields for winter fun, and a host of wineries and eateries to enjoy during the warmer months. Look out for Red Star Luxury Burgers, Wanaka's legitimate competitor to Ferg Burger in Queenstown! Wanaka is experiencing fast growth, and is similar to Queenstown in that it's a good place to base yourself for all things adventure sports!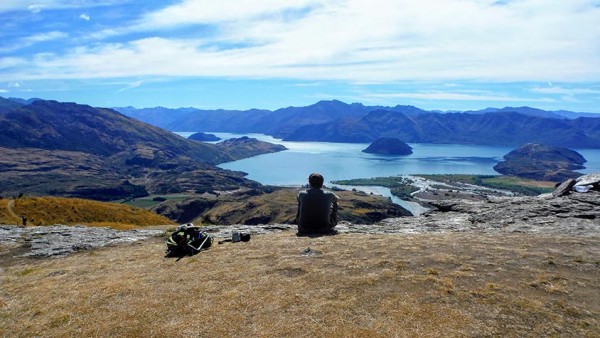 Lake Wanaka from Rocky Mountain Peak
Lake Wakatipu, Queenstown
Queenstown is of course a main attraction for visitors to New Zealand, and Lake Wakatipu provides plenty of entertainment and world-class vistas. Lake Wakitipu is dog-legged with Glenorchy at the North-Western end, Queenstown in the middle, and Kingston to the South. From Queenstown, the views across the lake towards the snow-capped Remarkables Mountain Range are unforgettable. During your visit be sure to ask a local (maybe your Active Adventures guide...!) to tell you the Maori legend of Lake Wakatipu, it involves a Giant, a Maori princess, and an angry mob! We'll leave the rest for you to discover!
One of the best times to enjoy this view is during the LUMA Light Festival in early Winter (in June), with a warm glass of mulled wine, and beautiful light installations throughout the Queenstown Gardens.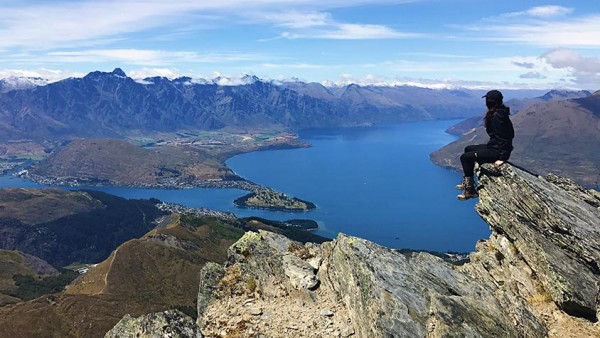 Lake Wakatipu and the Remarkables Mountains from Ben Lomond peak above Queenstown
Lake Tekapo, (en route from Christchurch to Lake Tekapo to Queenstown)
Lake Tekapo, located in the Mackenzie Basin, is the highest altitude lake in New Zealand's South Island. It sits 700 meters above sea level and is a great mid-way point to stop for a snack if you're traveling between Christchurch and Queenstown. Lake Tekapo is famous for its iridescent blue-colored hue, due to the high content of rock flour, or limestone and mineral sediments that travel downstream in the glacial waters feeding the lake. This rock flour is extremely fine, and as sunlight hits the water's surface these particles of rock flour cause the light to refract at an angle which creates this stunning blue coloring - it's quite incredible. The trip from Lake Tekapo to Queenstown is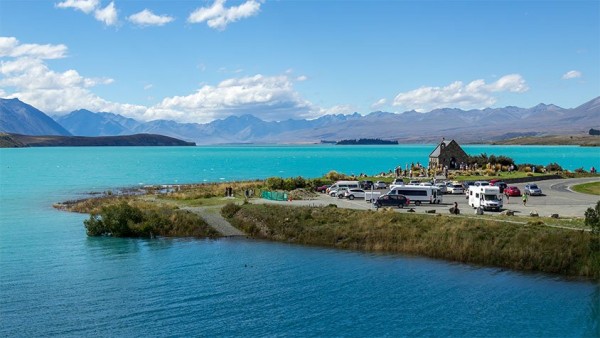 Lake Tekapo and the Church of the Good Shepherd
Lake Pukaki, Mount Cook
Famously known as the surrounding setting for 'Laketown' in 'The Hobbit' movie series, Lake Pukaki is another long large jewel in the Mackenzie Basin. Nestled under the shadow of Aoraki/Mount Cook (New Zealand's tallest mountain), it was the lake's pure distinctive light, amazing turquoise hues, coupled with the sharp alpine peaks that originally got the attention of Sir Peter Jackson. Sir Peter ended up using this particular region three times to backdrop major location scenes in his 'The Lord of the Rings' and 'The Hobbit' trilogies. If you travel to New Zealand with us, look out for trip itineraries including biking past Braemar Station (like our 'Ultimate South Island Adventure'), it's a sheep station on the shores of Lake Pukaki, and one of the most unique and breathtaking farms in the whole of New Zealand.
Lake Ohau, near Omarama
Lake Ohau is another popular destination for skiers and snowboarders. It sits directly underneath Ohau ski field and is located four hours' drive south of Christchurch and two hours north of Queenstown. It offers incredible mirror images, views across to Aoraki/Mt Cook, beech forest hikes and protected shrublands. Access tracks around the edge of the lake provide challenging 4x4 driving routes, and access to several backcountry huts and beautiful hiking trails. Our 'Milford Track' trip stays at Lake Ohau Lodge on the shores of the lake.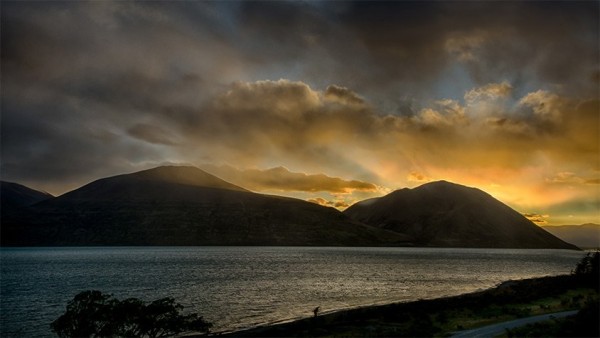 Sunset as a storm approaches at Lake Ohau
Lake Matheson, West Coast
Lake Matheson sits close to Fox Glacier in South Westland, on the West Coast. The lake is renowned for its crisp, reflected views of Aoraki/Mount Cook and Mount Tasman. A magnificent place to stop for a night or two beside the lake, or stay in a local lodge - there's also a great walk through native forest around the fringe of the lake.

Lake Matheson on the West Coast near Franz Josef
Lake Hawea, near Wanaka
Lake Hawea lies near Lake Wanaka and covers a huge 141 square kilometers. It's a popular lake for activities like fly fishing, kayaking, wind and kite surfing, and boating. Along the shores of the lake there are numerous biking and hiking trails and up the valleys there are some well-known hunting spots. If you travel on a South Island trip which includes mountain biking, like the 'New Zealand Biking Adventure', then Lake Hawea is where we'll start one of our rides, finishing on the shores of Lake Wanaka, which we've already told you about!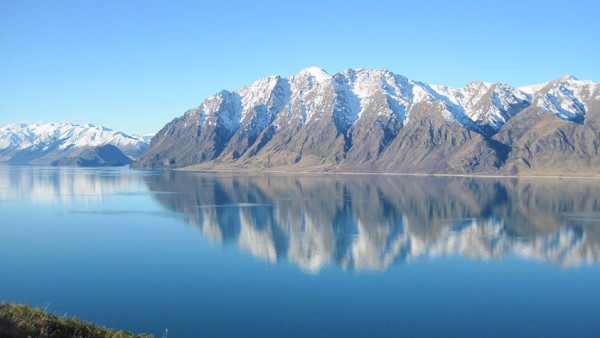 A beautifully still day at Lake Hawea
So that's our list of the 7 most beautiful lakes in New Zealand's South Island, an impressive selection of stunningly beautiful lakes. If you're thinking of visiting some of these destinations, you should check out our New Zealand Adventure trips. Many of our trips embark on scenic routes traveling between Lake Tekapo to Queenstown, which includes several of these lakes. We're looking forward to showing you around!