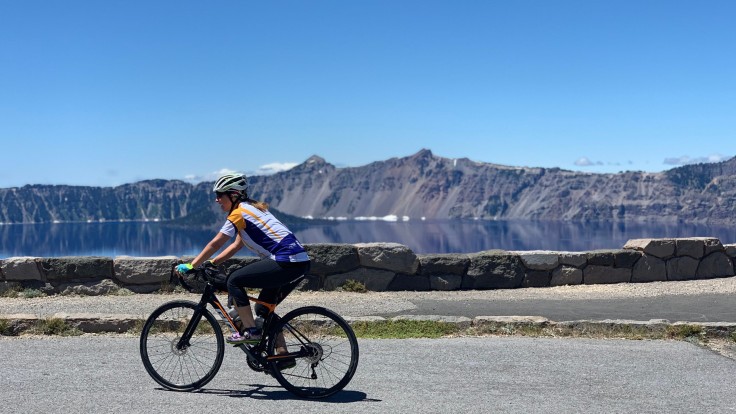 Circumnavigating Crater Lake in Oregon. Riding between the mountains and the oceans in Yamingsham National Park in Taiwan. Rolling into St. Moritz in Switzerland. Conquering New Zealand's Alps 2 Ocean trail. Which of these breathtaking Active Adventures rides is on your list?
If you're planning a multi-day bicycling trip in the coming year, and you're not currently riding multiple days a week, you may be wondering how much pre-trip preparation you should do?
Of course it depends on your itinerary details, such as how many days you will be riding, and what distances and elevation changes are involved. If you're planning to use an ebike, that shifts the equation as well.
Whatever your trip, incorporating these 5 activities in the months before you leave will make your cycling vacation even more amazing!
1: Ride a bike several times a week – outside!
Although this may seem obvious, it can be easy to let the weeks slip by without getting on a bike. After all, preparing for a bike ride takes a bit more effort than going out for a walk.
If your bike has been gathering dust for a few months (or longer), take it to a local bike shop for a basic tune-up. They'll assess your chain, brakes, tires and other key components and adjust them as needed. It's a bit of an investment, but a tuned-up bike will make your rides more enjoyable.
Start with a couple of shorter rides per week, about 30 minutes or so each. Your behind will thank you for easing in gradually! If you're a bit sore after the first ride, do a shorter one the next time. If you feel good after the shorter rides, add 10-15 minutes per ride the following week.
If you have access to a stationary bike, go ahead and use that periodically for training rides. It is important to get out on a regular bike, though, so your body gets used to balancing as you move and deal with elements like uneven surfaces, wind, etc.
This sample multi-day bicycling trip 12-week training plan includes recommendations for how many rides to do and the amount of time for each.
2: Strengthen your legs and core
The more you ride, the stronger your legs will get. To further increase your endurance, and reduce your risk of injury, add in some specific resistance training for your legs as well as your core.
Doing the "big 3" classic leg exercises – squats, deadlifts and lunges – build stronger quadriceps, hamstrings and calves. This pays off as your muscles will pedal more efficiently, so you'll have more energy after multiple days of riding.
Reinforcing your core with focused exercises will improve your stability and comfort while riding. One of the simplest exercises for a strong core is a plank.
Another fairly simple exercise that targets the core and works the hip flexors too is single leg lifts. Lie on your back with your legs up in the air (feet towards the ceiling), then slowly lower one leg towards the floor until you feel your core engage while keeping your lower back pressed into the floor. Bring that leg back up and then lower the other leg.
3: Mobility and stretching
Since cycling involves most of your body being in a static position, tension can build up during your time in the saddle. Taking a few minutes to stretch after your ride can make a difference in how you feel later in the day and the next.
Stretching the major leg muscles for a few minutes will give them a chance to recover from the effort of riding. Doing a few stretches for your shoulders, back and chest will help them loosen up after they've been stabilizing your body on the bike.
One stretch that covers multiple muscle groups is the doorway stretch. Stand in a doorway and put your lower arms on the frame. Step one foot back and bend the other knee so you're in a lunge position and lean into the doorway. After 30-60 seconds, switch legs so the other one is behind.
4: Other cardio activities
A solid foundation of cardiovascular fitness will improve your overall energy during a multi-day bicycling tour. Walking, running, swimming, dancing, and other activities that get your heart pumping all contribute to overall fitness and endurance.
So mix it up and do more of the other activities you enjoy as you get ready for your trip!
5: E-bike considerations
If you're planning on riding an ebike on your trip, and you haven't ridden one before, trying one at home will increase your comfort for your vacation.
Ebikes are heavier than standard bikes, and where the extra weight of the motor and battery sit on the frame alters the ebike's center of gravity.
If possible, rent an ebike and take it out on some of your regular routes so you can feel the difference in a familiar environment.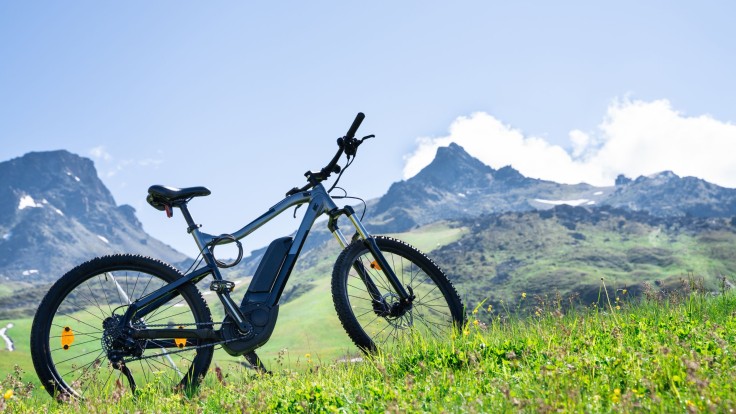 E-Bikes are now much lighter with longer lasting batteries
Investing just a few hours per week as you get closer to your trip will increase your comfort, confidence and energy when you get in the saddle in your dream destination!
If you're not yet booked onto a biking adventure but you're interested in single or multi-day cycling trips, check out Active Adventures Biking Focused Adventures here.
Becki Rupp is a personal trainer and adventure coach, and has completed several multi-day bicycle rides in the U.S. and Europe. She creates personalized training plans and provides coaching support for travelers preparing for cycling and other adventures. You can find out more about her at TrailblazerWellness.com.