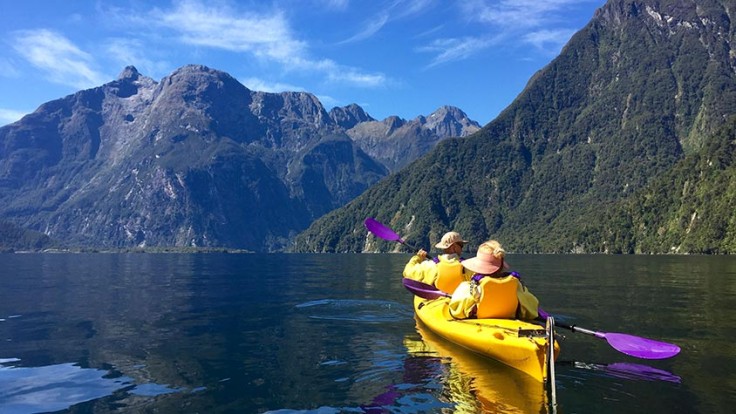 Milford Sound is without a doubt one of New Zealand's most iconic destinations. When you're dreaming about your trip, everything's perfect. You see sunny blue skies, snow capped peaks, perfect photographs and a peaceful elegance... and you blind yourself to the possibility of unpredictable weather.
But Milford holds a few secrets that only a local will tell you, secrets that will inspire your sense of adventure.
1. Milford Sound is known as the wettest inhabited place in New Zealand
With an average of almost 7000mm of rainfall across 183 days of the year, I wouldn't rely on getting a tan in Milford Sound. But don't worry – something incredible happens when it rains...
Kayakers exploring Milford Sound on a stunning day
2. Don't worry about the weather, the perfect day is rain
Sure, sunny blue skies are nice for keeping the camera dry, but the true explorer will pray for rain. The enormous granite peaks don't absorb a drop of water and they have no beaches. The result is thousands of stunning waterfalls flowing straight into the fiord.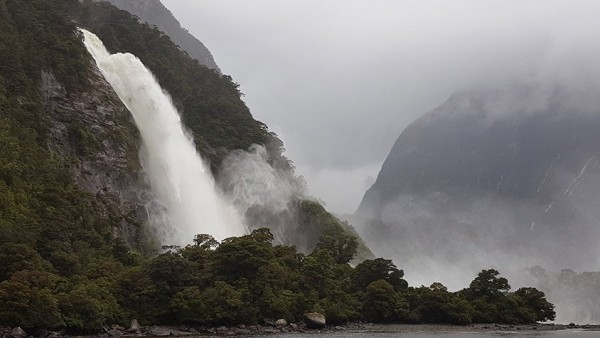 Lady Bowen Falls provides electricity for the whole of the settlement at Milford Sound
3. The ocean is black
The fiord is hundreds of meters deep, but the rainfall creates a layer of fresh water up to 6 meters deep, which sits on top of the ocean. All this rainfall washes a tannin from the forest, which stains the fresh water, resulting in its unique black appearance.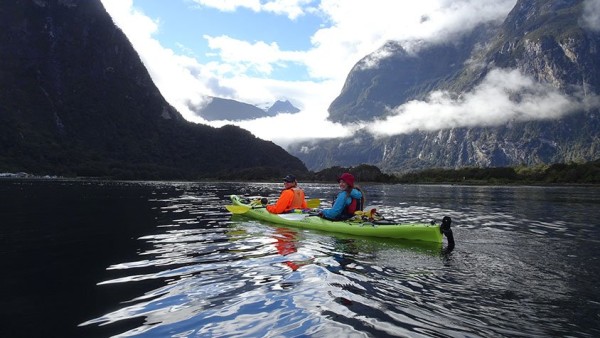 The deep, black, moody waters of Milford Sound
4. Milford Sound is NOT the Milford Track
This is one of the most misunderstood facts about Milford. Milford Sound itself was regarded as the 8th Wonder of the World by Rudyard Kipling, it's a fiord that's surrounded by towering peaks, lush rainforest and incredible marine life.
The Milford Track is one of New Zealand's Great Walks, and a very different experience to visiting Milford Sound. The hike is absolutely stunning, but the local government allows 90 people on the track each day (50 guided, 40 unguided), so it doesn't get too crowded and the nature is preserved. Plus you can only hike it for 6 months of the year, whereas Milford Sound itself is accessible year-round.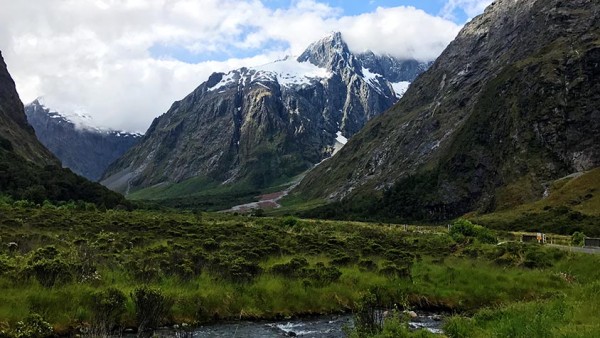 The mountains towering over the road into Milford Sound
5. Save your time researching accommodation, there's only one place to stay!
Flanked by the Darran Mountains, the Milford Lodge is 2 kilometres from the head of the fiord and it's the only accommodation available in Milford Sound. If you'd like to splash out, upgrade to the luxury riverside chalets… you won't be disappointed. Active Adventures is lucky enough to be the only tour company to spend the night there!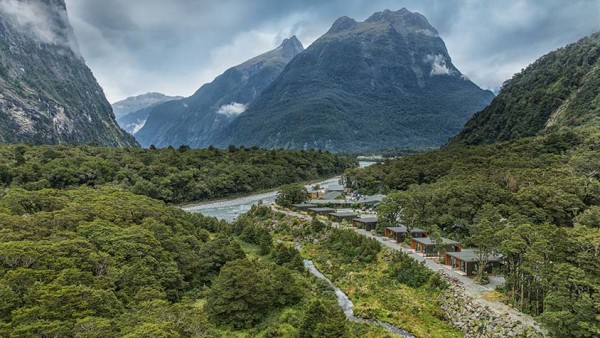 The impressive chalets at Milford Sound Lodge