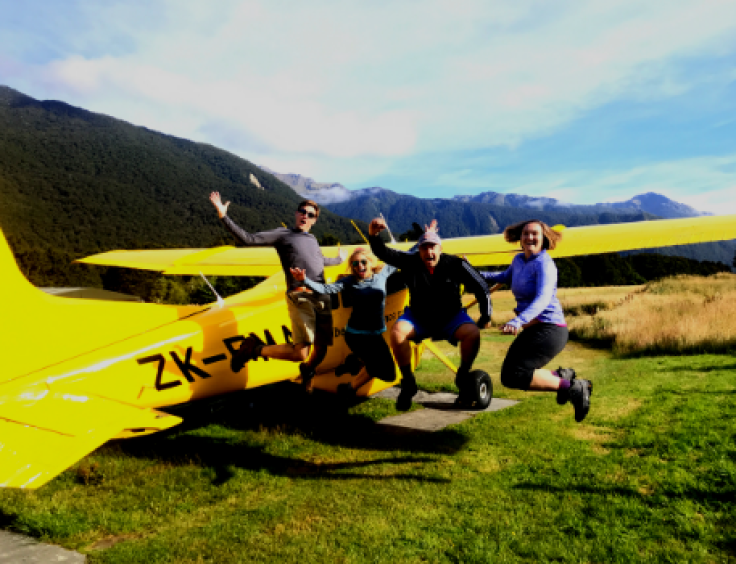 New Zealand is about as far away as it's possible to go, right? A couple of days of travelling time, and you end up somewhere on the far side of Timbuktu, yeah?
Nope! It depends where you're coming from. You might be surprised. If you live on the West Coast of the USA, or Canada, for instance, it's way easier to get to New Zealand than it is to anywhere in Europe, for several reasons:
1. It's the same distance, give or take 30 minutes or so of flight time.
2. The flights leave in the evening, so you can sleep on the way.
3. The time zones are very similar - only a three hour difference between Pacific Time and NZ time. This is a MAJOR benefit, as anyone who's experienced serious jetlag will know.
4 You can fly with Air New Zealand, which, as airlines go, is a VERY good one. Have you seen their awesome collection of safety videos? Check them out here: https://www.youtube.com/user/airnewzealand
So, let's look at the logistics in more detail…
Flying from North America
Air New Zealand
If you're on or near the West Coast, it's easy. Air New Zealand operates several direct flights from Vancouver, San Francisco, Los Angeles and Houston, each leaving in the evening, taking about 12 hours, (14 from Vancouver) and arriving in New Zealand in the morning. Which means - tada! - you can sleep most of the way. Getting to New Zealand from the West Coast of North America is really not too bad.
American Airlines
We're all for a bit of competition - to keep our beloved Air New Zealand ranked at the top (#1 on AirlineRatings.com) and American Airlines is offering just that. They now offer a direct daily service from Los Angeles to Auckland, and as there are over 200 connecting flights into LAX, this provides improved access from the East Coast as well. So those on a One World Alliance will be chuffed with this service.
United Airlines
United Airlines, in partner with Air New Zealand (Star Alliance), have made heading down our way much easier with direct flights to Auckland from Los Angeles, San Francisco and Houston. United Airlines is the world's biggest carrier by the number of cities served with 226 US cities and 136 international destinations on its network.
Hawaiian Airlines
Hawaiian Airlines offers a non-stop service from Honolulu to Auckland three times a week on an A330 aircraft. On these flights you'll get a generous 2 x 32kg per person, though you shouldn't need that much on an adventure tour with us!
Continental Airlines
Continental Airlines fly direct from Houston, Texas, to Auckland, using the 787 Dreamliner. If it's easier for you to get to Houston than to the West Coast, we recommend this route (even though it's not with Air New Zealand :-)). Alternatively, you'll need to get to Los Angeles or San Francisco on a domestic airline. So, yeah, ok, the flight across the US, or Canada, can be a bit of a mission - cos you're usually awake for it, and the seats are smaller - but the international section of the flight is usually a relative doddle. We can't stress this enough - the flights from Los Angeles, San Francisco and Vancouver leave in the evening, so if you time it right and take a few simple precautions, you'll snooze your way over the Pacific and be in New Zealand in no time.
If you'd like to book your flights with a travel agent, we recommend Down Under Answers based in Seattle. They're great at finding decent airfares on account of the large volume of flights they book down here. You can reach them on 1-800-889-1464 and be sure to tell them you've booked with Active!
Flying from Europe
OK, if you're coming from Europe, yes, you have a long way to go. We always recommend Air New Zealand, if possible, for a whole lotta reasons - one of the most important, in this case, being that Air New Zealand has the most direct routes and convenient flight times to and from New Zealand. So, if you're coming from anywhere in Europe on Air NZ, you'll fly out of London, with two flights of around 11 hours each. The cool thing is, those flights are generally in the evening. Which means if you do it right, you can travel in the most comfortable way possible - fast asleep! If you possibly can, we recommend that you break your trip for 24 hours in Hong Kong. Take the modern, fast and convenient airport train into the city, stay in one of the many fabulous hotels in Hong Kong - some of which are located on highrise towers literally overhead the train station - and put your feet up. Get a good night's sleep, sleep in the following day, check out Hong Kong for a few hours, then catch the onward flight to New Zealand. It's always a BIT of a mission, but if you go about it correctly, it's really not too bad.
Flying from Australia
Easy peasy! You guys have NOTHING to worry about - it's a three hour flight, or less, there are direct flights from all major Australian cities, and of course the time zone difference is minimal. The flights are a doddle - it's easier to get to New Zealand from Sydney or Melbourne than it is to get to Perth, which is twice as far away!
Flying from other parts of the world
No matter where you are, you can fly to New Zealand, and the Star Alliance network of airlines means that you can get a round-trip fare to New Zealand from just about anywhere.
So that's the 'how' to get here. Now we better look at the next issue - where do you look to find the best deals?