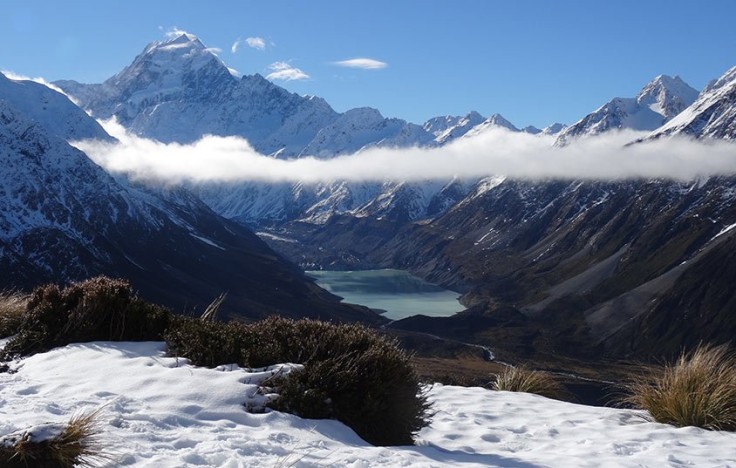 Aoraki (the Maori name for Mt Cook) is New Zealand's highest mountain at 3754 metres or 12,316 feet. Mt Cook National Park lies in the Canterbury region of the South Island and is home to many of New Zealand's highest mountains and largest glaciers, including its namesake. According to Maori legend, Aoraki, the eldest son of Raki (Sky) was travelling with his brothers in a waka (or canoe), when it ended up running aground on a reef and fell to one side. Aoraki and his brothers climbed to the high side of the waka and sat on the wreckage. The freezing south wind then turned them into stone, creating the Southern Alps. Aoraki was sitting higher than all the others, and if you look at Mt Cook (from a passenger jet say) it is indeed noticeable higher than other peaks in the Southern Alps.
The legend of Aoraki
Geologically, the mountain is higher than others because roughly the top third of the mountain has been pushed up along a major fault line (called the Main Divide Fault), creating a kind of small mountain sitting on top of a big mountain. Because Mt Cook is higher than any others, it's often capped by cloud when other peaks are clear, hence its name 'cloud piercer' in Maori.
The peaks and glaciers of Mt Cook National Park
There are 19 peaks over 3000 metres (9840 feet) in the park (so it must have been a pretty large waka!) and most of them rise up from near sea level. Upon entering Mt Cook village, at the entrance of Mt Cook National Park, you definitely feel a sense of being dwarfed. In a valley amongst these giants is the Tasman Glacier, there to greet you when you turn off the main highway; it's New Zealand's largest glacier at 27 kilometres (17 miles) long. Due to Aoraki Mt Cook National Park's rugged terrain (over 40% of the park's land surface is covered by glacier), there is almost no forest, but instead hikers are greeted with an abundance of alpine plants including the spectacular mountain buttercup (Ranunculus lyallii), which is also known as the Mt Cook Lily. Although it's not technically a lily, it is the largest buttercup in the world. A couple of other highlights of the park include the kea, an inquisitive alpine parrot often encountered on our Active Adventures trips, as well as the jeweled gecko, a little fellow that is very secretive and rarely seen.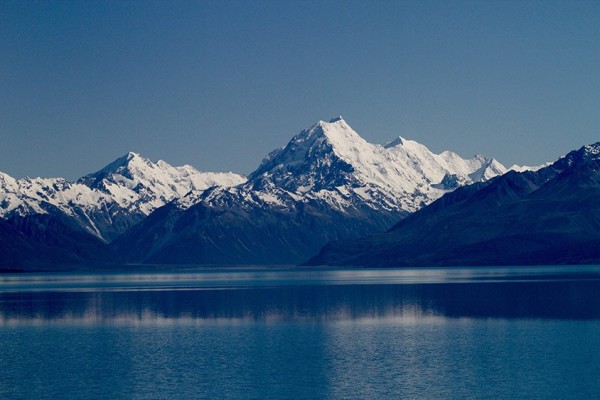 Hiking near Mount Cook
The park is most well known for its fantastic hiking opportunities that range from half-day hikes along trails that are well marked and suitable for all ages, through to steeper quite iconic New Zealand hiking routes like the Ball Pass Crossing and the Mueller Hut hike. The Mueller Hut hike is a highlight on our Rimu and Manuka adventure tours – sitting at 1800 metres (5900 feet) elevation on the Sealy Range, the hut provides a 360-degree panorama encompassing glaciers, ice cliffs, vertical rock faces and New Zealand's highest peaks. Trekking to the hut through the alpine scrub, herb fields and scree slopes is a pretty big achievement in itself, but is also a stepping stone for mountaineers who for decades have used this route to attack some of the formidable peaks in the area.
Sir Ed and the Sir Edmund Hillary Alpine Centre
Talking about New Zealand's most mountainous national park wouldn't be complete without reference and tribute to New Zealand's most famous climber and ambassador, Sir Edmund Hillary, the first person to summit (and successfully descend) Mount Everest. Sitting adjacent to the Hermitage Hotel is the Sir Edmund Hillary Alpine Centre an awesome facility designed to educate and entertain keen adventurers. The centre features a state-of-the-art 3D movie that doubles as a full-dome digital planetarium, photo gallery and a museum that documents the pioneering heart of the region. Also, in August 2011, the South Ridge of Aoraki Mt Cook was renamed the Hillary Ridge in recognition of Hillary's achievements, including the fact that Hillary and three other climbers were the first party to successfully summit the mountain via this ridge in 1948.